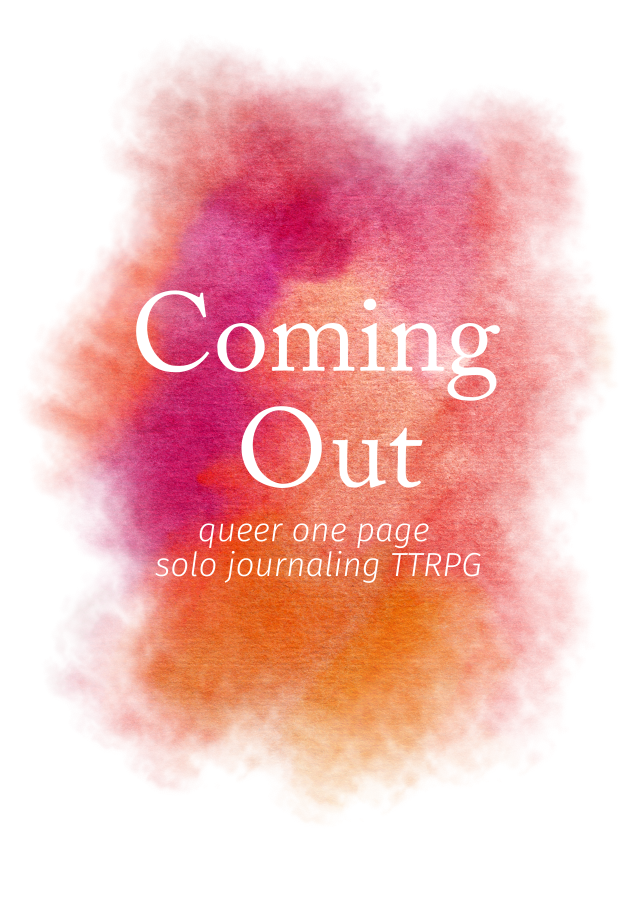 Read Time:
12 Minute, 49 Second
Welcome to the Bundles, Freebies, and Sales News, the weekly column at EN World that helps make sure you don't miss out on big tabletop RPG bundles, charity fundraisers, and sales from around the internet.
Freebies and Pay What You Want
Note: While "Pay What You Want" downloads are available for free, please support the creators if you are able!
Alexander Schneider released the solo journaling RPG Coming Out, about the struggles with being queer and discovering your identity amidst the rumors, secrets, and bullying before deciding to live your authentic life.
Price: Pay What You Want (Suggested: $2.18)
Vincent Ginsburger has an adventure for TORG Eternity with the murder mystery Big Brawl in Berlin. A Cyberknight has been murdered in Berlin and the Delphi Council needs Storm Knights to unravel the mystery of what happened.
Price: Pay What You Want (Suggested: $4.36)
Don't blame me for the earworm from the title, but Skavenloft is the one who decided to name the Monster of the Week adventure Don't You Forget About Me. The name is meaningful as this is a thematic crossover between Wrong Turn and The Breakfast Club as a group of teenagers faces The MacKenzie Family.
Wet Ink Games released the Free RPG Day starter adventure Heckin' Good Doggos – Someone's Last Day at the Track. This family-friendly, all-ages RPG places you as humankind's best friend, the dog, with quickstart rules for the +One System, six pre-generated characters, and a full adventure.
Garnett Eliott has a trilogy of adventures for Barbarians of Lemuria and Everywhen systems, SC1 The Sundered Vale, SC2 Fortress Oblivion, and SC3 Dread in the Water. The adventures are designed as classic Sword & Sorcery one-shots with pre-generated characters.
Old School Role Playing has two resources for the Cepheus Engine (the system that powers Traveller), the first being the adventure A Little Big of Ultra-Violence where the travelers are enlisted by a merchant for a megacorporation who lost a shipment and wants the party to get it back before he's forced to admit his error to his superiors.
Price: Pay What You Want (Suggested: $3.00)
The second Cepheus Engine book from Old School Role Playing this week is Personalities of the Frontiers of Space, a collection of NPCs from across the Sonora Sector including stats and background information to drop them in any campaign.
Price: Pay What You Want (Suggested: $3.00)
And if you want more for Traveller, Miles Maria has The Ruthless Veil Sector Expedition Players Guide detailing the setting along with new spacecraft, NPCs, ship maps, survey mission details, and more.
Price: Pay What You Want (Suggested: $3.99)
The Cthulhu Dark adventure from Linus Weber, Roadhouse Feast, is set in the 1920s at Laura's Roadhouse, a motel and restaurant in between Arkham and Thomson Village the investigators end up at following a car accident late at night, discovering a dark secret in the isolated location.
Price: Pay What You Want (Suggested: $3.00)
While we're going to have plenty of new classes for the big fantasy RPG on the market, Pedro Ave has one for the OSR-inspired Shadowdark RPG with the Zealot Class including a talent table and title table.
Price: Pay What You Want (Suggested: $0.50)
And if you'd like to test out that new character with an adventure, Joker & Thief Publishing released The Verdant Vault, a 1st-2nd Level adventure exploring the once-sacred burial site of the mysterious Verdant Shield that has been abandoned by the forest spirit protecting it and has now become corrupted with neglect.
Price: Pay What You Want (Suggested: $3.00)
Over on Dungeonmasters Guild, Goofy Spook posted Toys of Loomlurch – A Witchlight Supplement featuring a collection of toys in Skabatha Nightshade's workshop to add more tactical combat to the encounter complete with VTT tokens and player handouts.
Price: Pay What You Want (Suggested: $0.50)
Zachary Tounzen has a set of optional rules, Helping Hands – Expanding the Help Action, with rules for more than one helper, granting bonuses for better quality help, and adding drama for when the allies are more of a hindrance than a help.
Price: Pay What You Want (Suggested: $1.00)
And if you'd like more optional rules, W Nash has Class-Based Experience Points, a new XP system that rewards roleplay and exploration as much as combat while avoiding the arbitrary artificiality of milestone leveling.
Price: Pay What You Want (Suggested: $1.95)
The genius storyteller and expert on interesting things Garymere Wickfin has a collection of new items with Garymere's Collection of Curious Crafts Volume 1 from Bas Klein. This book has a dozen magic items with stats and in-character commentary from the "author" Garymere Wickfin himself.
Price: Pay What You Want (Suggested: $3.27)
Zrave and Apacolyps have an adventure for 5th to 7th-level characters with Vault of Time – A Time-Bending Adventure that involves time magic and a magic item capable of disrupting the flow of time…at a cost.
Price: Pay What You Want (Suggested: $6.99)
Shawn Bonneau's Cave of the Merciful Moon is a one-shot adventure for 5th-level characters with the party racing against a group of bandits to retrieve a dwarven relic from a long-forgotten cave.
Price: Pay What You Want (Suggested: $2.00)
Over on Storytellers Vault, Sebastian Black released Unliving Cities – A V5 City Building Supplement with rules for building a city, summaries of the "feel" of a city based on the controlling factions, dice tables for backgrounds and influence, guidelines for treating the city as a character in your chronicle, and more.
Price: Pay What You Want (Suggested: $2.55)
And…I can't talk much about this one because I don't speak Portuguese, but Kevin Olivera released São Paulo By Night, a campaign setting for São Paulo, Brazil, in Portuguese with a detailed description of what can be found inside the 154-page book on the site.
Price: Pay What You Want (Suggested: $2.00)
And we have four lightning rounds this week, starting off with collections of maps. All products listed here are either Free or Pay What You Want with the suggested price in parentheses.
The next is a collection of 5e monsters to challenge your players. The CR is listed for those with only a single monster of the type with the CR listed in the description.
And next up we have playable 5e races/species.
And finally, we have a collection of 5e classes and subclasses.
Bundles and Sales
Note: I have included end dates when listed for the following sales, but please be warned that those without published end dates may end suddenly so be sure to plan purchases accordingly.
DriveThruRPG is running the Cosmic Horror Sale featuring discounts on almost 3000 products from a wide range of horror and sci-fi horror including obviously Call of Cthulhu but also Delta Green, ALIEN RPG, Chronicles of Darkness, Scion, Hyperborea (though look below in the Charity section for more there), Achtung! Cthulhu, and a lot more.
Price: 25% off
End Date: August 31, 2023
And Storytellers Vault has the Summer of Darkness Sale with discounts on almost 500 titles from the community content program for World of Darkness covering pretty much every game in the line plus several official releases from White Wolf and Onyx Path,
Price: 25% off
End Date: August 31, 2023
Cubicle 7 collected a massive library for Warhammer Fantasy Roleplay 2nd Edition with 25 titles for the classic fantasy game. The bundle includes everything you need for the game including Warhammer Fantasy Roleplay 2nd Ed Core Rulebook, the Career Compendium, Game Master's Pack, Old World Bestiary, Old World Armoury, and a lot more sourcebooks, rules expansions, player options, and adventures.
SOLU7ION has a bundle of animated battle maps with the Dark Fantasy Map Pack including a bandit camp, cave entrance, multiple city locations, cultists lair, necropolis, and more for a total of almost 30 maps. Also available in UHD 4K resolution.
Price: $74.99 for 1080p resolution, $149.99 for 4K (both 35% off)
Dungeon Image has a collection of templates and artwork ready for use in commercial projects featuring 11 transparent page borders, 5 textured paper backgrounds, and 5 items for use on DMs Guild and Roll20 Marketplace (with a few restrictions listed in the item description)
We've got more new Roll20 bundles as well, this week a trio from Evil Hat Productions including the core rules and the Roll20 VTT pack
Charity Bundles and Sales
Skirmisher Publishing is sponsoring a relief bundle for the Maui fires featuring over 20 sourcebooks, adventures, and reference books for 5e, Pathfinder, OSR systems, and more plus system-neutral random tables.
Price: $5.00 (91% off)
Charity: Hawaii Community Foundation's Maui Strong Fund (200%…no that's not a typo, all proceeds are going to the charity plus Skirmisher Publishing is matching the price with their own donation)
Sleepy Sasquatch Games has a fundraiser going on Itch.io for Gizmo, a 12-year-old dog with ongoing medical issues. The bundle includes four solo RPGs, Wandering Dreams for eldritch horror, Courier about a post-apocalyptic delivery person, GLIDE about sci-fi exploration, and the sword and sorcery Wandering Souls.
Price: $19.00 (50% off)
Charity: Medical care for Gizmo
End Date: September 30, 2023
Cave Dweller Music has a charity sampler on Bandcamp featuring almost 50 "dungeon synth" music tracks from a variety of artists perfect for your RPG soundscape or as background music while doing prep. The purchase price includes unlimited streaming via the Bandcamp app plus DRM-free downloads in mp3 and FLAC formats.
Price: $7.00
Charity: National Center of Transgender Equality (All proceeds)
End Date: August 31, 2023
On Bundle of Holding, North Wind Adventures has the Hyperborea 3E Bundle for the pulp fantasy meets sci-fi RPG. This bundle includes the Hyperborea 3E Player Manual and Referee Manual plus the Atlas of Hyperborea setting sourcebook, the introductory adventure The Late Trapper's Lament, and the Hperborea Referee Screen.
Price: $12.95 (74% off)
Charity: The Millstone Wildlife Center (10%)
End Date: August 28, 2023
If the Kickstarter for Shadow of the Weird Wizard has you intrigued but you can't wait for the release or you want the more adult-oriented grimdark original, Bundle of Holding partnered with Schwalb Entertainment for not one but two bundles for Shadow of the Demon Lord. The first features a starter collection with the Shadow of the Demon Lord core rules along with the Demon Lord's Companion GM guide, the religion sourcebook Uncertain Faith, the introductory adventure Dark Deeds in Last Hope, and the Demon Lord Screen. The Bonus Collection adds on six more sourcebooks and adventures.
Price: $7.95 (81% off) with variable-cost Level Up option
Charity: Wildlife Conservation Society (10%)
End Date: August 31, 2023
And if you want to expand your library for Shadows of the Demon Lord, the Demon Lord Legacies Bundle has 5 Legends of Shadow, 4 Paths of Shadow, and 17 Poisoned Pages along with a Bonus Collection featuring 21 Monstrous Pages, the magic sourcebook Occult Philosophe, and the full campaign Queen of Gold.
Price: $12.95 (79% off) with variable-cost Level Up option
Charity: Wildlife Conservation Society (10%)
End Date: August 31, 2023
Green Ronin has a pair of bundles for the romantic fantasy RPG Blue Rose. First, the return of the Blue Rose bundle featuring the core rulebook plus two adventure books with the Bonus Collection adding on the setting book Aldis: City of the Blue Rose, the Blue Rose Narrator's Kit, and three more adventure books.
Price: $7.95 (79% off) with variable-cost Level Up option
Charity: Pride Foundation (10%)
End Date: August 21, 2023
The other bundle for Blue Rose is the Aldean Adventures bundle with four adventure books, three one-shot adventures with Six of Cups, Nightmare Rider, and Flight of the Snow Pearl plus the full-length campaign Envoys to the Mount.
Price: $9.95 (79% off)
Charity: Pride Foundation (10%)
End Date: August 21, 2023
On Humble, Paizo brings you fiction from the world of Golarian with the Pathfinder Tales Bundle of fiction novels from the Pathfinder setting. This bundle features 41 novels at the top tier readable on any device with titles of adventure, intrigue, action, horror, and more from authors including F. Wesley Schneider, Elaine Cunningham, Robin D. Laws, Richard Lee Byers, James L. Sutter, and more.
Price: $5/$15/$25 (86% off at top tier)
Charity: Comic Books for Kids! (user-defined, default 5%)
End Date: August 31, 2023
The Tabletop RPG Resources Bundle on Humble is a goldmine of material for players and DMs alike for a variety of genres of roleplaying game. This collection of books is full of system-neutral random tables, plot seeds, and backstory ideas for any game genre you can think of from fantasy to science fiction to science fantasy to post-apocalypse to wild west to modern day to 1920s gangster to ancient historical to cyberpunk to steampunk and everything in between as well as full campaign settings and guides to creating worlds from scratch.
Price: $1/$10/$18 (90% off at top-tier)
Charity: Extra Life/Children's Miracle Network Hospitals (user-defined, default 5%)
End Date: September 2, 2023
Hero Lab has the Essential Character Management Tools for Pathfinder giving you access to Lone Wolf Development's character and campaign management system. The base tier gets you the core rules, access to Hero Lab Online, and 3 months of service time while the mid-tier adds on the Gamemaster Guide, Lost Omens: Ancestry Guide, and an additional three months of service and the final top tier adds the Advanced Player's Guide, Bestiary 1, and multiple adventures for a total of 25 packages.
Price: $5/$15/$24 (92% off at top tier)
Charity: The Trevor Project (user-defined, default 5%)
End Date: August 24, 2023
If you've ever been curious about the newest edition of one of the original science fiction RPGs, the Traveller Bundle from Mongoose Publishing features a full library for the system. The base level includes the condensed Traveller: Explorer's Edition core rules and the adventure Reach: Marooned on Marduk while the second tier adds on the full Traveller Core Rulebook Update 2022, the novel The King is Dead, and three more adventures in the Reach campaign and the top tier adds on more novels and four sourcebooks making an almost complete library for the Traveller system.
Price: $1/$10/$18 (94% off at top tier)
Charity: Cancer Research UK (user-defined, default 5%)
End Date: August 23, 2023
That's all for this week! If you know of any bundles or sales starting soon, please contact me on the EN World Discord, tag me on Mastodon, or send me a message here on EN World. Discount percentages have been rounded to the nearest whole number and are based on the standard retail price provided by the site. Note: Links to Amazon, Humble Store, Humble Bundle, Fantasy Grounds, and/or DriveThruRPG may contain affiliate links with the proceeds going to the author of this column.