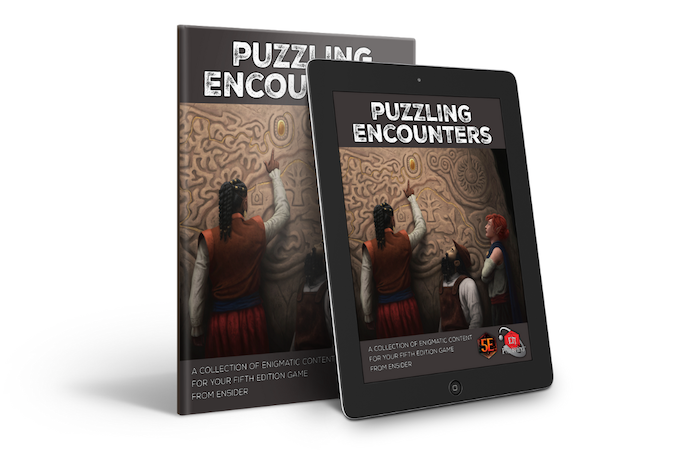 Read Time:
3 Minute, 57 Second
Hello everyone, Darryl here with the summary of this week's gaming news from EN World.
EN Publishing News
For a quick summary of the week's news, Jessica Hancock will bring you up to speed with EN Live's This Week in TTRPG every Friday.
Don't forget, you can keep up with all the week's gaming news in detail with Morrus' Unofficial Tabletop RPG Talk. This week, Morrus, Peter, and Jessica talk about what makes an interesting monster.
EN Publishing's new Quickstarter Puzzling Encounters is live now with a collection of puzzles for your 5e games along with advice for how to create your own fun, organic puzzles.
EN5ider #531 is Enchanted Trinkets: Audacious Display Stones featuring almost two dozen low-powered magic items for 5e, each with its own illusory display until the spell contained is cast.
Applications are open for EN Live stream sponsorships. If you plan to stream Level Up: Advanced 5th Edition, you could earn $400 for expenses and gain access to exclusive stream overlays and assets. The deadline for application is September 1, 2023.
The BackerKit pre-launch page is live for the first EN Publishing board game Split the Hoard. This fast-paced card game for 2-5 players pits the party against one another in the aftermath of a dungeon delve as you compete to get the biggest share of the loot.
EN World Exclusives
Beth Rimmels reviewed the new rules-free lore book for Dungeons & Dragons, The Practically Complete Guide to Dragons.
Dawn Dalton spoke with Aaron Shanks, Director of Marketing at Paizo about the OGL controversy, virtual tabletops, organized play, and more.
Rob Wieland got his hands on the boxed set for Free League's Dragonbane, the new English language edition of the classic Swedish RPG Drachar och Demoner.
Rob Wieland also looked at the new reboot of Werewolf: The Apocalypse 5th Edition from Renegade Game Studios.
EN World Feature Columns
M.T. Black continues his journey through RPG periodicals past with Dragon Reflections #69 looking at the January 1983 issue of Dragon.
Michael Tresca's newest RPG Evolution talks about the relation of roleplay to the new Barbie live-action movie (with some spoilers).
Don't miss out on the newest RPG crowdfunding projects ending soon with Egg Embry's RPG Crowdfunding News.
Keep up with all the new print RPG releases with Charles Dunwoody's RPG Print News.
Find the big TTRPG sales, bundles, and charity fundraisers with the Freebies, Sales, and Charity Bundles News.
Dungeons & Dragons News
We have a sneak peek at the upcoming Dungeons & Dragons adventure Phandelver and Below: The Shattered Obelisk as Beth Rimmels walks us through the art previews and what to expect from the expansion of the Starter Set adventure into a full Level 1-12 campaign.
D&D Beyond released a new free supplement, Baldur's Gate Gazetteer. The hefty sourcebook goes deep into the lore for the Forgotten Realms city with information about the government, citizens, economy, religion, various city areas, and more plus new NPC stat blocks, random encounter tables, a new character background, and rules for a new type of background shared for the whole party called Dark Secrets.
Tabletop RPG News
R. Talsorian Games had several big announcements this week including a new six-mission campaign for Cyberpunk RED titled Tales of the RED: Forlorn Hope, a hiatus for The Witcher TTRPG, and a tease of a new roleplaying game from designer Cody Pondsmith.
Cool Mini Or Not launched the official website for Assassin's Creed Roleplaying Game featuring a preview of the game, a quickstart, and a glimpse at the new rules system.
Evil Hat released The Codex of Worlds, an expansion for the Monster of the Week RPG with five new settings across different time periods and fifteen new team playbooks.
RPG Industry News
Matthew Lillard launched a new line of Dungeons & Dragons-inspired whiskey called Quest's End. The first offering is a blended bourbon called Quest's End Paladin in a designer bottle with a hit point tracker on the side.
Steve Jackson Games announced Munchkin Paranoia, a new core set for the Munchkin card game set based on the roleplaying game Paranoia written by Steve Jackson himself and with illustrations by John Kovalic.
Renegade Game Studios launched Play Renegade, a new public event program for both their licensed Hasbro RPGs and World of Darkness titles.
That's all from me for this week! Don't forget to support our Patreon to bring you more gaming news content. Until next time, may all your hits be crits! Note: Links to Amazon, Humble Store, Humble Bundle, and/or DriveThru may contain affiliate links with the proceeds going to the author of this column.