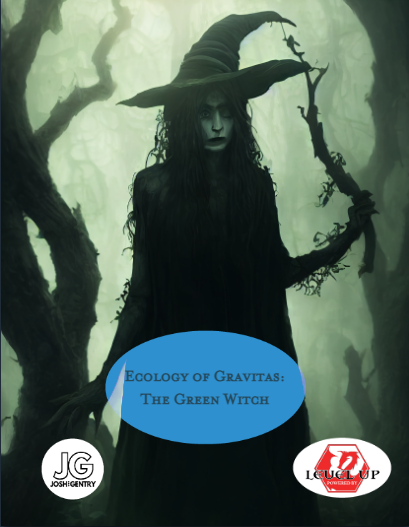 Read Time:
9 Minute, 57 Second
Welcome to the Bundles, Freebies, and Sales News, the weekly column at EN World that helps make sure you don't miss out on big tabletop RPG bundles, charity fundraisers, and sales from around the internet.
Freebies and Pay What You Want
Note: While "Pay What You Want" downloads are available for free, please support the creators if you are able!
Let's start out with a book for EN Publishing's Level Up: Advanced 5th Edition from Josh Gentry, Ecology of Gravitas: The Green Witch. This supplement is all about the Green Hag with a full encounter ready to drop into any game with encounter tables based on the hag's ecology and lore, environmental traits, rumors and speculation tables for NPCs to give to the party, and GM advice for how to roleplay the Green Hag and how to handle the monster's minions, allies, and enemies.
Price: Pay What You Want (Suggested: $1.99)
Moira Games wants to help you add some depth to games with Bonds & Bonfires, a set of rules for downtime conversations and roleplaying. Sit around the campfire and talk about your anxieties from the upcoming adventure the following day or share the terrors you faced in the conflict the previous day with rules for cathartic conversations and a social deduction mini-game to deal with unresolved feelings.
Price: Pay What You Want (Suggested: $0.00)
And if you want some more downtime fun, Kaja Solska released So You're Chilling in a Tavern with more mini-games and systems to roleplay the time relaxing between adventures. I mean the description promises "cutting-edge sweater-based mechanic" and offers a cup of tea. What more do you want after a hard day's dungeon crawling?
The Dungeon's Key is ready to give you a hardcore Halloween adventure for Mörk Borg with the "graveyard crawl" Gravrövare. Discover the secrets behind the being in the Sarkash forest known as The Collector who is willing to pay handsomely for fresh corpses.
Price: Pay What You Want (Suggested: $5.82)
As a long-time Shadowrun player, one of the most fun things is creating life in the sprawl through random events, and Frankenstein Bee has the perfect tool to help with 100 Street Scenes in a Cyberpunk City. The random table can be used to spark ideas in planning or randomly generate encounters on the fly for Shadowrun, Cyberpunk, Carbon 2185, Interface Zero, and any other near-future sci-fi setting.
Price: Pay What You Want (Suggested: $1.12)
Over on DM's Guild, Daylight Gaming wants to help out your Halloween campaign of Curse of Strahd with a collection of hand-outs, puzzles, updated magic items, and more to add depth to your exploration of Castle Ravenloft.
Price: Pay What You Want (Suggested: $4.99)
And if you want something else to add to your Ravenloft games, Douglas McLean has an entire new domain in The Last Waffle Shop in Barovia. I mean I grew up in the Southern United States and that kinda just sounds like Waffle House to me, but this supplement is a full domain guide along with map, a menu hand-out, and a series of short adventures based on the parody Twitter account @baroviacnw Barovian Chicken and Waffles.
Price: Pay What You Want (Suggested: $1.50)
Carrie Gessner's The Pack Run sends the players to the village of Howl Hollow just in time for its autumn festival. Did I mention that Howl Hollow is a werewolf village? Compete in the Pack Run obstacle and challenged filled race that will challenge the party's ingenuity, compassion, generosity, strength, and teamwork.
Just like last week, a large number of map collections showed up on DriveThruRPG. All of these are Pay-What-You-Want with the suggested price listed in parenthesis.
Bundles and Sales
Note: I have included end dates when listed for the following sales, but please be warned that those without published end dates may end suddenly so be sure to plan purchases accordingly.
Steve Jackson Games and their distribution arm Warehouse 23 are having a Halloween sale on select spooky products. On top of discounts, they have freebies to give away with physical orders where the larger your order, the more stuff you get: $25 or more gets you Z-Shot Score Pad, $40 or more adds on Deadly Doodles Halloween Score Pad, $60 or more adds glow-in-the-dark Halloween Dice, and $100 or more adds the hardcover of GURPS Zombies.
Price: Variable (up to 50% off)
End Date: October 31, 2022
Cat Elm pulled together a bundle of spooky games for the TTRPG Halloween Spooktacular 2022 bundle. The bundle features eleven creepy and haunting RPGs from gunslinging vampires to paranormal investigators to haunted houses to midwestern horror.
Price: $16.66 (82% off)
End Date: October 31, 2022
DriveThruRPG's Creature Feature Sale has enough cosmic horror to make you question what you know about reality with over 2000 titles on sale from Chaosium, Arc Dream Publishing, BRW Games, North Wind Adventures, and many others.
Price: Variable (33% off)
End Date: October 15, 2022
If that's not enough, Chaosium collected a selection from their community content program Miskatonic Repository into a bundle. Thirteen adventures for Call of Cthulhu await you covering a variety of time periods from the 1890s, 1920s, 1980s, and the modern day spanning locations from around the world each with their own unique mysteries and dark secrets to uncover.
Charity Bundles and Sales
Bundle of Holding collected a selection of narrative roleplaying games and writing prompts to help kickstart your creativity for the upcoming National Novel-Writing Month in November. Or you can just play these solo narrative games on their own. The base level includes Artefact from Mousehold Press, Apothecaria from Blackwell Games, Epitaph from Less Than Three Games, and Mappa Imperium from Nookrium with a bonus collection add-on with The Magnus, Bucket of Bolts, Back Again from the Broken Land, and two expansions for Apothecaria.
Price: $7.95 (77% off) with variable-cost Level-Up option
End Date: October 24, 2022
Charity: NaNoWriMo.org (10%)
Modiphius has put together two bundles for the science fiction RPG Infinity The Roleplaying Game based on the Corvus Belli miniature skirmish game. The first bundle features the core Infinity RPG rules, the adventure anthology Adventures in the Human Sphere, and the GM Screen & Code Infinity. The Bonus Collection adds on the Infinity Gamemaster Guide, the faction sourcebooks Ariadna and Haqqislam, and the full-length adventure Quantronic Heat.
Price: $14.95 (74% off) with variable cost Level-Up option
End Date: October 17, 2022
Charity: RollVsEvil (10%)
The second Infinity bundle is all about the factions with two additional faction sourcebooks PanOceania and Yu Jing, the location guide Paradiso, and two campaign adventures, Shadow Affairs and Cost of Greed. The Bonus Collection adds on the Infinity Mercenaries Sourcebook and faction books for Combined Army, ALEPH, Nomads, and Tohaa.
Price: $14.95 (74% off) with variable-cost Level-Up option
End Date: October 17, 2022
Charity: RollVsEvil (10%)
The Apocalypse Engine Bundle offers a bundle of Powered by the Apocalypse games is still going as well. The base level features the sci-fi game Last Fleet, the magical academy setting Pigsmoke: An RPG of Sorcerous Academia, and three ashcan preview edition of upcoming Magpie Games RPGs: Crossroads Carnival, Passing, and Rapscallion. The bonus collection adds on five more games and supplements including The Between and its second season expansion, Hearts of Wulin, Voidheart Symphony, and Bite Marks.
Price: $9.95 (78% off) with variable-cost Level-Up option
End Date: October 12, 2022
Charity: Direct Relief (10%)
Humble Bundle put together a huge bundle of RPG-based video games in the Baldur's Gate & Beyond Bundle. The base level includes the enhanced editions Planescape: Torment and Icewind Dale, the second tier adds on Baldur's Gate, Baldur's Gate II, and Baldur's Gate: Siege of Dragonspear along with the Faces of Good and Evil expansion plus Neverwinter Nights Complete Adventure. And for something a bit newer, the top tier adds on Pathfinder: Wrath of the Righteous.
Price: $1/$10/$20 (90% off at top tier)
End Date: October 26, 2022
Charity: Worldbuilders (user-defined, default 5%)
Cubicle 7 and Humble Bundle have an entire library for two great roleplaying games set in the Warhammer 40,000 universe. The first two tiers are packed with sourcebooks and adventures, but you'll want to pledge at the highest tier to get the full library of 40 books for Rogue Trader and Deathwatch along with a 10% off coupon at the Cubicle 7 store.
Price: $1/$15/$25 (96% off at top tier)
End Date: October 27, 2022
Charity: Children's Health Ireland (user-defined, default 5%)
For those looking to get into game design, Humble has a collection of instructional books to teach you from the basics all the way to advanced techniques. The library bundle includes books on interactive narrative writing, mechanics design, case studies of games like Final Fantasy VII, Half-Life, and Super Mario World along with books worldbuilding and the history of computer roleplaying games Dungeons and Desktops by Matt Barton and Shane Stacks (who you might remember as semi-regular guest host on the Morrus' Unofficial Tabletop RPG Talk podcast).
Price: $1/$10/$18 (98% off at top tier)
End Date: October 24, 2022
Charity: World Central Kitchen (user-defined, default 5%)
For anyone who has ever tried creating their own video content, the biggest hurdle is finding video editing software. Humble Bundle has put together a bundle of tools and assets for content creators featuring software from Movavi. The grand star is at the top tear, Movavi Video Editor Plus 2020 which not only gives you the tools to edit but use effects like slow motion, chroma key, object animation, picture-in-picture, and more. Not only that, you get Movavi Photo Editor 6, Movavi Video Converter Premium 2020, Gecata Game Recording Software, Slideshow Maker 8, and seven packs of themed assets, transitions, and effects.
Price: $10/$20 (96% off at top tier)
End Date: October 17, 2022
Charity: Covenant House (user-defined, default 5%)
The Fantasy RPG Comics Bundle is an amazing library of comic books and graphic novels based off of tabletop RPGs. The first tier includes Pathfinder Volume 1 and Skullkickers Volume 1, the mid-tier adds on further Pathfinder and Skullkickers volumes plus two Dungeons & Dragons collections, while the top tier adds on the Legends of Baldur's Gate and Evil at Baldur's Gate, even more Pathfinder and Skullkickers volumes, and DIE Volume 1.
Price: $1/$8/$15 (91% off at top tier)
End Date: October 13, 2022
Charity: National Network of Abortion Funds (user-defined, default 5%)
If you'd like to take a deep dive into the works of fantasy pioneer J. R. R. Tolkien, Humble has the All About Tolkien Bundle. The bundle includes biographies, essays, artbooks, lore examinations, travel books, cookbooks, and classic texts that inspired the tales of Middle Earth. Not only the perfect bundle for a close examination of the life and works of Tolkien, but an invaluable reference in the depth of worldbuilding the author created.
Price: $1/$10/$18 (94% off at top tier)
End Date: October 15, 2022
Charity: Active Minds (user-defined, default 5%)
That's all for this week! If you know of any bundles or sales starting soon, please contact me on the EN World Discord or send me a message here on EN World. Discount percentages have been rounded to the nearest whole number and are based on the standard retail price provided by the site. Note: Links to Amazon, Humble Store, Humble Bundle, Fantasy Grounds, and/or DriveThruRPG may contain affiliate links with the proceeds going to the author of this column.