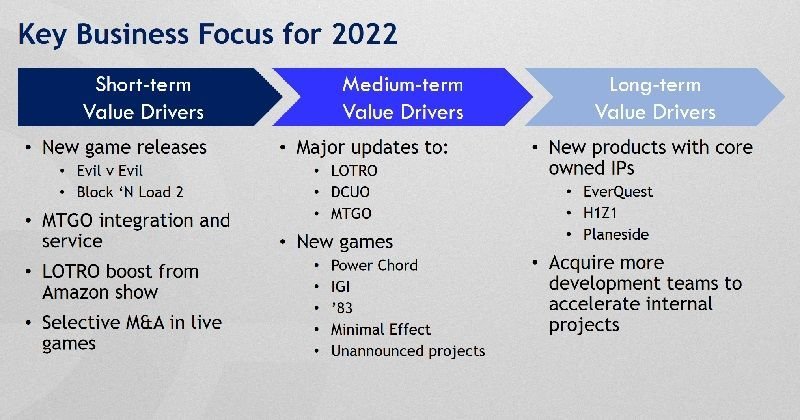 Read Time:
1 Minute, 50 Second
The new Q4 2021 EG7 report shows a 193% increase in revenue to a high of $195.9 million (573 SEK) over the same period in 2020 and highlights several MMORPG titles as important value drivers for the global cooperation.
The report highlights EG7's status as a leading global MMO publisher and developer, and also considers the acquisition of Russian F2P publisher Innova in Q2 2021 that expands their overall portfolio by 12 additional titles that include Lineage 2, Black Desert Online, and Blade & Soul in Russia and CIS. This means that EG7 operates 22 live service titles and considers EverQuest, H1Z1 and PlanetSide to be long-term value drivers and ripe for new content, while they expect The Lord of the Rings Online to get a boost from the upcoming Amazon show.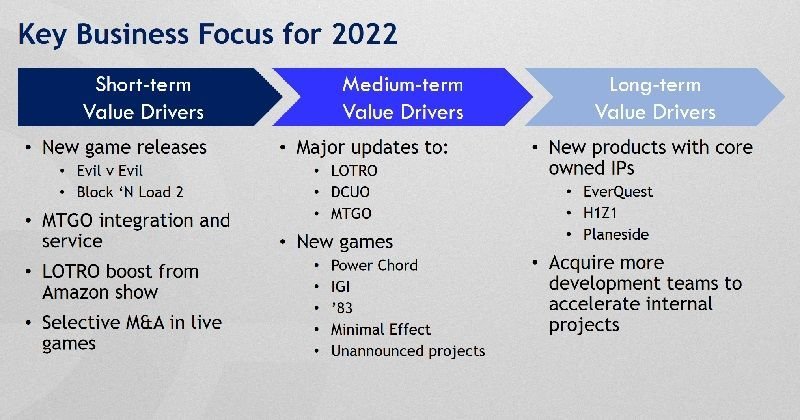 Speaking of LOTRO, the report also includes major updates to that game, as well as DC Universe Online, and the start of Daybreak's full development and publishing of Magic: The Gathering Online. No word on just what we can expect but all of those are seen as medium term value drivers. also in the medium term category are unannounced projects.
Longer term value drivers category are mostly around their own wholly controlled IPs. This will let them include upcoming new products with their core owned IP's including EverQuest, H1Z1, and PlanetSide, as well as looking into acquisitions of more development teams to speed up development of already planned internal projects.
Daybreak's games pulled in net revenue of 172.4 million Swedish kroner, or about $18.36 million. They predict Daybreak will grow even more once MTGO is open and integrated into the experience.
The recent roadmap for EverQuest already mentioned to expect an expansion by year's end. With PlanetSide 2 having recently overhauled its new player experience and gotten some very different new mechanics and items, there's potential there too. H1Z1 is a bit on the surprising side. They also plan to leverage the third-party IPs they have access to, like DC Comics, Dungeons & Dragons, and The Lord of the Rings.
You can see the full report here at Enad Global 7.