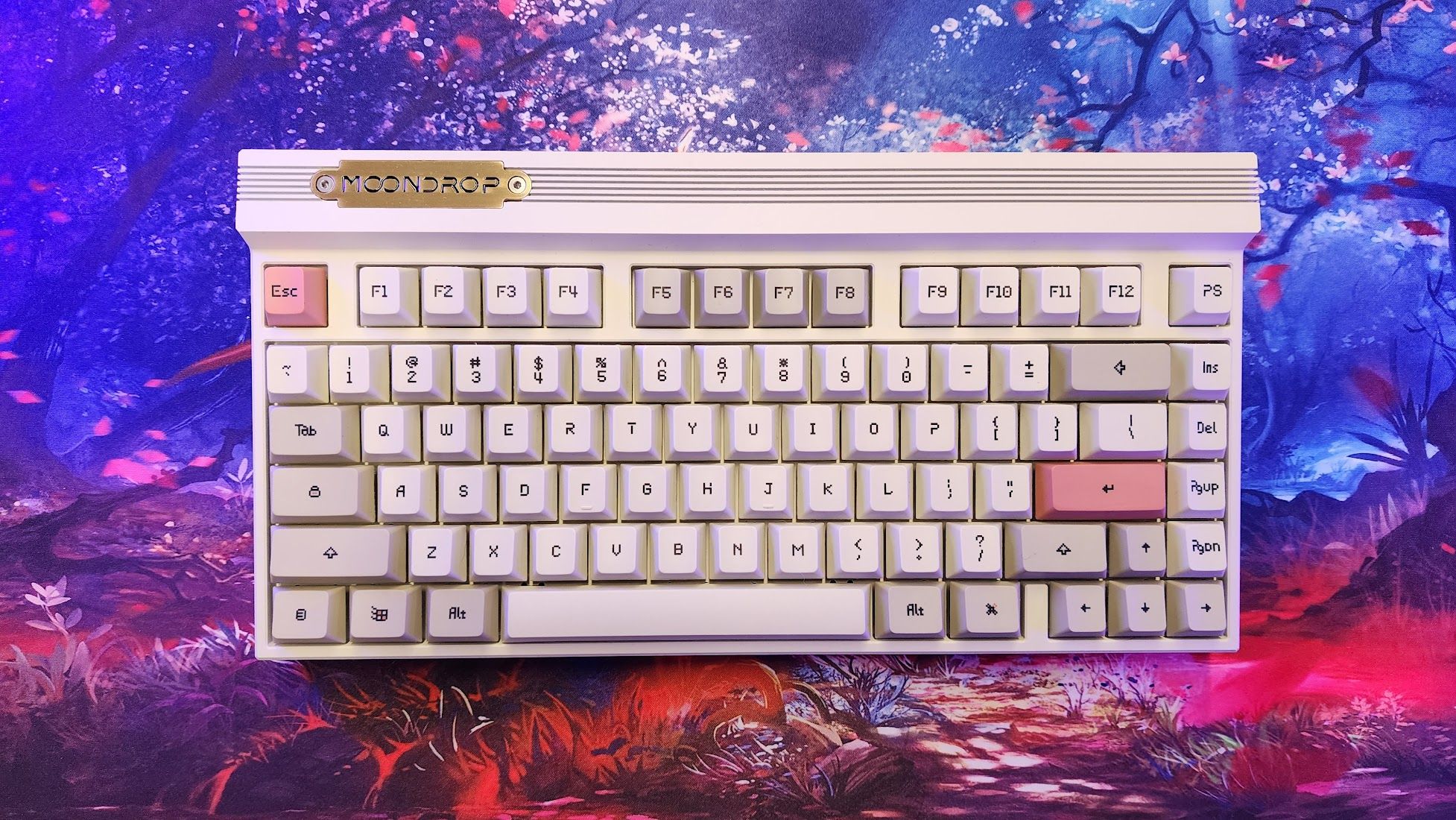 Read Time:
10 Minute, 49 Second
Moondrop is a company best known for its excellent IEMs, so when it announced it was making a mechanical keyboard, it immediately caught our attention. The Moondrop Dash isn't any mechanical keyboard, it's a HiFi mechanical keyboard. What is a HiFi keyboard you ask? That's the burning question: what makes this keyboard truly unique?
The Moondrop Dash actually includes a built-in DAC and amp, which allows it to become an external sound card for your PC. And not just any DAC. Moondrop has built-in its popular Moonriver 2 DAC/amp, which retails for $189 on its own. Add to that a built-in USB hub, a premium aluminum case, excellent pre-lubed switches and stabilizers, nearly all of the modifications you could ask for pre-applied, and an outstanding typing experience, and you have a keyboard that feels like a remarkably good value at $300 whether you're already a keyboard enthusiast or a gamer looking for a great set of keys.
Make no mistake, this is a custom keyboard that has been pre-built for you and is one of the most innovative keyboards we've seen in some time. Moondrop has nailed it with the Dash and it's well worth considering for your next keyboard.
Specifications
Current Price: $300 (

Drop

)

Brand: Moondrop

Layout: 75%

Key Count: 81 keys

Material: Aluminum alloy with PC base

Switches: Moondrop & G-Square Linear switches (60 g bottom out force)

Keycaps: 8-bit Pixel PBT Keycaps

Poron dampening

Cotton bottom padding

South-facing, hot-swappable switch sockets

Connectivity: USB-C

Compatibility: VIA/QMK support

Built-in DAC

Sampling rate: Up to 32-bit, 384 kHz

THD+N: As low as 0.0013%

SNR: As low as 131 dB

Frequency response: 6 Hz – 85 kHz

Input: USB

Output: 4.4mm balanced output, and 3.5mm single output
Moondrop Dash – What Is It?
For all intents and purposes, the Moondrop Dash is a pre-built custom mechanical keyboard. It's packed with features and the kind of sound and feel you would expect from a DIY kit that a builder has spent hours planning and modding. Even though Moondrop is an audio company, it's clear that the Dash's designer knows and loves custom keyboards. At the same time, it breaks the mold in some important ways and still has room to grow in others.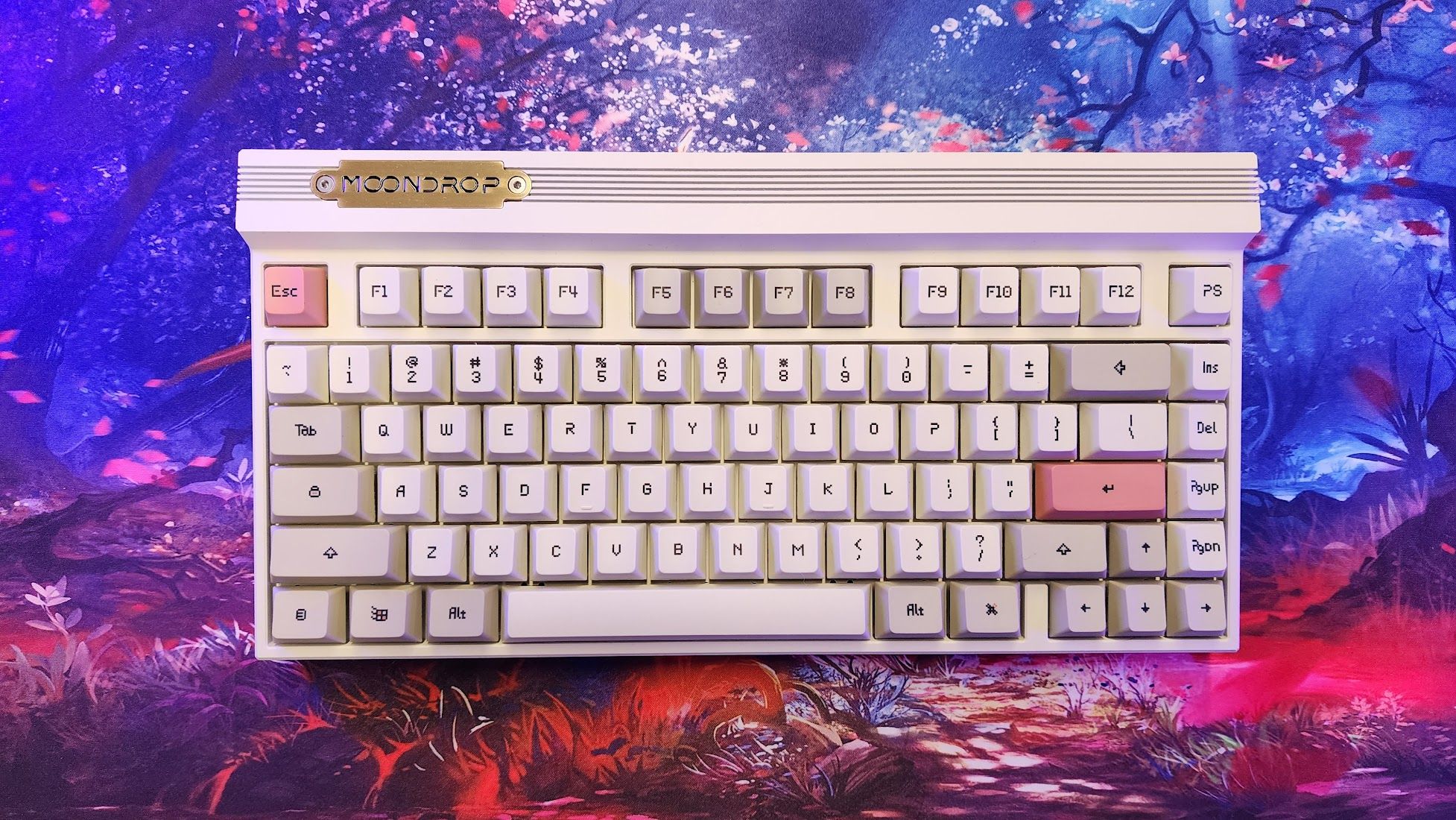 The Dash is a retro-inspired 75% keyboard. It uses beige keys, darker and lighter for the alphas and modifiers, with a couple of red accents on the Return and Escape keys. The legends on the keys are pixelated, like text from an NES game or Windows 3.1, and are dye-sublimated onto the PBT plastic so they'll never fade. The case is formed in two halves. The top is matching beige and CNC milled from a heavy, thick block of aluminum. A series of horizontal lines trace the top bezel, which steps up from the keys, giving the keyboard the look of a console. A brass badge is placed in the upper left with the Moondrop logo.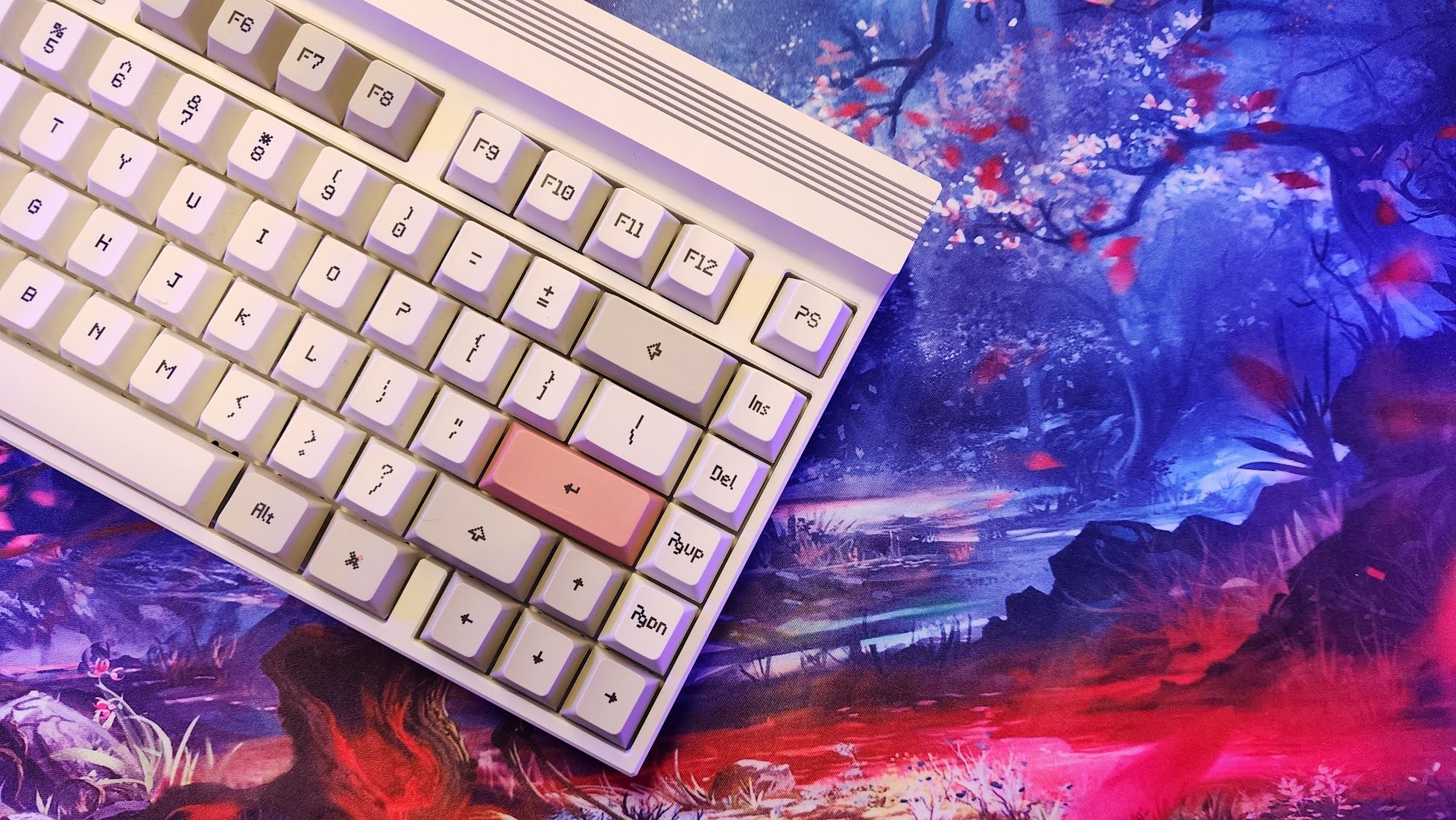 The Dash has an aesthetic that you're either going to love or you're going to hate. It certainly evokes computers from my childhood in the 1990s and means the keyboard will fit in well to any office setting (though it might become a conversation piece).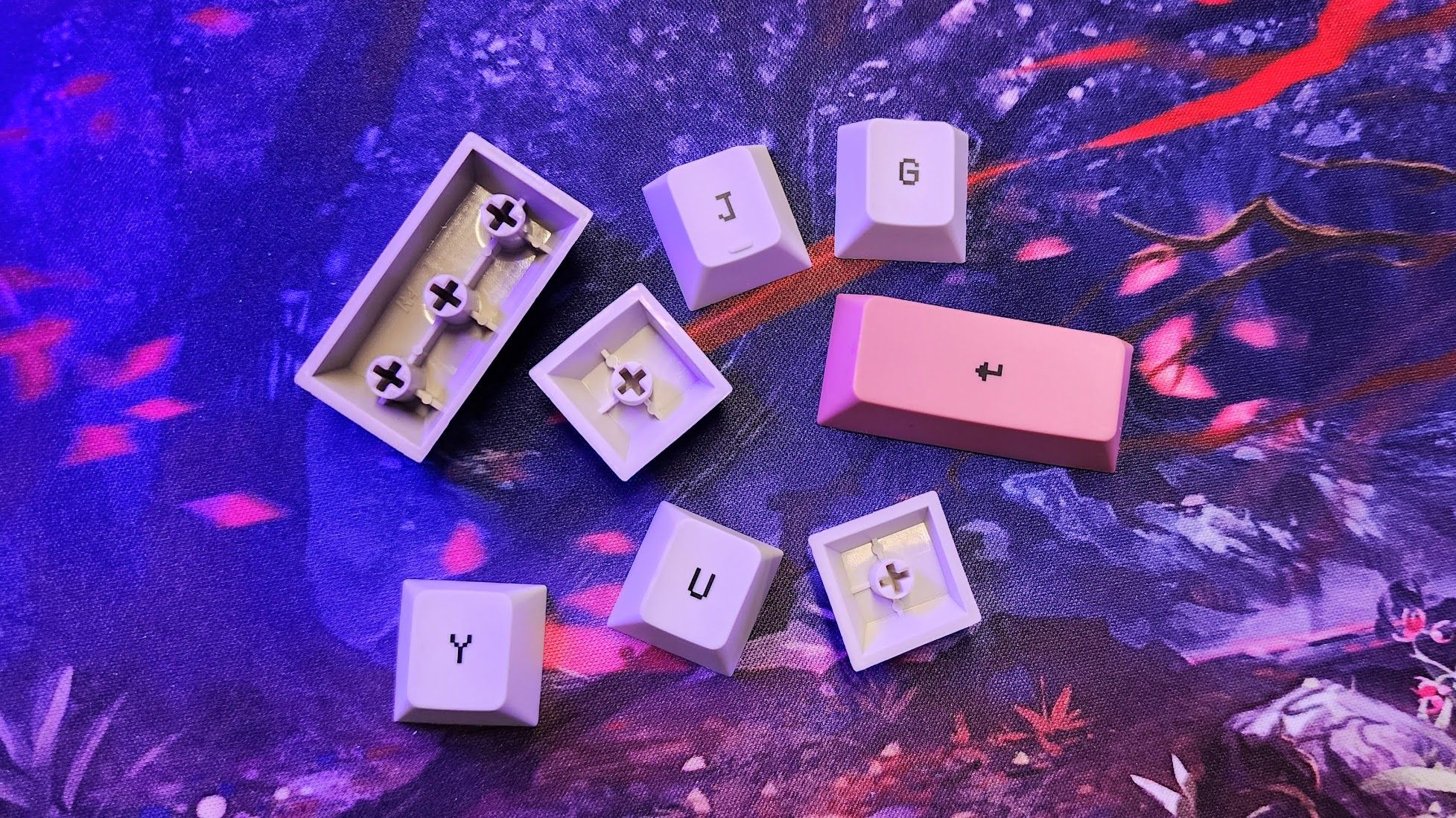 The keyboard is visually interesting but only gets more so the deeper you dig. For example, when you flip the keyboard over, it uses a frosted polycarbonate bottom. This looks nice but is only the first of many steps Moondrop has taken to make the keyboard sound as good as it does. The polycarbonate bottom case dramatically reduces any sense of hollowness and makes typing sounds softer and more rounded.
Open it up and more surprises await. At the bottom of the case is a layer of PORON foam for sound dampening, and two smaller layers to cover up the circuit boards for the DAC and USB hub. Remove that and you'll find a layer of tape has been added to the back of the PCB for the Tempest Tape mode (increasing the poppiness of the sound). Between the plate and PCB is yet another layer of foam, designed to isolate the sound of the switches. Below that, between the switches and the PCB is a final layer of switch foam, designed to tune the sound and add additional poppiness to the keys.
The design considerations don't end there, either. The stabilizers are screw-in and look like Durock V2s, an enthusiast favorite for their great sound and stability. In truth, I can't say for sure if that's what they are, but I can confirm that they're excellent. They also come better lubed than any other prebuilt keyboard I've encountered, and that includes other outstanding choices like iQunix.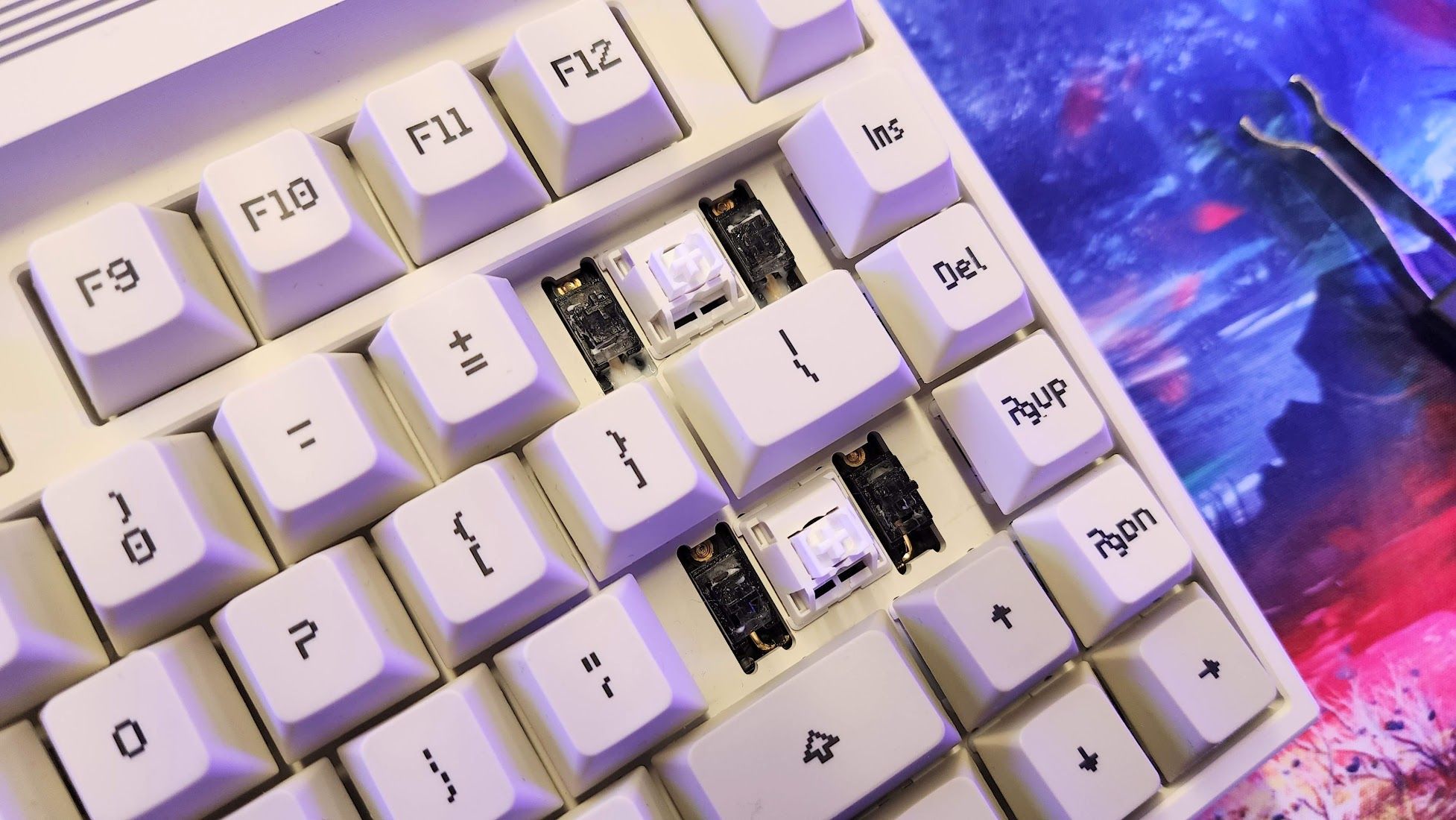 The keyboard is also fully programmable with VIA, which is an open-source firmware to remap keys and store them to its onboard memory. You can also assign macros and really rewrite how the keyboard works. Once they're saved, those setting travel with the keyboard to any computer, regardless of operating system or IT policy, and work identically to how you set them at home. VIA also allows you to map keys across layers, so you can assign secondary multimedia controls to control the DAC.
I also have to give credit to Moondrop for incorporating a USB hub into the keyboard. It's entirely uncommon in the custom and enthusiast keyboard hobby but is so nice to see back again here. There are two Type-A ports, just to the right of the USB-C that connects to the computer.
Then there's the most unique aspect of the keyboard: the DAC, but we'll get to that in its own section.
The only areas of concern with this keyboard are that it uses an integrated plate and that there are no dedicated media controls, which is an odd oversight for a "HiFi Mechanical Keyboard." The integrated plate (meaning slots for the switches are cut into the top half of the case instead of being a whole separate component, typically of a softer material) is an antiquated design at this point, but as you'll find in the typing section, that I can see why they went this route.
Moondrop Lunalight and Tessence Switches
The switches are excellent and can be purchased separately for other keyboard builds. Moondrop partnered with G-Square Studio to create them. My unit shipped with the linear Lunalight switches, which are lightweight and pre-lubed. They're long pole switches and have a slightly lower travel distance of 3.8mm. This means that the pole of the switch bottoms out before the rails, lending the switches a cleaner, crisper sound when bottomed out.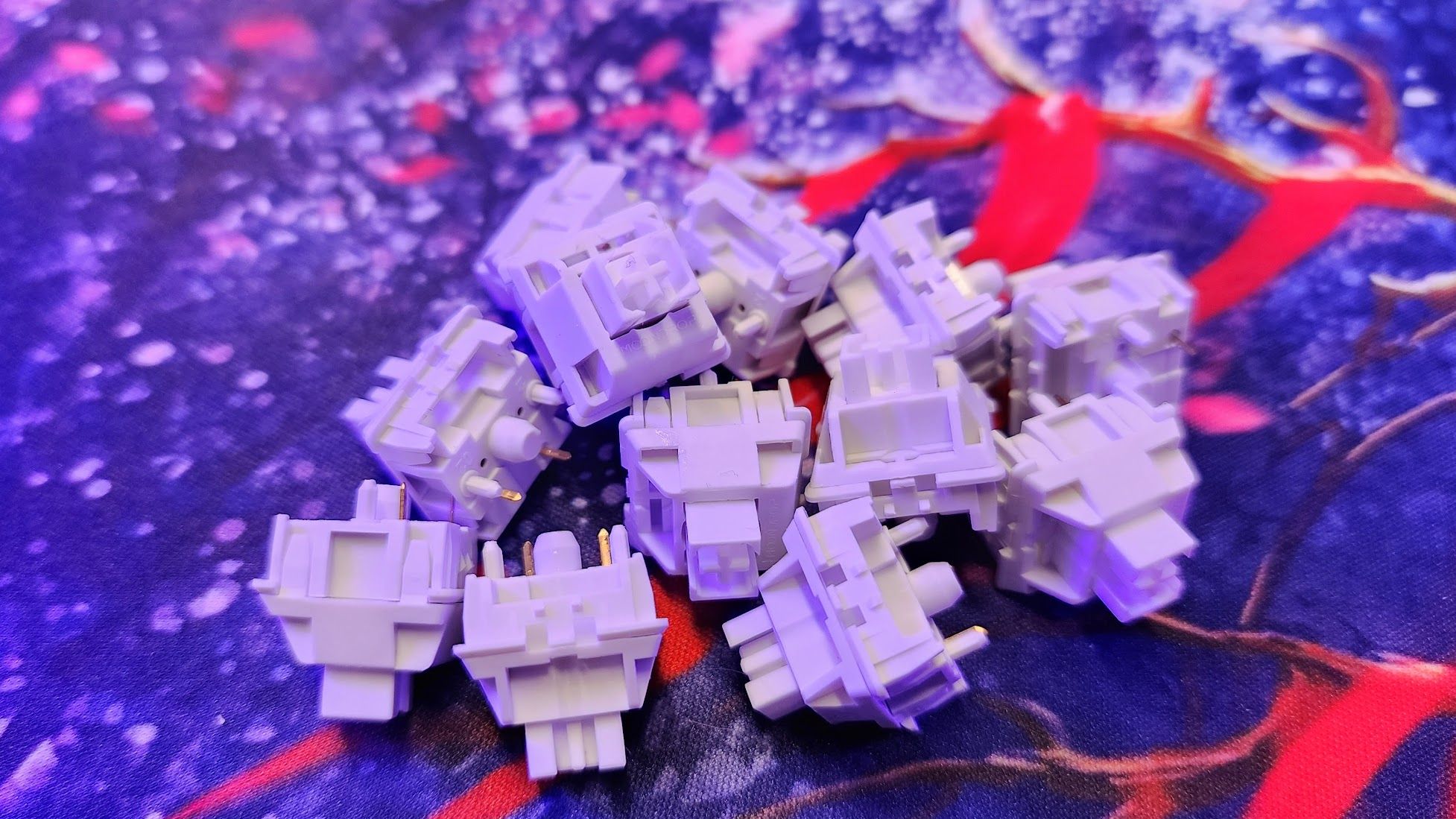 If you prefer tactile switches, Moondrop also offers a Tessence switch that adds a tactile bump. The tessence switch has a slightly different sound profile to it, but remains exceptionally smooth. If you're not confident in your ability to tune a keyboard (should you choose to build in a keeb separate from the Dash, which doesn't need any tuning), they do an excellent job of masking any inconsistencies in your own lubing or stabilizer tuning.
Regardless which you choose, these switches sound and feel fantastic. Inside the Dash, they're a perfect fit. The combination of their naturally smooth sound, how creamy they become when used with the pre-applied tape and PE foam mods, and the satisfying crispness of their long pole design really tie together the typing experience. Even on other keyboards, though, the pre-applied lube is very well done, which makes them a good fit if you want a good sounding switch that doesn't require several hours of tedious lubing.
Moondrop Dash – How Does It Sound?
The Moondrop Dash is designed to replace your computer's audio. It works exactly the same as a desktop DAC/amp hybrid, except it's integrated and completely hidden within the chassis of the Dash. In fact, you might not even know it's there except for the 3.5mm single-ended and 4.4mm balanced headphones jacks on the left side of the keyboard.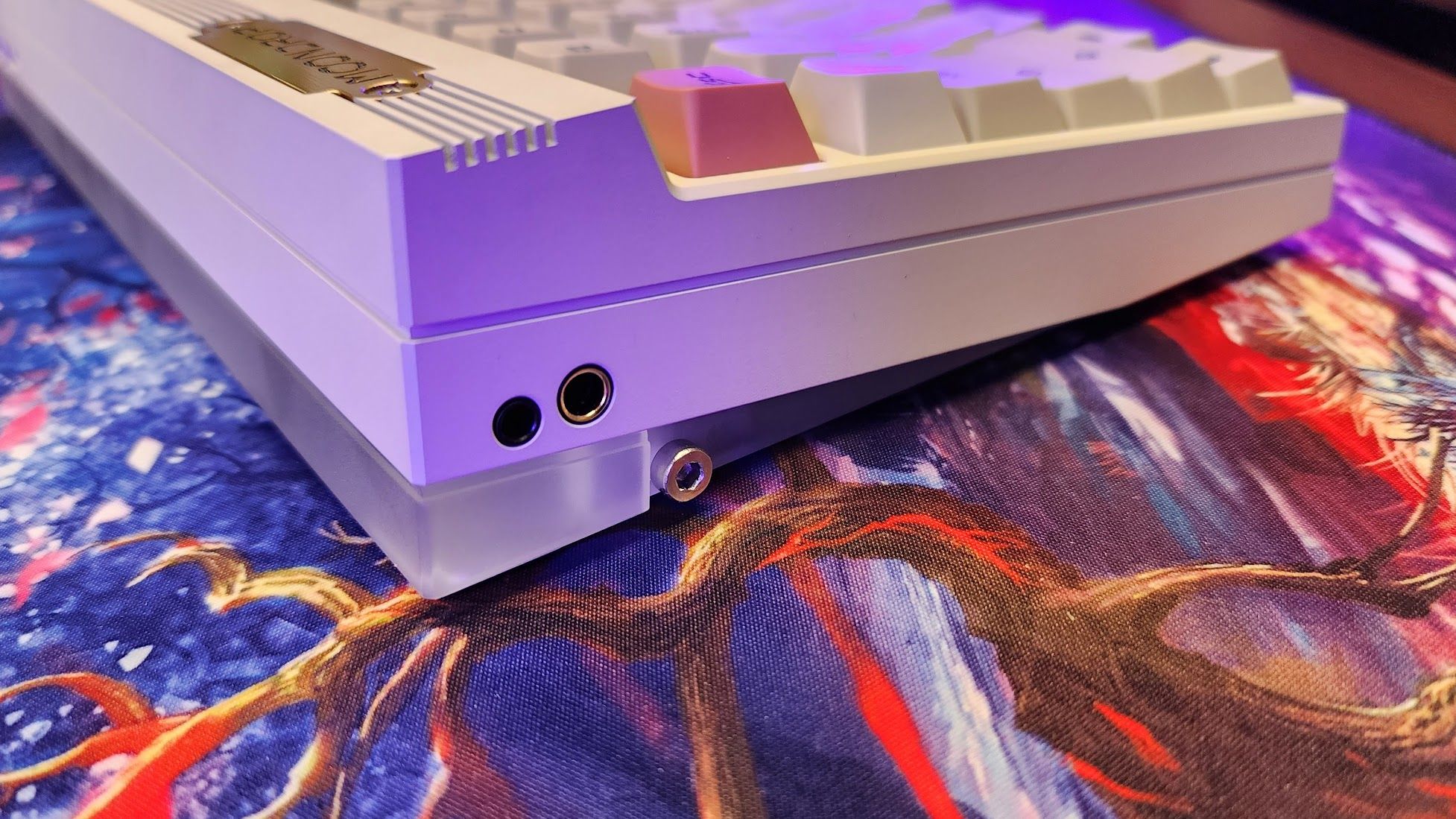 And make no mistake: this isn't some cheap, throwaway audio jack. This is a high quality audio processor that was widely regarded as one of the best portable DAC/amps of last year: The Moonriver 2. This device still sells for $189 brand new and to have it included here really puts that $300 price point into perspective. When you consider what a great keyboard this is and then an expensive DAC is added on top… well, it doesn't seem so expensive anymore for what you're getting.
The Moonriver 2 was widely acclaimed for good reason. It delivers lots of power for its small size: up to 4 vRMS from its balanced connection and 2 vRMS from its single-ended connection. That's enough power to drive just about any pair of headphones you can find. It also has a vanishingly low noise floor, so you can hear every little nuance in your music or games. The dynamic range it delivers is also excellent because of this. Simply put: you'll be able to hear more than if you were to plug your headphones directly into your computer.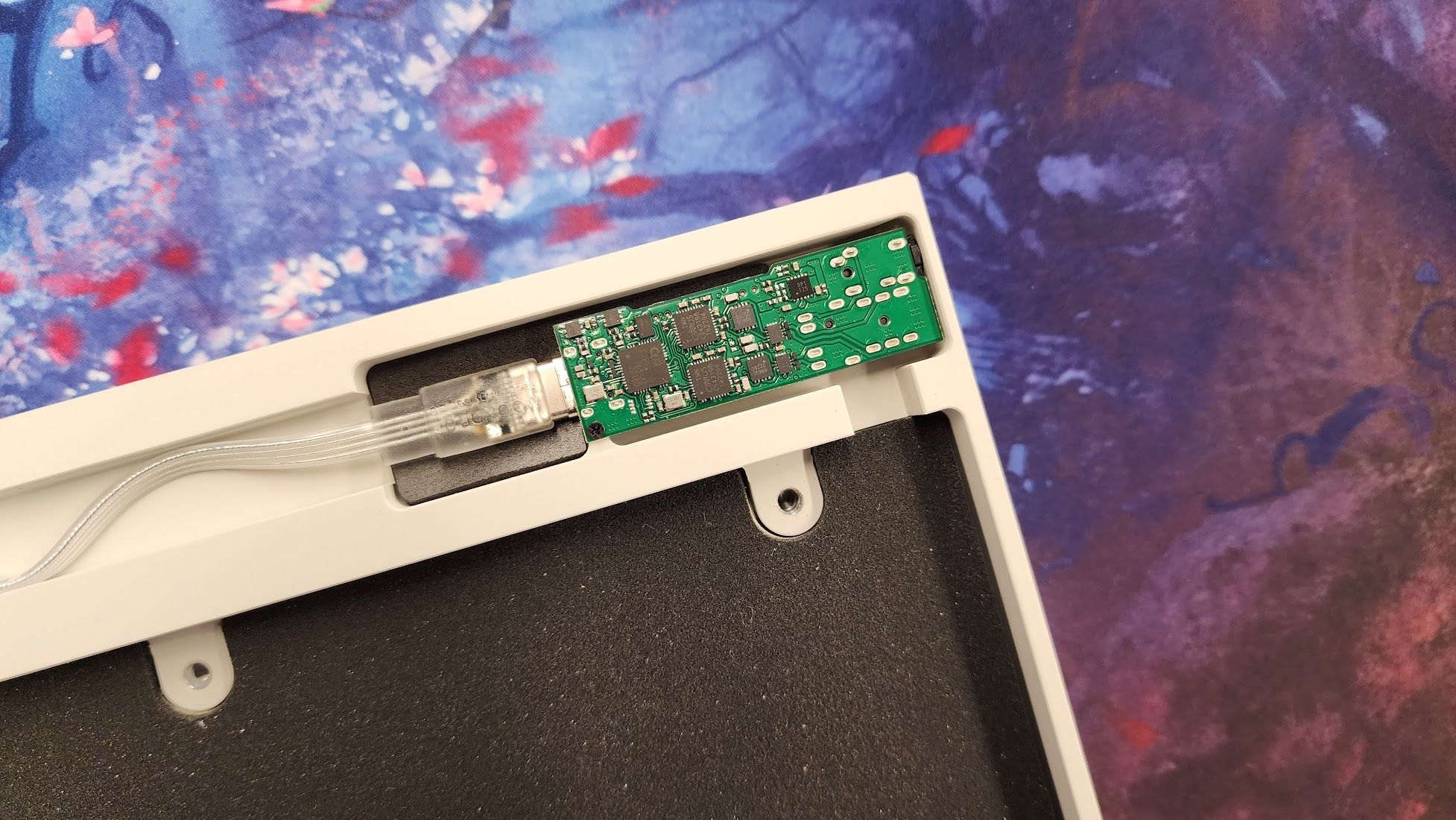 I've been extolling the virtues of separating your audio from your main PC for ages, and the Dash makes it clear why. Even the best motherboards, the expensive ones that promise high-end audio components, are still placing those components in line with other noisey hardware. Audio is also, understandably, farther down on the list of considerations for motherboard designers that also need to be concerned with system performance and power delivery. With the Dash, you're getting a device with a whole separate, highly acclaimed, audio system. It's an upgrade, plain and simple.
Moondrop Dash – Typing and Gaming Performance
The Moondrop Dash, then, becomes and all-in-one solution for typing and audio. In a way, it felt like a blast from the past plugging in my headphones to my keyboard, but my old gaming sets never sounding anything like this. Playing Battlefield 2042, the silent noise floor made it easy to hear all of the individual elements of the audio mix and where they were coming from. I felt like I had an advantage because I could hear enemies running through the hills behind me before they even made it in position to start a firefight.
For music, the benefits are even better. Paired with a great set of cans, the Moondrop is able to push them to their potential, drawing every bit of nuance and detail out of them. But even with a normal gaming headset, like the $60 Corsair HS55, the soundstage seemed to open up. The power headroom allows the drivers to perform at their full potential and gives you that little bit of an edge.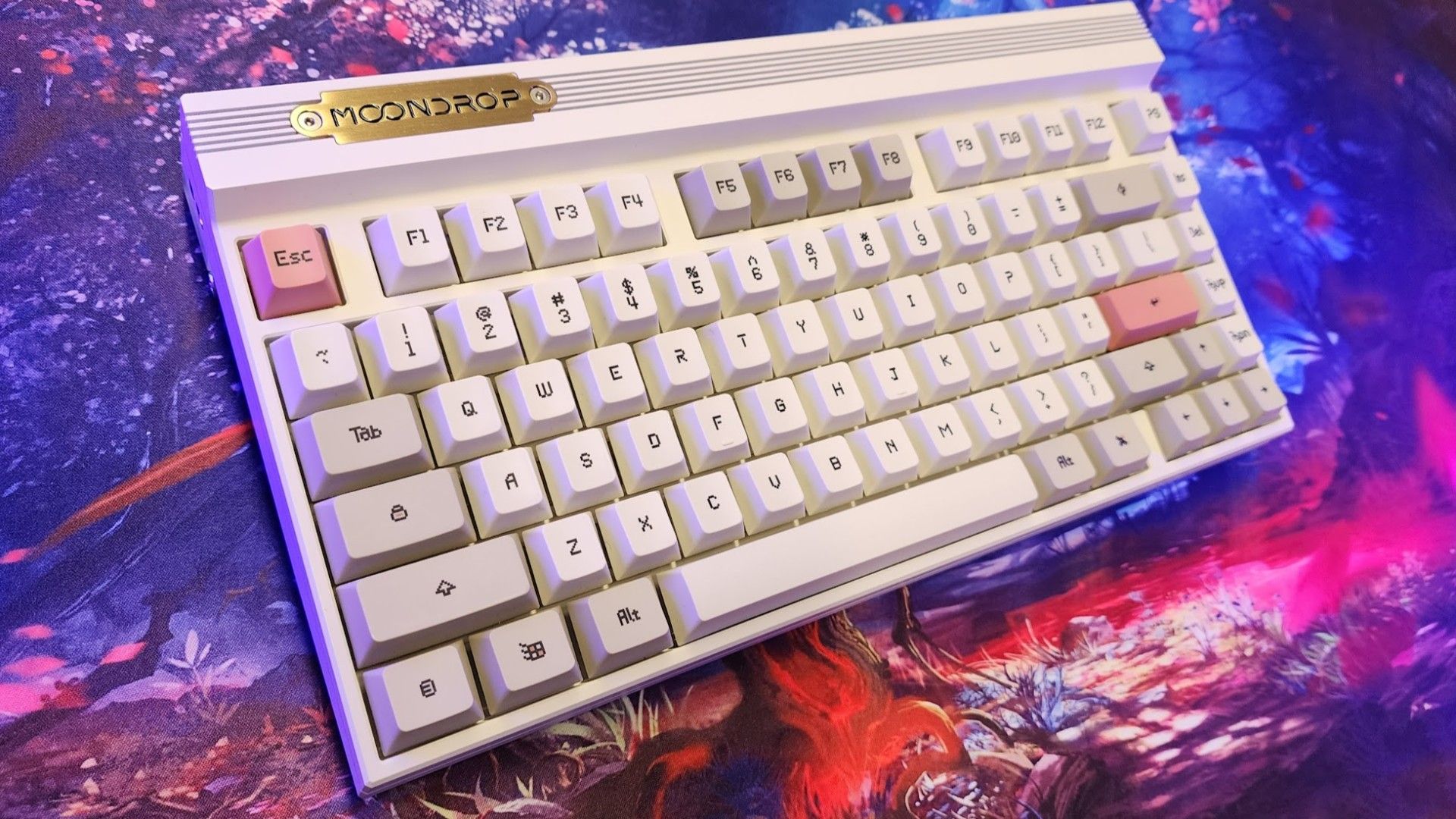 Typing on the keyboard is excellent. I really enjoyed it, and I have to admit to initially being concerned about the integrated plate design. It is stiff, there's no way around that, but the keyboard sounds better than it has any right to. The combination of the tape mod, PE foam, layers of PORON foam, and the polycarbonate bottom really smooth out the sound of this keyboard into something very pleasant. It sounds much more like a custom keyboard than any other premade I've ever used. Moondrop deserves major credit for what they've achieved here.
The integrated plate then, while likely a cost saving measure, doesn't spoil the experience. Instead, I think I can see why they went this route. Gasket mounted designs, which are popular right now, often have some inconsistencies with how they sound. The plate here is very consistent no matter which key you're pressing (modifiers excluded). The result when you're typing quickly is an almost butter sound that is just very, very nice.
Final Thoughts
At $300, the Moondrop Dash seems a bit expensive, but when you really look at what it's offering, that price point comes into perspective. The combination of great switches, all of the mods already complete, a metal case with thick PC bottom, and an outstanding, nearly $200 DAC/amp, all being built-in save time, and upgrade two elements of your PC setup all at once. With all of that in mind, as shocking as it is to say about a $300 keyboard, this is actually a very good value and something gamers and keyboard enthusiasts should absolutely be taking a closer look at.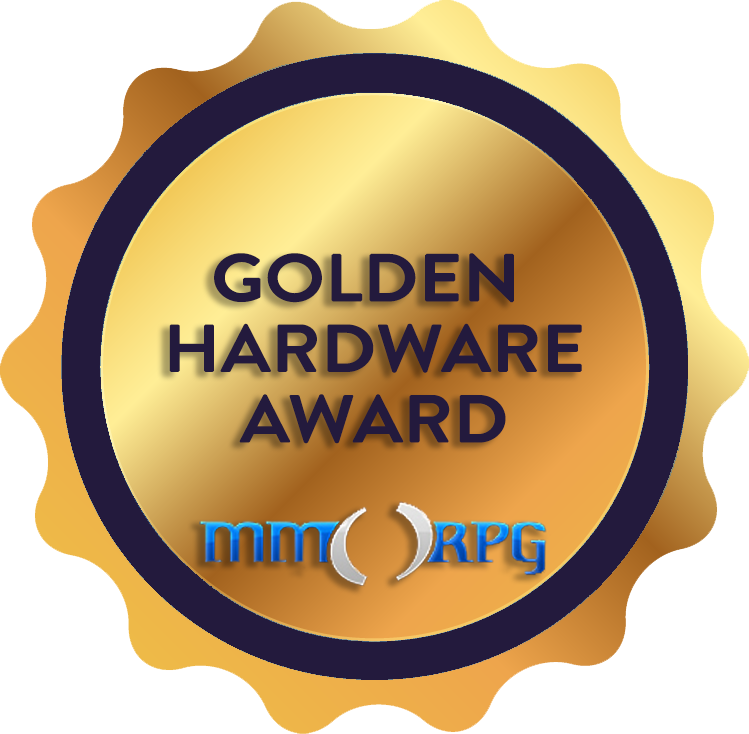 The product described in this article was provided by the manufacturer for evaluation purposes.