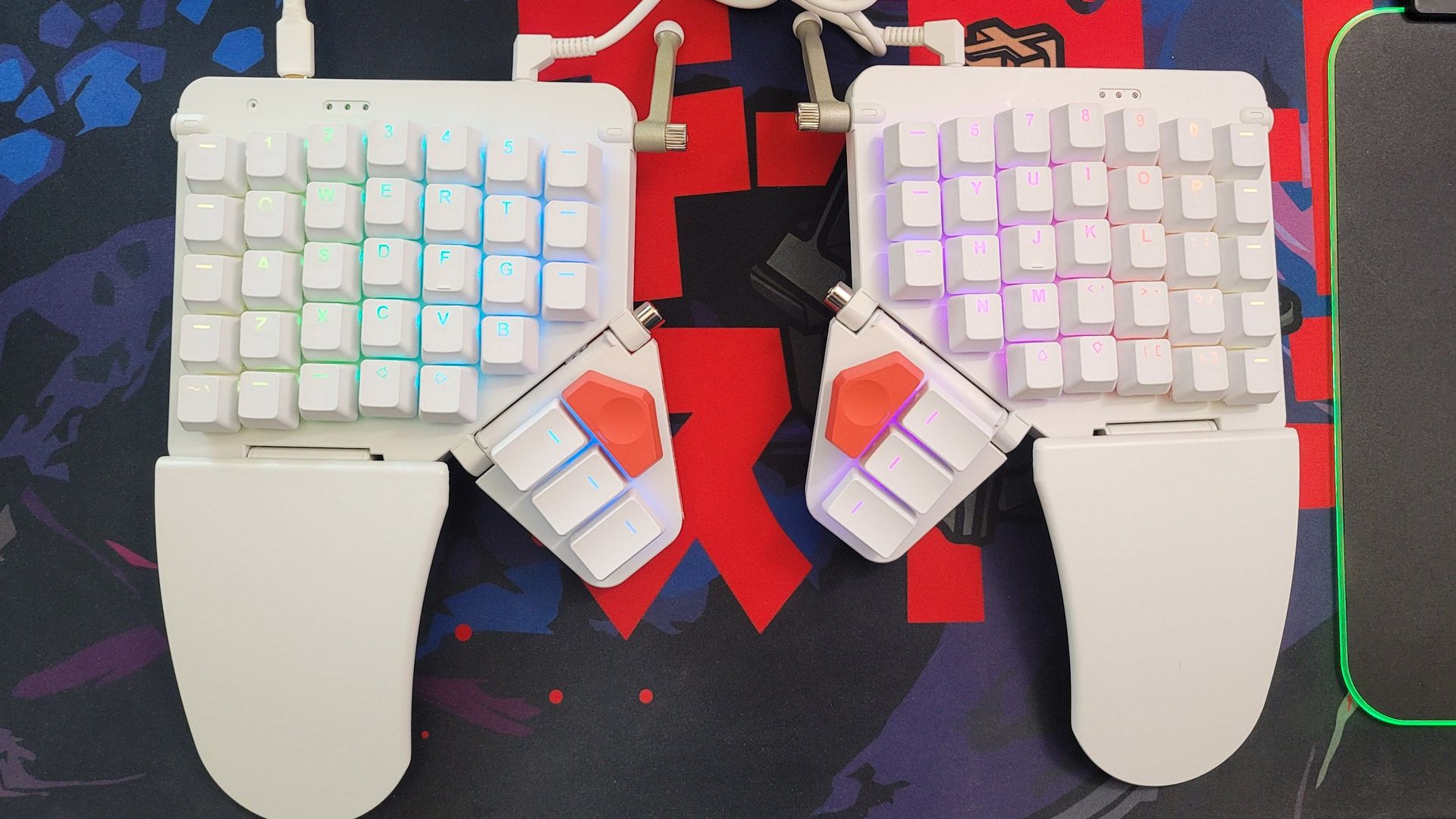 Read Time:
11 Minute, 30 Second
You may not have heard of ZSA yet, but within the space it operates within, it's a titan. The company has a very particular niche: highly customizable ortholinear mechanical keyboards. Over the years, I've reviewed each of its major products: the ErgoDox EZ, the ErgoDox EZ Glow, and the Planck EZ. Each has been impressive, especially if you like to tinker and make your keyboard uniquely your own.
Today, we're looking at its next major release: the Moonlander. Building upon the lessons learned with the ErgoDox EZ, ZSA has delivered a product that is more refined, more portable, just as deeply programmable, and thanks to a heaping helping of support tools, easier to learn. If you're in the market for a split keyboard, a fan of ortholinear, or investigating ways to protect the health of your wrists and hands, this is a product well worth a closer look.
Specifications
Current Price: $365 (

ZSA

)

Type: Split Ergonomic Ortholinear

Colors: White and Black

Key Switches:

Cherry MX: Red, Blue, Brown

Kailh: Bronze, Gold, Silver, Copper, Box Red, Box Brown, Box White, Box Black

Keycaps: Doubleshot PBT

Backlighting: Per-Key RGB

Processor: ARM Cortex-M4

Connectivity: USB Type-C

Operating System: Windows, MacOS, Linux

Key Features:

Hotswap Support

Thumb Cluster

Complete Programmability

Independent Left Side Use

Foldable Design

Integrated Wrist Rests

Tenting Supported

Programmable Thumb Cluster

Included Carrying Case

Warranty: Two-year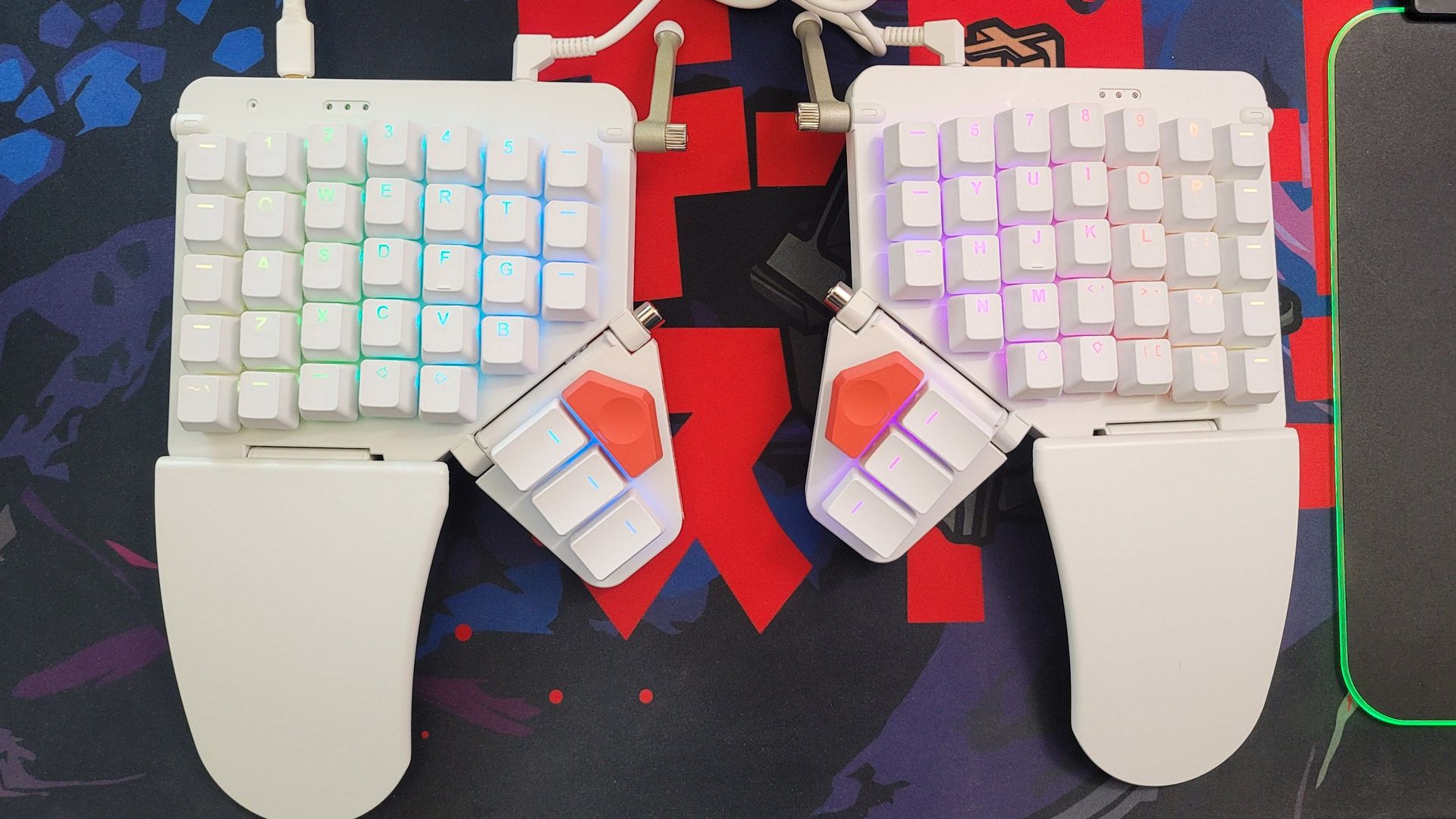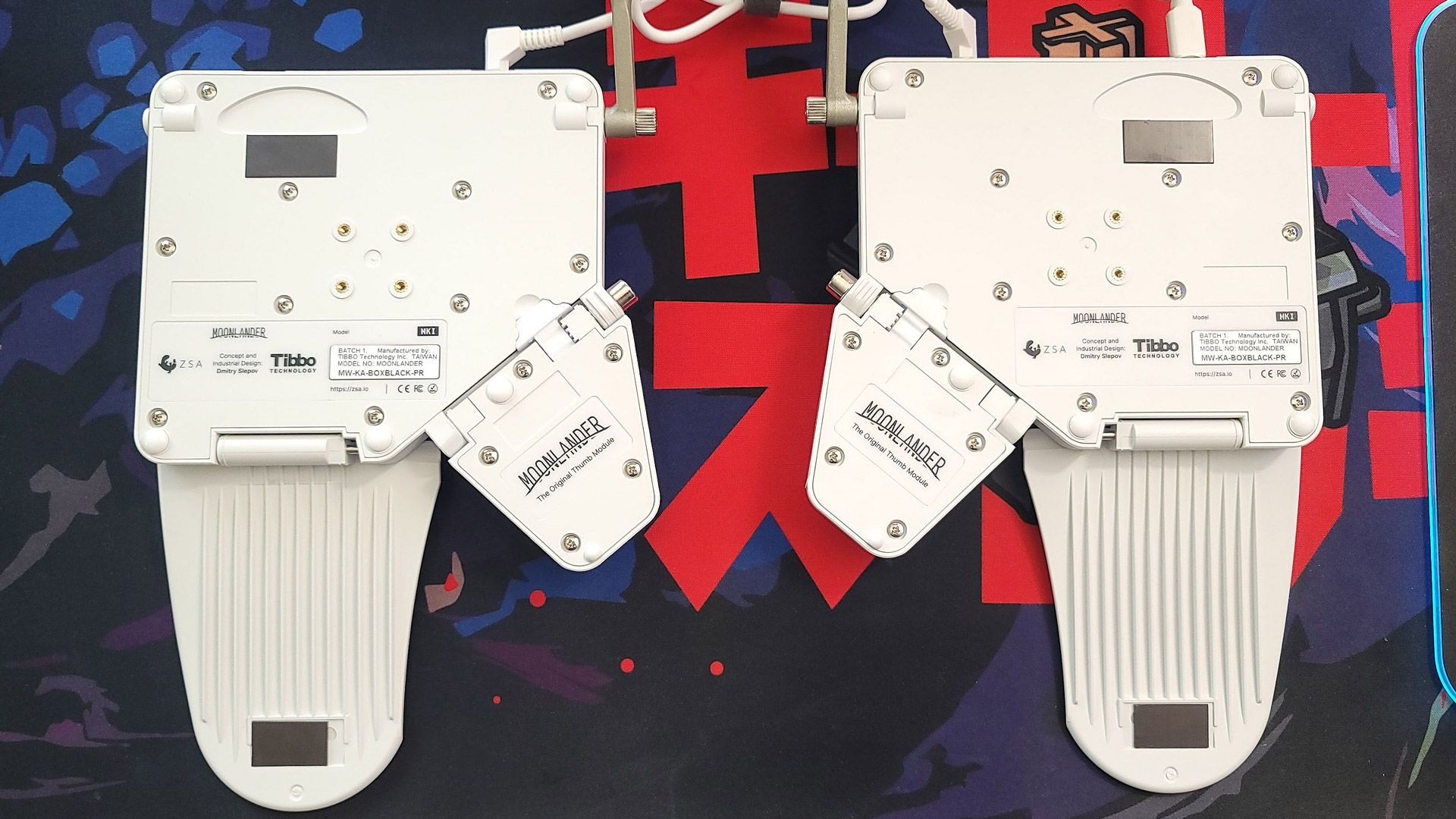 ZSA Moonlander – Overview and What's Changed
The Moonlander is the evolution of what ZSA started with the ErgoDox EZ line-up. Like those keyboards, it adopts a split, compact design. The keys are arranged in vertical columns without the stagger found on traditional keyboards. In the inner corner of each half is a thumb cluster with three large "piano" keys and a red launch button. Each half of the keyboard can also be tilted outward using a built-in tilt leg — and I mean leg. These are actual metal legs that can be rotated 360-degree and tightened with a thumbscrew to dial in exactly the amount of incline you prefer. Each side also features a built-in wrist rest that can fold underneath the keyboard for storage and travel.
The idea here is, firstly, health. As we've discussed in past articles, a traditional keyboard just isn't designed with ergonomics in mind. Your arms are too close together, which causes your wrists to angle out causing ulnar deviation and a greater risk for carpal tunnel syndrome. Their flat nature also causes you to turn your arms inward, leading to pronation, restricting blood flow, and risking a repetitive stress injury. The built-in wrist rests also help ensure that you're not over-extending your wrist, which can lead to fatigue, soreness, and injury (the former I faced for the first time this last year working at a desk full time). And those vertical columns of keys? That matches the natural movement of your fingers. When you make a fist, your fingers move in a straight line, not a stagger. The Moonlander is adapted to the user, which is the exact opposite of most keyboards available today.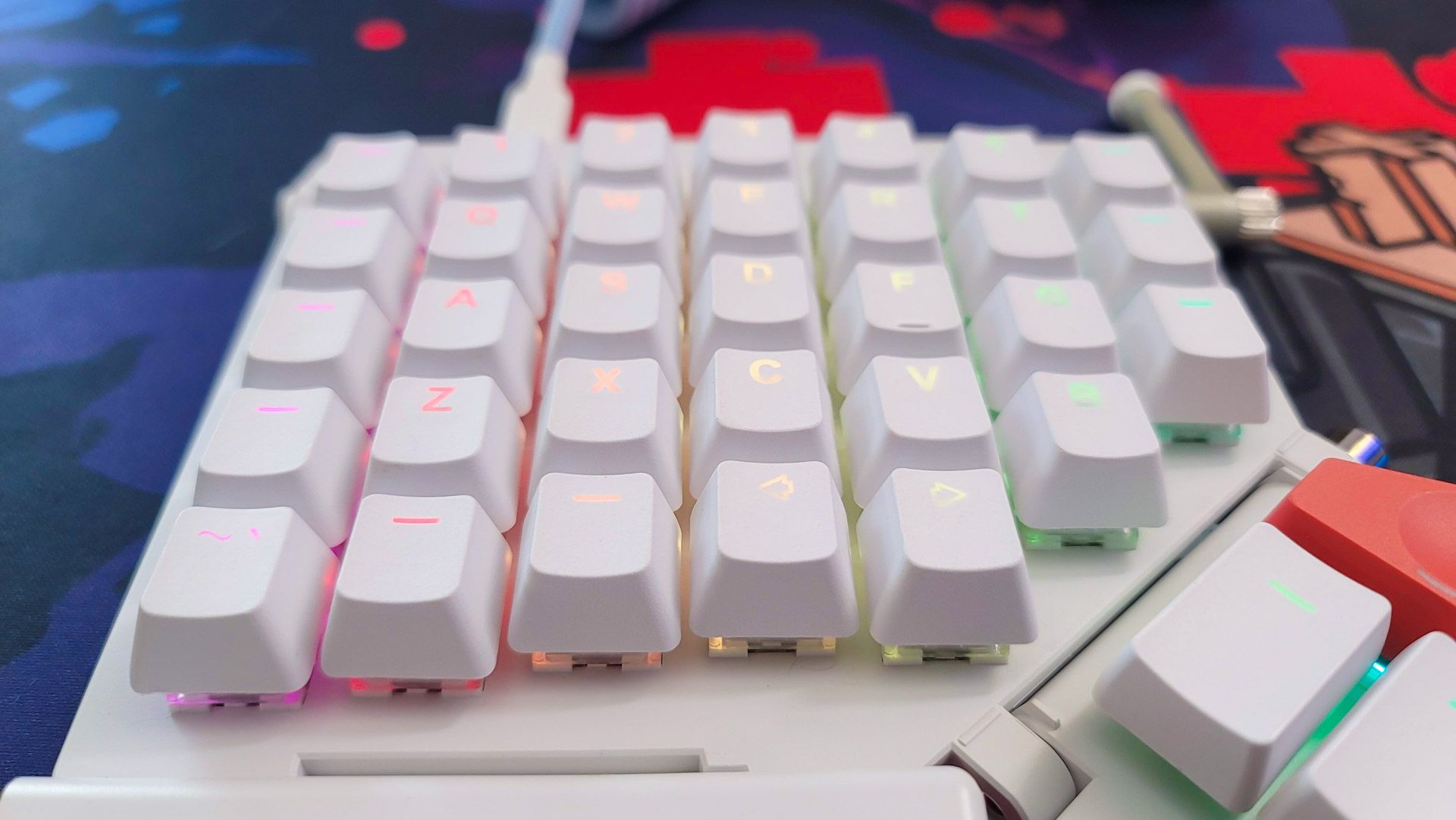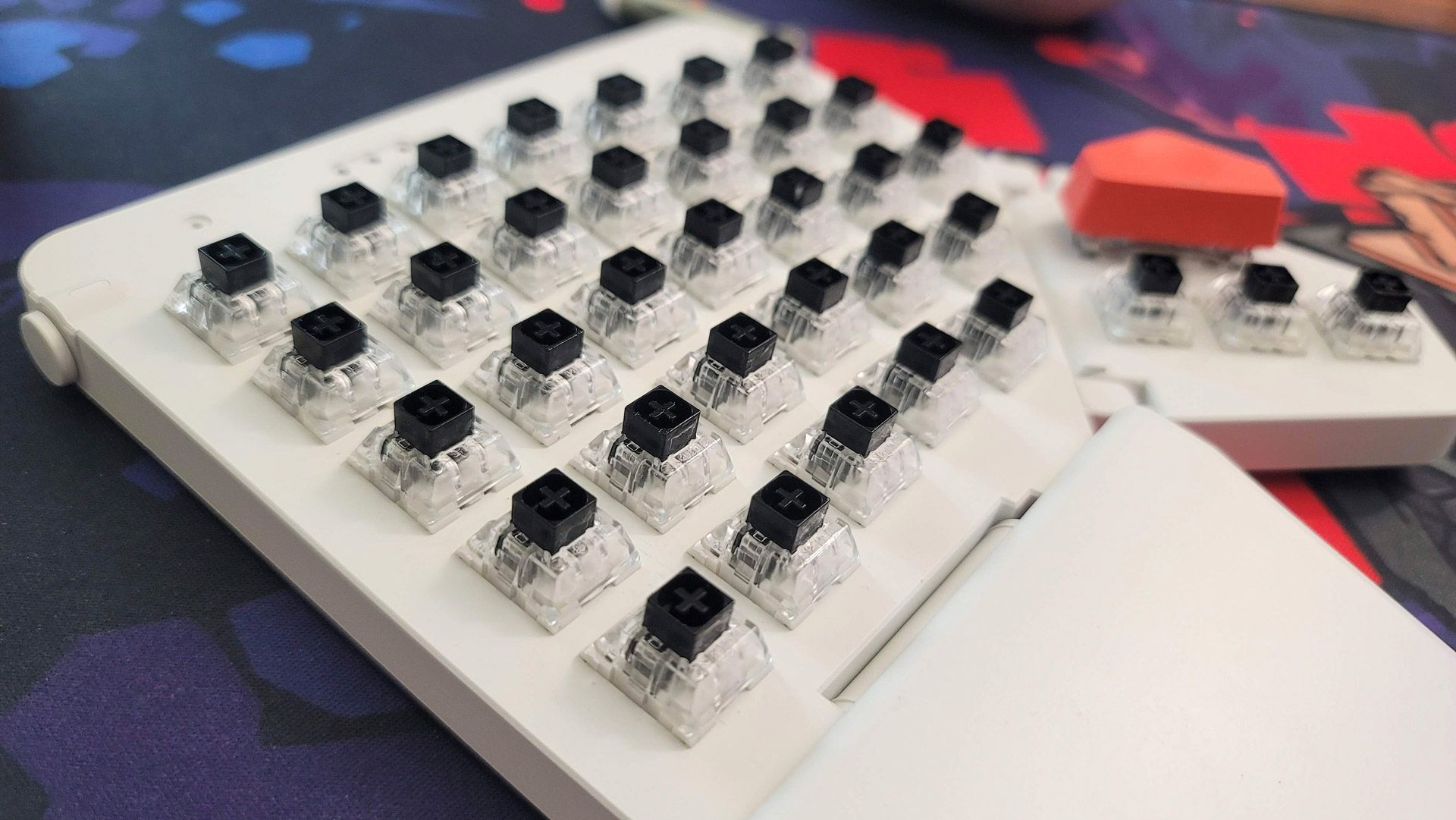 The second guiding principle here is efficiency. In total, the Moonlander has 72 keys but only 47 of them are printed. The remaining 25 keys are blanks, able to be re-programmed to whatever works best for your typing style and use needs. Coders, for example, are likely to have a different layout than columnists. The blanks do have default keymaps but ZSA makes it easy to remap every key, even with combinations or advanced functions like sending one command when held and another when tapped.
Compared to the ErgoDox EZ, there have been some major changes here. The first is that the Moonlander feels much more compact. When held back to back, the actual footprint is fairly close (the Moonlander a bit over a centimeter less in length), but it features a small top bezel and is about twice as thin. The blank keys outside of the thumb cluster have all been reduced down to a single unit, so they're exactly in line with the other keys.
The thumb cluster has also undergone significant change. The button count has been trimmed down to only four keys: three larger blanks ZSA calls "piano keys" and a triangular "launch button." After getting used to my ErgoDox, I have to admit to missing its thumb cluster and the angle of its larger keys, but it didn't take long to adapt. The piano keys (which I use for Space and Enter on opposing sides) are positioned to perfectly match the angle of the thumb while typing, so getting started feels fairly natural, even coming from a full-size spacebar.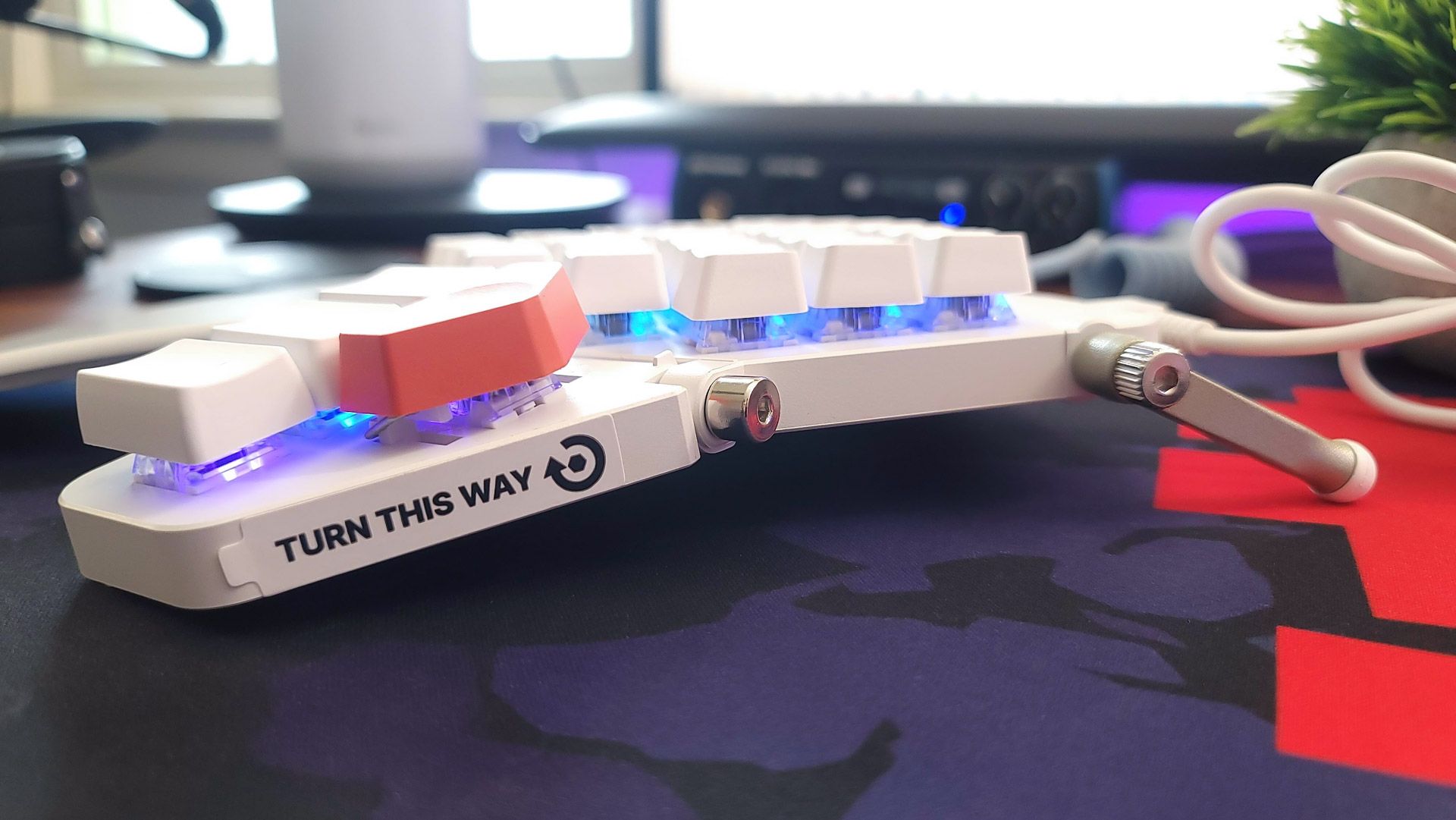 Another change is that the Moonlander comes as a full package, so you don't need to buy the wrist rests or tent kit separately. With the ErgoDox EZ, it was pretty much implied that you should buy these things but both of them, as well as LED lighting cost extra. With the Moonlander, all of that is integrated into the purchase. This does raise the price of the keyboard to $365 and leave your choice-making to color (white or black) and your choice of hot-swappable switch. That said, the ErgoDox experience was always better with the wrist rests, tent kit, and RGB lighting, so including them here helps guarantee the best possible ergonomic experience.
The changes don't stop there. The Moonlander now integrates the wrist rest directly into the design of the keyboard. The rests are now plastic instead of silicone and are made to fold beneath the keyboard when not in use. Likewise, the thumb cluster is now hinged and can be tilted upward for users with smaller hands. Each half also includes one tilt leg pre-installed on the inner side. I was initially concerned about balance, but the hinged wrist rest and thumb cluster create three points of contact and a stable, tripod-like base for typing.
ZSA Moonlander – Incredible Programmability
Outside of ergonomics, the biggest selling point of the Moonlander is its absolutely incredible programmability. Since the release of the ErgoDoz EZ, the team at ZSA has been hard at work adding new features and the Moonlander inherits all of them. Having used many more keyboards since my last ErgoDox EZ review, I can say with confidence that this board can do more straight out of the box than even high-end custom keyboards. If you want to do what the Moonlander can natively with another keyboard, you'd better be ready to do some coding.
The Moonlander runs on QMK, a popular firmware among custom keyboards. QMK is open source and constantly being developed but new features can be slow to make their way into mainstream use. The team at ZSA has been on fire adding features to its Oryx online configurator tool. One of the coolest is Tap Dance, which allows you to send multiple commands from a single key when tapped once, twice, held, or tapped and held.
Changing key assignments is reasonably easy and done through ZSA's online configurator tool called Oryx. As you can see in the picture below, you're given a layout of your keyboard where you can see all of your current assignments. Clicking on a key (after you've selected to modify it) will open up a window where you can choose exactly what you'd like it to do. Simple remap? Done. Complex macro for your favorite game? No problem. Assign four different actions with a complex Tap Dance? You bet. How about control the mouse so you don't have to leave the keyboard at all? You guessed it: totally possible.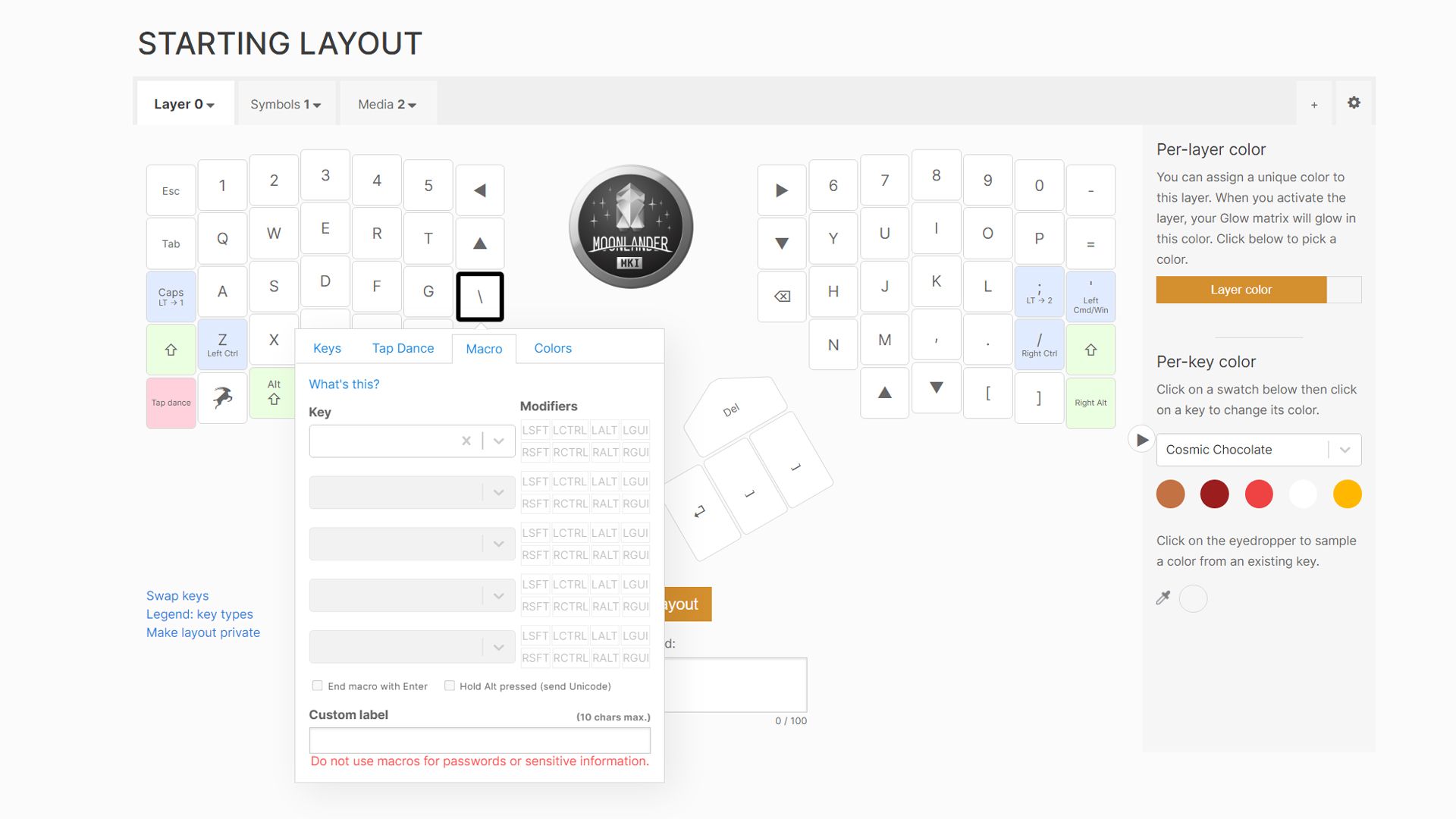 Given the limited number of keys, the Moonlander also supports multiple layers of keys. In this context, think of a layer like a whole second keyset accessible by holding or tapping another button. You won't need to worry about remapping symbols (like ! for 1 or @ for 2), they're tied to the Shift key, like usual. In fact, you won't need to worry about remapping just about anything if you don't want: ZSA has made sure that all of your Function keys, media and lighting controls, and symbols are all accessible right out of the gate. But, you probably will, because that's what this keyboard is all about.
With such an unusual layout, and such potential for custom layout for different games and apps, it's almost a certainty that you'll want to change something. I certainly had to, and it was after coming up with a base keymap that I really began to learn its ins and outs and felt comfortable enough to add extra layers for my most used applications. For gaming, it's also possible to unplug the right side entirely and just use the left for controls and macros, a feature that essentially melds this keyboard with a gamepad like the Razer Tartarus Pro.
What's great about the Moonlander is that any changes you make are stored on the firmware level. That means you can take it to any PC and have it function exactly the same without ever needing to install software. That does make for a couple of extra steps to flash your changes to the keyboard, but it's a simpler process than other QMK-loaded keyboards. You simply download the firmware file, select it with ZSA's lightweight Wally EZ Flash tool, and press the flash button on the keyboard. Within a few seconds, the firmware file is saved to the keyboard and you're good to go.
ZSA also allows you to save your configurations to its website, so you can re-access them at any time for any small changes you would like to make. As a small touch, it even saves revisions in a kind of changelog, so you can simply click on a revision by date if you happen to forget to name your layout something memorable. Once they're saved, layouts are shared with the community making it easy to see what works for other users and try it for yourself.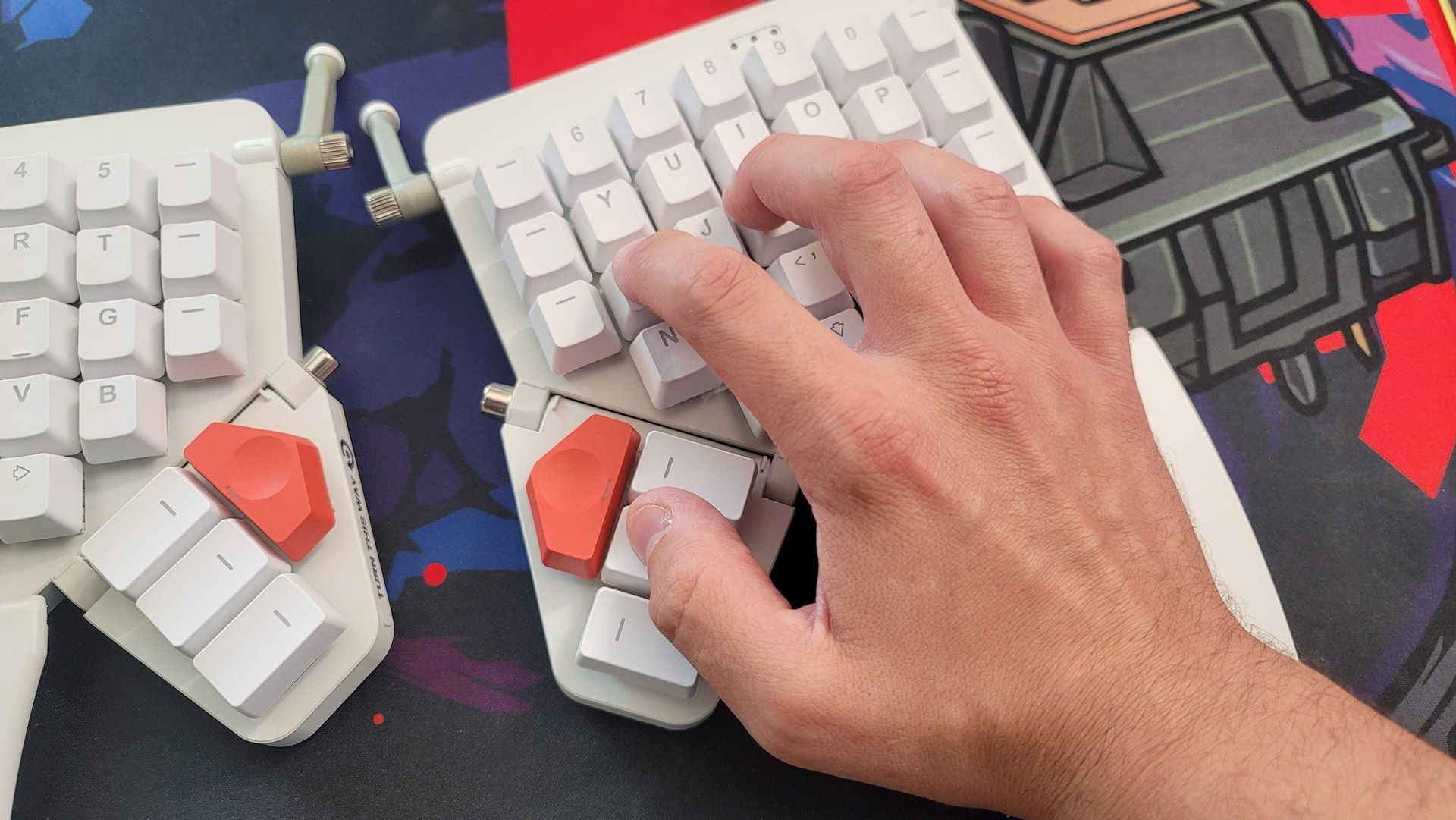 ZSA Moonlander – Learning to Type Again (With Help)
I won't sugar coat it: swapping to the Moonlander is a lot like learning to type all over again. With a normal keyboard, I type at about 110 WPM. After a day with the Moonlander, I was at roughly 30 WPM. I was able to work and write, but it was a major blow to my speed and efficiency. After years of typing on keyboards with staggered layouts, moving to an ortholinear involved retraining my brain and redeveloping decades of muscle memory.
ZSA knows that the learning curve is steep and recommends that you give yourself a solid 30 days of daily practice to learn how to type again. Thankfully, it has tools to streamline this process.
A new Live Training Mode allows you to see your layout as you type, which makes it easier to remember what you have mapped to those blank keys. Just as importantly, it allows you to see what mistakes you're making. For example, I had a difficult time hitting V instead of C and just being able to see my mistake as I made it really helped train me to keep my middle finger to the left.
ZSA has also added a typing test-based training tool. Unlike other typing tests, this one emphasizes accuracy and won't let you proceed when you've made a mistake. It's broken down into Alice In Wonderland sections of prose or other books, code snippets, numbers and symbols, and can even take your own text as a training tool. This really lets you focus on what's going to be relevant to you and where you're at learning to type on the Moonlander.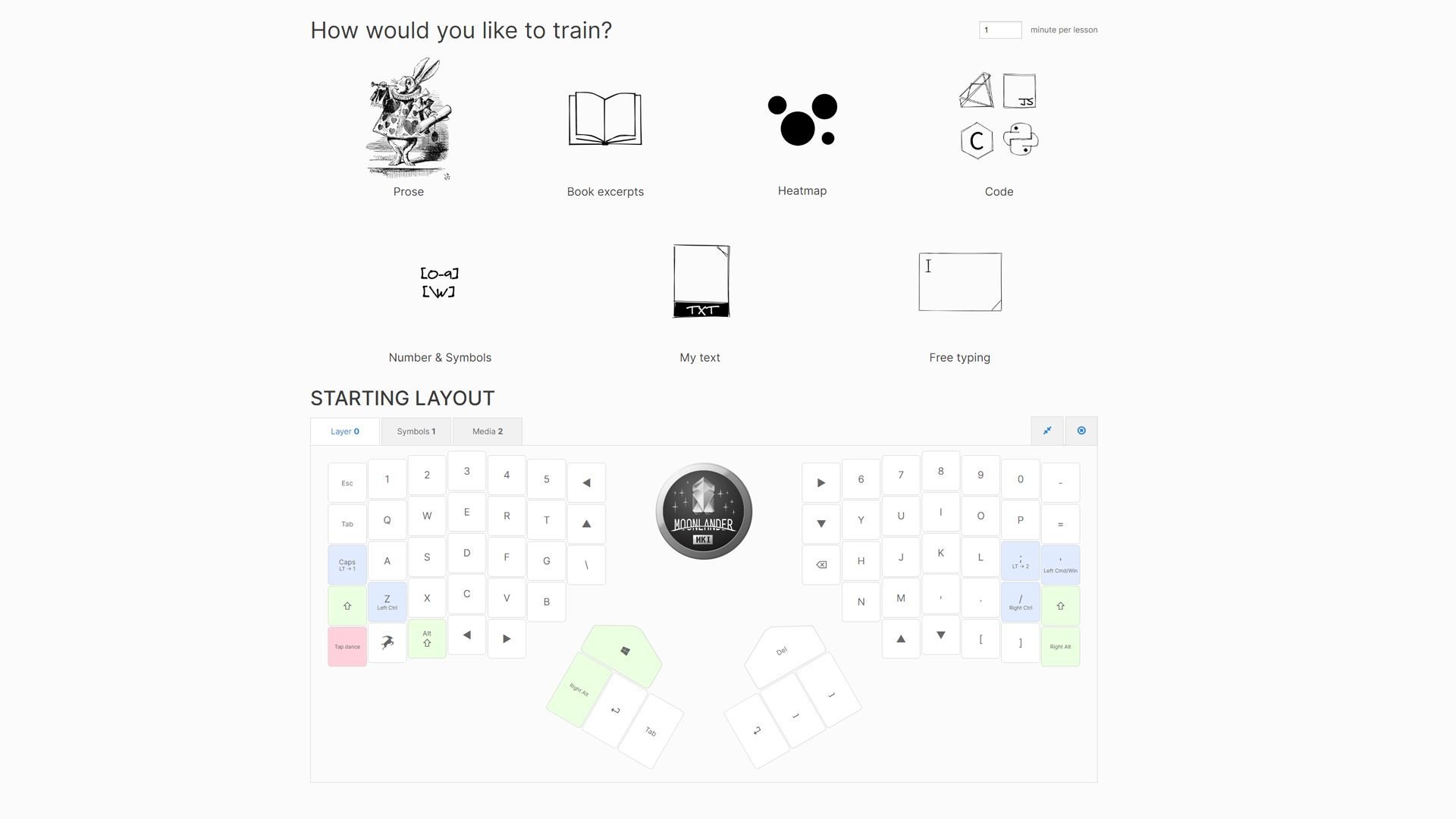 It was slow going for me at first, but after several weeks of practice, I've regained much of my speed. I'm now at around 80 WPM, a dramatic improvement from where I began, but I still have more ground to cover. If you go with a keyboard like this, learning takes time. I've even walked this path multiple times before and still have to learn again. That's one core reason why it's difficult to go back, but it's not the most important one.
Final Thoughts – Should You Buy the ZSA Moonlander?
The biggest reason it's difficult to go back to another keyboard is that the Moonlander is able to feel so uniquely your own that other keyboards start to feel like they're missing something pivotal. And they are. They're missing you. They're missing your exact workflow and typing style. They're dialed in for the masses whereas the Moonlander is exactly what you make of it.
Though it takes time to come to grips with all it can do and to learn to type again, the Moonlander is simply incredible. It's a production keyboard that offers programmability that excels beyond what's possible even on most custom mechanical keyboards. Once you have it fully dialed in, it's hard to go back to anything else. It's an evolution of what ZSA began with the ErgoDox EZ and is, in my estimation, the single best ortholinear split keyboard option on the market today. It won't be for everyone, but if you are the kind of user this is intended for, it doesn't get much better than this.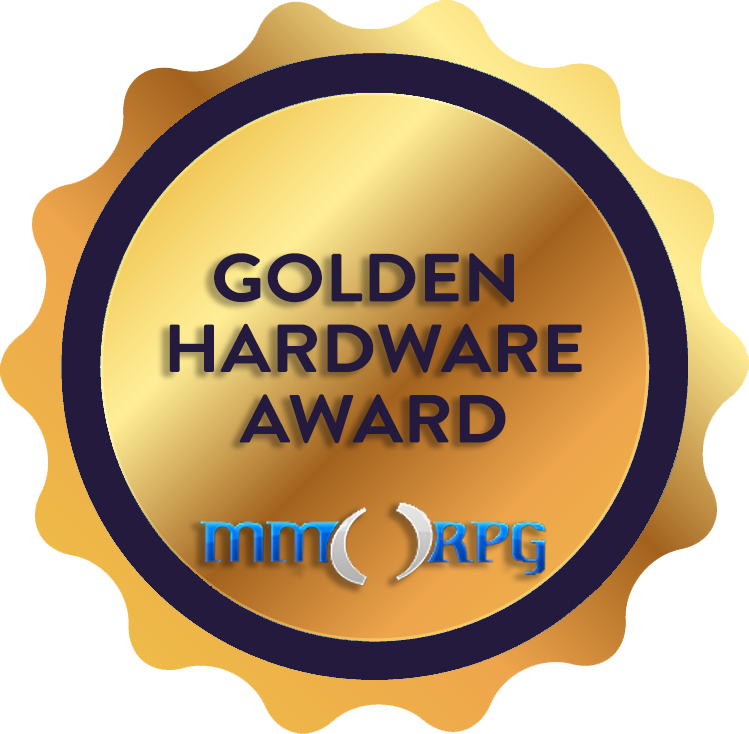 The product described in this article was provided by the manufacturer for evaluation purposes.