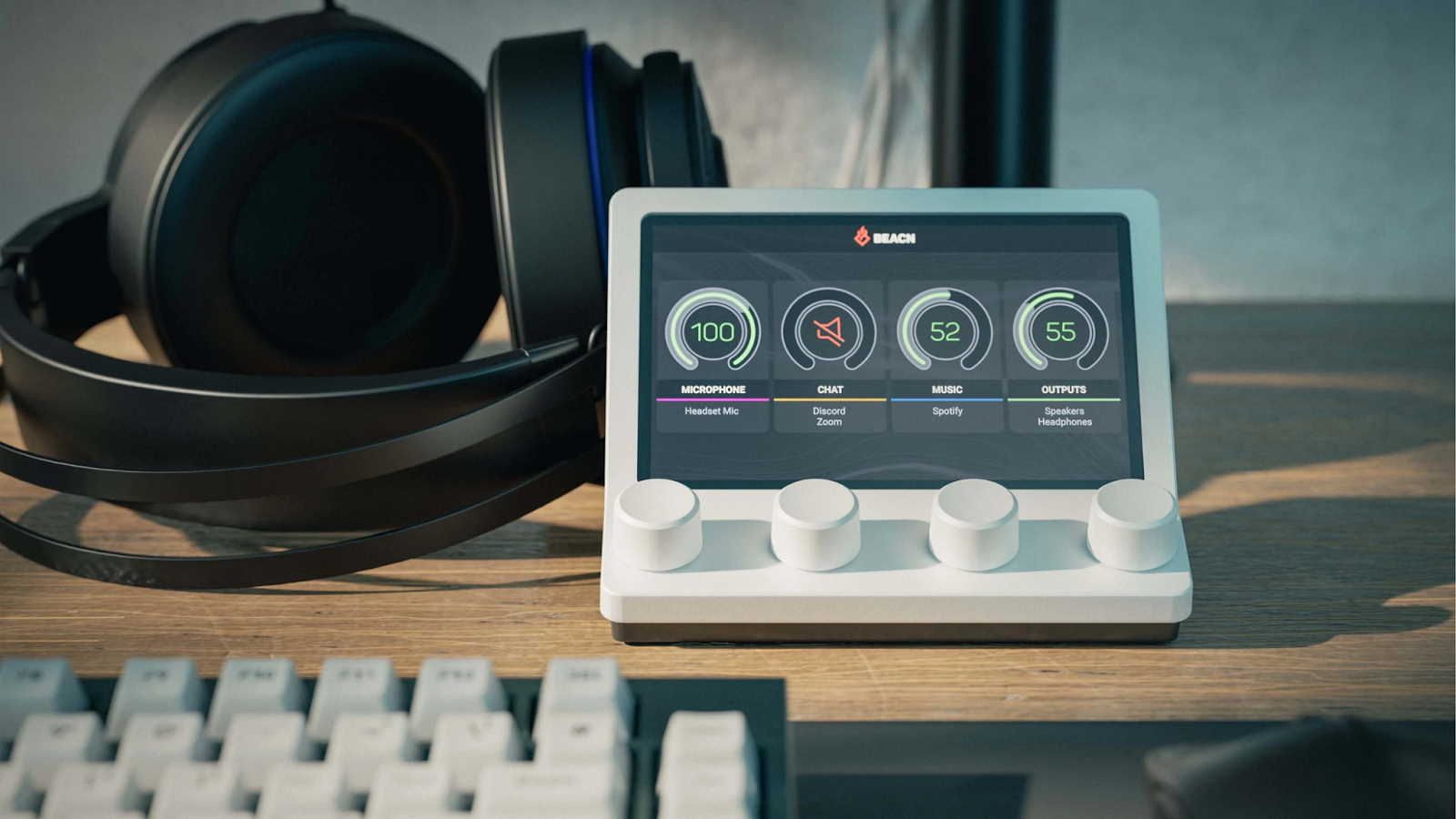 Read Time:
10 Minute, 10 Second
Whether you're aiming to be the next big thing on Twitch or just give you a bit more control over your audio for your next stream, having a quality setup is paramount. Something that is easy to use, hassle-free, and intuitive lets you focus instead on the quality of your stream instead of whether or not your audience can clearly hear you.
Enter BEACN – a new company that aims to provide a seamless setup that ensures that whether you're looking to stream or just have more control over your audio, you're able to do so as intuitively as possible. Two mixers, the BEACN Mix and the BEACN Mix Create are on offer, each designed based on the need. The former is a quick way to route your audio into multiple channels to give you finer control over what you're hearing; the Mix Create is aimed at streamers needing more features aimed at making the best broadcast possible.
Specifications
Size – 130mm W x 90mm H x 100mm D

Screen – 5" LCD Screen (800×480)

Connection – USB 2.0 via USB-C connection

Controls – 4 Infinite Scroll Knobs

Price: $149 USD
Size – 175mm W x 90mm H x 100mm D

Screen – 5" LCD Screen (800×480)

Connection – USB 2.0 via USB-C connection

Controls –

4 Infinite Scroll Knobs

4 Elastomer Mute Buttons

2 Elastomer Knob Paging Buttons

1 Elastomer Submix Button

Price: $199 USD
First Thoughts
At first glance, both devices are quite attractive and simply elegant-looking. The screen dominates the device, clearly showing mixes, volume levels, and more. Underneath the screen are four, incredibly smooth knobs used for volume control, and, at least one the Mix Create, four buttons with one underneath each knob.
The difference between the Mix and the Mix Create is relatively simple: the Mix is simply the screen and the four fader knobs to control your audio. The BEACN Mix Create adds additional complexity and is a little bit larger thanks to the addition of the paging buttons as well as the knob paging buttons.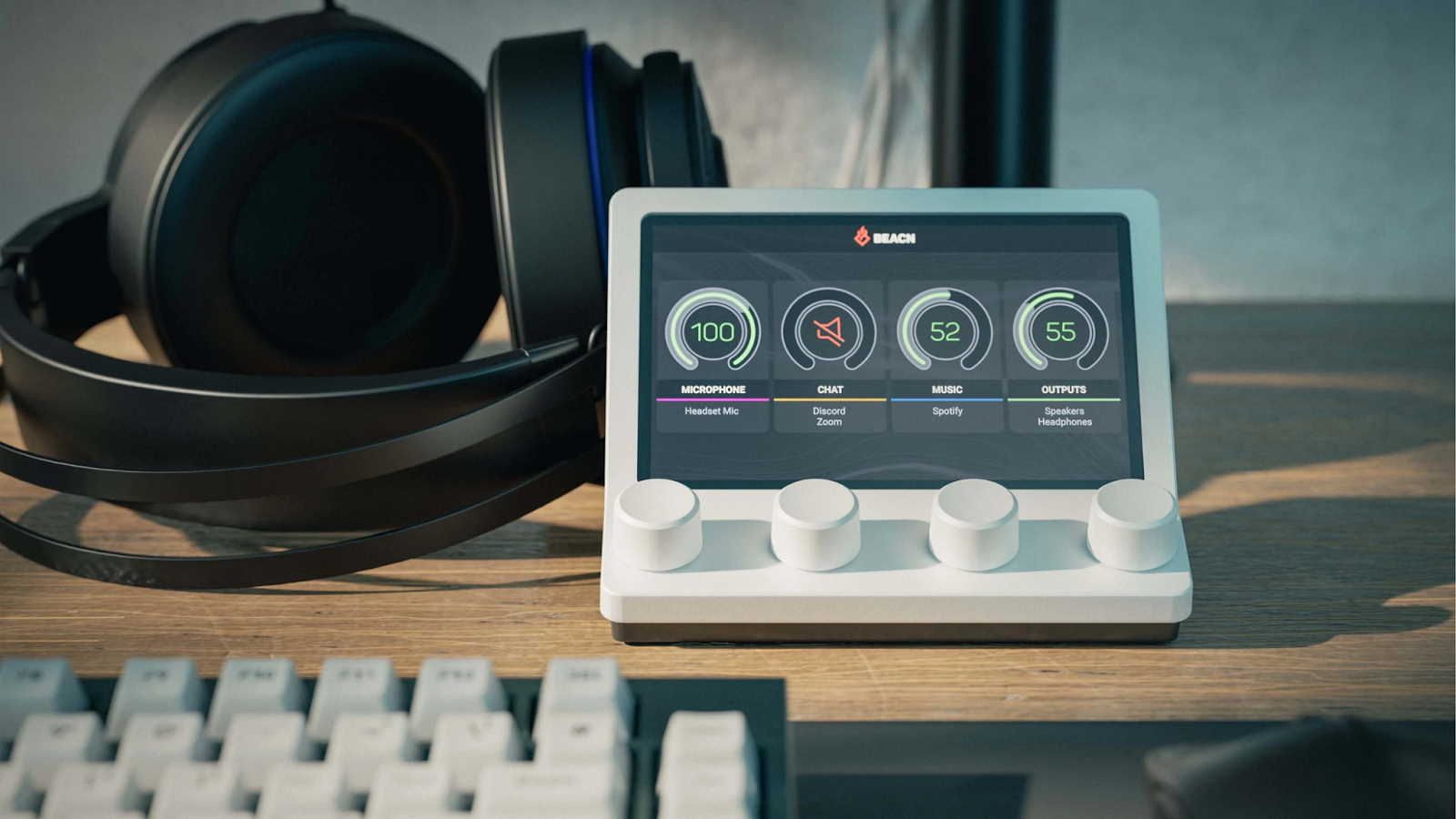 The device looks sleek on my desk, and it comes in two different finishes to help match your setup: white or black. While my setup is mostly black, the white doesn't clash too much – in fact, the contrary. It draws attention to the mixer, which is great because then I get to geek out about it to anyone who asks.
Each is powered through a single USB-C connection in the back of the device. No XLR input for microphones, not additional line-ins or I/O; just the USB-C to the PC. The idea here is simple: giving you the tools to control your audio setup, regardless of what you're using. As a result, where much of the power comes from is through the BEACN software, not mini-amps, and more in the devices themselves.
If you've already got a stellar XLR or USB-powered microphone, you can use it seamlessly with the Mix or Mix Create. There's no need to plug in multiple cables to the back of the mixer, just the one.
As a result, this makes setup relatively painless. Simply plug it in, download the software from the website and start cracking on with routing your audio.
Routing The Tables
From a software standpoint, the BEACN Mix is relatively straightforward. Upon plugging the mixer in, the software detects it, as well as any audio source or program currently open on your computer that it could control This is anything from microphones, playback devices, games, and more. You simply drag and drop where you want to route the program, allowing you to independently control that program's volume through one of the four knobs.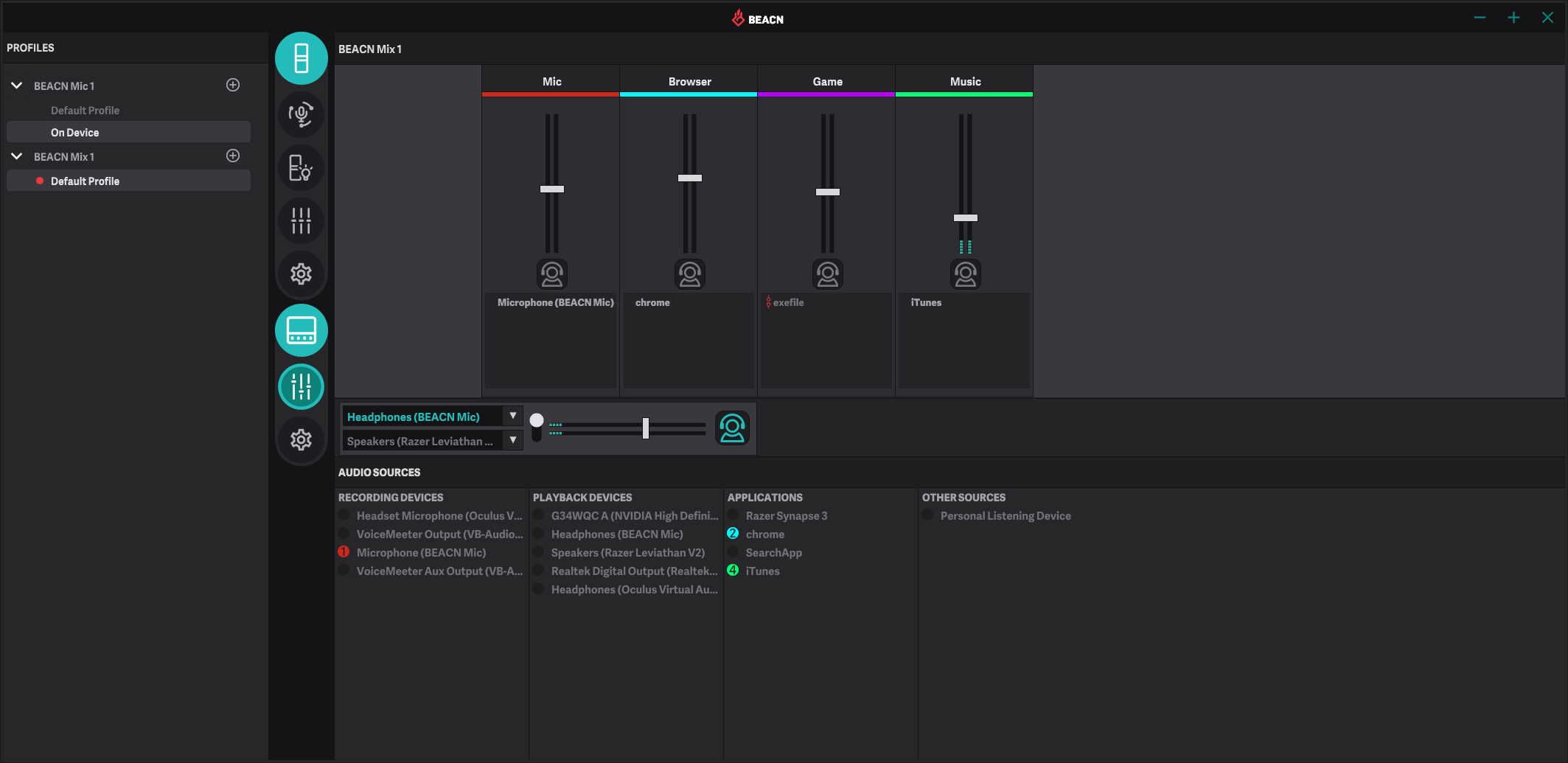 You can stack as many programs on a mixer table as you want, giving you control over all of them at the same time as well. It's not like you have to have a single knob for each program. The idea here is to give you control.
However, because the BEACN Mix isn't made for streaming or content creation, it lacks some of the features of its more expensive brother, such as submixes and the full routing table. However, it's intuitive enough, and you can save multiple profiles and swap as you need, that it would do well for pretty much anyone looking for that little extra control at their PC.
The BEACN Mix Create, though, is a bit more complicated. While the device only has four knobs, you can theoretically create infinite channels to route your audio through, and thanks to the paging buttons on the device itself you can cycle them easily enough. Additionally, since the Mix Create is targeted at content creators, it comes complete with sub mixes, allowing you to independently control the volume levels of what you hear, and what your audience hears as well.
The BEACN Mix Create also comes with a nifty routing table, letting you easily select what you hear, what channels the audience mix will hear, as well as a VOD track to help get around pesky DMCA issues with Twitch VODs. It's powerful, yet easy enough to use. Simply select what channel you want to be present on each mix and you're good to go.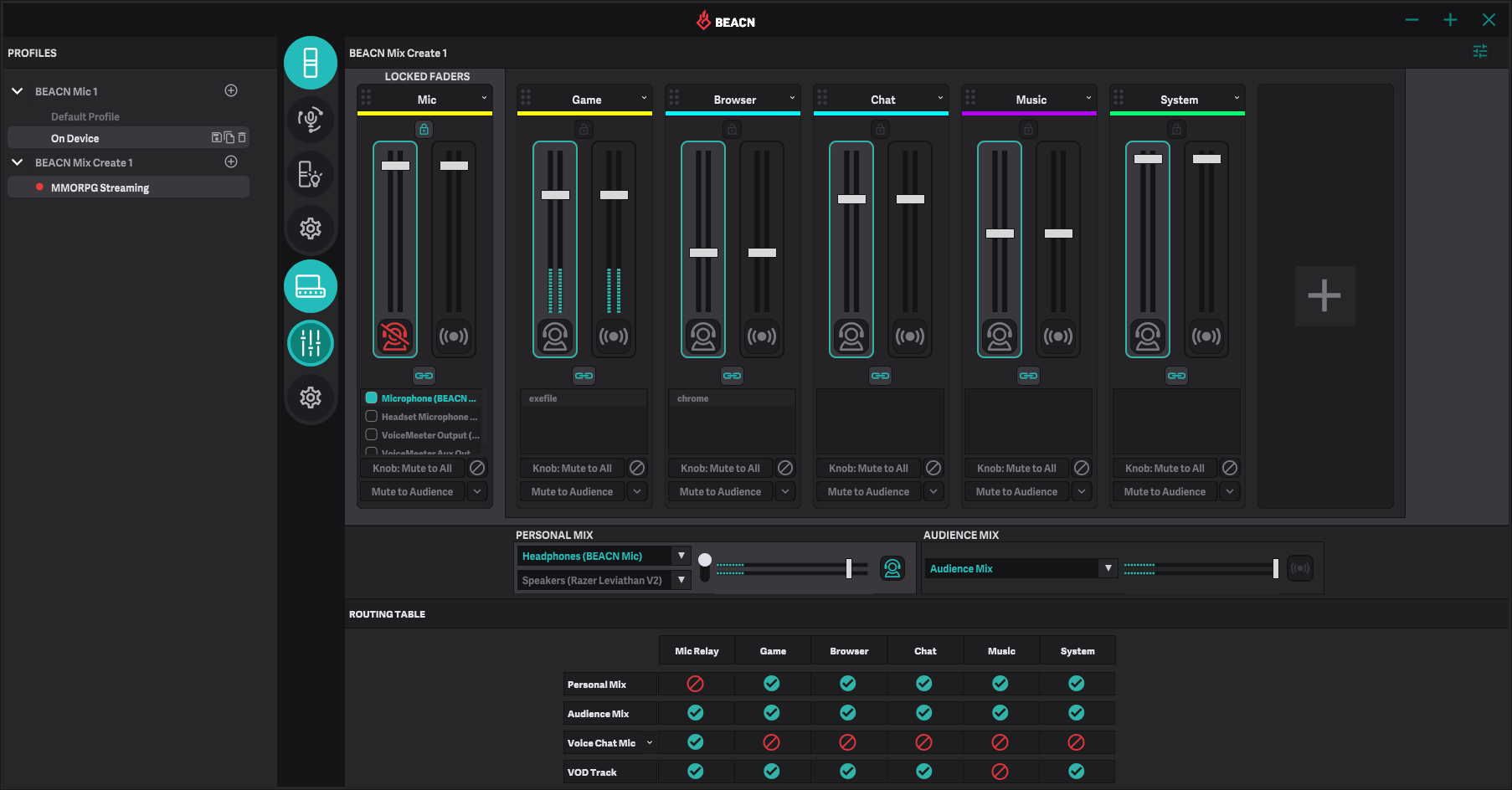 The device itself is simple and intuitive to operate on the fly as well. You can lock in certain channels you want to be present on the screen at all times, which is nice if you need to page over to a channel but still want access to your mic to mute when need be. You can also mute channels based on whether you're muting for a specific submix or altogether.
Unlike the BEACN Mix, the BEACN Mix Create doesn't have a drag and drop UI. Instead, you'll have to into your sound mixer at the Windows level to assign programs to the different channels. This isn't anything new if you've used an audio mixer before (the Elgato Wave Link and the AVerMedia LiveStreamer NEXUS required the same), but it's a little less seamless. However, the trade-off is you can, in theory, create unlimited channels to route audio through, giving you even more minute control over everything.
Both the BEACN Mix and Mix Create have the ability to send your audio to one of two listening devices. This came in handy when using both my Razer Leviathan V2 while working, but swapping to my headphones when I needed to take a call or late at night when my house was asleep. It's easy to swap on the fly as well: simply down one of the knobs and it'll switch it for you.
The Mix Create also gives you control over a Personal Mix and the Audience Mix, allowing you to tailor what you hear, and what your audience ends up hearing. You can quickly swap that as well to monitor levels through the use of a paging button on the end of the Mix Create. You can also independently adjust the levels for each mix on a channel and then link them together, allowing you to control both mixes with the fader while keeping the levels even.
Final Thoughts And Conclusion
The BEACN Mix and Mix Create are pretty cool devices, and they definitely do the jobs they set out to do: give you more control over your audio and broadcast as seamlessly as possible.
At least, that's when the software works.
The most important piece of the puzzle here for BEACN is the software. Without it, the device doesn't operate like it should. I have had more issues with the software than I can count, unfortunately.
Nothing too major – it's not like the software has been freezing up my PC, but rather annoyances that force me to have to restart the software multiple times a day when I'm using it. For example, when moving audio channels around in the BEACN Software on my Mix Create, the device itself doesn't update to reflect the channels are moved – instead it sometimes doubles up and makes it so one of the faders is unusable until I restart the BEACN software.
There have been times I've adjusted the volume on one fader but it controls the channel assigned to another fader. Additionally, when I've started my PC up and launched a game that had been previously assigned a channel before in the Mix Create, I've had to go back in, assign it to a new channel and then reassign it to the preferred channel just to get it to work properly.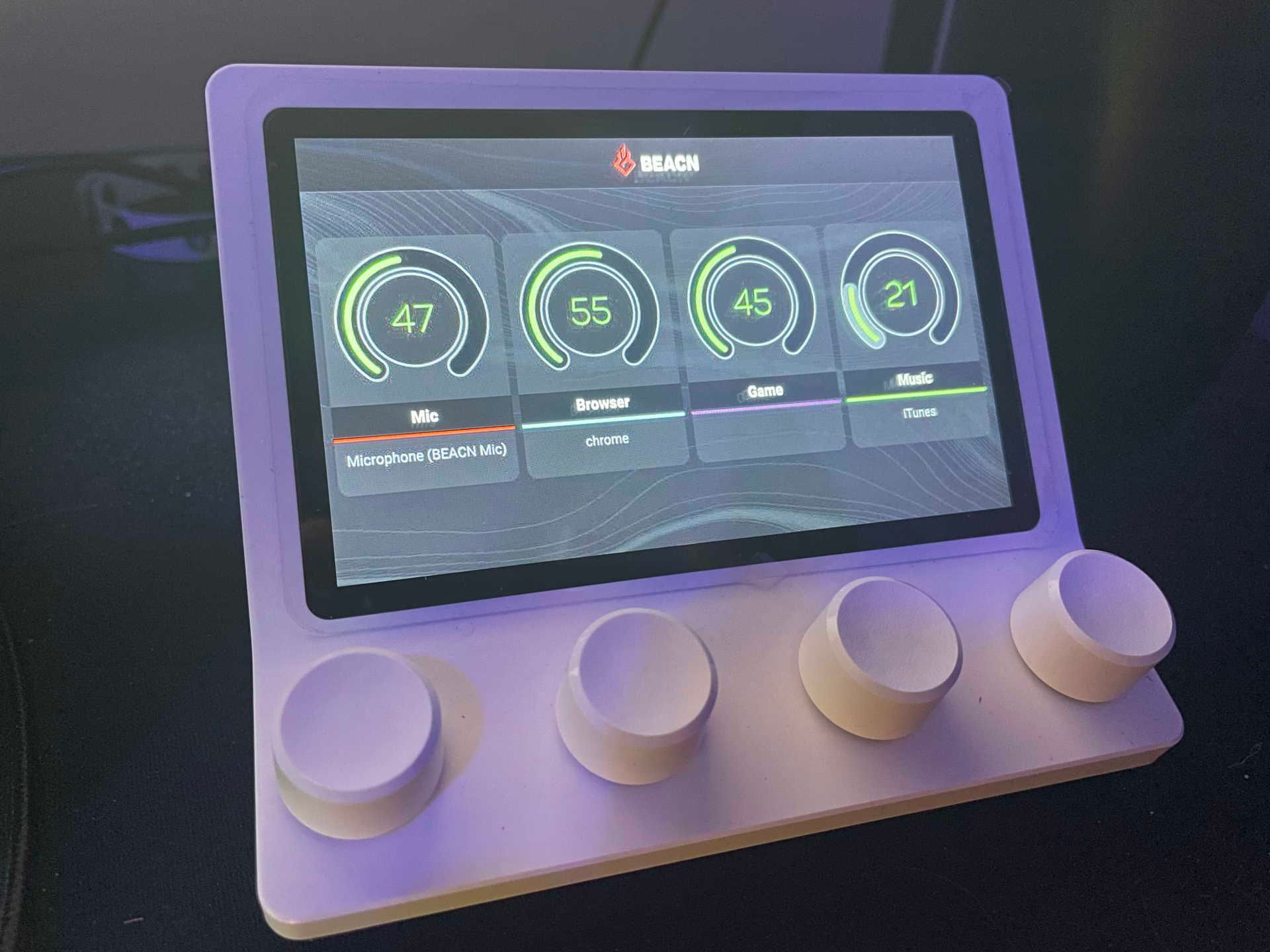 These little annoyances add up, making the experience somewhat lesser as a result. However, BEACN is actively updating its software, giving new features and new ways to control your broadcast. Since receiving the devices, there has been an update that allows you to more easily mute a channel completely, or by just a mix simply by pressing one of the fader buttons or the fader knob itself. This was a godsend for my microphone, as now I can mute either to the audience easily and then mute altogether.
Additionally, the routing table was updated to provide a way for streamers, especially on Twitch, to use the separate VOD track on Twitch to get around music streaming issues with VODs. This way you can route your music and audio like normal to your stream, but ensure that sounds that would cause problems with ad revenue don't appear in your archived VODs. This is HUGE and I can't think of another company ensuring this type of control over the broadcast on this level.
Issues with the software aside, I can't see myself going back to even my other mixers, which I'll add you can actually control with the BEACN Mix Create. The power and level of control on offer by the device and the software, issues notwithstanding, make me hesitant to go back to even Elgato's great solution. The ability to control almost every aspect of my audio presentation on the Mix Create, the easy set up, and the quality of the device itself wins out over other mixers I own.
There is one major issue with both devices to be sure: LCD burn-in. When plugging the device in, or when it's starting up, there is a noticeable burn-in on the image where the mixing channels would be. It's subtle, and once the channels are on the display you don't really see it, but it's something to look out for if you grab a device, especially if BEACN decides to change its UI or start allowing for custom UI skins.
The real question I have is why would you buy the BEACN Mix, when the Mix Create offers so much more for only $50 difference? They are priced so similarly that when I look at them, I don't feel the BEACN Mix is a good value. If it were cheaper, say $99, then it makes a little sense. But with the limitations of the BEACN Mix compared to the value add of the Mix Create, I can't find myself recommending it over the other. I would rather have all the features of the Mix Create and not need them than not have them at all.
That said, either one you go with you'll likely be pretty happy. The devices are sleek, beautiful, and easy to use. The knobs move effortlessly, and the screens are bright, clear (though with the issue of some minor burn in), and easy to read.
While I have had issues with the software, it's not a deal breaker given the amount of control and power at my fingertips. The real issue is whether or not you'll be okay missing out on some of the more powerful features like submixes and the routing table by grabbing the BEACN Mix over the Mix Create. Either way, you won't be disappointed.