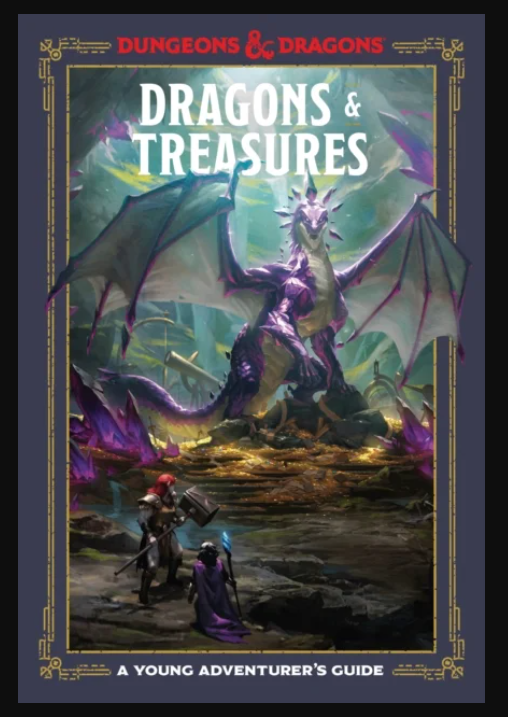 Read Time:
2 Minute, 55 Second
Dragons & Treasures: A Young Adventurer's Guide is the latest officially licensed D&D book by Jim Zub, with Stacy King and Andrew Wheeler. The series, which has five prior books, makes D&D accessible for a younger audience. They don't list mechanics for how to play or make a character. Instead the series focuses on lore and information that bring the setting to life and help youngsters decide what to play. They also provide useful information that helps them imagine the setting and their characters.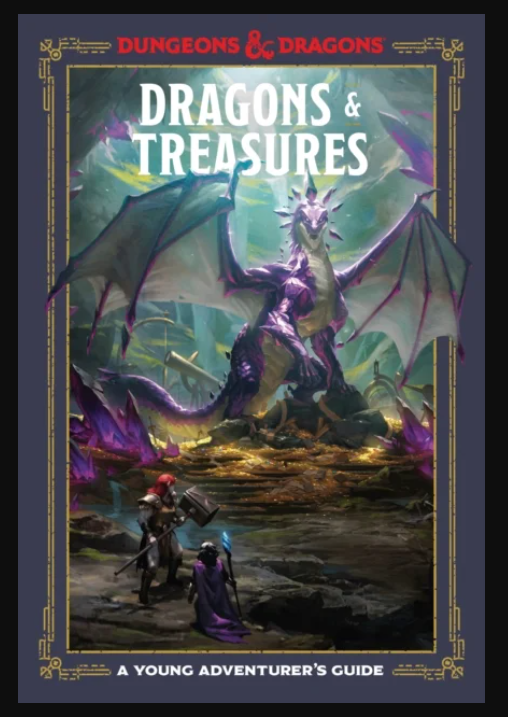 As the name indicates, this volume focuses on dragons, their treasure hoards, and their life cycle. Gem dragons get their own chapter, delving into more detail than chromatics and metallics get because those varieties of dragons were profiled in more depth in Monsters & Creatures and Beasts & Behemoths, respectively.
These slim, illustrated hardcovers pack a lot of information, distilled from standard D&D texts like the Monster Manual and Fizban's Treasury of Dragons. But they're not copy-and-paste jobs. Zub, with King and Wheeler, do an excellent job of getting to the heart of each topic, creature, character options, etc., anticipating and answering questions that a newcomer might ask, all in simple, clear language.
In fact, that's part of the reason why I'm so fond of this series. While designed for young players, I think they can be useful for adults who are new to role-playing as well. For example, Wizards & Spells and Warriors & Weapons had "Do you…?" questions that indicate that if you like X then you might want to play Y class.
For Dragons & Treasures, it's a bit different by necessity. D&T explains that it's unlikely you'll ever play a dragon because they're too powerful, but a dragonborn is possible, and why they are fun to play. For the chapter on gem dragons, there's a list of "Do This" and "Don't Do This" for interacting with each type of gem dragon.
The chapter on dragon anatomy makes it clear why they are such formidable creatures and an illustration of a dragon skeleton adds to that. So does the section on draconis fundamentum, which is an organ unique to true dragons and enables their breath weapons. The metabolism and diet section has a list of each dragon type's favorite food.
Dragon society, how they raise their young, and so forth, gets some nice detail. Dragon combat and combat styles are highlighted, both for dragon versus dragon fights, and humanoids fighting dragons. The latter includes the wise advice, "know when to leave."
A few named "dragons of note" are profiled. A whole section on dragon hoards, why they have them, how they protect them, and hoard magic makes it clear as to why some adventurers might risk it all to try to steal from a dragon – and why that's a very bad idea. Dragon items and weapons round out the book.
If you know young people who are interested in D&D or you DM a group of kids, Dragons & Treasures (and the whole Young Adventurer's Guides series) are useful to pick up. In fact, they can help to determine if a child really is interested in trying D&D or if they just like fantasy stories. The writing is clear, simple, and to the point while effectively bringing the world of D&D to life. While not a substitute for the Players Handbook, this series is a useful supplement to the PHB.