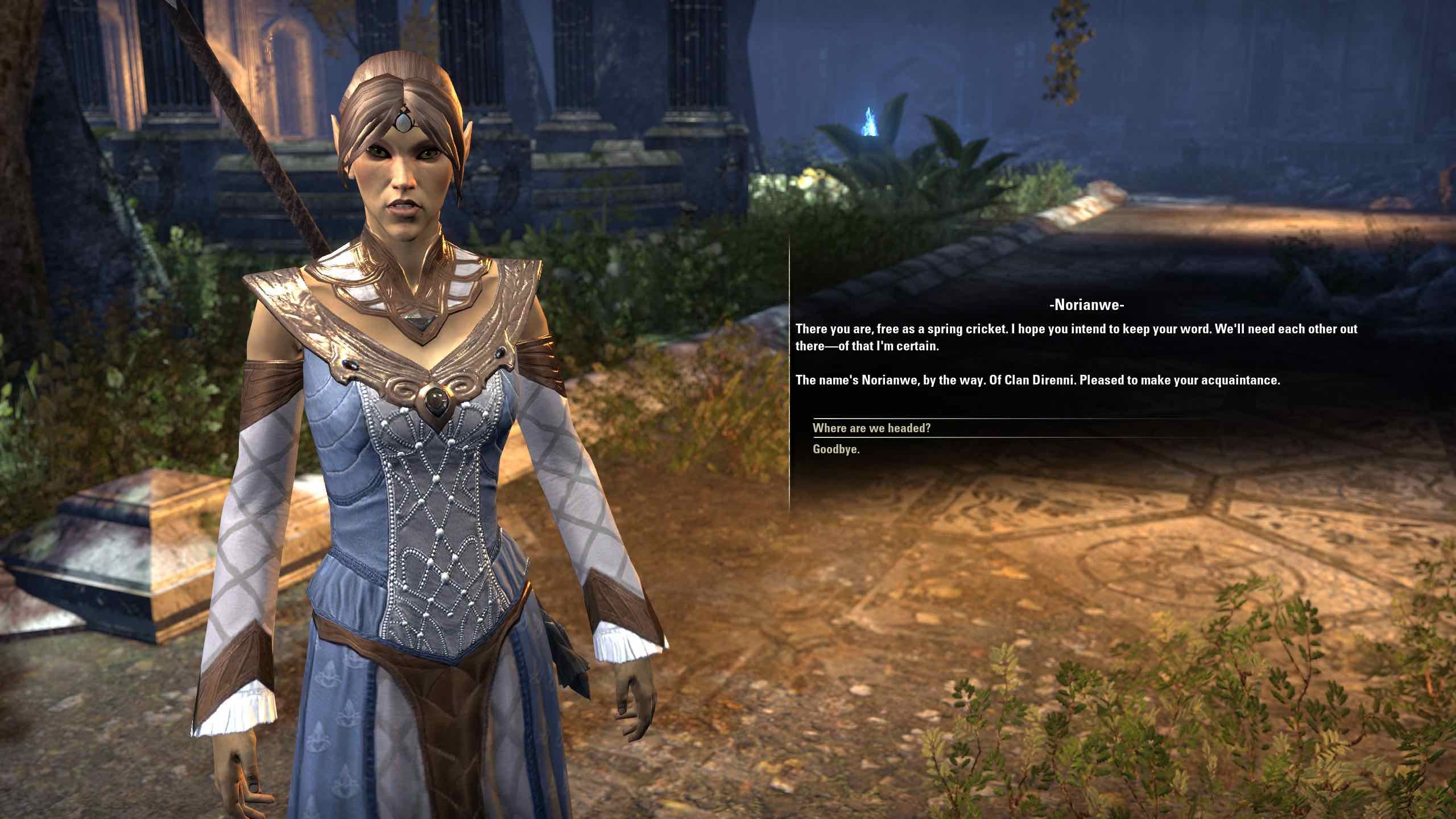 Read Time:
5 Minute, 35 Second
With the start of a new year comes a new adventure in the Elder Scrolls Online. For those new to Tamriel, these short zone explorations will give an idea of what challenges one could encounter, the machinations of various factions, and points of interest to not miss out on in each area. Part One focuses on the Isle of Balfiera and Khenarth's Roost.
Isle of Balfiera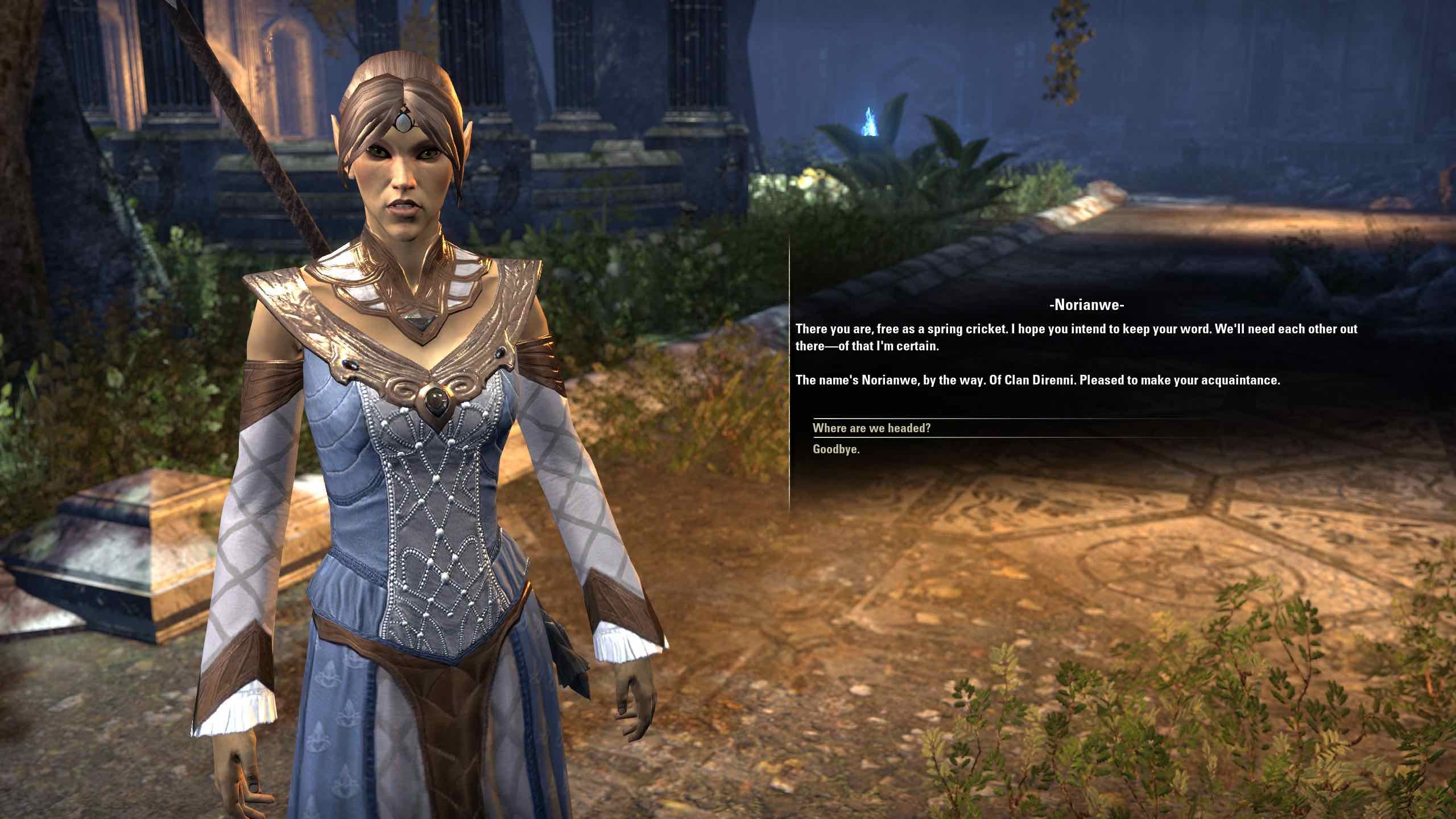 I found myself on the floor of a prison cell once more. I wondered what precisely I did this time to warrant being plucked from a rather comfortable job of tracking down spies for the Aldmeri Dominion. As I lifted my head, I could hear a voice from the other side of the cell's door. Norianwe, a High Elf scholar, was trying to get my attention.
After a short conversation, I had at least a better understanding of my situation. Apparently, a Daedra named Shyazzel had arrived with me through a gate in the Keywright's Gallery on the Isle of Balfiera. My objective seemed simple enough, get to the gallery and find a way off the island. Once Norianwe unlocked the door navigating through the ruins was quite simple. While there is some beautiful plant life to be seen the ability to, as some would say, "smell the roses" was limited by the stone guardians roaming the open courtyard.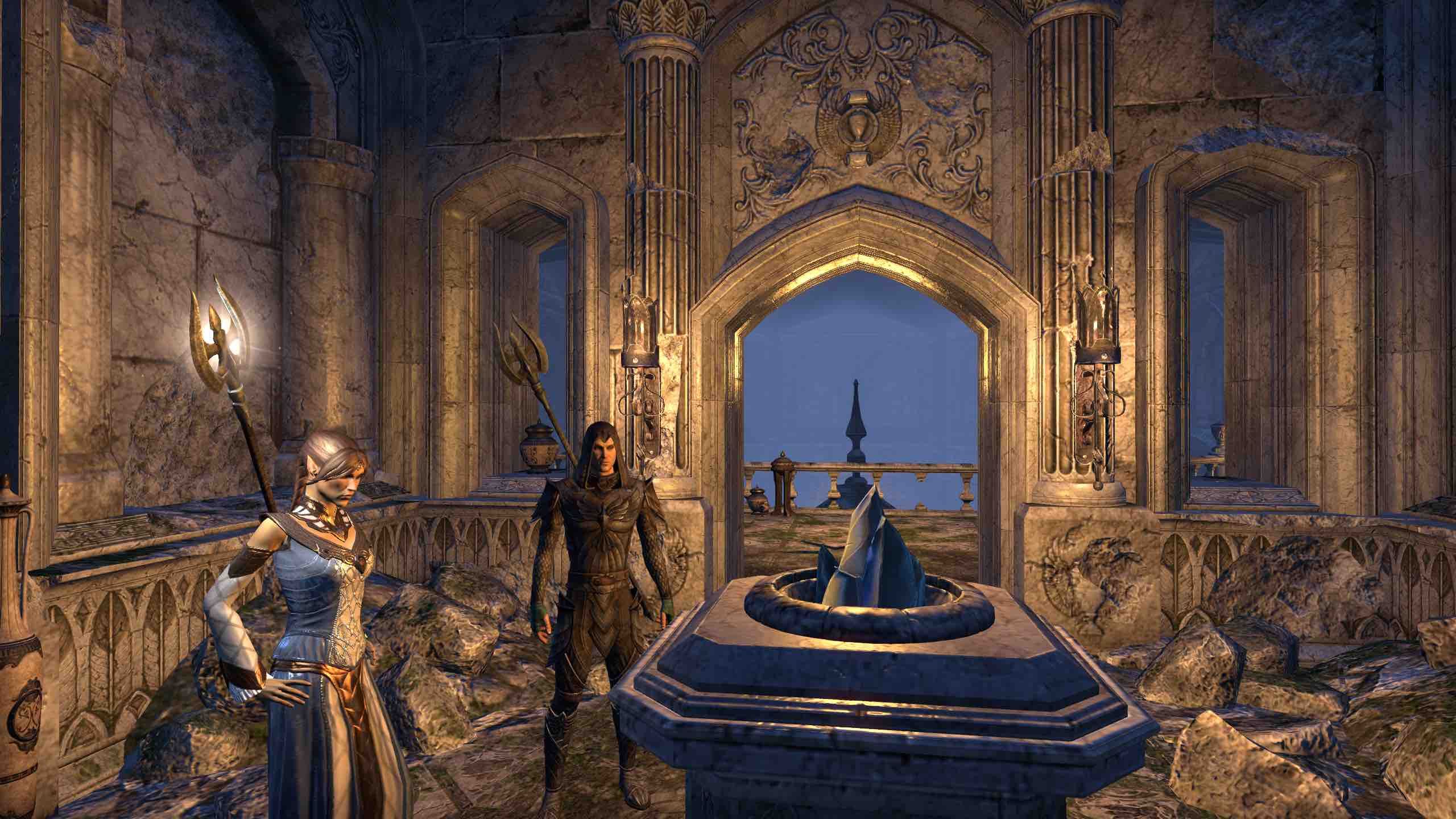 Enterprising individuals who find themselves in the same situation will be able to find an array of different weapons and armor throughout the courtyard on racks and stands tucked away in the back corners. While Norianwe and I had a slight issue opening the gallery's door. It was easily overcome through the use of a Skyshard. Unfortunately, once inside, we found Shyazzel attempting to gain control of not one gate but several.
After successfully defeating the Daedra, we found what Norianwe called an Arcane Helix hiddle inside the central column of the room. It apparently powered the various gateways to different parts of Tamriel. Each area likely was experiencing its own challenges, so I had a choice to make. I didn't have much luck convincing my new High Elf companion to accompany me, so I picked the gate closest to home and stepped through. Hopefully, I will have a chance to see Norianwe again once she completes her study of the island's secrets.
Khenarthi's Roost
In my experience, portals are tricky things. In this case, I should have dived through as I appeared a few feet above the waves off the shoreline of Khenarthi's Roost. As a High Elf, I am familiar with the island. It is home to a mix of Khajiit and Maormer. An unusual situation to have the cats and sea elves living together. But from my understanding, it has something to do with a treaty.
After a short swim, I was back on dry land. It appears I was not the only one experiencing unexpected aquatic leisure time. Nearby I could see the wreckage of at least one ship and survivors making their way to shore. Once orientated again, I made my way to their makeshift encampment, and a Khajiit named Razum-dar quickly hailed me to speak with him. Raz convinced me to help scout the island as he noticed I was the only survivor to appear out of thin air a few feet above the water. He also made a good argument when he informed me that if I didn't agree to help, he would tell others about my magical appearance. Since the recently sunk ships were due to an unusual, possibly magical, storm. I figured my sudden appearance might look rather suspicious.
In the end, Raz asked me to not only scout further up the shoreline but to also strike up a friendship with the locals. As I set out, I noticed that Khenarthi's Roost would likely be a peaceful local to settle down if not for the current conflicts. Most of the small island is given to moon sugar farms run by the Khajiit, a few temples, ruins, and the port town of Mistral. For those interested in finding more Skyshards make sure you look near ruins and around the three local temples. The island has a least a few that I have come across, and they can be very useful for adventures who want to learn more powerful abilities.
Wildlife on the island is limited. While traveling between various locations, I came across primarily alits, thunderbugs, skeevers, and a lot of sheep. Even a green adventurer could handle these. It was the more remote locations that contained unexpected challenges. Along the coast near the shipwrecks, there is an area known as the Shattered Shoals. The Maormer seem to have taken an interest in this section of the coastline. The weather was starting to kick up more as they performed a magical ritual that could be controlling the unexpected storms around the island.
The Temple of the Mourning Springs is a set of ruins located on the east side of the island. Currently inhabited by the undead, locals seem to think there is an evil spirit that resides there, which should not be disturbed. So, of course, the visiting scholars from the Aldmeri Dominion are poking around the ruins for anything of interest.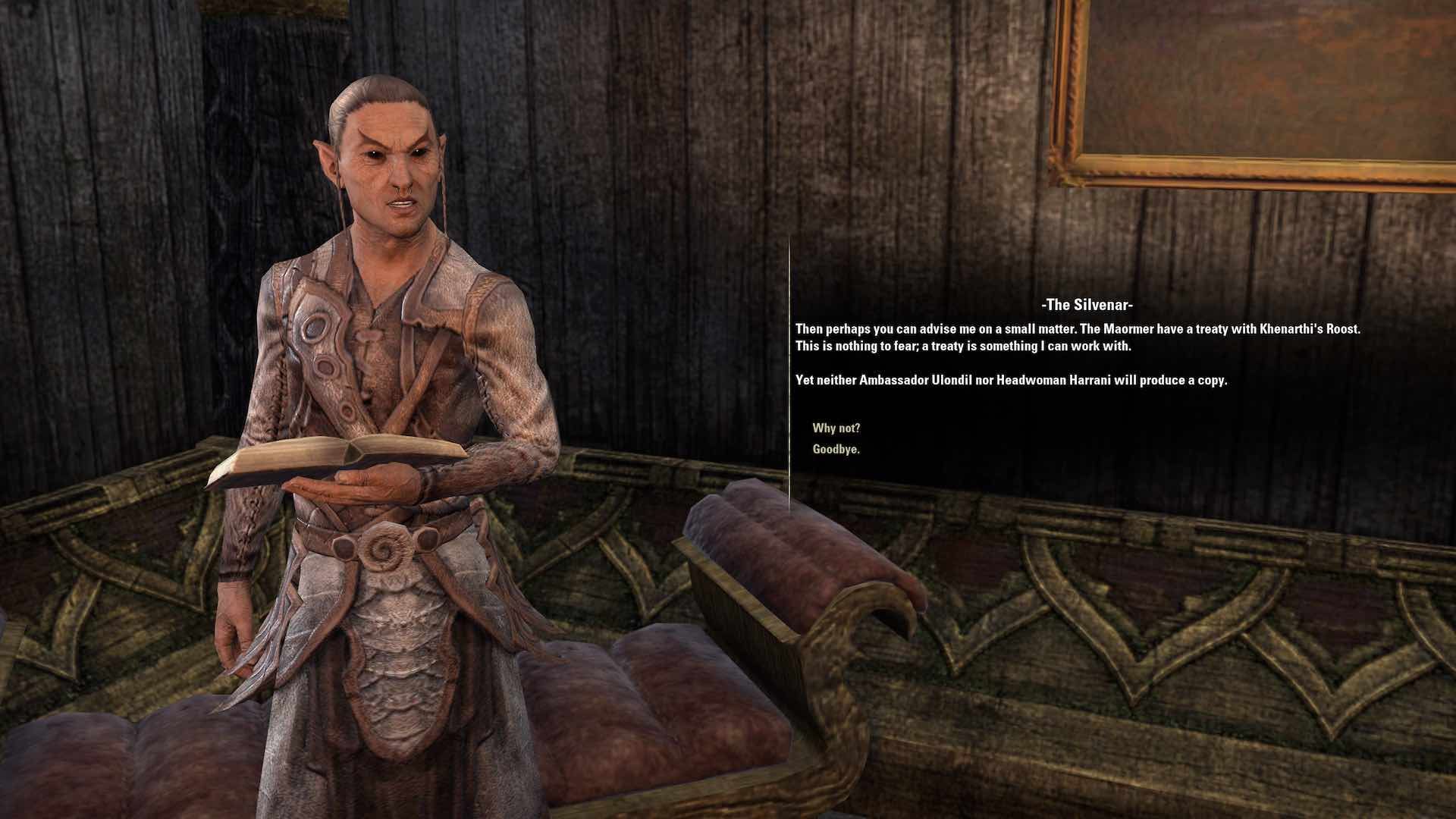 By the time I had annoyed the Maormer, removed a few undead, and helped some local farmers. Last of which, who are 100 percent not involved in making skooma, I ended up in the port town of Mistral. It would be a peaceful little port if not for the Aldmeri Dominion representatives trying to curry favor with the local government. Meanwhile, the Maormer Sea Vipers do everything they can to counter an agreement forming between the two. Luckily, the two spiritual leaders of the Wood Elves, the Silvenar, and the Green Lady are present to help negotiate an agreement. What could possibly go wrong.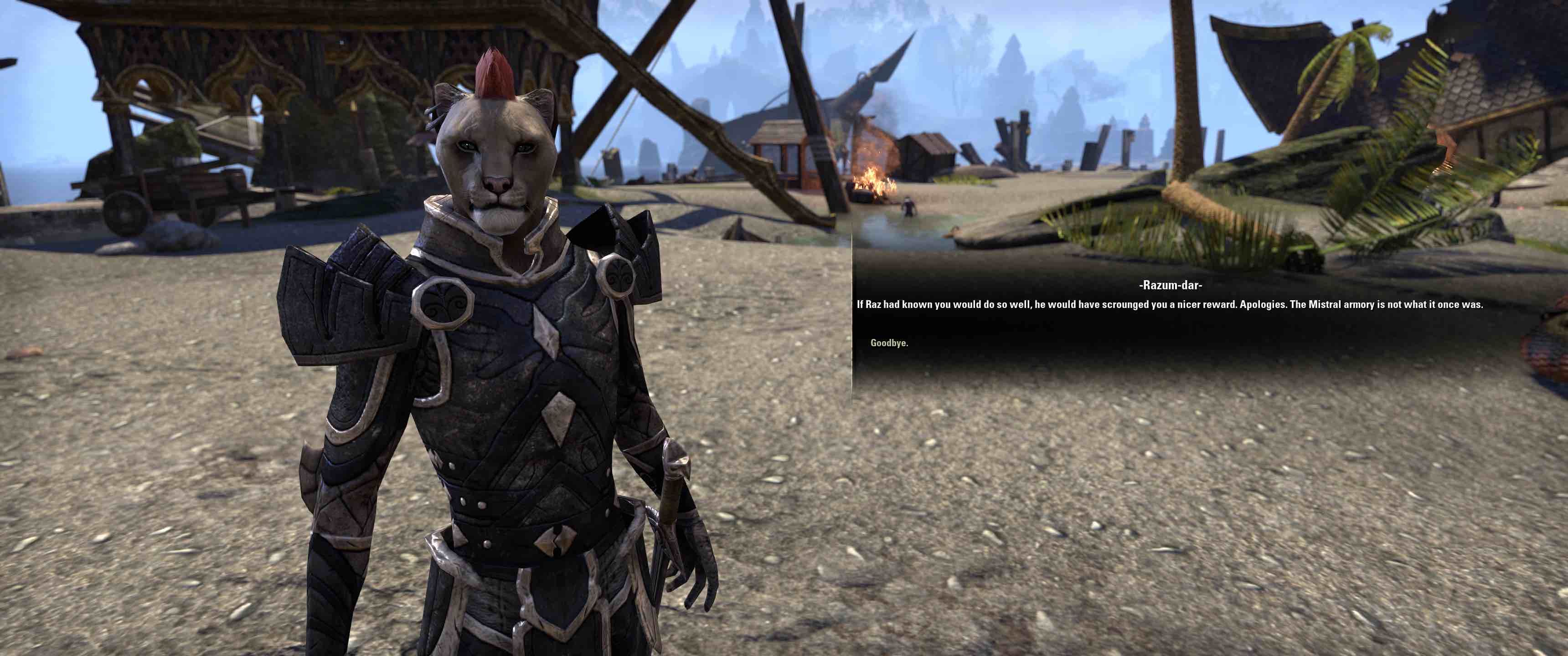 After things go horribly wrong, I quickly had my fill of politics, even with Raz doing his best to guide me along the way. Once negotiations fell to the wayside, I was able to help in a more forceful and direct manner. Unfortunately, the moniker of Sea Viper ended up not just being a name used by the sea elves to intimidate their enemies. By the end of my time on Khenarthi's Roost. I had not only enough political maneuverings but giant sea serpents as well. While boarding a ship for Auridon, I am hoping to avoid any further pollical entanglements. Though I know as a High Elf, I may as well wish to be the next Emperor while I am at it.