Read Time:
5 Minute, 43 Second
Each week, we scour the internet for all things indie MMO-related, so you don't have to. This week, Reaper Games continues to cut support for Legends of Aria Classic, Profane updates its roadmap, and Dual Universe players are building to the moon. Unfortunately, due to the Sunday run of the IMS, we missed most of the Black Friday deals, although some of the deals run until the beginning of the week. It's also Steam Awards time, so don't forget to vote for your favorite indie MMO. There's plenty of other stuff going on as well, so let's quit wasting time and get started with this week's Indie MMO Spotlight.
Fishing is the topic for BitCraft's Twitter vignette of the week. I'd love for Clockwork Labs to go more in-depth into fishing, but just mentioning it is enough to get me excited.
Gone fishing. pic.twitter.com/QL6PyzGs1j

— BitCraft (@BitCraftOnline) November 22, 2022
The team posted an image of the Braided Shore on Twitter and its Steam page. The map on Twitter fits a 16:9 screen by cutting off the top and bottom of the map, while the Steam page map shows the whole of the Braided Shore. Do with the map as you please.
Reaper Games had a couple of announcements about Britaria this week. First, the Open Alpha/Beta that was planned for this month is being delayed until Q2 2023. There has also been a change to the monetization of Britaria. Instead of charging per character as originally planned, the game will now be B2P with a $40 purchase cost. All original backers to LoA and Gen0 character holders will still get the game for free when it goes live.
It was also announced that Ethereal Moon, the official Legends of Aria server, would be shutting down in 30 days. Community servers will still be supported, and some players are considering taking over Ethereal Moon as a community server.
Chimeraland has a Black Friday sale running through November 30th, and a Thanksgiving Login Event going on through December 1st.
A new Beta Trailer was released this week.
Patch 2.5.0 released this week. Along with the usual balance changes and bug fixes, the update marked the start of the Aurum Harvest Festival. Along with a one-time login reward, the in-game shop will have daily deals. The event runs until Tuesday, November 29.
Weekly Development Release #80 included updates to flying animations, resource texture updates, better door animations, and some new sounds were added.
The vertical height limit for static structures is currently not working as intended, and players have started building structures higher than the 1000m limit. Don't rush out and start building a tower to the moon just yet; a forum post states that any structure out of bounds will only be allowed to stay in place for two weeks after the 1000m limit is fixed.
Ember Sword's Thanabus Cup 3 is kicking off this week. The first event will be a game of Battleships on the Ember Sword Twitch channel starting November 29 at 8:00am EST. You can find out all the details on the Ember Sword Discord.
If you haven't already seen it, Emily posted her final review for Embers Adrift. Giving Embers Adrift a 4 out of 10, Emily sums everything up with, "Embers Adrift has a lot of potential. Just having potential is not enough for me to really recommend the game though in its current state."
A new Devblog was posted this week. Along with transitioning the server and client infrastructure from development to production, the move to Unreal Engine 5 is complete. The team is also opening up stability testing to all members of the GoE Discord community. I'd jump in and grab a screenshot (the hero image this week is from the devblog), but the testing is under NDA.
Weekly Update 343 comes in print and video form this week and is all about combat changes. Heavy armor, archery, shields, and two-handed weapons all got some changes and improvements. The Supporter Shop also got an update, including a free weekly gift for every player.
The playtest server is now open with content for the next update. The devs are asking for mid-level players to jump in and test the version out.
Did you know that the M&M devs frequently stream their work and playtesting? I didn't, but they do. You can check out their latest team playtest on the Monsters & Memories YouTube channel.
Looking for some Nightingale lore? A new YouTube Short was posted this week that details the events that lead to your starting point in the game world.
The devs posted their Winter Update on the Pixxelverse Online Discord. FR4GM3NTS is completed, and the alpha social hub should be released by Christmas. Head to PO's Discord to learn more.
The Profane roadmap received another update this week. There's still a lot of work to be done, but more systems have been completed. The roadmap is shown below, and you can head to the Profane Discord to get a detailed update list.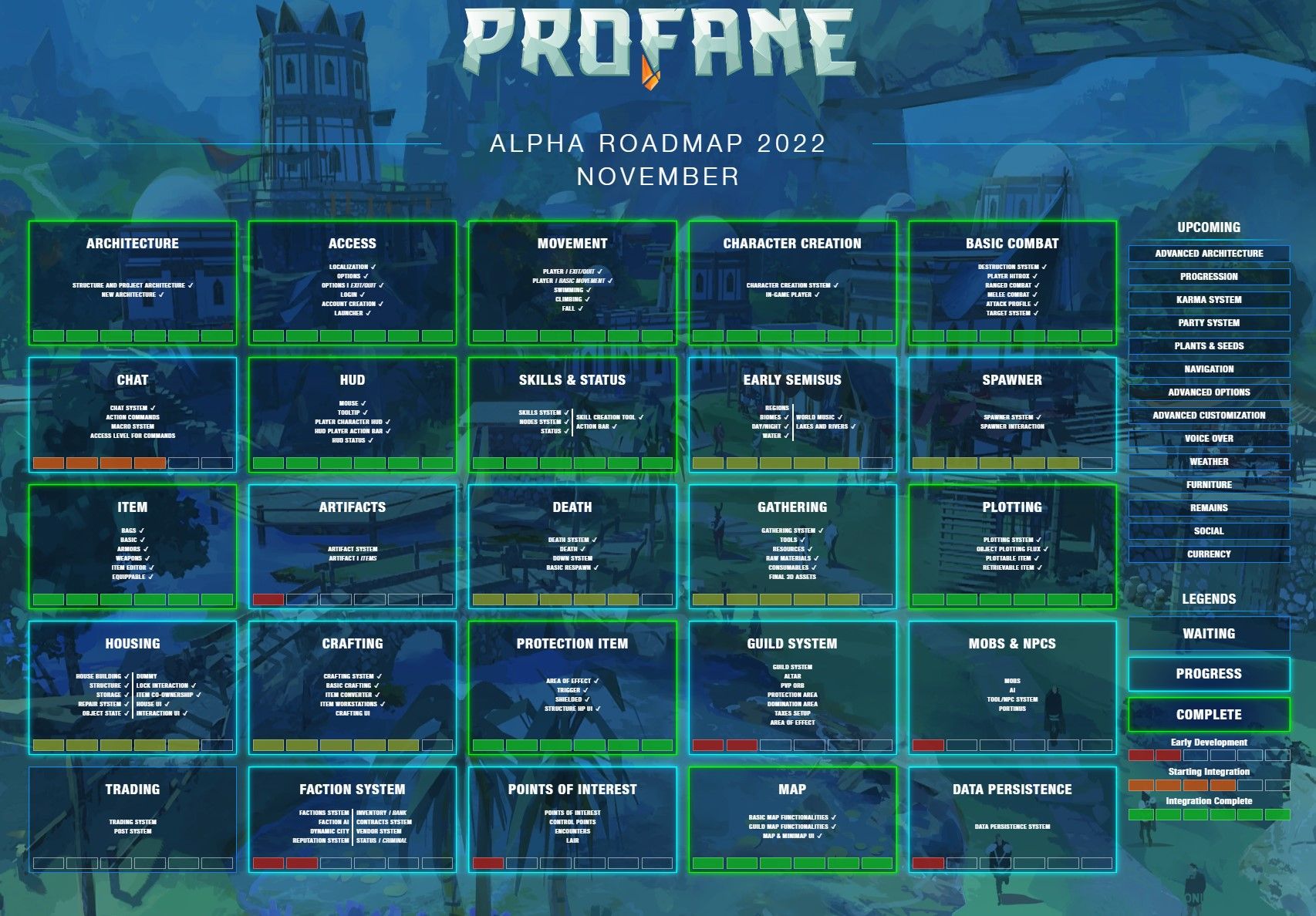 Development Log #362 covers the next update, called Prestige. You can also find the full release notes here.
A new devblog this week gives a deep dive into Glaceforde, the new ice continent coming to Ravendawn. There was also a Livestream scheduled for Saturday afternoon. You'll have to check the Ravendawn Twitch channel for the replay to find out what was covered since the stream occurred after this column was turned in.
A new Dev Diary was released recently. In Diary #7, you'll learn about concept art and illustration from Raphael Olivera, a 2D artist working on SoH.
A new feature was added to Screeps: Arena – Contests. Contests will allow players to create their own events where players will compete in a series of games created and managed by the organizer.
A new dev update was posted this week. In the post, Lucas discusses the Aethereal Parcel reveal, the upcoming Starlight Mini Event, and much more.
Wild Terra 2 received its first major patch since its release. Update 2.2.329 adds new storage buildings and automates the use of food and drinks. You can read the full patch notes here.
A new video was posted this week to showcase the new features of the Legends Untold update.