Read Time:
6 Minute, 37 Second
Can the HelloGanss HS75T compare to its other wired counterparts? I've been slowly moving my setup towards wireless setups over the years, but mechanical keyboards are the one area I haven't been able to meet the goals of feeling great to use and also having exceptional battery life. I am endlessly forgetful, so any peripheral which needs regular charging is not one that'll work for me. So how did this 75% wireless keyboard hold up for me?
Specifications

HS75T Wireless – What Is It?
As its name implies, the HS75T Wireless keyboard is a 75% keyboard, which means not only does it not have 10 keys on it, but it also doesn't have some others like scroll lock, end, or print screen. Additionally, all of the keys are squished together much more than on a full-size gaming keyboard. Coming from a Corsair Strafe RGB MK.2 Silent, the size difference and placement of the keys was my biggest hurdle in using the HS75T. Reprogramming muscle memory can be painful, but it is worth it when a better product shows up.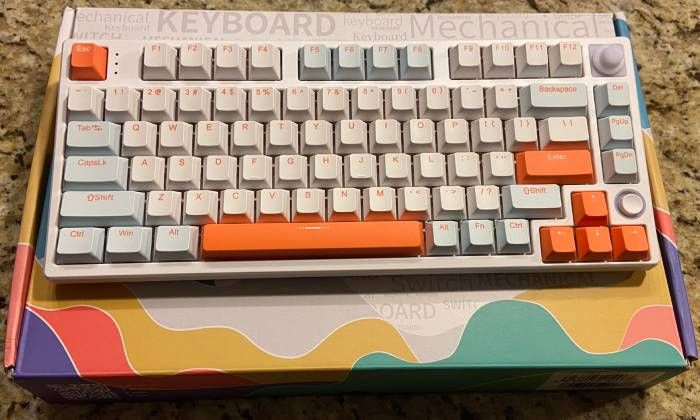 The HS75T has a lithium model and a model which takes 4 AA batteries. This review is concerning the lithium battery model, which is rechargeable. Everything about both models is the same, aside from how they get their power. One thing which wasn't very clear in the specifications box is the backlighting can only be used in wired mode for the AA battery model. The lithium battery model can have backlighting on all the time and seemed not to have much of a negative impact on the battery life between charges.
Aside from losing my precious 10 key, the other aspect of the HS75T I was a bit nervous about is how loud the switches are. Between raiding in MMOs and streaming games, having a loud keyboard just doesn't cut it for me. Thankfully the switches on this keyboard are whisper quiet and would probably be even quieter if I would stop bottoming them out all the time, but that's my issue. Additionally, for anyone who would want different switches, the HS75T is fully hot-swappable and comes with tools to make that process easier.
From a usage standpoint, one of the best features of the HS75T is the switch on the back to change it between 2.4G, Wired, and Bluetooth. Having an actual switch on the keyboard meant it was easy to quickly confirm which setting it was in without having to remember any key combinations. As I was often moving back and forth between computers and devices, there were times when I'd forget what I had synced to last and then would have an issue using it on the next device. Most of the time, my issue was I simply had it in the wrong mode for the device I was trying to use.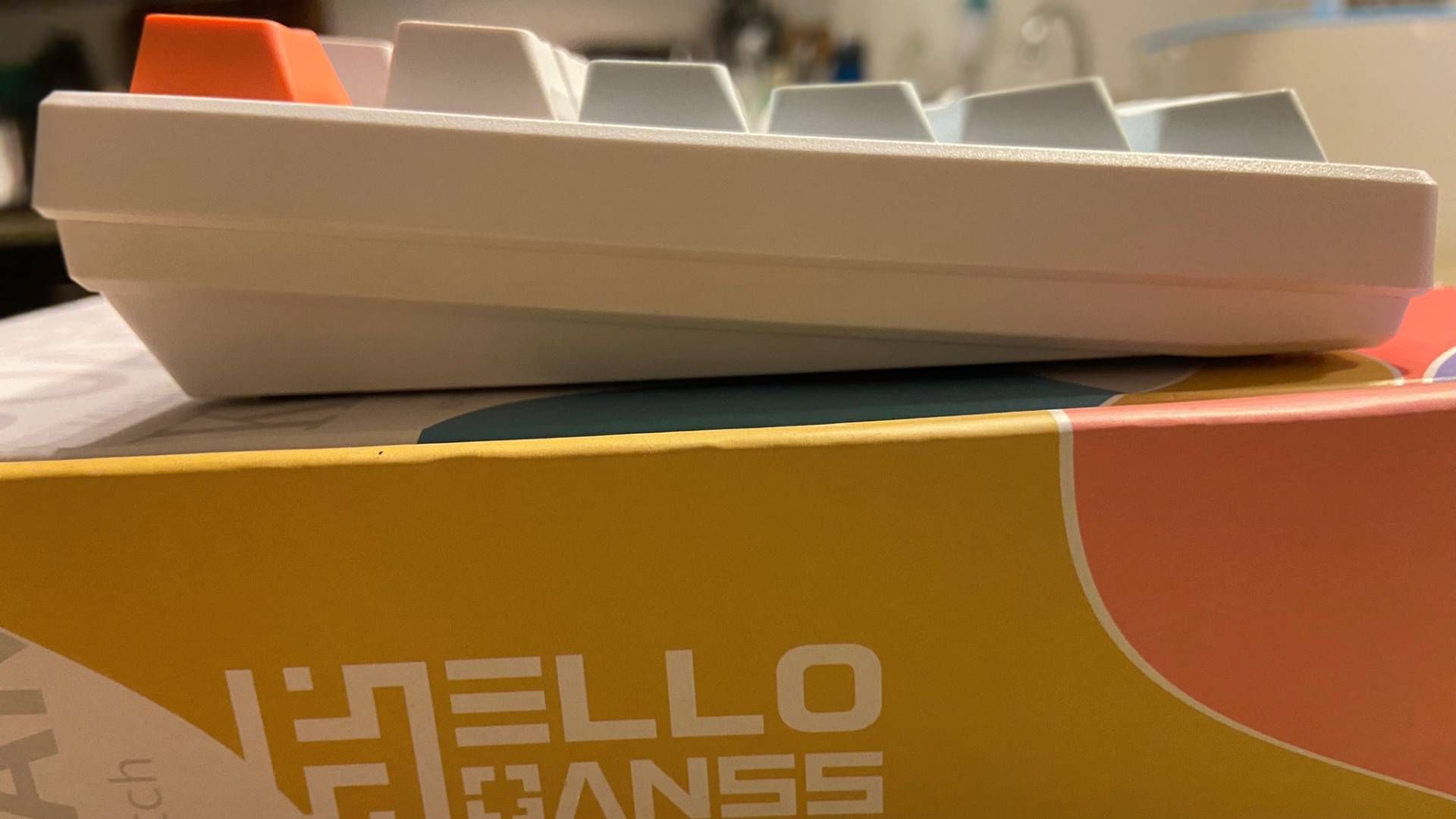 One unexpected feature of the HS75T is that even when seated flat on the desk, the keyboard is nicely angled, which meant I didn't need to use either of the attached feet to angle it up more. In fact, when I tried using the larger feet, the keyboard was too angled for comfortable use while seated. However, with my stanging configuration, having the short feet down gave just enough of an increased angle to more comfortably accommodate the different position. Additionally, the short feet provided such a slight increase in the angle that they were still comfortable to use while seated as well. The only drawback from an ergonomic sense is I wish this keyboard came with a detachable palm rest. However, palm rests are simple to get, so this isn't an overly problematic oversight.
This keyboard also features a volume control knob and a small joystick, both of which can be lit with backlighting. I found the backlighting on both of these features to be distracting and turned it off fairly quickly. The volume control was simple to use and worked exactly as one would expect it to work. As I often switch between games, movies, and music, the positioning of the knob right on the keyboard is super handy. I had much less use for the joystick, though, but that's likely down to the types of games I generally play on the computer. It worked great, and I had no issues, but it's a feature I wouldn't miss at all if it wasn't there.
HS75T Wireless – Performance
The switches which came on the HS75T are my new favorite. Not only are they whisper quiet, but they also take very little pressure to activate. In fact, when I first started typing with them, I often had an issue with repeated letters because I was used to a switch that required a lot more pressure to activate. However, I adjusted quickly, and I love both writing and playing games with this keyboard.
I split my time pretty evenly between using 2.4G mode and Bluetooth, and both worked beautifully. As I mentioned earlier, there were a couple of times when I had trouble connecting with the 2.4G mode, but I quickly realized I had forgotten I left the keyboard in Bluetooth mode. Also, having the recessed spot for the dongle was a huge help, especially when traveling between work and home. It fits securely but not so snugly that it was difficult to remove it when needed. The only small issue I ran into while on 2.4G mode was while using WASD to move in games, my character would occasionally stutter a little as if I had let off the key for a second. It was only in this mode that this occurred, and it was very rare.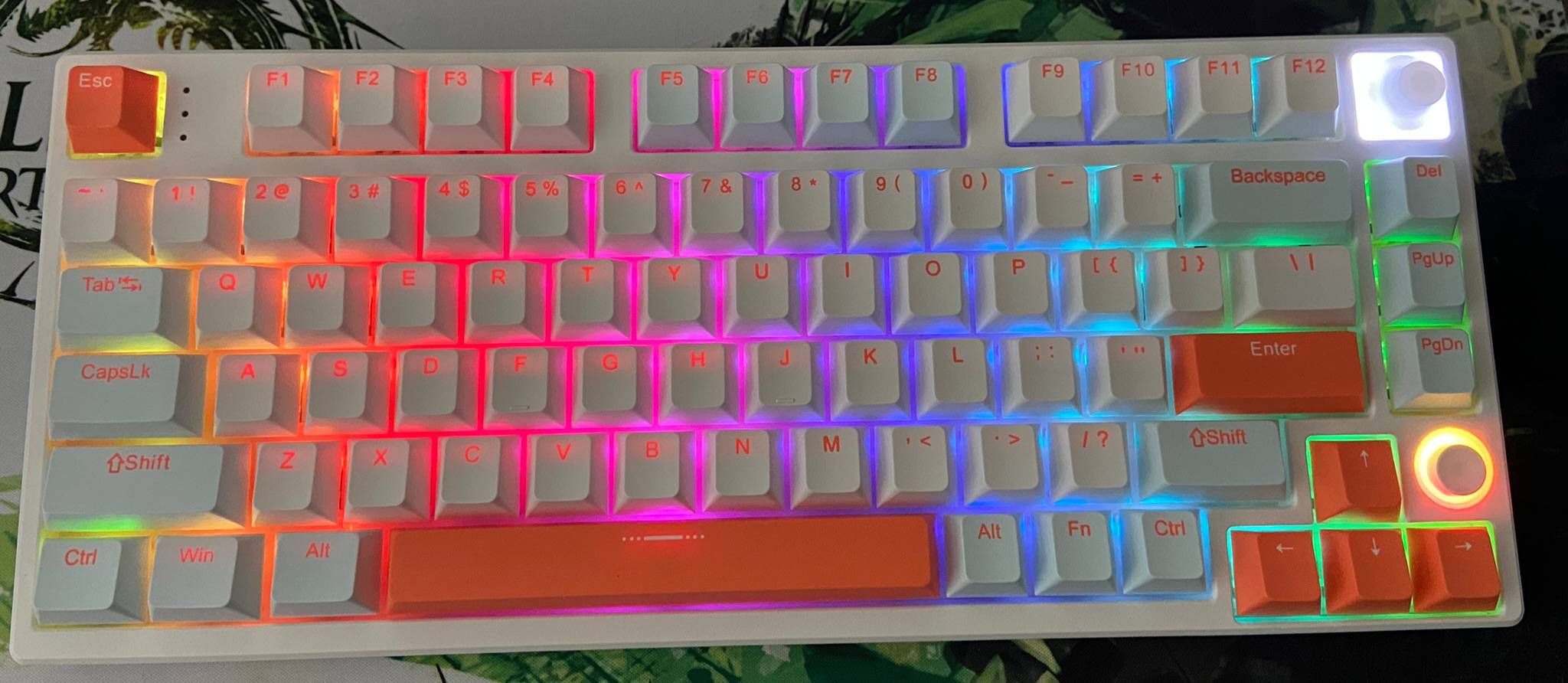 Pairing the HS75T to Bluetooth devices was extremely easy, and the helpful indicator lights near the Esc key made it easy to know when it was in pairing mode. However, I highly suggest using the ability to save different devices on the keyboard if you will be switching between different Bluetooth devices. When I didn't save them each time I switched, I needed to remove and repair the keyboard. That wasn't a huge issue; it is simple to do. Since the option to switch between devices with keybinds exists, there isn't a good reason not to do that. Especially considering doing so made swapping a breeze.
You'll notice I didn't mention spending much time using this keyboard in wired mode. The simple explanation for this is I didn't need to. The specs say 250 hours of battery life, which is an accurate estimation. As I mentioned previously, I generally had lighted on the volume knob and the joystick turned off, which undoubtedly increased battery life a bit. Additionally, I always had backlighting on the keys set to responsive wave pattern rather than always being lit. Lastly, I also had them set almost to the dimmest option because, in a dark room, that was plenty bright for me. All of those things together likely helped me get the best battery life I could out of it. All of that said, after a week of solid, constant use, I was only at 85% battery from a full charge. That honestly blew me away.
Final Thoughts
Heading into this review, I was a bit skeptical about if I would like a smaller keyboard and if a wireless mechanical keyboard could perform up to the standard of my trusty wired keyboard. I have to say the HelloGanss HS75T exceeded all of my expectations. It is also ideal for people who want something that's ready to use out of the box and also for anyone who enjoys having the option of changing keys and switches easily. At a price point of just $90, it is a steal.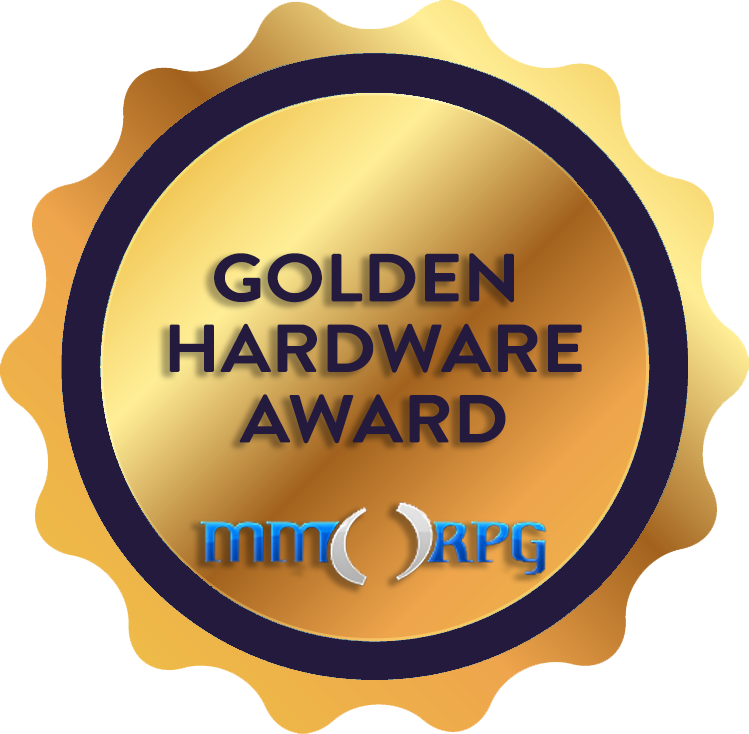 The product described in this article was provided by the manufacturer for evaluation purposes.