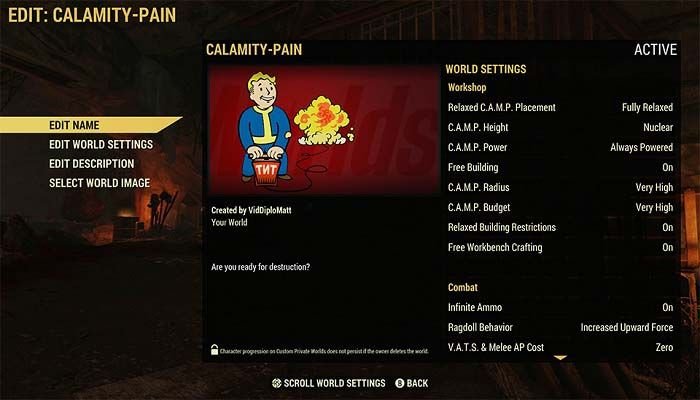 Read Time:
2 Minute, 9 Second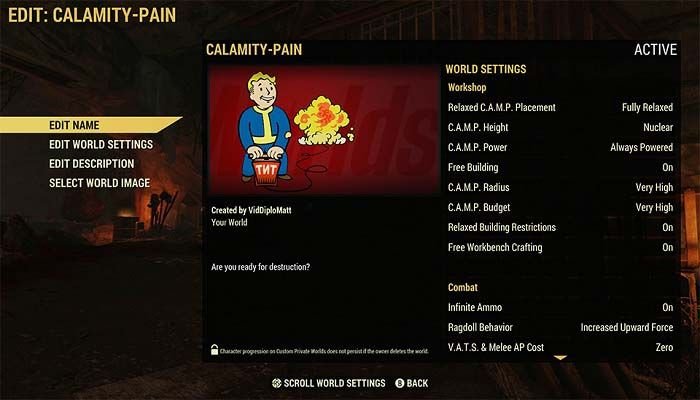 The long awaited Public and Custom Worlds options are now live in the latest Fallout 76 update.
Fallout 76 has had its ups and downs, but Bethesda found its rhythm a bit better over time with its updates. The centerpiece of the newest update, which launches Season 6, has to be the new Fallout Worlds options. Public Worlds will consist of a theme with pre-selected settings of Appalachia that will shake things up from Adventure mode. One Public World will run live for anyone to drop in and play for a month, before a new one rotates in. The community feedback will later determine the rotation frequency. The update brings five specific Public Worlds, but the first one available is Happy Builder. This world brings a reduction in C.A.M.P. placement restrictions, relaxes building restrictions, all map locations are discovered, and the PVP has been disabled. The "happy" means players will be free to roam and discover, as well as build more in a relaxed setting.
While Happy Builder kicks things off, the next one just might be seriously brutal.
Some of the other Public Worlds include High Risk, with attributes like no fast travel, always-on PVP, and extra loot drops on player death. Ouch. Dweller Must Die will ramp up enemy difficulty, and increase damage. Quantum World has max jump height, no fall damage, and "Quantum Storm" weather. Finally, Butcher's Delight brings infinite ammo, no VATS or melee attack AP cost, and enhanced dismemberment.
Custom Worlds, however, will take that experience and open up even more settings and options for Fallout 1st members to customize their own personalized worlds. When talking about customization, they mean business. Some of the options you can turn on or off include fast travel, PVP on or off, enemy difficulty, building restrictions, fall damage, weather effects, enemy difficulty, and more. You'll be able to edit your Custom Worlds after creating them, so if something isn't working or you think other changes are warranted, you can go ahead and tweak them. you'll also have control over who you invite. Friends with Fallout 1st memberships that play in a particular Custom World can always play it again even if the creator is offline. Those who aren't Fallout 1st members can play in Custom Worlds when their member friend is online.
You can find out all the fine details about the customization options and how to access the new Worlds, as well as character progression effects coming with the new update over here at the Fallout 76 update post.