Read Time:
6 Minute, 42 Second
Hidiz has been a rising voice in the audiophile world, but its AP80 Pro-X player may just been its most well-received release yet. This tiny, cost-effective digital audio player can play audio all on its own or connect to your phone or PC as an external DAC/amp to improve sound quality at a fraction of the size of most other desktop devices. Coming in at $189, let's see if the AP80 Pro-X has what it takes to compete!
Specifications
If you're new to the world of digital audio players, the first question you're probably wondering is why anyone would need a digital audio player in the world of smartphones. It's a good question and the AP80 Pro-X tries to answer it in a number of ways.
The biggest reason is, of course, is sound quality, and is followed closely by connectivity. Smartphones, with rare exceptions, are designed with audio quality as one more bullet point in a long list of features. Like most computer motherboards, the audio components are often put in a line with other noisey electronics and usually aren't the best quality. That's also assuming the device has a headphone jack, which it probably doesn't.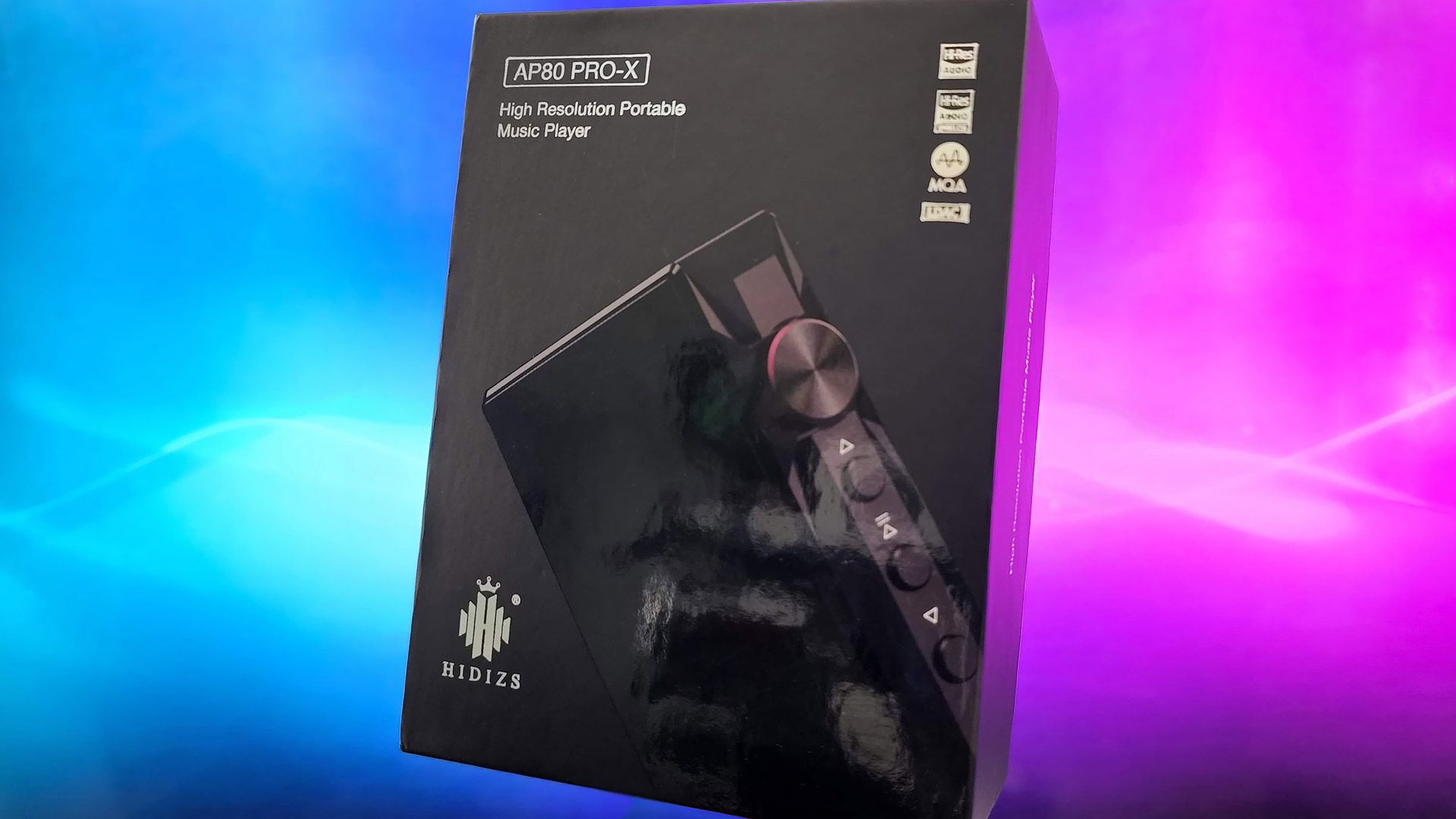 The AP80 Pro-X (and all digital audio players) are designed entirely around sound quality. The AP80 Pro-X in particular uses dual ESS (ES92129C) DAC chips capable of high-res audio and supporting the highest quality file types, like FLAC, DSD, and for streaming, MQA decoding so you can experience Tidal's highest quality Master Quality Authenticated music tracks. If you'd rather connect to your phone or PC over Bluetooth, you can enjoy LDAC or aptX audio codecs for wired-like listening without being tethered to your source.
For connectivity, you have the above mentioned USB and Bluetooth capabilities, but you also have support for single-ended (3.5mm) headphones or balanced (2.5mm) headphones. The AP80 Pro-X is also able to output up to two VRMS, which is enough to drive many over ear headphones — though, may not be enough for demanding planars like the HIFIMAN Ananda.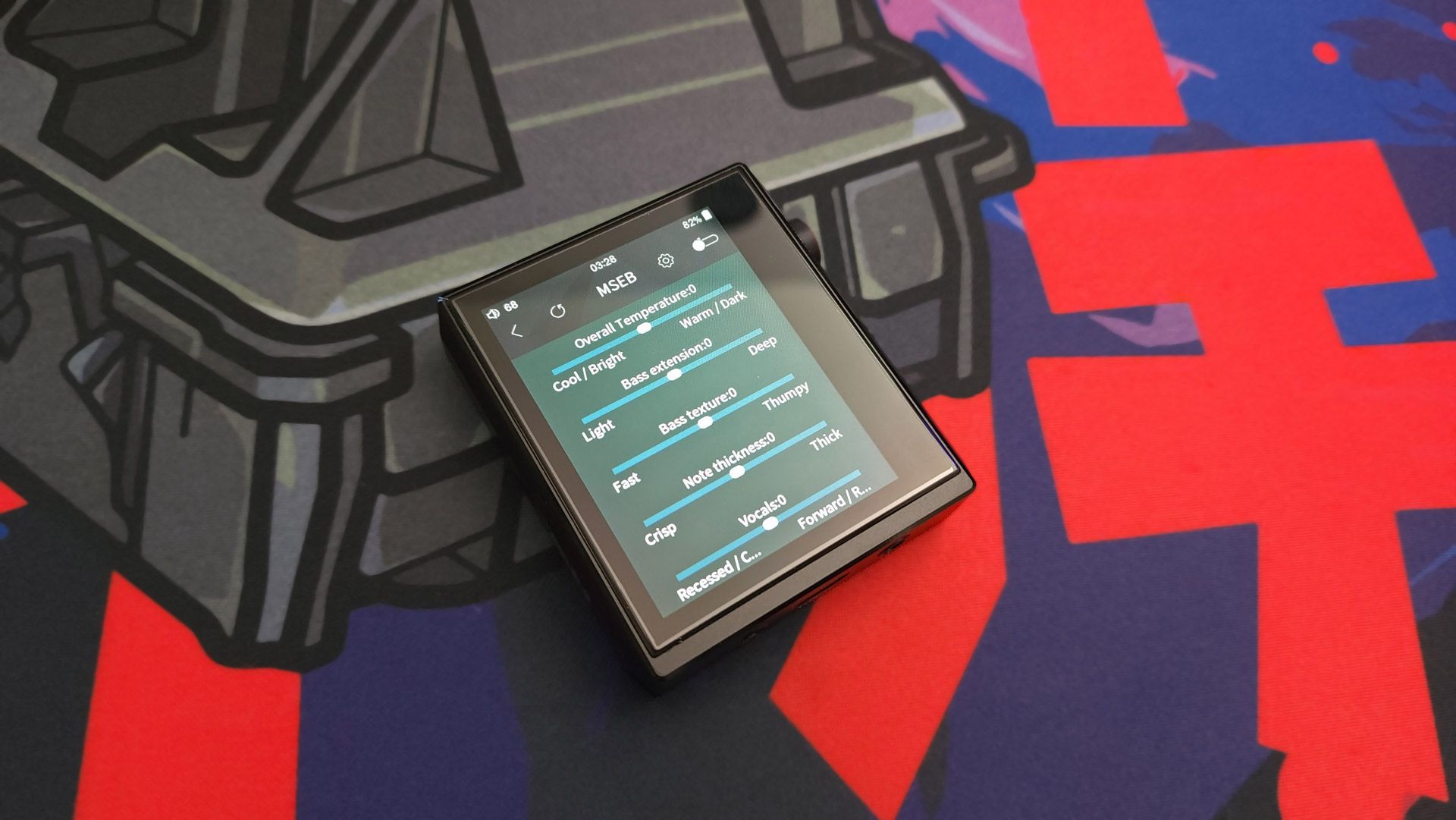 When you're listening to files locally on the AP80 Pro-X, you'll also be able to enjoy one of the most user-friendly equalizers I've ever seen. Instead of throwing frequency bands at you and hoping you'll know what they impact, it uses a system called MSEB which assigns sliders to qualities within music. Like a more lush sound? Slide the "Overall Temperature" toward Warm/Dark. There are other options for Bass Extension and Texture, Note Thickness, Vocals to make them more recessed or forward, Sibilance, Air, and more. I absolutely love this approach and find it much more approachable. I only wish I could also see what frequencies those sliders adjusted so I could be learning about traditional EQ while enjoying this improved approach.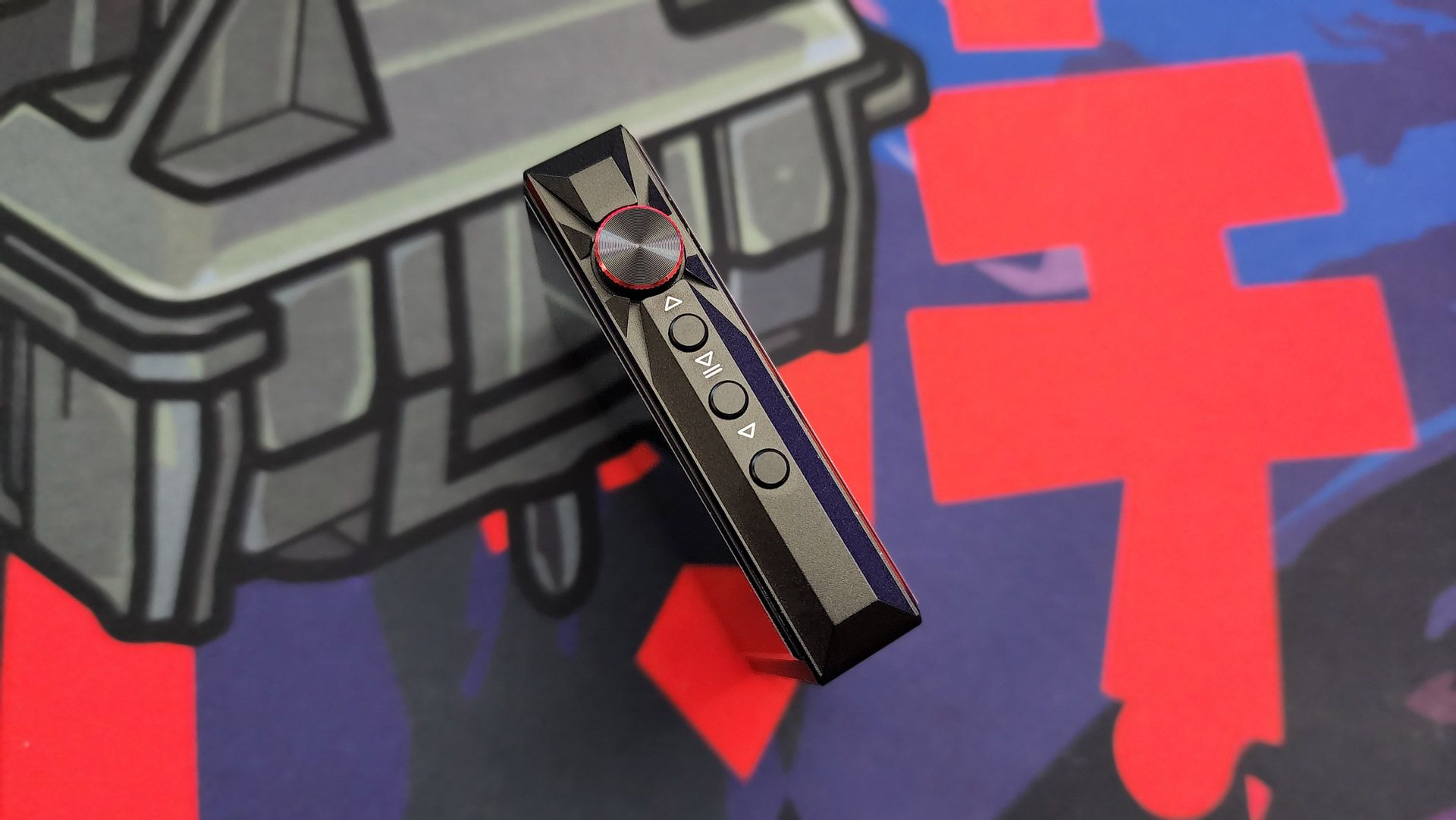 There's also something to be said for just how well-built this little device is. At $189, it's hardly cheap but is built to a standard I'm used to finding above the $300 mark. The body is made from CNC milled aluminum. It features a glass front and back with pre-applied tempered glass screen protectors. On the right side are dedicated buttons for navigating tracks and a knurled metal volume wheel that clicks in to power the device on and off.
The screen is small — the whole device is smaller than these pictures make it seem — at 2.45 inches, but it's a touch screen and quite responsive. There are only two screens to swipe across and six buttons. Curiously, the AP80 Pro-X also supports a step-counter and has an applet for reading ebooks. Neat additions, and I could see myself maybe using the step counter, but not the e-reader. There are plenty of options in the settings menu to control USB behavior, button functionality, and even a sleep timer.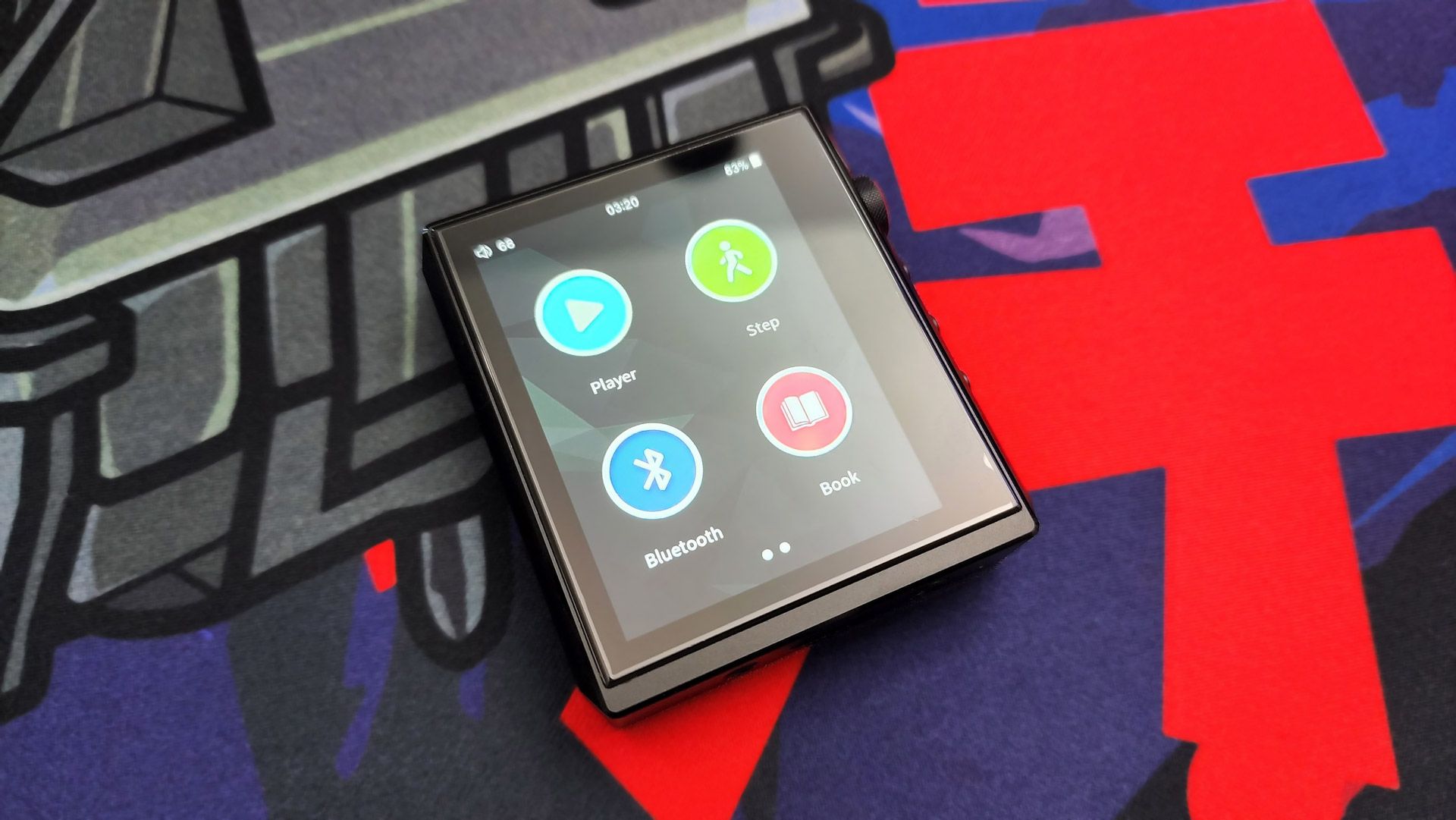 Around the left side of the player is a microSD slot. The player supports up to 512GB of maximum storage. That's enough for a huge MP3 library, but if you're loading it up with FLAC files, you may find yourself needing to be selective about your library.
But the big questions are how does it sound and is it actually better than your smartphone or PC?
The answer to the second question is definitely yes. This is an upgrade to your built-in audio unless you're already running something designed for HiFi. Simply removing the audio components from the rest of the PC removes noise you may not have even noticed until it's gone. The AP80 Pro-X uses that as a starting point and then upgrades sound further with audio components that expand dynamic range, remove distortion, and present the audio in higher fidelity than the original system may have been capable of in the first place.
This little player sounds better than it has any right to. On stock settings, it doesn't color the sound but delivers it with exceptional clarity and detail. The soundstage is natural and airy. Music has a bit more energy and life to it than with my THX Onyx, but isn't overtly colored in any way. Bass was tight and textured with enough speed and separation to articulate the double kick drums throughout Atreyu's My Curse album. Moving over to Church by Tom McDonald, the bass was full, rich, and powerful enough to carry the song.
What's beautiful about this device, however, is that MSEB allows you to really tailor it to your taste. On its own, it allowed my Fiio FD3 and FD5s to shine, as well as my Beyerdynamic 177X Go over-ear headphones, and brought out the best in them. But with a few tweaks, I could easily add that warmth or thump or air that they may have been missing or benefitted from on an individual track.
Another thing that's absolutely worth mentioning is how nice it is to use this as a bluetooth DAC/amp. Instead of being tethered to your phone, you can plug into the AP80 Pro-X, which is much easier to slide into a pocket. I can leave my phone on my desk and go about my business. Since it is physically smaller and lighter, it doesn't create the same drag on my ears as I move around, making it the more comfortable choice. The AP80 Pro-X competes directly with the iFi Go Blu here but has added functionality that device lacks for a similar price.
The biggest downside to the device is that it doesn't support Android for native streaming. You'll need to connect it with another device to access services like Spotify or Tidal. Given the cost of the AP80, it's understandable and doesn't diminish its capabilities as a player/DAC/amp in its own right, but is certainly worth bearing in mind compared to pricier options like the Shanling M3X.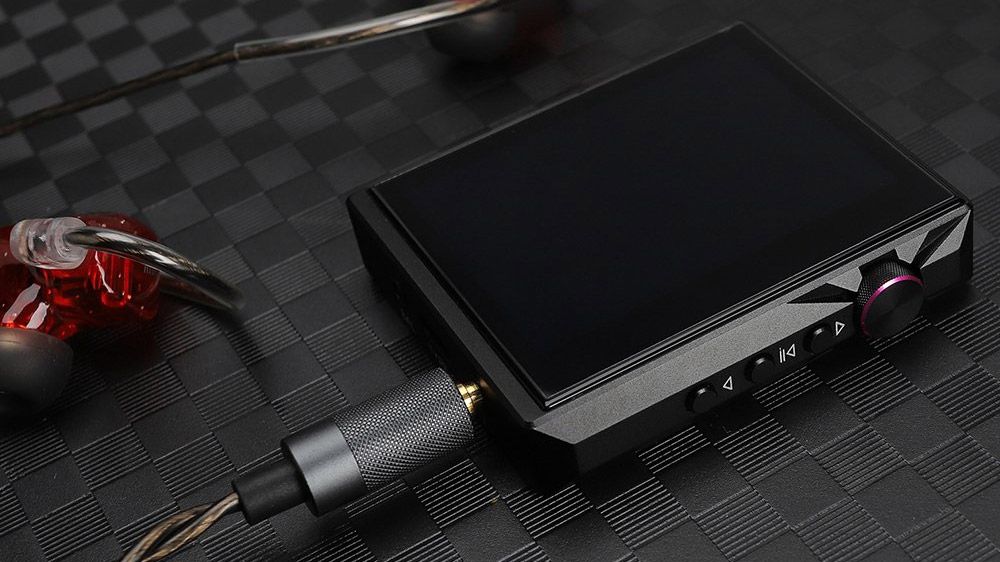 Final Thoughts
If you're looking for an easy way to improve your audio experience, whether that is through your smartphone or connecting directly to your PC, the Hidiz AP80 Pro-X is an excellent choice. It one-ups other desktop DAC/amps in its portability and versatility, and one-ups traditional dongles in power and capability. It's not cheap compared to those options, but compared to other digital audio players, it manages to feel like a darn good value.
The AP80 Pro-X is an excellent device and is well worth a closer look.
The product described in this article was provided by the manufacturer for evaluation purposes. Some articles may contain affiliate links and purchases made through this will result in a small commission for the site. Commissions are not directed to the author or related to compensation in any way.