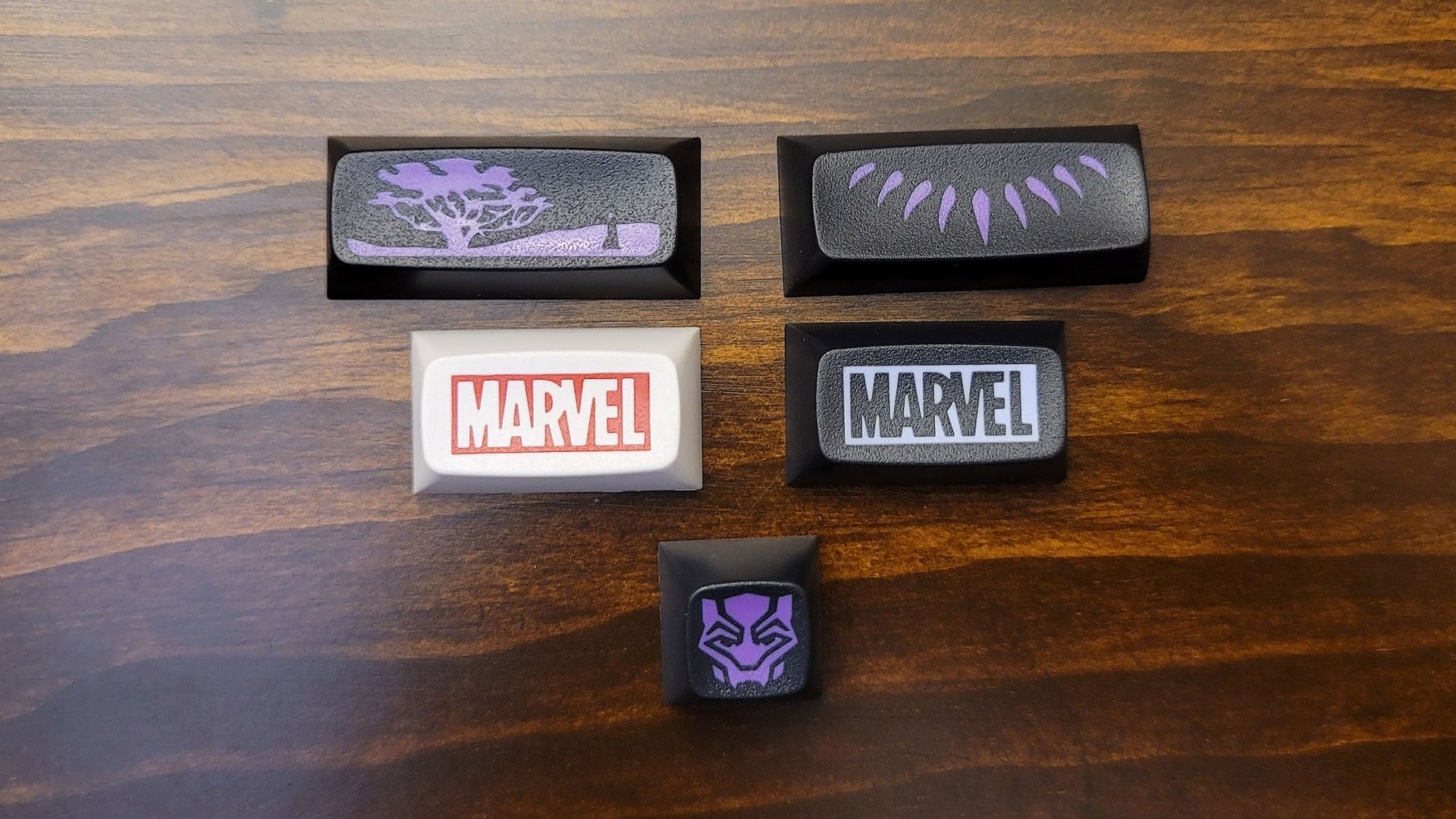 Read Time:
6 Minute, 31 Second
Drop recently surprised the keyboard community by announcing an exclusive partnership with Marvel. Starting with Captain America, Drop has officially starting dropping licensed keycap sets based on the Avengers. Today, it's releasing its second set, straight from plains of Wakanda with Black Panther.
Specifications
Current Price: $130 (

Drop

)

Produced by Drop

Officially licensed by Marvel

MT3 profile

ABS plastic

Doubleshot keycaps

Compatible with Cherry MX switches and clones

Fully sculpted based on IBM beamspring keycaps

160 keycaps
Click the arrow to see everything that's included in the Drop + Marvel Black Panther Keycap Kit
Black Panther Keycap Review
The time couldn't be better for this collaboration. With the launch of affordable custom keyboards like the Glorious GMMK Pro, more people than ever are finding out how much fun customizing their keyboard can be. With a mega property like Marvel's Avengers, there is a lot to be excited about if you're a superhero fan. While the original set hit on Caps' iconic red, white, and blue, this Black Panther set is entirely more my speed.
Like Captain America, the Black Panther set follows the hero's iconic black and purple. The main alphas are all purple with even lighter purple legends you could easily mistake for white. The modifiers and surrounding function, editing, and navigation buttons are all charcoal black with matching legends. The colors are an excellent fit for black keyboards with the purple creating a contrast that looks great.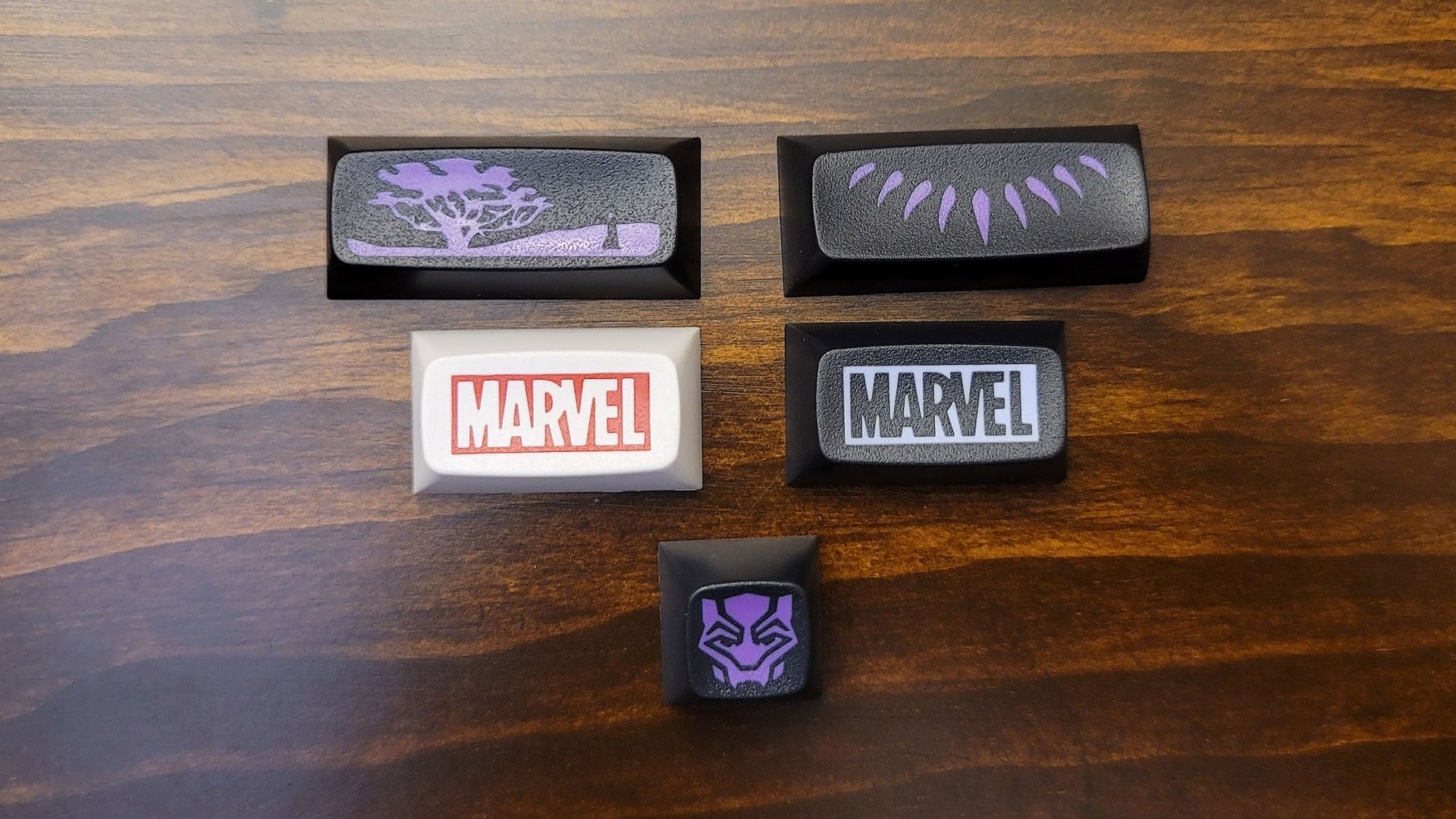 What really makes this a Black Panther set are the novelty keys. There are five altogether (and don't worry, there are matching keys with normal labels, so each one is optional). A purple Black Panther icon appears on the Escape key. There are two 1.75-unit caps, black and white, each with a Marvel logo that fit a standard-sized Caps Lock. The black matches the rest of the set perfectly. There are also two 2.25-unit keycaps for Left Shift or Enter. One features Black Panther's claw necklace and the other a plains scene from Wakanda in the same rich purple as the Escape key. With each installed on my black Drop CTRL and a purple backlight, it genuinely feels like a Black Panther keyboard,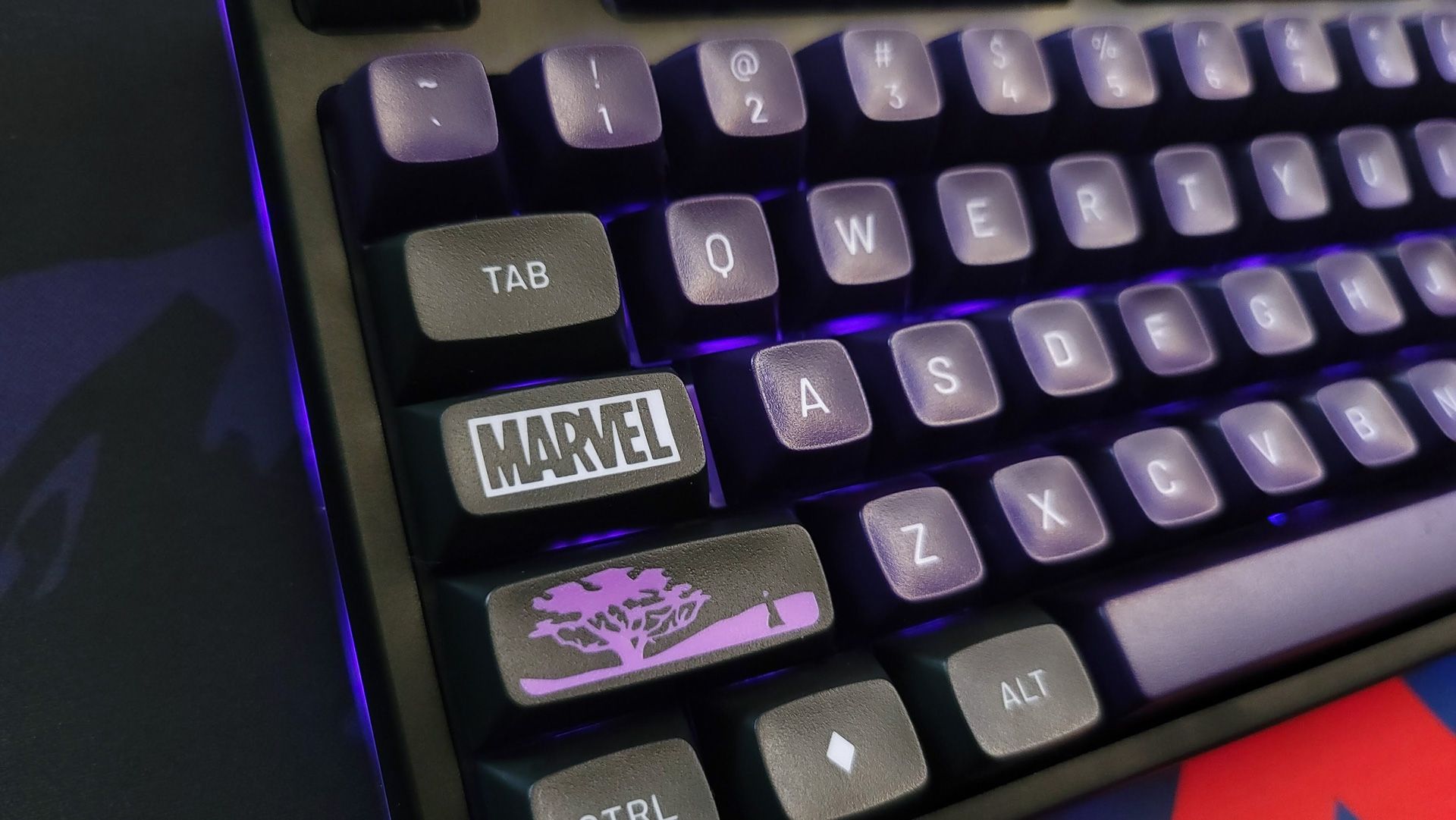 Pulling back from the theme, this set features 160 keycaps and compatibility with most popular layouts. The keycaps are doubleshot ABS with thick walls and a slight texture on their surface that feels great under the fingertips and has a solid, thocky feel when bottoming out. Since these are ABS, they will shine over time, but Drop's other MT3 keycaps hold up well and won't shine earlier than other premium ABS keycap sets.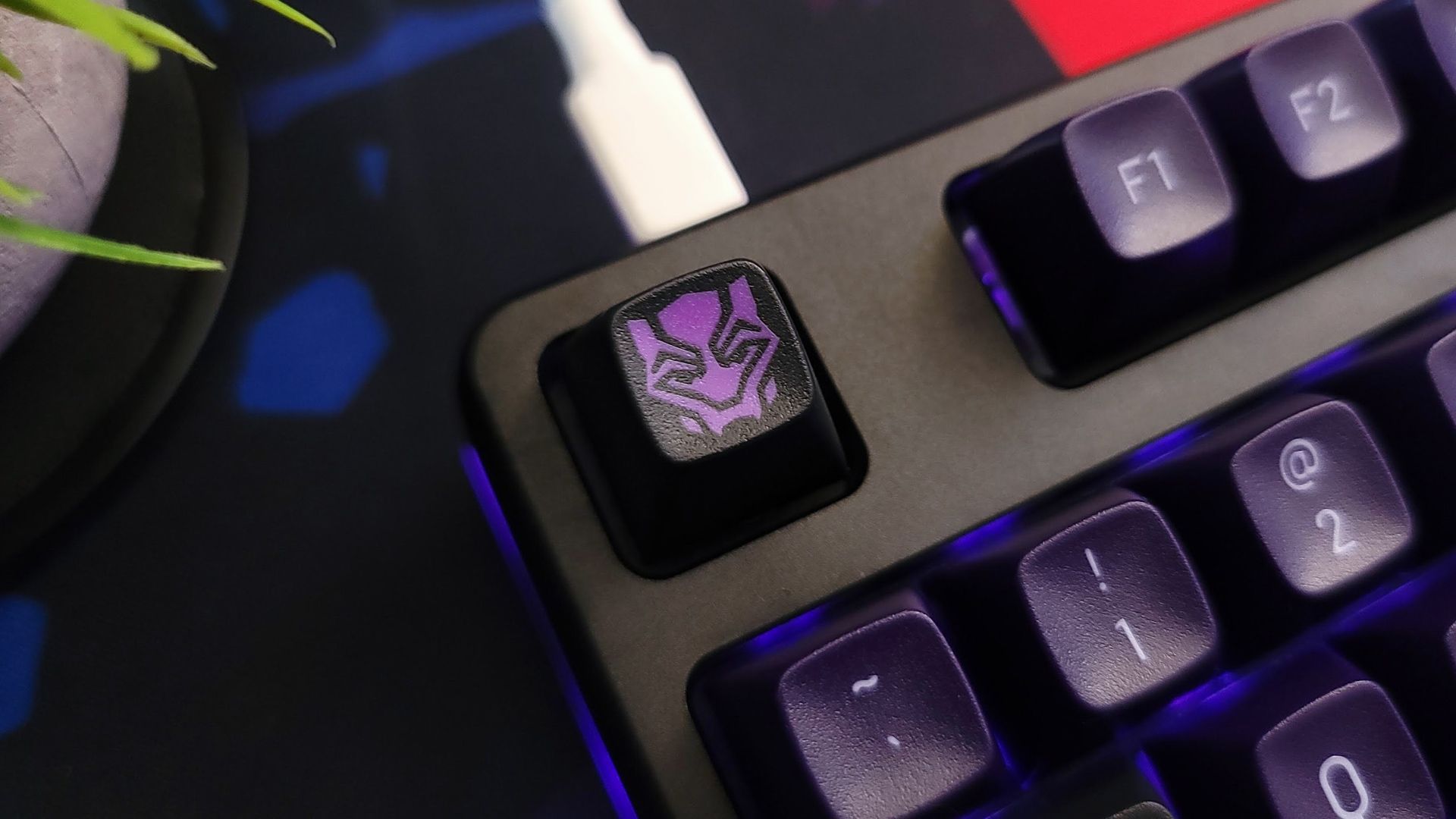 MT3 is Drop's in-house profile. Compared to the "normal" keycaps you'll find on most pre-made keyboards, they're much taller and more sculpted. They are reminiscent of terminal-style SA keycaps but not quite as tall and are more comfortable to use. The sculpt on them cradles the finger, so they feel natural to use right off the bat. In truth, they're the best of both worlds between standard Cherry or OEM keycaps and SAs. If you've been on the fence for a high profile keycap set, these are a great place to begin.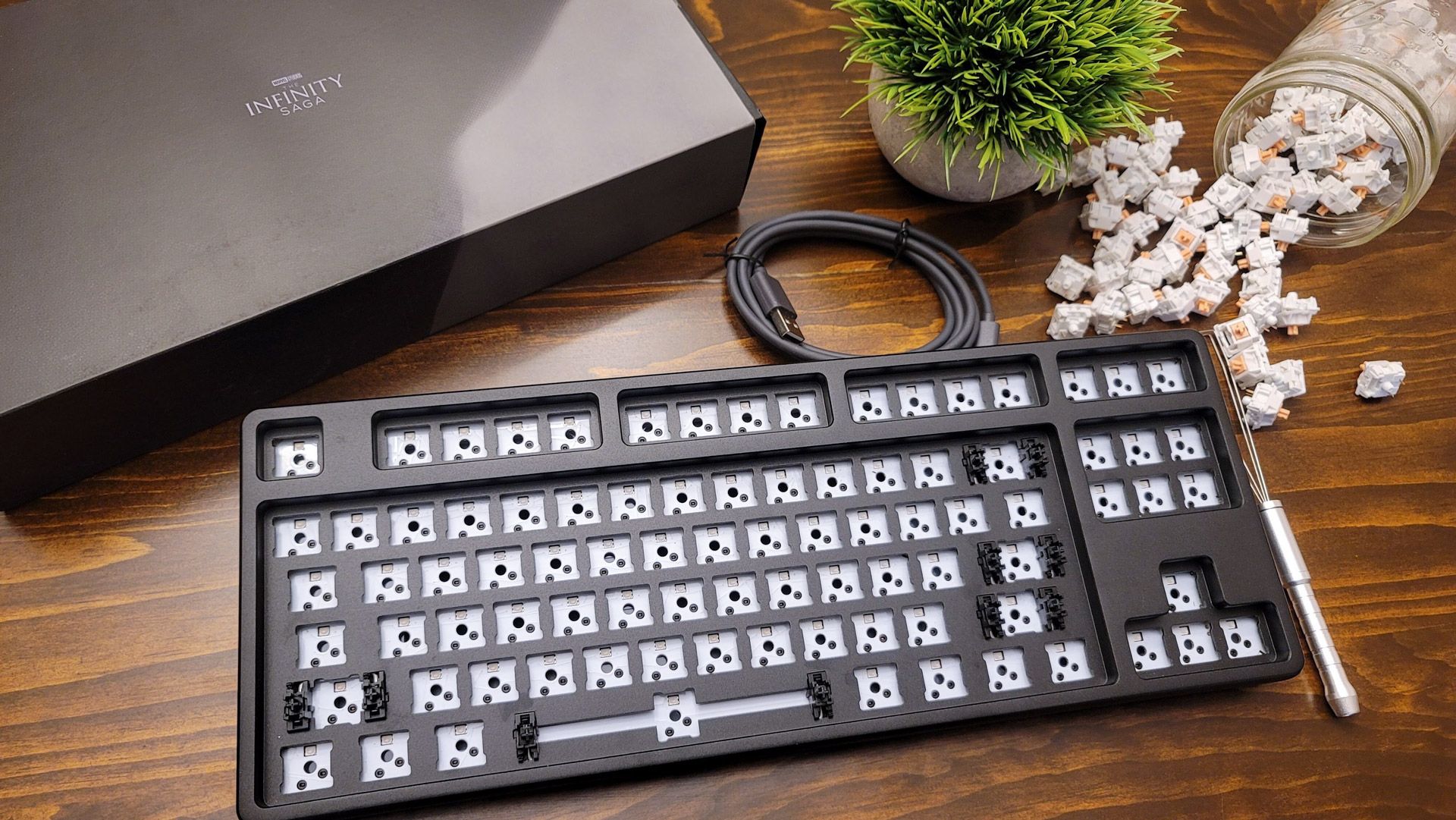 Building the Black Panther Keyboard
When I saw the new set, I immediately asked Drop if I could build a keyboard with them. Since we haven't taken a look at the Drop CTRL before, Drop sent a High Profile our way, plus a set of Holy Panda switches and Everglide stabilizers to complete the build.
Let's break those down quickly before I share the build.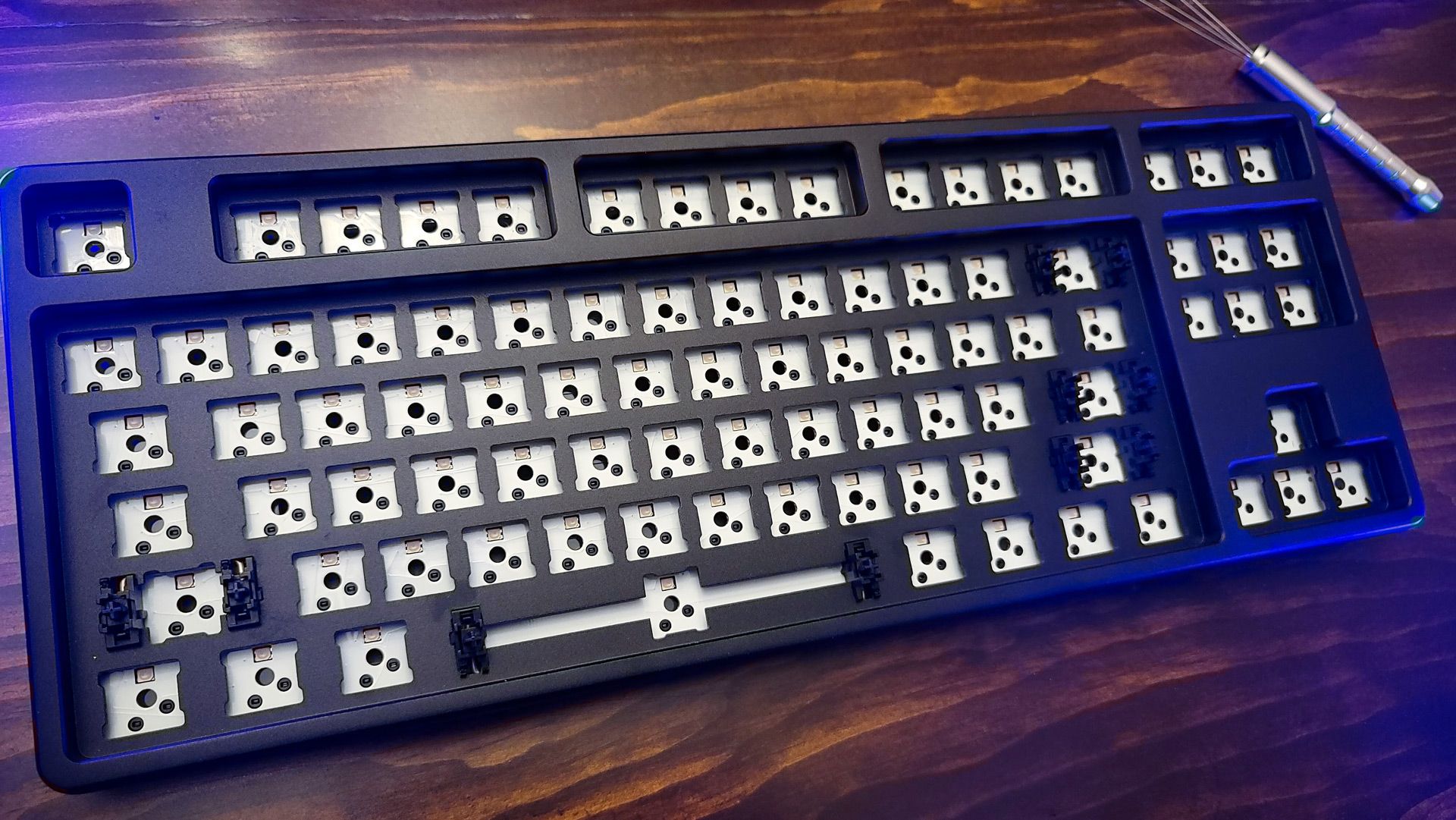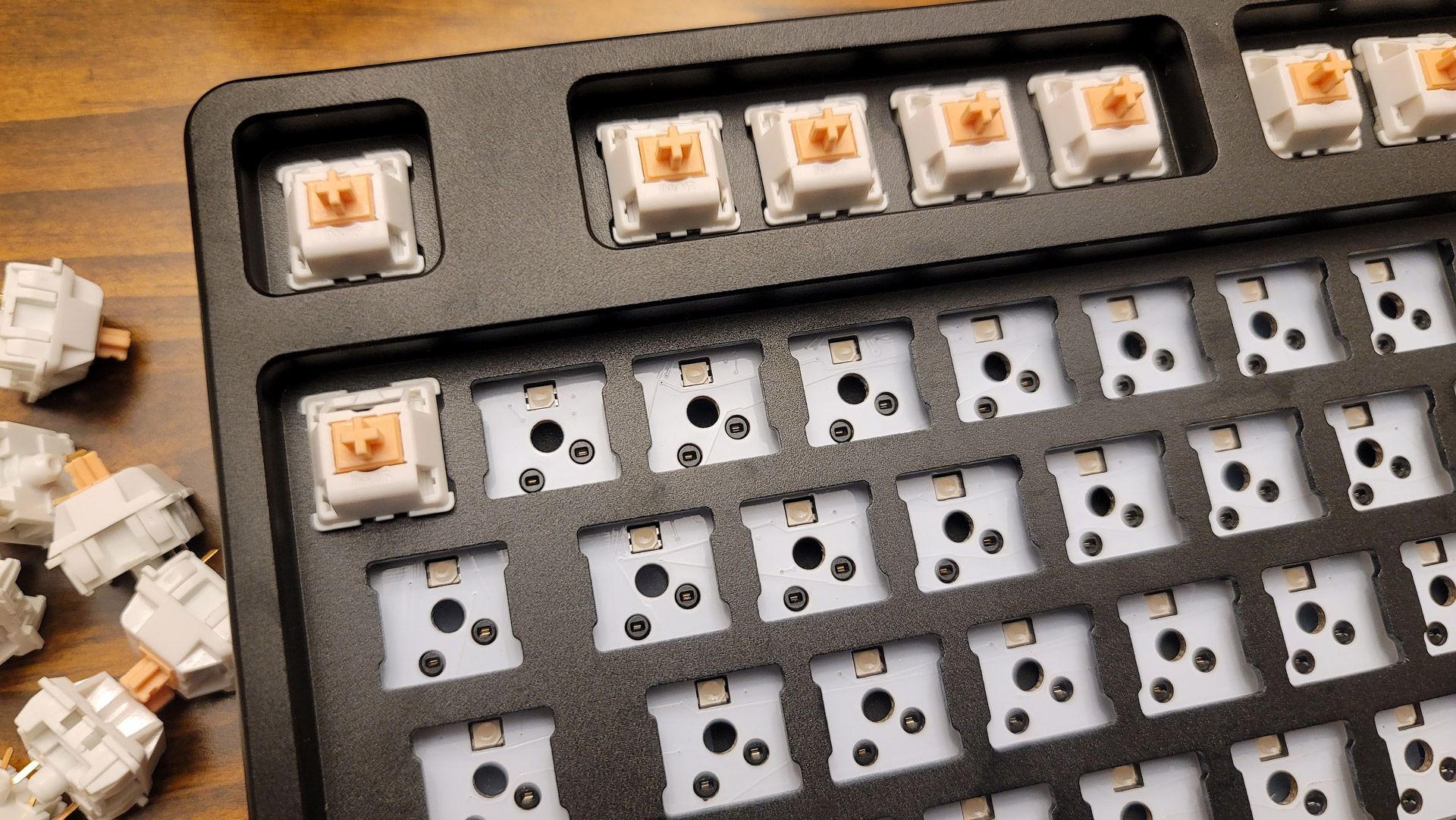 Drop CTRL High Profile: The CTRL is Drop's tenkeyless keyboard and is available as a full, pre-built keyboard or as a barebones kit without switches or keycaps, and in black or silver. It is also available with a floating key design to show off your RGB switches or as a High Profile kit with a thick, top shell to hide your switch bottoms. The high profile uses a heavy aluminum case that feels weighty and premium. It also supports hot swapping switches to easily try different switches without desoldering. At $200 for the barebones kit, it's a good value and a good starting point for a custom keyboard.
Drop + Invyr Holy Panda Key Switches: Drop's Holy Panda switches are the tactile switches to buy. They are famous in the keyboard community for their pleasant, pronounced tactility. They are naturally smooth but really come into their own when lubing. If you like tactile switches, you owe it to yourself to try these switches.
Everglide Panda Gold Plate Mounted Stabilizers: The Achilles heel of Drop's keyboards are their stabilizers. These Everglides are an excellent replacement that have less wobble and rattle out of the box. They still need lubing and clipping for the best experience but can be excellent with some basic mods.
With these items and the keycaps in hand, I had to build a keyboard fit for a superhero, so I set about modding it. First, I cut some neoprene foam to fill the bottom half of the case to deaden any hollow sound. Next, I added foam stabilizer sticker pads to the PCB to cushion the bottom out of the larger keys. Following this, I lubricated the stems with Krytox 205g0 and used Permatex dielectric grease on the wires to eliminate rattle. Finally, I lubricated all 87 switches with a thin coating of the same Krytox I used on stabilizers.
Each of these mods are fairly standard in the custom keyboard community, so I didn't reinvent the wheel but each does make a meaningful difference and are essentially mandatory for a keyboard that offers a next-level typing experience. Opening and lubing the switches is a long and tedious process but changes the sound and feel of the switches, adding smoothness and quieting down the higher pitched noise. Switch lubing took about three hours total.The end result is a CTRL fit for a Wakandan king. The black and purple theme matches the black case option perfectly. With a little purple backlighting, the look really comes together.
Typing on the Black Panther keycaps is a pleasure thanks to that MT3 profile. For real: you wouldn't think the sculpting on the top of the keycap makes that big of a difference but it really does. The sound is lower-pitched, perfect for fans of thocky keyboards. The time taken to mod the stabilizers was absolutely worthwhile too, bringing the larger keys more closely in line with the rest of the keyboard to complete a very pleasant typing sound.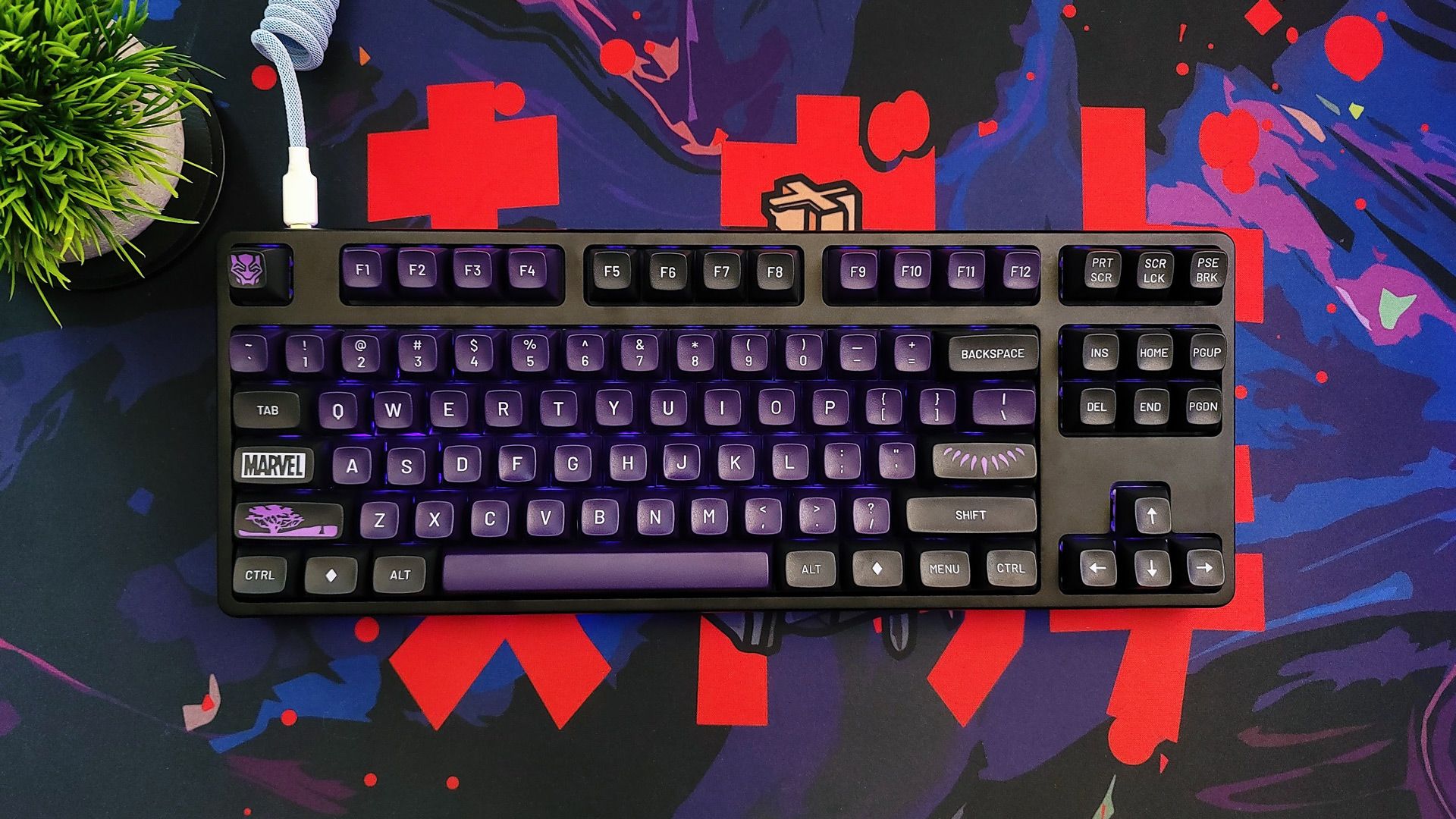 Final Thoughts
Okay – so final thoughts. At $130, these keycaps aren't cheap but they're the only officially licensed Marvel keycap sets you can buy today. I think Drop did a much better job with the colorway here than with the Captain America set, at least for my taste. I also like that there is wide compatibility with this kit. At the same time, I would have loved to see drop include some additional novelty options or even add an artisan in to help make that price seem more reasonable for newcomers to the hobby. Still, this is a well done kit that looks great on a black keyboard. If you're a Black Panther fan and have the extra to spend, this is a solid keycap set to buy.
Find out more at the official product page.
The product described in this article was provided by the manufacturer for evaluation purposes. The links included in this article are for tracking purposes and are not affiliate links. Please help continue our coverage by clicking links to find out more from the manufacturer and hear what other users are saying.