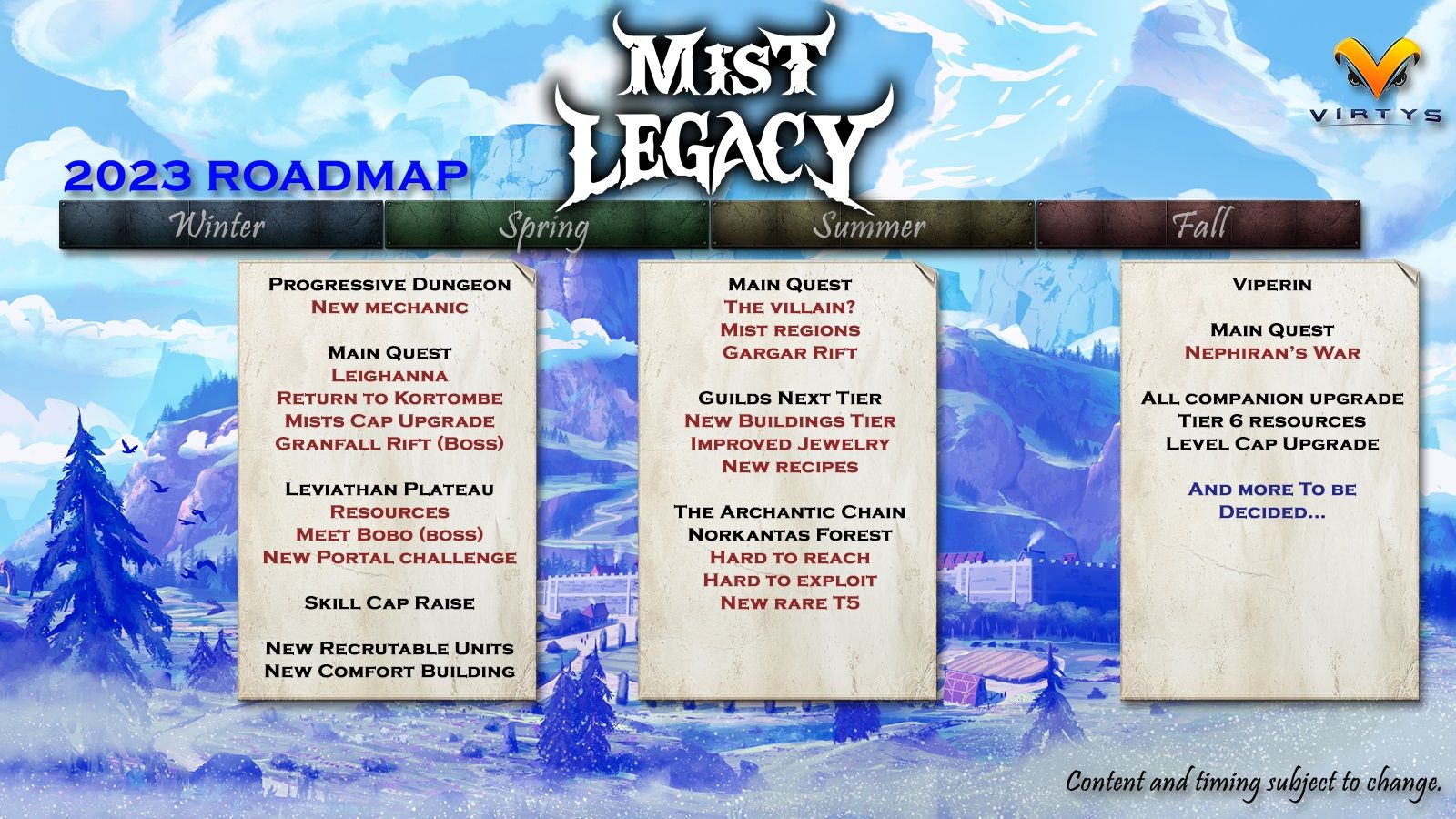 Read Time:
4 Minute, 55 Second
Each week, we scour the internet for all things indie MMO-related, so you don't have to. This week, it looks like devs have wrapped up their 2022 In Review blogs and have moved on to What To Expect in 2023 blogs. MMORPG also posted their 10 Best Indie MMOs To Play In 2023 column this week, and several of the titles we cover here made it onto the list. There's plenty of other stuff going on as well, so let's quit wasting time and get started with this week's Indie MMO Spotlight.
I like shrooms as much as the next person (on my pizza, what were you thinking?), but it's time for the weekly BitCraft Twitter Vignettes to get a little meatier.
The early bird gets the bolete! pic.twitter.com/AbVbW31GOg

— BitCraft (@BitCraftOnline) January 10, 2023
Mark your calendars. Season 3 of The Cycle: Frontier will begin on March 29, 2023. The server wipe at the end of Season 2 will be the last wipe players will experience. Matt Lightfoot, Lead Producer for The Cycle, explains the what and why behind this decision in a new dev video, with more in-depth information coming soon.
With this week's patch, players should see performance improvements on foliage interactions. The performance bump comes just in time, as players can now collect bushes and pink and blue flowers. The video recording feature has also been fixed, and building placement has received some improvements as well.
Ask Aphelia Season 2 kicks off with a Novaquark Q&A full of player questions. S2E2 will air next week with a continued focus on answering player questions. As always, you can submit your own questions by filling out the Ask Aphelia Submission Form.
Founders Packs are now available. The Wanderer Pack is $25 and includes 3 months of game time and unique in-game and Discord titles. The Pathfinder Pack and Lifetime Explorer Pack run $100 and $300. The Pathfinder Pack includes 9 months of game time and some housing furniture, while the Lifetime Explorer Pack gives even more housing items and a lifetime subscription for one account. There are some additional add-ons for sale as well, ranging from $250 to $2000.
Jacopo Pietro, Co-Founder and CEO of Dynamight Studios, took to the Fractured Online Discord to post an update on the team's platform issues. He announced that the team has successfully run an FO game continent on a server purchased and controlled directly by the team. There is still a lot of work to be done to get the server ready for prime time, and Jacopo hinted that we would see a blog post to clarify everything in the coming days. Maybe I was right about Fractured Online being one of the best indie MMOs to play in 2023!
In their own kooky way, the Genfanad team put together a What to expect in 2023 blog post. From adding rare spawns across the map to encourage exploration to reworking and expanding current systems to adding an Adventurer's Corporate Rank (I told you the team has some…unique ideas), players can expect a lot of changes this year.
Weekly Update 347 brings changes to combat that will reward skilled players over "green attack spammers." There are also some changes to entice players to fight in loot zones, and minor flags are being added to National Castles to enhance the siege dynamics.
The Mist Legacy 2023 Roadmap was posted to its Steam page. More quests, new lands to explore, and new dungeon mechanics are just a few things on tap for this year.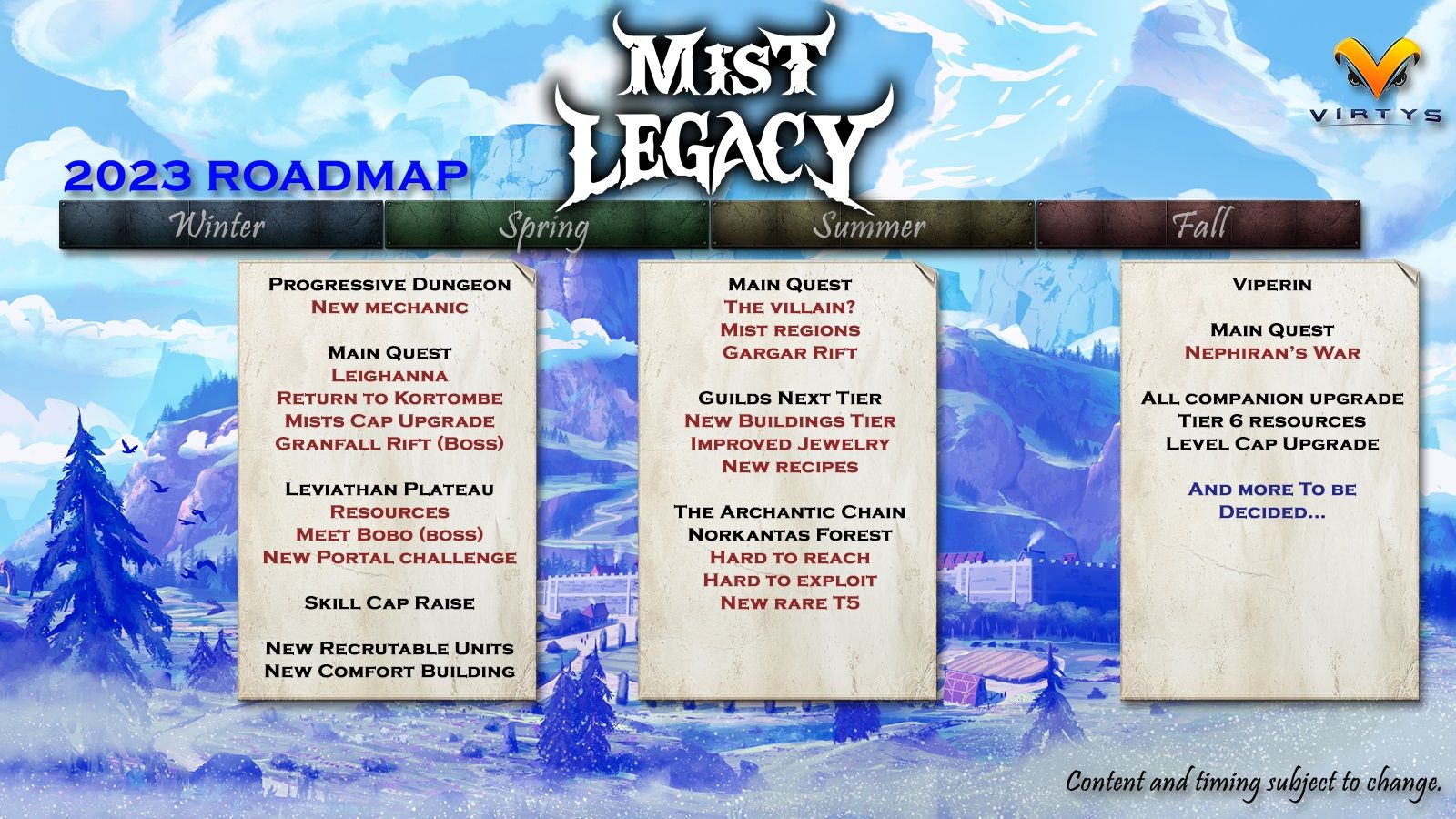 Update 27: Ending the Year Strong was posted to the M&M blog this week. The post mentions the launch of their Friends & Family playtest along with all of the usual development updates and concept art we expect from their monthly updates.
With the holidays over, the team is "back in the saddle" with Development Log #368.
The Scars of Honor team welcomes us into the new year with a new video posted this week.
The Tatsu team is back with their first weekly dev blog of the year.
Issue #30 of The Ardent Ledger was posted this week. It's been a while since the Otters have published a newsletter, so this edition is packed full of new features and updates the community can expect to see in 2023. The Ardent Ledger mentions changes to the mana system and the appointment of new Royal Guardians, but the most exciting news is the long-awaited addition of housing interiors!
The War of Dragnorox January Dev Update focuses on the MMO's final class list. Players will be able to choose from Chloromancer, Manipulator, Bombardier, Ranger, Warrior, and Bonestitcher.
I'm always happy to see a new indie MMO land in this column. This time around, though, it's not completely new. World of Titans is developer Archage Studios' attempt to bring the ill-fated Titan Reach back to life. The World of Titans Kickstarter isn't off to a great start, with only 7 backers pledging $2613 of the $100,000 goal at the time of writing. You can check out a short demo of what the new team has put together so far on the World of Titans Steam page.
A new dev blog updates the community on the work being done to upgrade Xsyon's graphics from DX9 to DX12.
Ramen VR is looking for passionate content creators to join their partnered content creator (PCC) program. Requirements and perks can be found in this post.