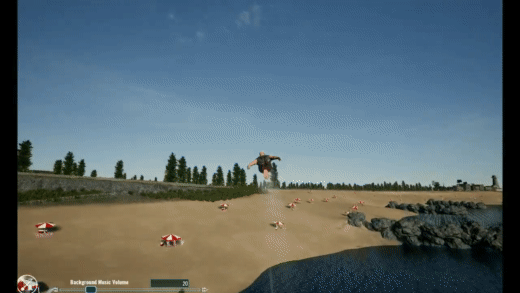 Read Time:
5 Minute, 41 Second
There are more than just the five or six big MMOs out there in the universe, and you want coverage of all of them. You've asked, and we're listening! To help give the little guys a louder voice, starting today, we will be running a weekly recap of the news and events in the indie MMO scene. From Kickstarters to the long-running indie gems, we will be covering it all.
No stone will be left unturned as we search out all that's happening from week to week. Wait, strike that. I'm just one solitary dude trying to cover a lot of ground here, so I'm going to need your help to make the Indie Spotlight shine bright. Got a new Kickstarter you just backed? Let me know. Your favorite indie MMO get a fresh coat of paint? Call it in. Need us to get the word out for an upcoming event? You get the idea. So, without further adieu, let's get into the inaugural Indie Spotlight.
It's A Bird. It's A Plane…
The team over at Missing Worlds Media was hoping to have their own City Of Titans fireworks display this 4th of July holiday by giving all you superheroes something you've been wanting – flight! Technical difficulties are keeping the Island a no-fly zone for just a bit longer, but the team still showed off a couple of gifs to whet your flying appetite.
It looks like there are other major changes and additions coming in the next few weeks, with the blog mentioning that flight and "significant improvements to the user interface" are "only a portion of things to come." And if that wasn't enough to get you excited, they finished things up by showing off a couple of new combat animations they had been working on.
Dual Universe NOW!
Developer Novaquark recently published their June newsletter for their space MMO, Dual Universe, recapping their recent work on the project. Two of the topics were centered around graphics improvements. Novaquark showcased some of the new visual effects made possible through the integration of middleware solution PopcornFX. Players should notice an improvement in effects such as particle explosions and holograms.
To help players with aging computers get the most out of the upgraded visuals of DU, Novaquark also announced that Dual Universe is now available for play through NVIDIA's GeForce NOW cloud streaming service. You'll still need a Dual Universe subscription, but both the free and priority GeForce NOW memberships will allow you to play DU on any PC, Mac, or Chromebook even if they don't meet the minimum specs required to play normally.
The most important announcement for most players, though, was the introduction of three new ways for you to generate revenue in Dual Universe. First up, Hauling missions can be created by NPCs or players, with a guaranteed payout at the end of the mission. You'll have to weigh the risk vs. reward, as failure to complete the assignment for any reason will forfeit the collateral you used to secure the mission initially.
The Job Forum will allow players to create more free-form missions like providing security or gathering resources for delivery. Without any guarantee on either side of the table, players will earn respect and trust through a rating system. Just like Uber, you'll probably need a 5-star rating before anyone is willing to work with you.
The last new revenue stream will be through Challenges, by entering a Surrogate Station to take on missions outside of the main game world. The initial challenge is to complete a multi-stage pickup and delivery contract, but future challenges will offer more difficulty and greater rewards.
To The Moon
It seems that everyone is working on particle effects, and hybrid voxel/vertex-based MMO Starbase developer Frozenbyte is no exception. Their weekly progress report shared a few short videos displaying some nice explosions for static and moving objects.
They also appear to be pushing forward with moon bases and mining. While designs for integrating Easy Build mode with moon base building have just begun, the designs for the first phase of moon mining (surface materials) are complete.
A VR Tale
A couple of weeks ago, developer Alta announced that their VR MMO A Township Tale, currently available on PC, is coming to the Oculus Quest on July 15. Pre-orders are now available for $9.99. For those wondering whether you should go with the PC or Quest version of ATT, Game Director Boramy Unn put together a comparison video highlighting the differences between the PC and Quest versions. Let me know if you think the pre-order perks are worth the Quest's graphics downgrade or not.
LFG
Low-fantasy MMORPG Gloria Victus had a couple of big announcements recently. All PVP fans should take notice that a new Glory season has started as of July 1. With the ladders reset, now is the perfect time to jump into the faction vs. faction PVP. Top players at the end of the two-month season earn unique titles and some coins to fill their coffers. And all players will earn Contribution Points based on their weekly rankings, which can be used to purchase special items from the Glory Quartermasters.
Along with a plethora of updates listed on the Weekly Update, Developer Black Eye Games was proud to announce that the Party Finder is now live. Located under the 'Socials' tab, the lobby will be where players create and join a Warband, as well as manage friends lists and blocked players.
Re-Cycled
YAGER Development has opened up signups for their second Closed Alpha Test for the PvPvE Competitive Quest Shooter, The Cycle. I see the confusion in your eyes, and yes, The Cycle is already available for free through the Epic Games Store. But this signup is for the July 22-27 test of their massive rework in progress.
Test Two will focus on squad play and new weapon modifications. Anyone interested in trying their hand at prospecting on Fortuna 3 should head over to the EGS or Steam to sign up today.
Apply Here
The Cycle isn't the only MMO taking applications for a test run. Developer Proxim Beta is also looking for a limited number of testers (and content creators) for their first Closed Beta Test of Chimeraland. Although the cross-platform animal collection MMO will be available on PC, the first test will be limited to iOS and Android. The Chimeraland beta is only open to players in Canada and the Philippines (5000 testers per region), so it looks like NA/EU players will finally see what it's like to be left waiting for their chance to play.