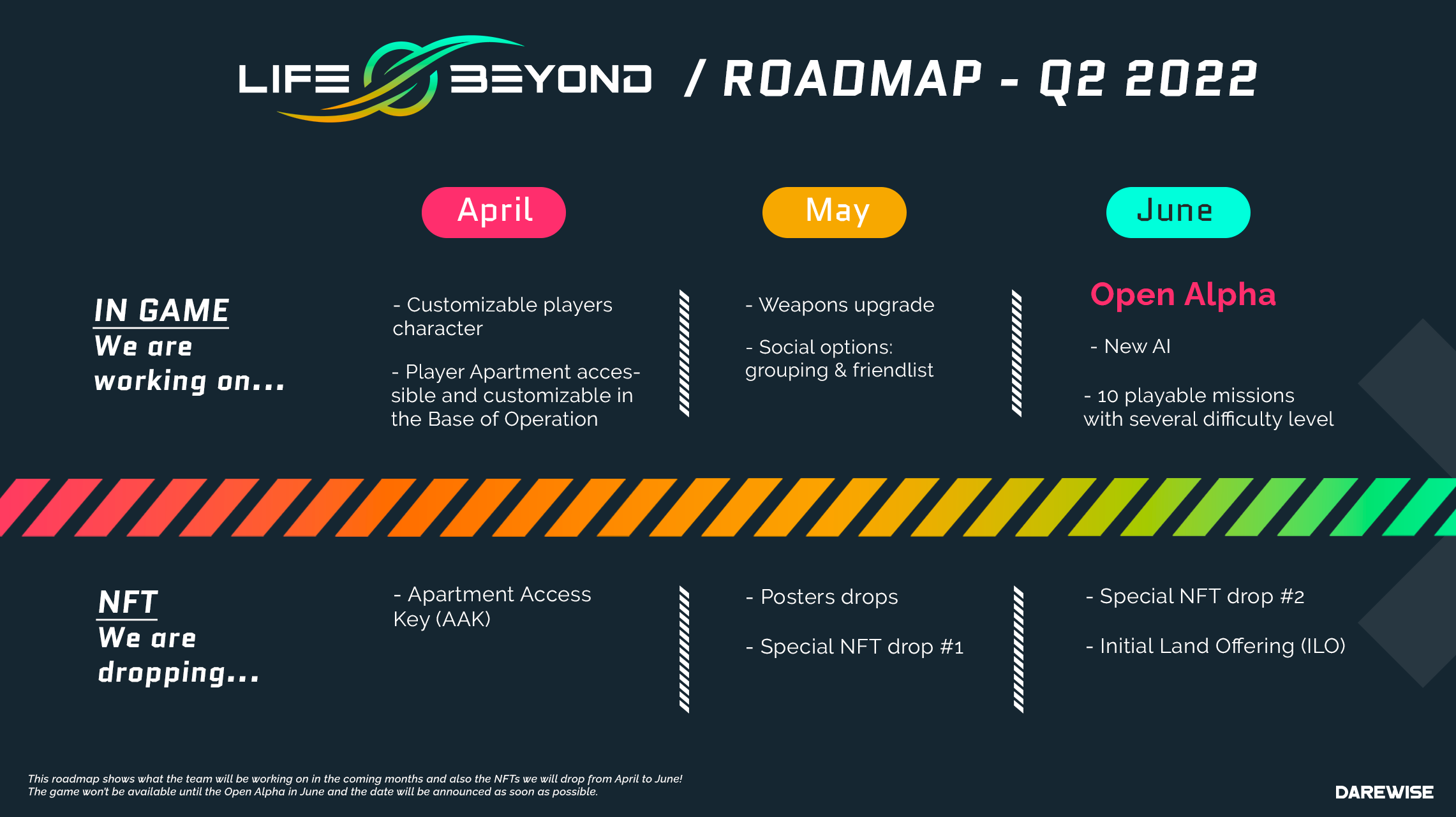 Read Time:
4 Minute, 3 Second
What exactly is a Socio-Tech Metaverse? Life Beyond means to answer that question, despite the obvious insistence that it was the developer of the game, Darewise, that presented us with the reason to ask. Originally developed with a working title as Project C, Life Beyond is a game built on Web3 and Blockchain, but with the insistence of the developers, it's much more than that, blending what they profess is "the feeling of a game" and "the stakes of reality".
Sometimes it feels like the number of Blockchain games on the market is increasing almost weekly. While many are questionable, and can easily be dismissed, Life Beyond stands out for several reasons. For starters, the game, has been in some form of development since 2019, and has recently been picked up by the Animoca Brands family – a publisher known for their massive investments in blockchain games and metaverses, such as The Sandbox and the, now closed, F1 Delta Time. Another major indication that the team at Darewise has a solid project on their hands is their partnership with Polygon Studios. Polygon Studios is the gaming and NFT department of the blockchain network Polygon (formerly Matic), which has been a popular choice for blockchain game developers due to the high transaction rate per second, low gas fees, high security, and connection with Ethereum.
Darewise states plainly that Tokenomics are at the heart of Life Beyond, but the game sports several features meant to appeal to the mainstream MMORPG populous, such as the game being free to play, customizable player housing, story-arcs, progression, crafting, a political system, and a class system that currently has 4 classes in closed alpha. All of these features will take place on the planet of Dolos, where players will have to fight, build, and cooperate to survive. The team at Darewise has also stated that they are trying to steer away from open-world PvP and griefing, with co-op PvE Expeditions as a major focus. As with many Blockchain games, players should expect ownership to play a large part of the underlying philosophy of the game, with an emphasis on purchasing or earning NFT's.
According to the "Lightpaper" the tokens provided in Life Beyond will be a variety of Fungible and Non-Fungible tokens. Some of these will be utilized for transactions, services and crafting, while governance tokens will also be issued, meaning that those that hold governance tokens will likely have some specific types of governance rights, although what those are specifically have not been detailed at this time, apart from allowing players to "wield massive influence and control going forwards". The native in-game token is an ERC-20 (Ethereum Standard) token called the LB Token, which will be used to make general transactions to NPC merchants as well as player to player transactions. It will also be utilized in the NFT marketplace, making it the premiere currency that most players will trade for items like, weapons, equipment and blueprints. The LBToken supply will be limited to a fixed supply of just over 1 billion LBTokens.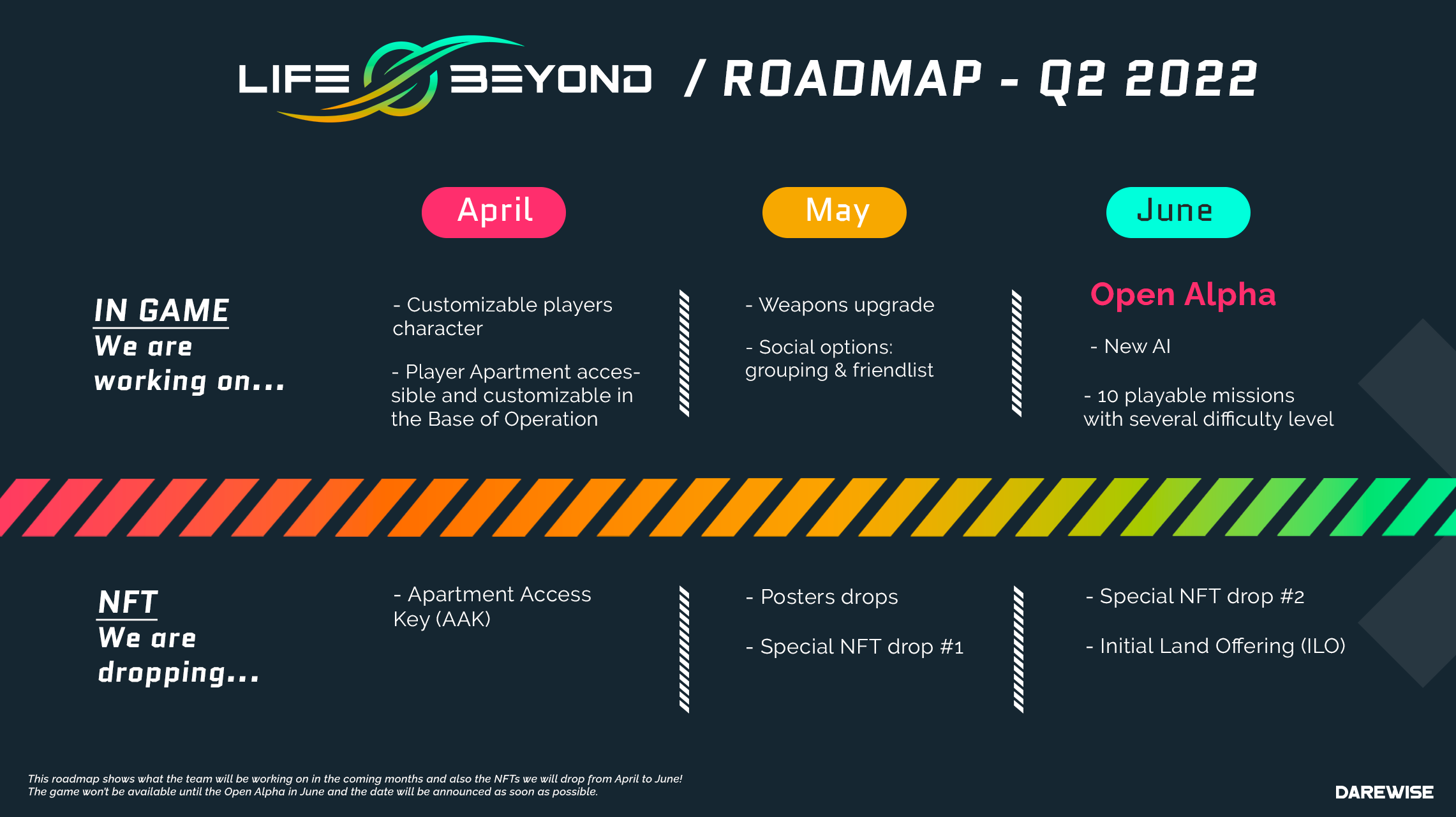 Currently, the team states they are in a Closed Alpha state, with a current roadmap depicting a transition to Open Alpha in June of 2022. On the development front, the team states items such as customizable player characters, weapon upgrades, grouping, new AI, and allowing players to access and customize their apartments are on the docket for Quarter 2 of this year. On the NFT side, they have outlined a series of drops, including an Apartment Access Key and Special NFT drops on the way over the next 3 months. In June the team aims to release an initial land offering, possibly aimed at enticing early adopters (or investors) to buy in while the game is still in development.
Landowners will also receive a LBToken payouts from the land they own. The amount of the payout is determined by how they develop their land, and how many players engage with their settlement. As LBTokens are the prime currency in Life Beyond this could potentially pose an unfair advantage to players that cannot purchase land on their own, due to scarcity or the asking prices of the land, putting players in a position where they may have to rent land from the wealthier landowners if they intend to build out a settlement on their own.
It's still very early in the development of Life Beyond but with an open alpha on the way, it seems any players interested in giving the game a shot will get their chance to hop in and see what it's like for themselves in June. There's definitely much more to unpack when it comes to Life Beyond, but while we wait for more information to surface, let us know your thoughts in the comments.