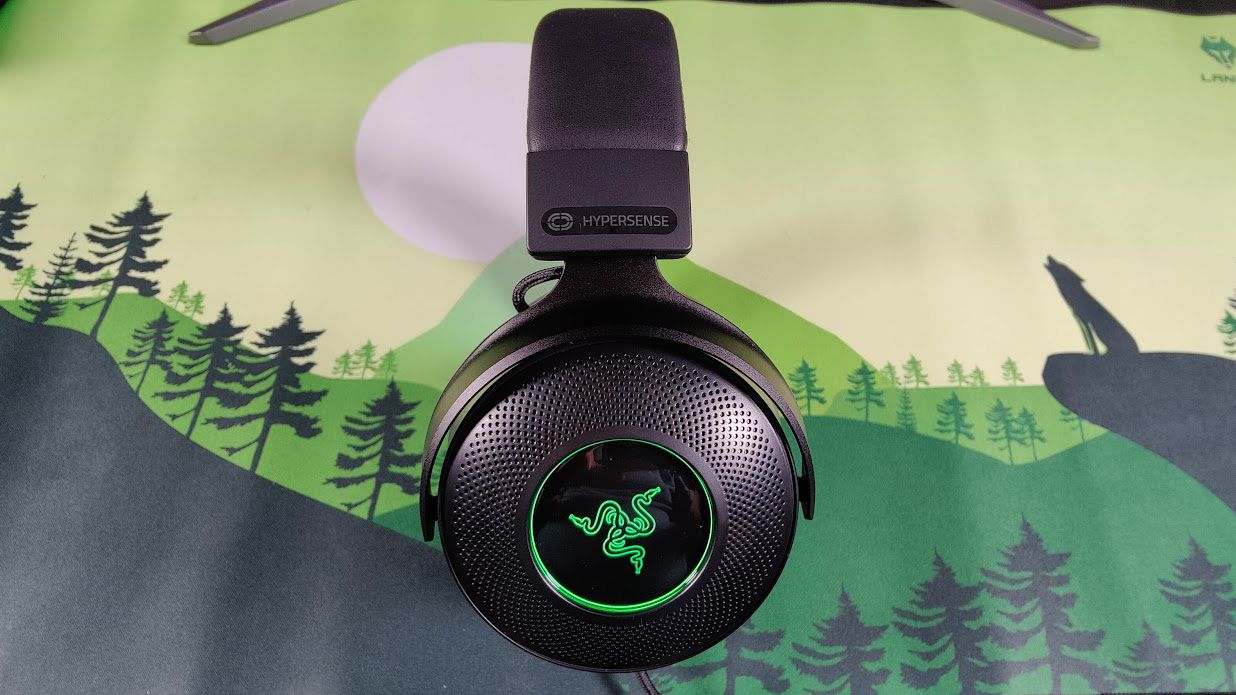 Read Time:
9 Minute, 35 Second
Since the original Kraken release, it has been a fan favorite. The comfortable design reduced fatigue while providing a great audio experience with the 40mm drivers and retractable mic. It was updated again in 2019 to include fresh drivers, a thicker headband, and improved ear cushions. Never one to rest on its laurels, Razer has refreshed the Kraken once again but now features some new tricks that promise to push your gaming immersion to new levels. Razer has taken their HyperSense technology originally released on the Nari Ultimate (reviewed here) and merged it into the latest iteration of the Kraken lineup. Please join me as I go down the rabbit hole and review Razer's Kraken V3 HyperSense Gaming Headset.
Specifications
Headphones:

Current Price: $129.99 (

Razer.com

)

Connection type: USB type A

Frequency response: 20 Hz – 20 kHz

Impedance: 32 ? @ 1 kHz

Sensitivity: 96 dBSPL / mW @ 1 KHz (HATS)

Drivers: TriForce Titanium 50mm drivers

Inner ear cup diameter: 62 x 42mm

Cable Length: 2.0m / 6.74 ft

Approx. weight: 344g / 0.74lbs

Oval ear cushions: Full-ear coverage with plush leatherette, for comfort and optimized haptics

Microphone

Frequency response: 100 Hz – 10 kHz

Signal-to-noise ratio: ≥ 60 dB

Sensitivity: -42 ± 3 dB

Pick-up pattern: unidirectional

On-earcup Controls

Volume up and down

Mic mute on/off toggle

Haptic intensity level toggle.

Haptic Drivers

1 in each cup

Frequency Response: 20-200Hz

Maximum Generated Force: 4.3G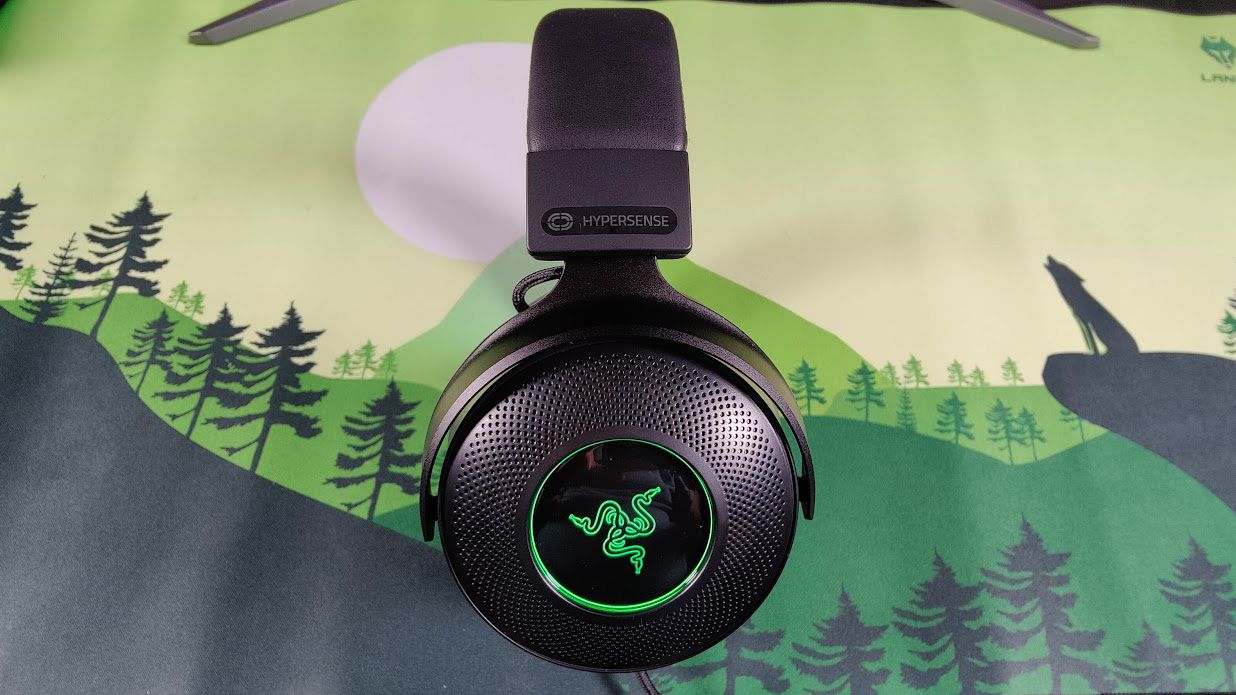 The Razer Kraken V3 features four variants: the Kraken V3 X, V3, V3 Hypersense, and lastly the Kraken V3 Pro. Today, we are looking at the Kraken V3 HyperSense Wired edition. The Kraken V3 borrows the best features from the top three headsets from Razer. It sports a refreshed design of the fan-favorite Kraken line that is slimmer and lighter. It also features glossy chroma RGB rings on the earcups for more of Razer's patented flashy goodness. The V3 borrows from the Blackshark line by adding the TriForce titanium 50mm drivers to produce an immersive and powerful audio experience. Last but definitely not least is the titular HyperSense haptic drivers from the Nari line, adding immersive tactile feedback so explosions and gunshots have literal punch and slam.
The Pure Audio Experience
The TriForce Titanium 50mm drivers provide an excellent sound right out of the box with no additional configuration required. Often this is where I can tell if a gaming headset will foretell a great experience or wind up mediocre. The V3 HyperSense offers immerse acoustics from the very first listen.
To review the headset, I put it through several paces and trials. I started with some gameplay tests ranging from Minecraft to GS:GO. Detection of my surroundings including footsteps, gunfire, and other environmental elements is accurate and easy to discern. This allowed my ears to take in more detailed positional information and enhanced my awareness. I was able to be more reactive and faster on the trigger because I could anticipate where enemies were before I could see them. The drivers reveal a level of detail that can even allow gamers to detect different types of materials that are being walked on, whether that's grass, or tile, or asphalt — as long as the game supports accurate material-based footstep tracking.
Next, I took my gaming to the streets in Forza Horizon 4. Just as I previously encountered with CS:GO, I could easily detect a wonderful level of detail. Even without the need to hear footsteps, being able to track the sound of other racers drafting behind me and attempting to pass was helpful. The level of immersion made playing the game even more fun.
Gaming isn't the only area that these drivers excel in. Listening to various artists on Spotify or Pandora was a pleasurable experience. The mid-range is full and clear, allowing vocals and instruments to come forward in the mix with realism and detail. The bass is also powerful without producing parasitic buzz or rattling. Additionally, I ran a bass test with each level of HyperSense (the bass triggers the haptics to engage). Pleasantly, this didn't negative impact audio performance in any way. There was no distortion. On the contrary, having the haptics hit added a fun element to listening other headphones can't deliver (especially on the super low sub bass atmospherics).
Design of the Razer Kraken V3 HyperSense
Like the rest of the Kraken V3 line-up, the HyperSense has received a new updated modern design. The headset is stylish, composed of matte and satin black. The build feels durable and robust, so should last a good long time. The grills also resist fingerprints to keep the overall look clean.The earcups encompass the whole ear and, while not low profile, aren't terribly bulky (while still clearly being a gaming headset). The triple-headed snake lights up, and an all-new surrounding LED ring takes lighting and customization up another notch.
Razer paid a lot of attention to the construction of the ear cushions. According to the company, it's paid a lot of attention to a number of key design points in their development: softness, heat dissipation, ear fit, noise isolation, and haptics transfer. During long gaming sessions, the ear cushions stayed comfortable without creating sore spots. The surface of the ear cushions is made using breathable fabric for greater airflow. The size of the cushions is 62mm x 42mm, which provides ample room to fit even larger ears without adding pressure. Isolating the outside world during gameplay can be crucial and these do a good job of it with their leather exteriors.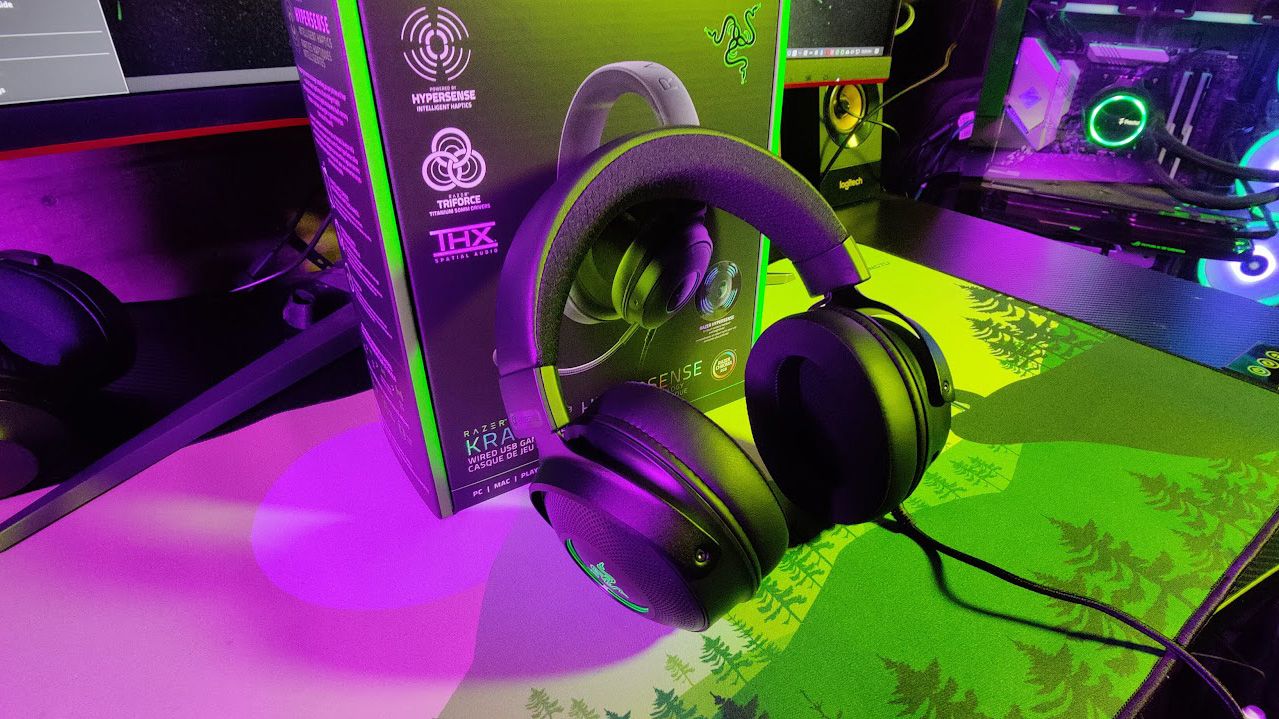 The entire length of the headband is steel reinforced and wrapped in plush leatherette cushioning for enhanced durability. Another notable change is that Razer has opted to change the yoke from a full circle design to a half-circle that is steel reinforced and allows more adjustability than previous models. There are notches in the headband to enable precise adjustments with tactile clicks. I always find this convenient as I can make adjustments on the fly without having to look directly at the headband.
The headset's controls have been moved from the wire and now they reside on the underside of the ear cups for easy access. This is a welcome change. I've had mixed experiences with on-wire controls, usually finding they break down more quickly than those that are built directly into the headset proper. This is another good step for the long-term durability of the headset.
Finally, we have the microphone and it's pleasantly high quality. It is now fully detachable instead of using the retractable design found on previous models. The mic also now includes a foam pop filter, this filters our popping sounds. The microphone is crystal clear and easy to position. I tested this out using various applications ranging from audacity to discord. During gaming sessions with other users, I was able to confirm I could be heard clearly and loudly. It still won't beat one of Razer's standalone USB headsets but is a good choice for chatting with teammates over Discord.
What a Difference HyperSense Makes
When you think of haptic feedback, the first thing that probably comes to mind is your smartphone. The haptics of today feature limited customizability, little more than on and off, typically. Razer first introduced its own take on the technology, dubbed HyperSense, with the Nari Ultimate. It's an all-around more intelligent version of the haptics we've grown used to.
Developed by Lofelt, HyperSense converts sound signals into dynamic touch-sensory feedback in real-time and guides those haptics through the earcups to deliver an immersive, tactile gaming experience. This means the sound around you in-game can translate into a real sensation. This is done by picking up the shape and frequencies of game audio and transforming them into rich, lifelike vibrations. Think the smart haptics of the Nintendo Switch but taken to the next level and fine-tuned for immersive audio.
Simply put, this allows events like a grenade blowing up near you will result in a realistic vibration effect. The temptation here is to think of a controller-like vibration that would quickly result in a headache, but simplifying things to that degree is akin to saying that all televisions are like the CRTs we (or our parents grew up on), ignoring the ultra-high resolution of modern flat panels. It is not as simple as a "vibration motor" but instead delivers high resolution, nuanced haptics that respond to exactly what's happening on screen. It responds a bit like a subwoofer, lending slam and intensity to explosions or deep and rich low-end to orchestral soundtracks. This feedback is also positional, so you can feel the direction of explosions and nearby gunfire, even tracking from right to left to follow your movement in-game.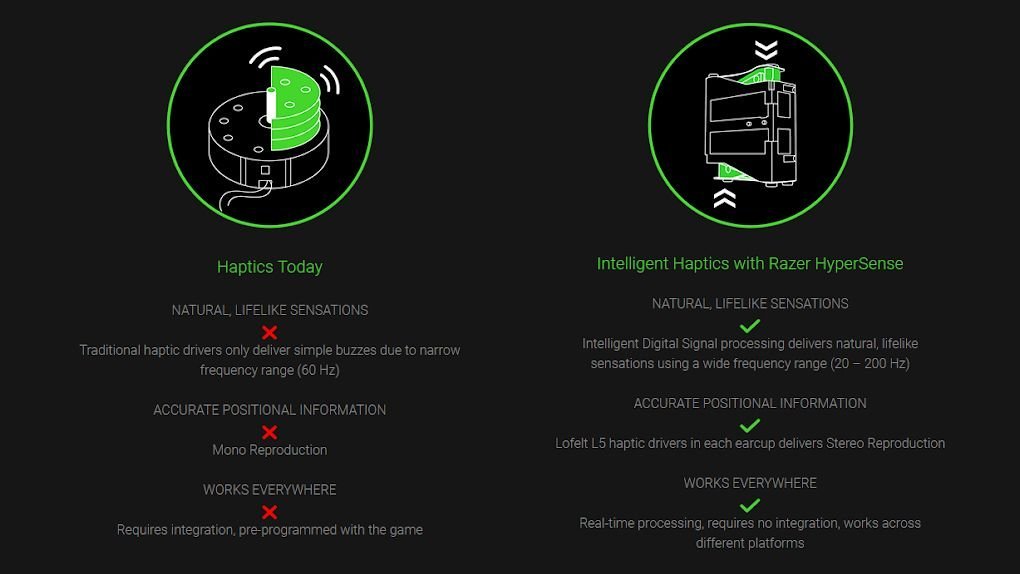 In practice, I found this made games (especially action games) more fun and immersive. Since no drivers are required and it uses existing audio, no additional steps are required: it's plug and play. It was also fun when watching cutscenes and even movies. Immersion through audio technology isn't going anywhere but up and this is a prime example of that. Still, it's not 100% perfect. I did have to dial down the feedback during cutscenes and videos at times. If it's left too high, it can trigger from deep-voice characters simply reading their lines.
This effect is enhanced with THX Spatial audio. This virtual surround sound algorithm adds depth and spatial awareness to games and movies and makes it easy for gamers to make adjustments. For example, THX Environment Mode will tune the audio for a realistic game environment while the THX Competitive Mode will boost enemy audio while reducing the low frequency of other sounds such as explosions. This allows easier detection of footsteps and even reloads. This was my secret weapon in GS:GO. It was like the hands of gaming legends grabbed control and laid waste to my enemies.
Razer Synapse
While the haptic feedback will work without Synapse, it's still a good idea to download it so the effect can be customized. Synapse brings out the headset's full potential by allowing gamers the ability to make adjustments to the haptic intensity, volume, mixer, enhancements, microphone adjustments and even the lighting.
While RGB is limited (it is a headset, after all), Synapse does allow you to customize the color and effect. You can adjust quick effects and even sync with the other Razer peripherals in the ecosystem with easily toggleable options. As happy as I am to see more RGB illumination on the Kraken V3, I would have liked to see more zones on the ring for added customization.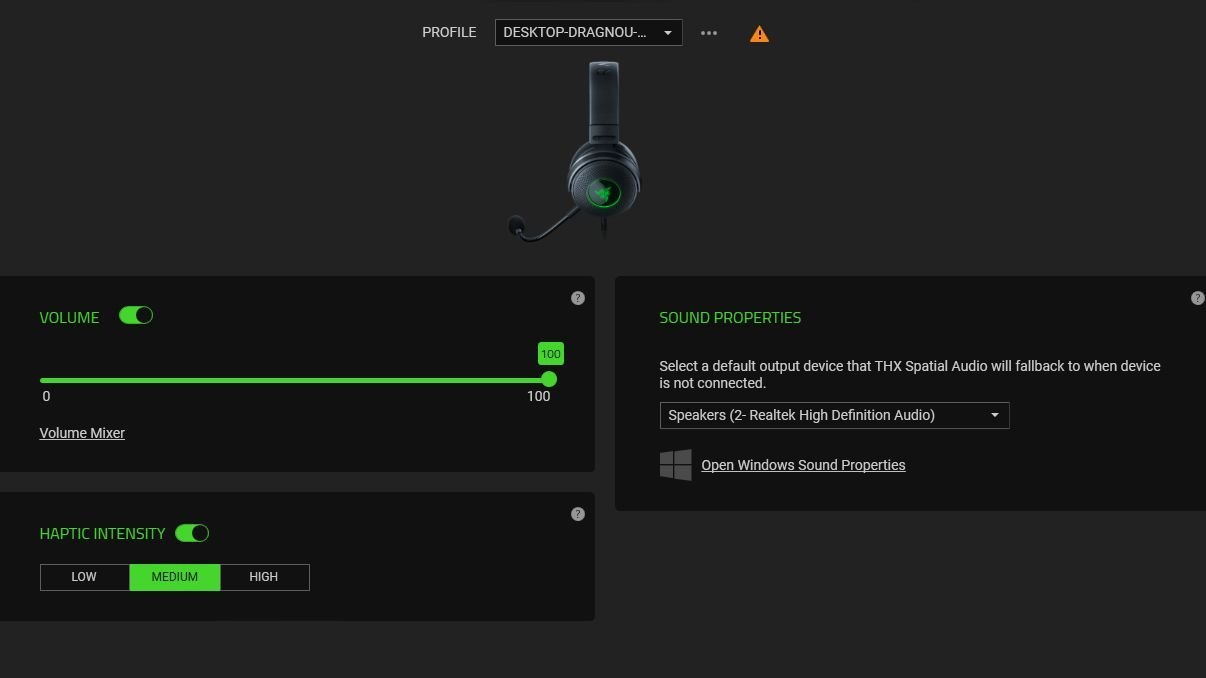 Final Thoughts
With an MSRP of $129.99, the Razer Kraken V3 HyperSense may seem a bit steep for the average gamers, but considering the Nari Ultimate's $199.99 launch price, this price of this Kraken has actually been tamed. The Haptic feedback may not be for everyone, but I was surprised at how much I enjoyed the added immersiveness it offered. If you are looking for cutting-edge technology with excellent sound then the Kraken V3 HyperSense may be just right for you.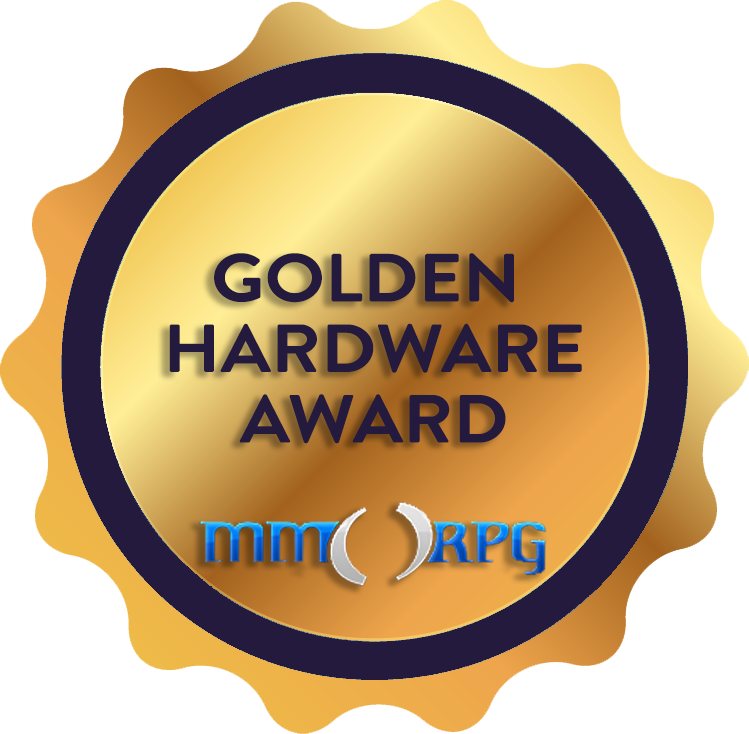 The product described in this article was provided by the manufacturer for evaluation purposes.