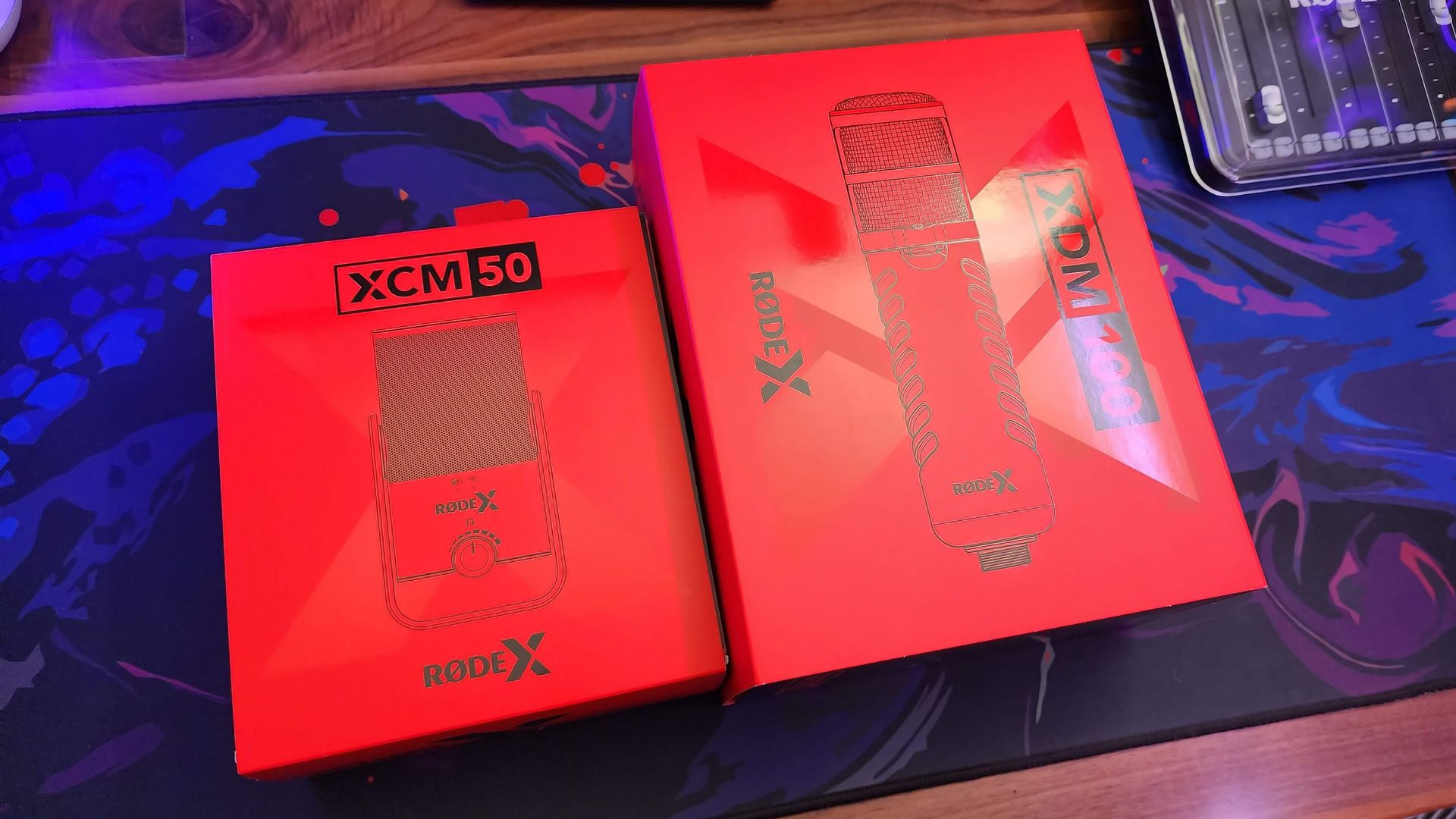 Read Time:
13 Minute, 51 Second
RODE has been one of the biggest names in the microphone and content creation business for years, but today marks a special milestone for the company. Today, it launches RODE X, a sub-brand dedicated to streamers, gamers, and creators. RODE X is launching with three major products to kick off its portfolio, including the USB-powered RODE X XCM-50 condenser and XDM-100 dynamic microphones, as well as a brand new software suite called UNIFY that aims to replace your GoXLR and works with any USB microphone. It's an exciting launch, so let's dive in.
Specifications
RODE X XCM-50
Current Price: $149

Key Features

Professional condenser USB Microphone

Complete audio solution for streaming and gaming with included UNIFY software

Highly detailed audio capture optimised for voice applications

Tight cardioid polar pattern

Zero-latency headphone output with level control and mute button

Internal DSP for advanced audio processing

Plug-and-play USB-C connectivity with 24-bit, 48kHz analog-digital conversion

Integrated 360-degree swing mount

Desktop tripod included

Polar Pattern: Cardioid

Capsule: Condenser

Frequency Range: 20 Hz – 20 kHz

Connectivity: USB-C

Analog Outputs: 3.5mm Headphone Output

Sample Rate: 48 kHz

Bit Depth: 24-bit

OS Requirements: MacOS 10.12, Windows 10

Net Weight (g): 492g

Dimensions (mm): 62 (W) x 42 (D) x 118 (H)

Included Accessories:

Tripod 2

SC29 USB-C to USB-C cable

3m Headphone Extension Cable
RODE X XDM-100
Current Price: $249

Key Features

Professional dynamic USB microphone

Complete audio solution for streaming and gaming with included UNIFY software

Rich, detailed audio capture optimised for voice applications

Superior room noise rejection

Zero-latency headphone output with level control and mute button

Internal DSP for advanced audio processing

Plug-and-play USB-C connectivity with 24-bit, 48 kHz analog-digital conversion

Pop shield and shock mount included

Polar Pattern: Cardioid

Capsule: Dynamic

Frequency Range: 20 Hz – 20 kHz

Connectivity: USB-C

Analog Outputs: 3.5mm Headphone Output

Sample Rate: 48 kHz

Bit Depth: 24-bit

OS Requirements: MacOS 10.12, Windows 10

Net Weight (g): 700g

Dimensions (mm): 52 (W) x 213 (H)

Included Accessories:

PSM1 Shock Mount

SC29 USB-C to USB-C cable

3m Headphone Extension Cable

Pop Shield
RODE X XCM-50, XDM-100, and UNIFY – What Are They?
If you know RODE, you probably know them as a microphone company (though they certainly do more). It's no surprise that the launch of the RODE X brand launches off with two new microphones, but what did surprise me — at least at first — was that they were both USB mics. That begins to make a bit more sense when you look at what RODE X is out to achieve. Once you do, you can see just how well-positioned this launch is.
RODE, seeing the explosion in popularity for streaming and content creation, has created the RODE X brand specifically for these needs, and in doing so has positioned itself as the all-in-one solution for stream audio. Since the microphones are USB, you won't need any special audio interface to connect to your PC; you plug it in and go.
But, veteran creators will tell you, USB mics aren't scalable. They can't grow with you or connect to other hardware you might want. That's true, but with a combination of excellent internal components and RODE X's UNIFY software, you genuinely don't need to.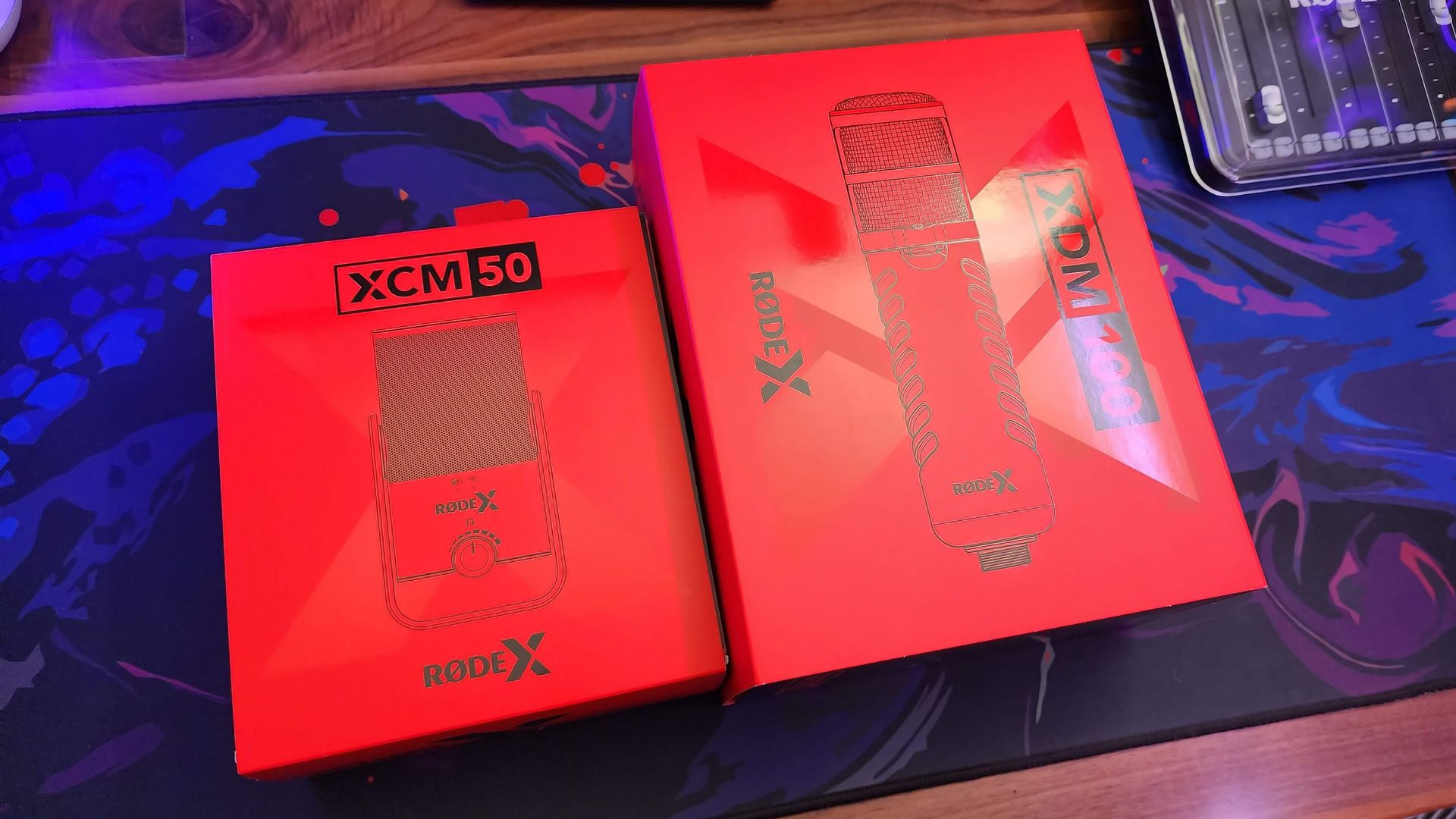 That's because each of these microphones comes with a license for RODE X's new UNIFY software. In a nutshell, it is a software version of the RODEcaster Pro 2. It's more powerful than a GoXLR or Razer Stream Audio Mixer. Like those devices, you're given virtual audio channels to independently control the levels of your game, system, mic, music, browser, and more. You can then create sub-mixes, so your audience can hear one mix while you have another piped through to your ears.
UNIFY also gives you real-time sound FX pads and, not long after launch, real-time vocal FX. It comes with APHEX audio enhancements, such as a compressor, exciter, noise gate, and big bottom. Together, you can filter out the noise and craft a broadcast-worthy sound. It's incredibly similar to what the RODEcaster Pro accomplishes, without the need for a hardware controller on your desk.
You don't even need to worry about losing out on RODE's impressive Revolution preamps if you go with the XDM-100: they're built into the mic itself.
Which brings us back to the microphones…
RODE X XCM-50 and XDM-100 – A Closer Look
If you've followed Rode's portfolio over the years, you'll probably notice that both new microphones look familiar. The XCM-50 shares a body with the NT-USB Mini. The XDM-100 shares its form with the Rode Podcaster. They've been trimmed up with a new red and black color scheme and bundles with some accessories, but at first glance, you might think they were a rebrand and call it a day.
Thankfully, there have been some fundamental changes to each microphone. Each is an improvement over the mic it shares a chassis with, so this isn't a case of Rode-X just reskinning existing mics and calling it a day.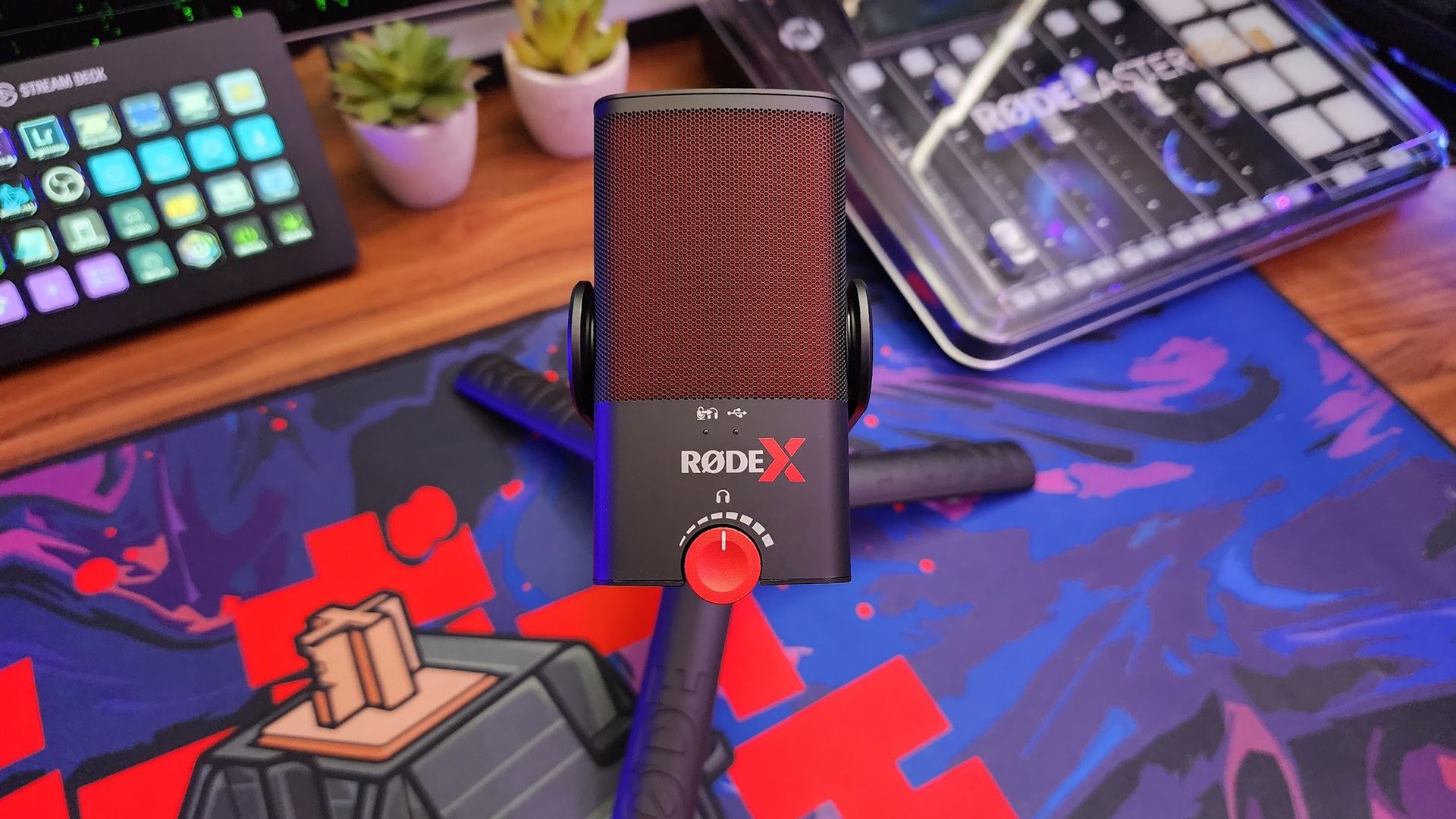 RODE X XCM-50
Starting with the more affordable of the two microphones, the RODE X XCM-50 is a condenser microphone. It's small and simple, with only a volume wheel on the front. Around the back is a zero-latency monitoring port to plug in a pair of headphones (or the included extender cable which comes with both mics), and a USB Type-C port.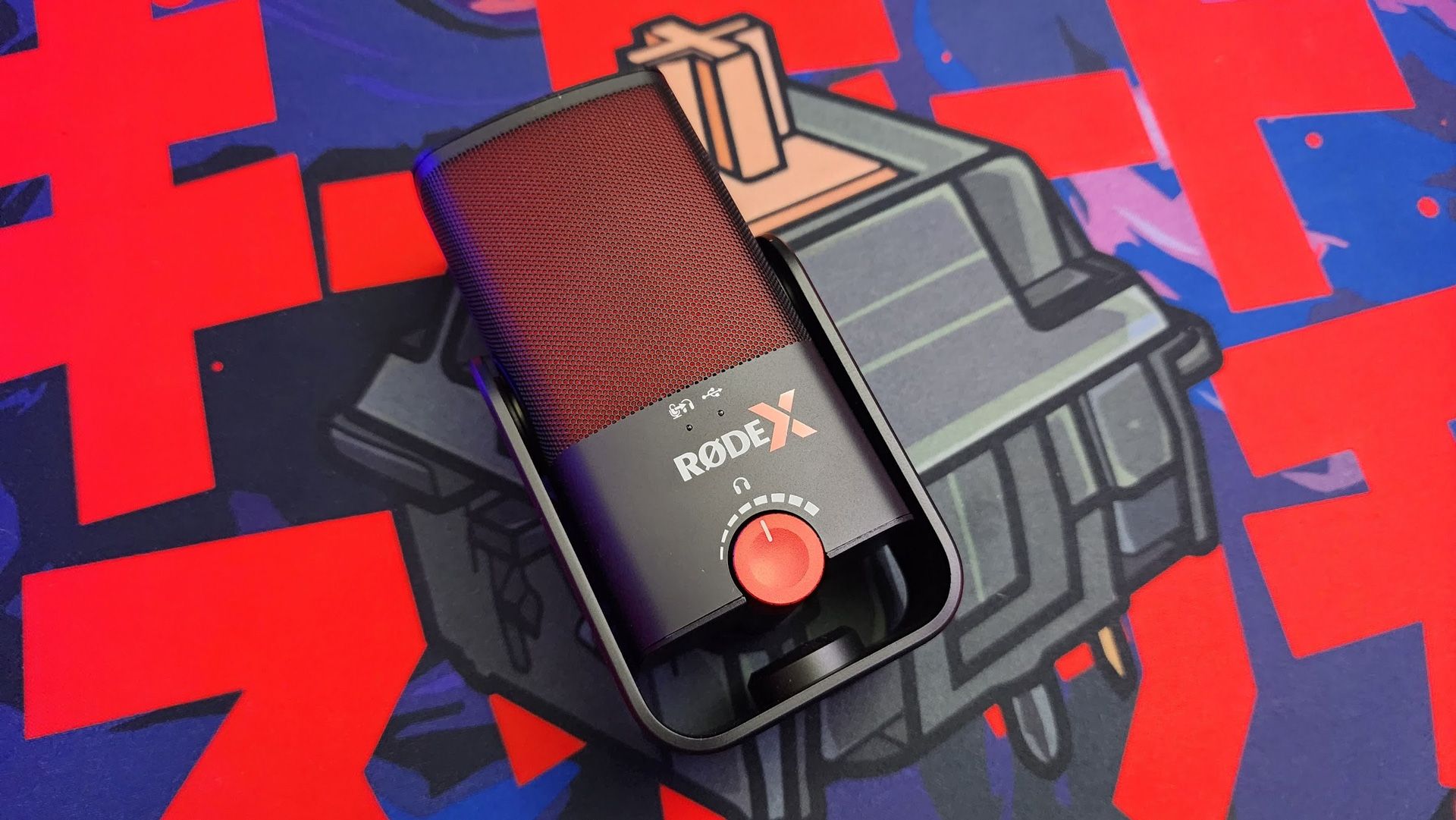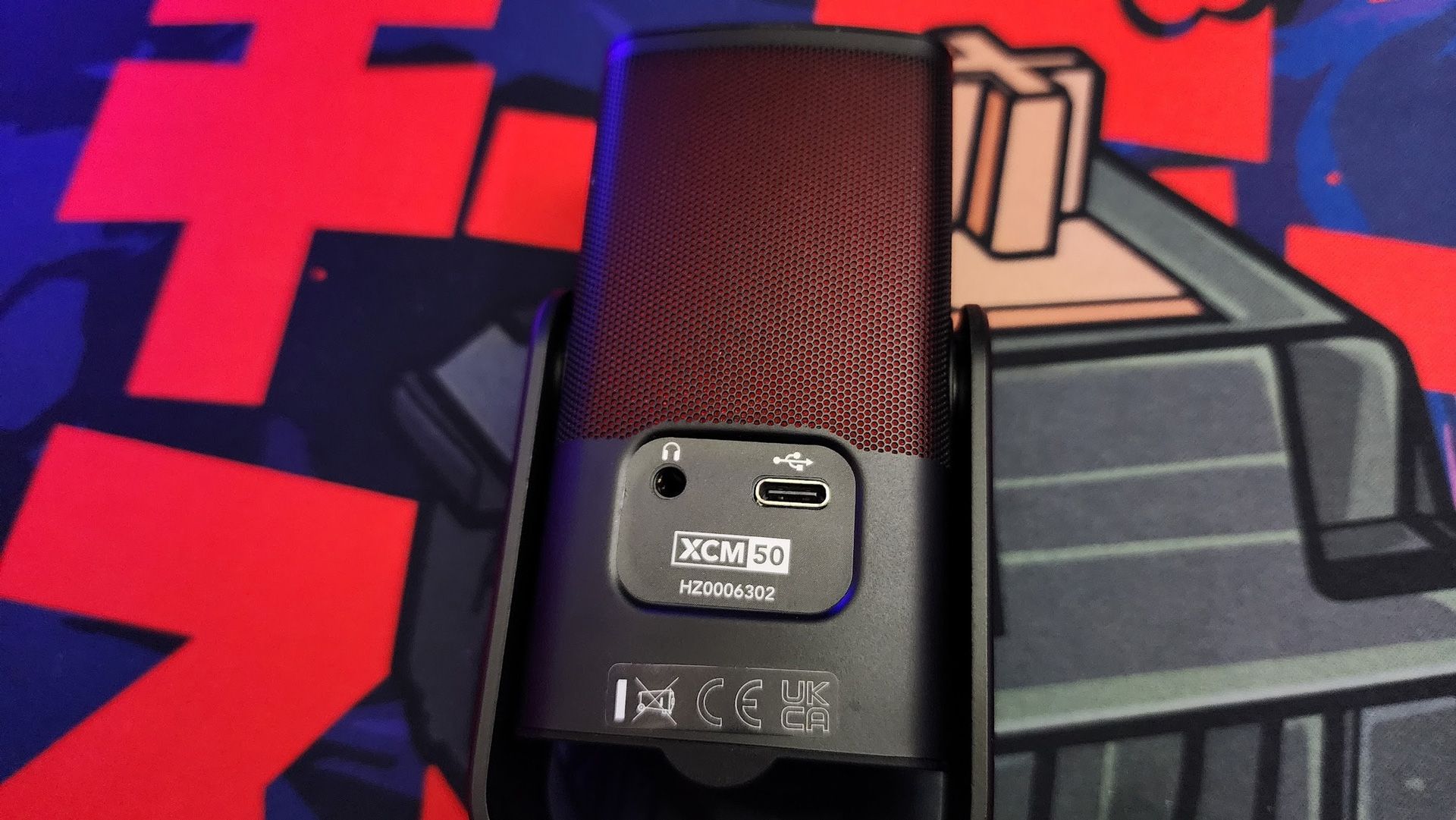 The microphone comes installed on a U-bracket that lets the microphone turn a full 360 degrees. Thus far, apart from the new red and black color scheme, all of this has been true of the NT-USB Mini, but the XCM-50 adds in a much better desktop stand. It's actually a miniature tripod. The legs can be locked in a lower or higher position to better fit your recording needs, and the microphone attaches with a ball head for even more adjustability.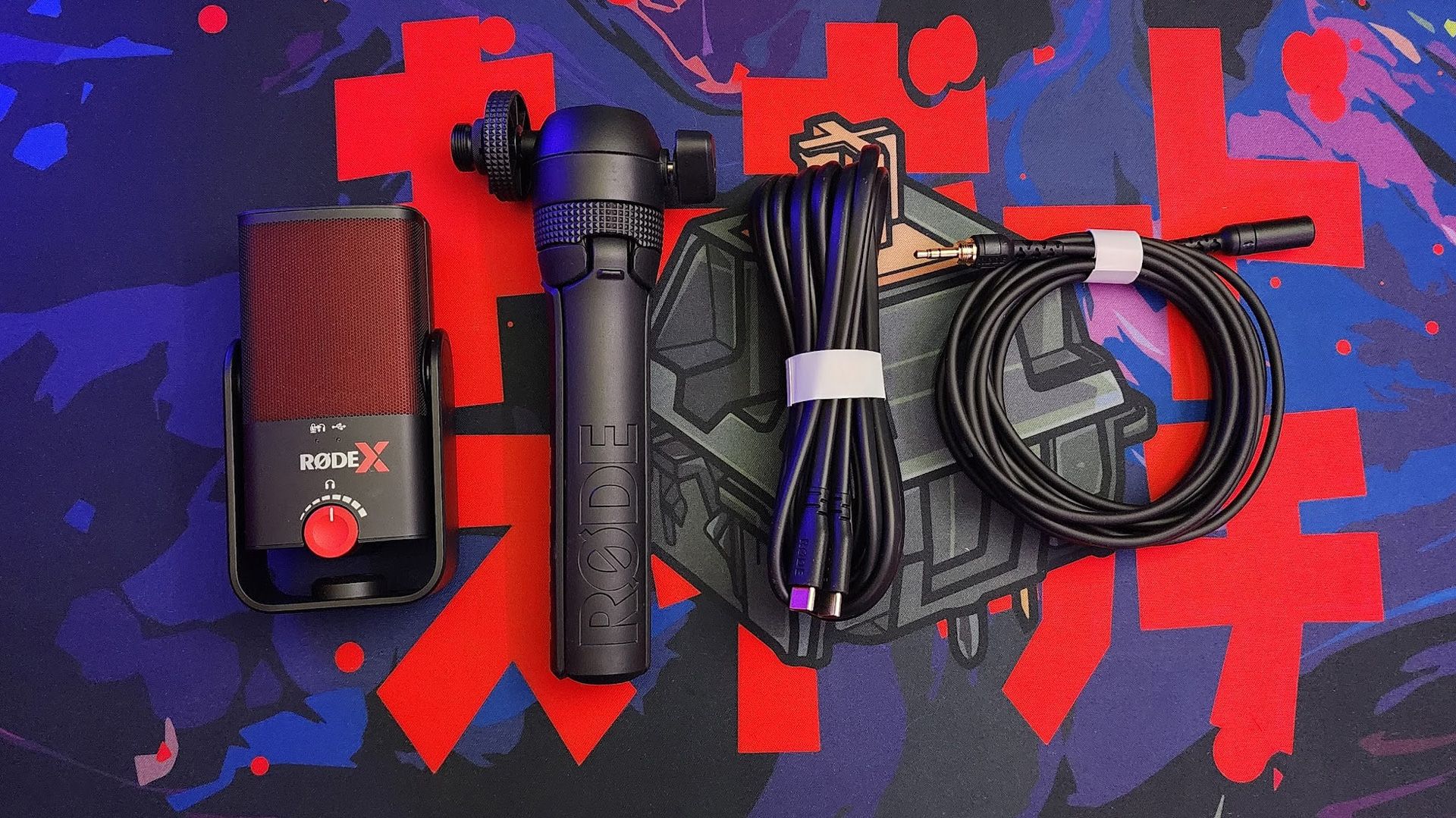 The XCM-50's condenser capsule is airy, detailed, and can sound quite rich when you get close to it to elicit the proximity effect. It uses a cardioid pick-up pattern to record a tight circle around the face of the microphone, and sound drops off quite a bit from the back and sides. With a frequency response range of 20Hz to 20kHz and a 24-bit, 48kHz sampling rate, this is the microphone to choose if you want the most natural, true-to-life sound.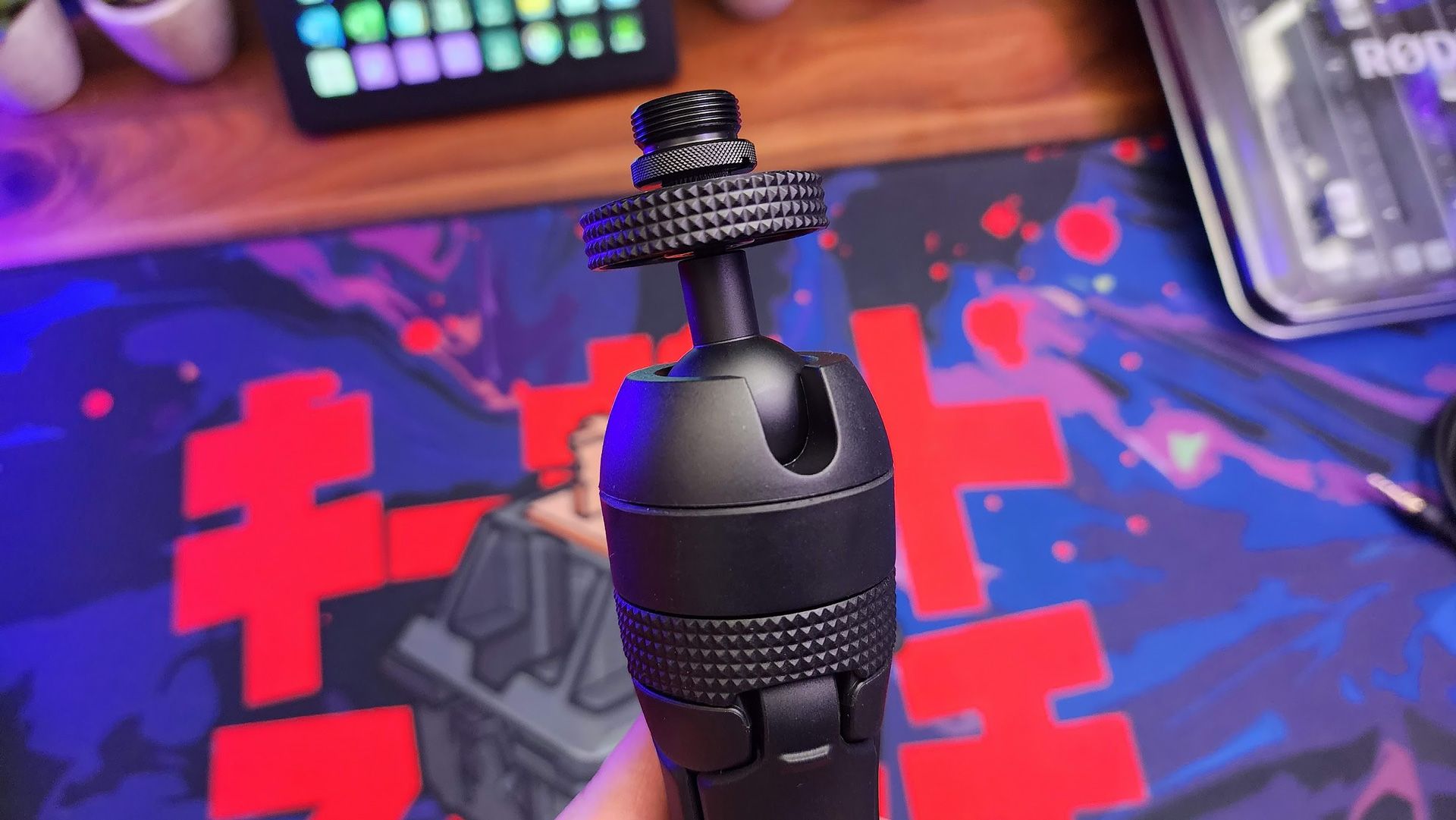 One of my criticisms of the NT-USB Mini was that the included stand was too low to get a good volume level without cranking the gain and adding white noise, but with the new stand, that's much less of a challenge. I was able to get it positioned comfortably where I could be clearly heard even from a normal sitting position, which wasn't possible with the NT-USB Mini without adding extra gain.
That, by itself, is a marked improvement but it isn't the only one. When you do need to turn the microphone up, the microphone generates less white noise. The hiss of too much gain isn't nearly as loud, which frees you up to set your levels, punch in your noise gate, and relax to focus on hosting your stream. The headphone jack works as well as ever but was able to drive my headphones even louder than the NT-USB Mini, so you can safely use most sets without fear of not getting enough volume.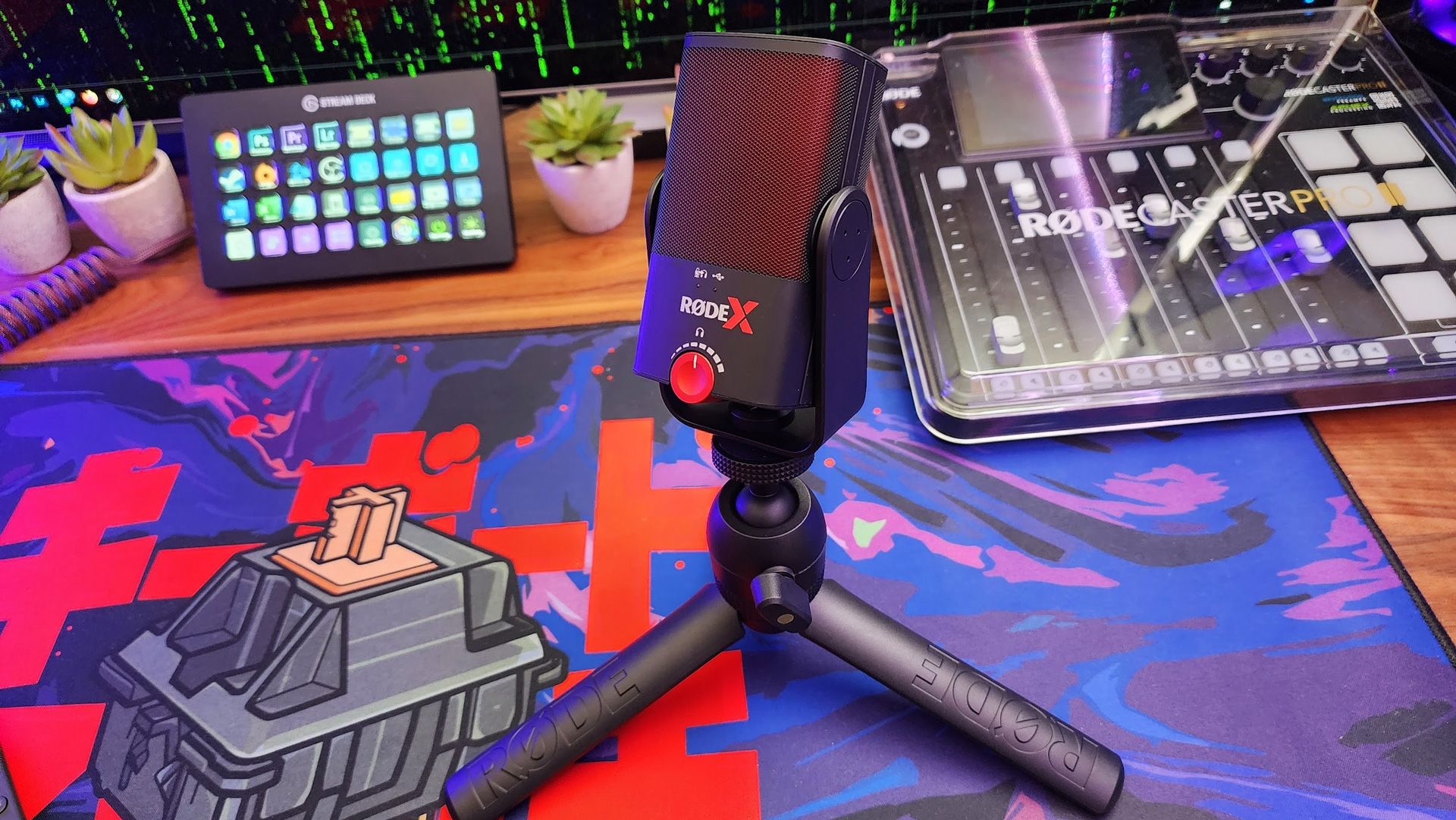 It's also worth mentioning here that the XCM-50 is very robustly built. It's tiny, dwarfed by the likes of the Blue Yeti, but its all-metal frame seems made to stand up to years of use. The tripod is plastic but feels very sturdy.
At $149, this is a good value that becomes even more so when you add vocal FX like Big Bottom to widen out the sound. Leave that off and this doubles as a great microphone for live-streaming guitar or piano.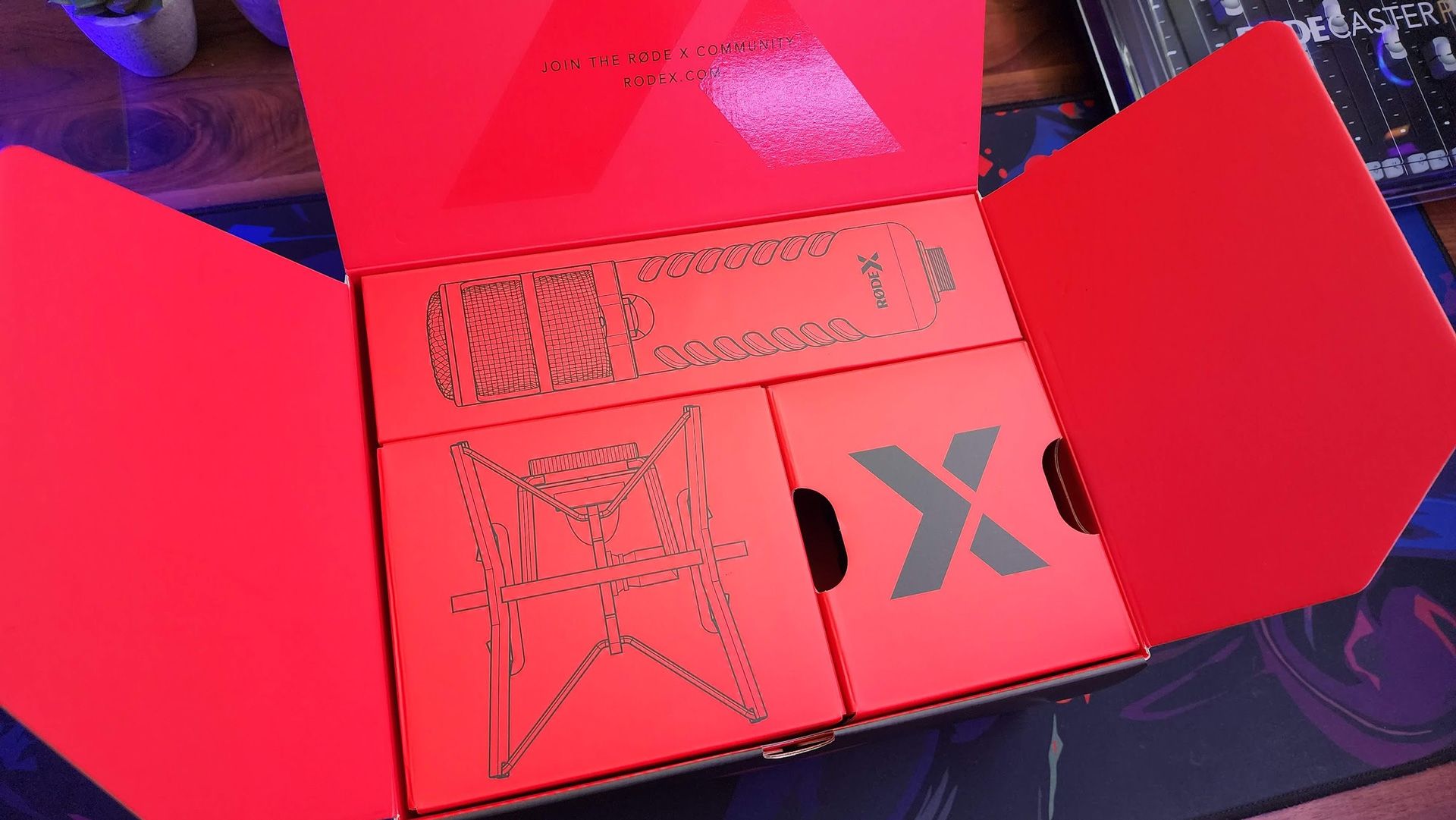 RODE X XDM-100
The XDM-100 is the higher end of the two mics and you don't need to do more than hold it to see for yourself. It's a tank of a mic if ever there was one, made of cast metal, and has the long, cylindrical look of a studio broadcast microphone. As a regular user of the Rode Procaster, I felt right at home with it, but I have to say… the red and black color scheme looks even better here than on the XCM-50. The red trim around the headphone jack, behind the grille, and the ring around the end just look fantastic. There's even a power indicator light that illuminates, you guessed it, red when plugged in.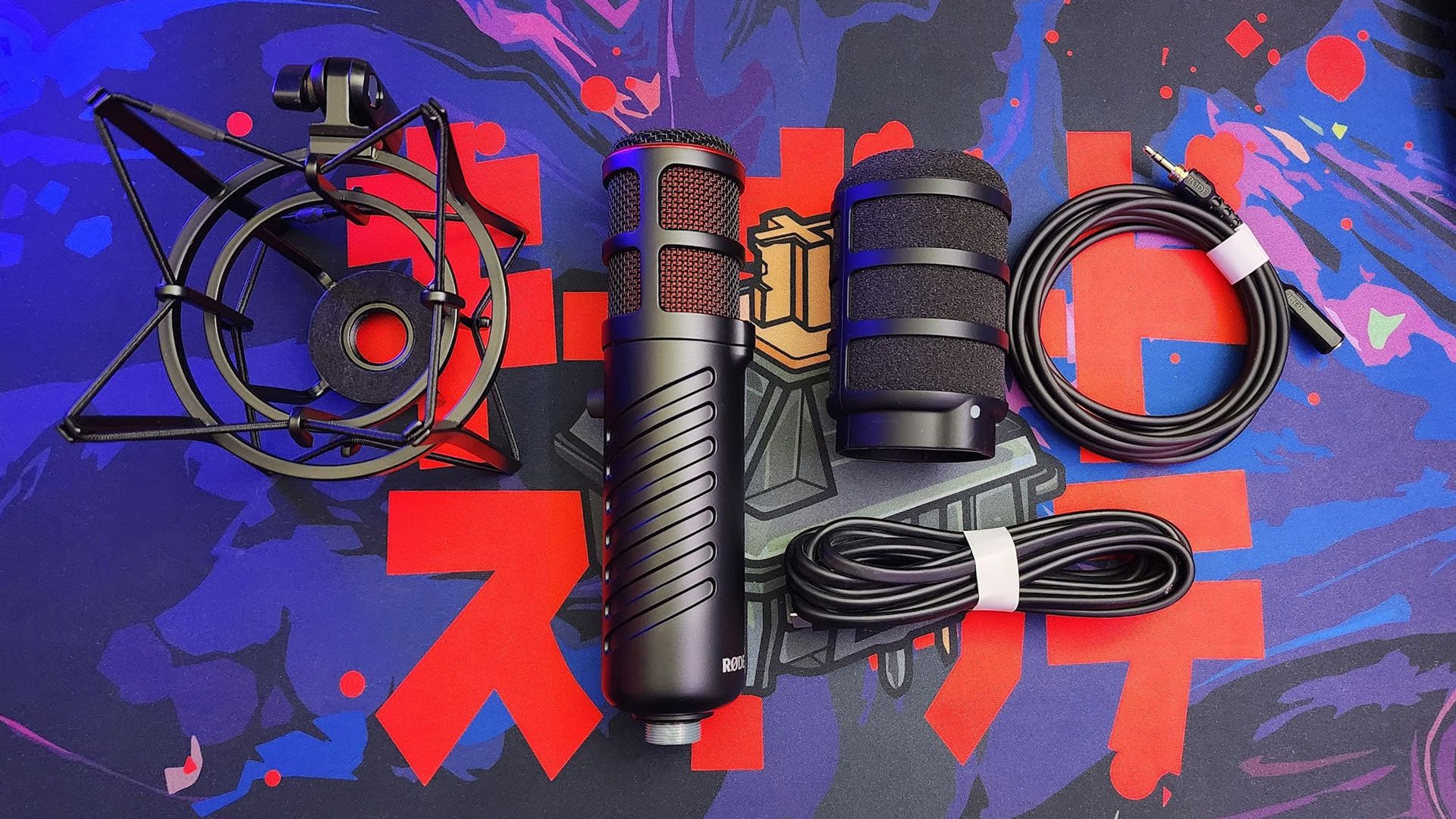 To me, the XDM-100 is the more interesting of the two microphones. It shares a lot of DNA with the Procaster and Podcaster but is wholly impressive as its own product.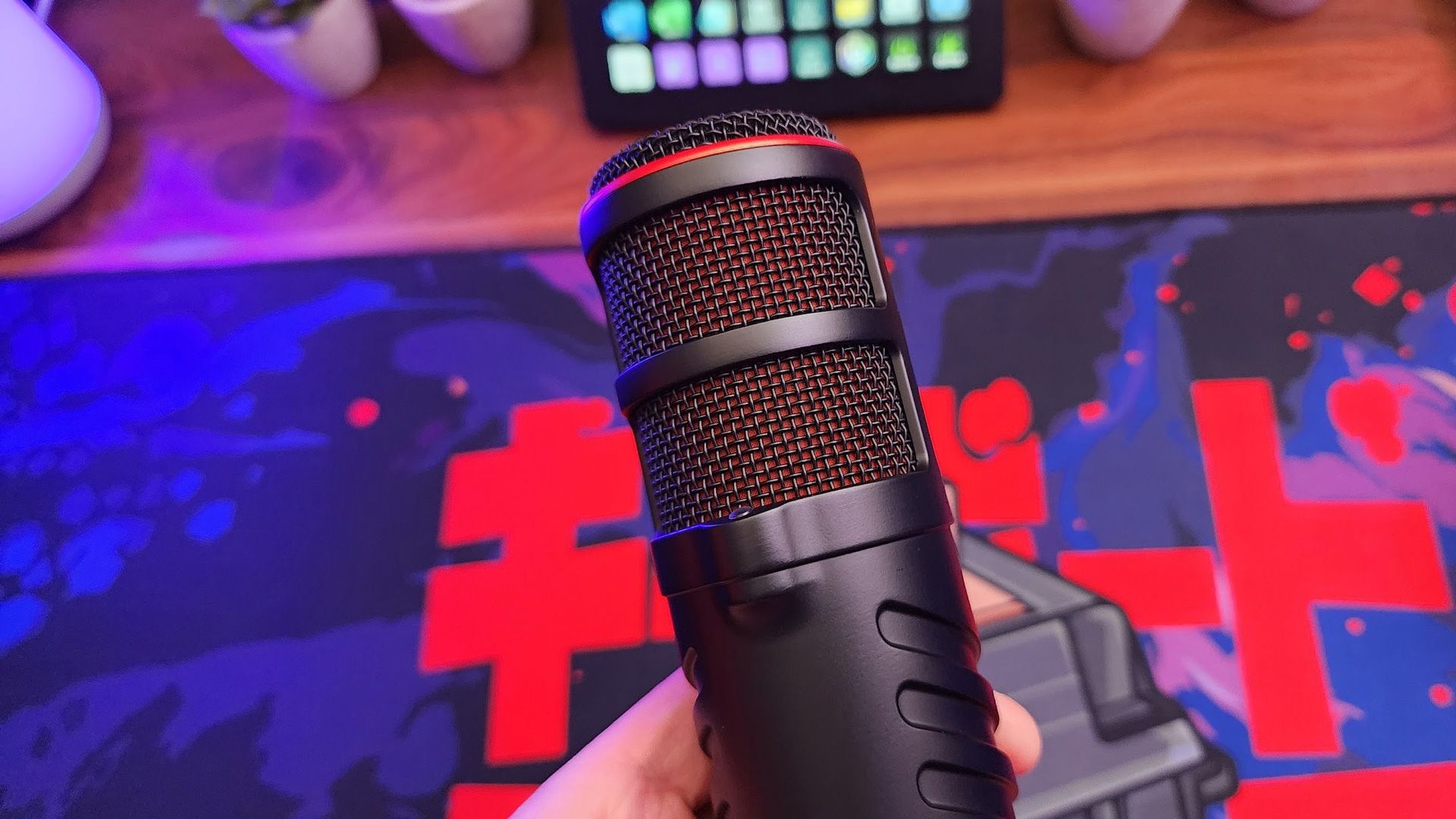 Like its predecessors, the XDM-100 is a dynamic microphone. It's less sensitive than the XDM-50 and doesn't pick up nearly as much surrounding noise. Your mechanical keyboard and case fans aren't nearly as audible as any other condenser streaming mic, and, in fact, neither were my kids as they played in the room nearby. You don't need to worry about adding sound treatment to your room or making sure everything around you is "live performance" quiet when you want to stream some gameplay. It's more expensive but is also a much better fit for the majority of streamers, in my opinion.
The microphone carries a classic broadcast sound. It has the same 20Hz to 20kHz frequency response range as the XCM-50, but there's a bit of that classic dynamic "crunch" that comes through. It's not overdone but has a very clear radio character about it that is immediately recognizable if you've ever heard a major talk show or podcast.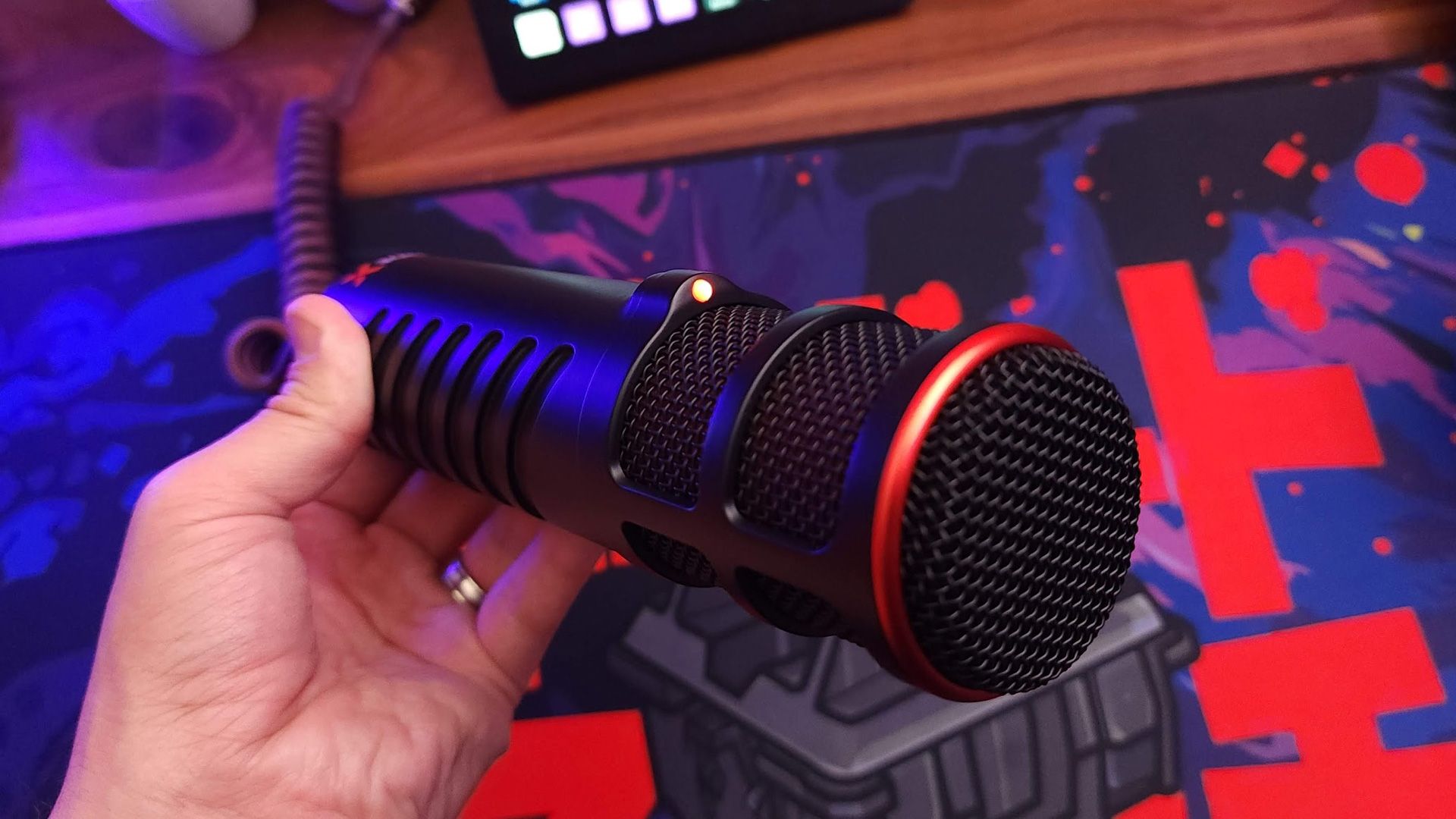 At the same time, there's a richness to the sound character that I really enjoy. It's very full-bodied and bassy without becoming boomy and bloated. Rode X has done a stellar job of tuning the sound of this microphone into something that's simultaneously professional and versatile enough to be approachable for new creators.
It's an instant upgrade that only gets better when tuned with UNIFY, but you should be aware that it's not as natural or airy as the XCM-50. This is definitely a vocal mic.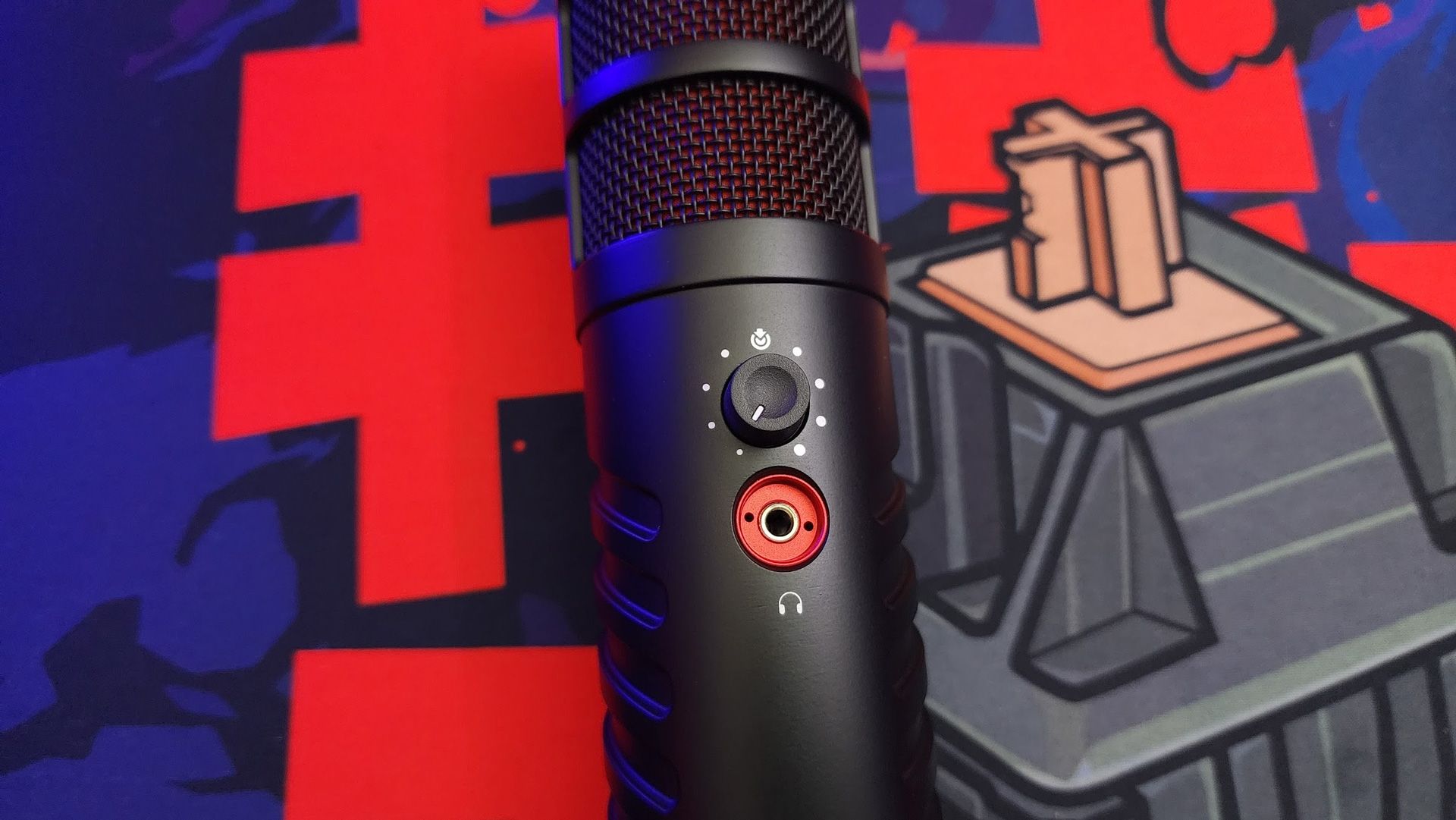 This microphone upgrades the Procaster in multiple ways. First off, it has an internal DSP that enables those effects within UNIFY. It also uses RODE's Revolution preamps that we saw on the Rodecaster Pro 2. They're powerful enough that you'll have ample volume headroom with this mic and clean, so you don't have to worry about extra hiss. A similar XLR mic (like the Procaster) requires an audio interface with plenty of power and high-quality preamps, which can add a significant cost on top of the microphone itself. None of that here.
RODE X also throws in a few accessories to increase the value of the package. You have a custom-fit pop filter to block plosives and a shock mount made to connect to a boom arm (not included). There is no desktop stand, but that's not surprising. Dynamic microphones are meant to be used close to the mouth, so a standard desktop stand wouldn't work well.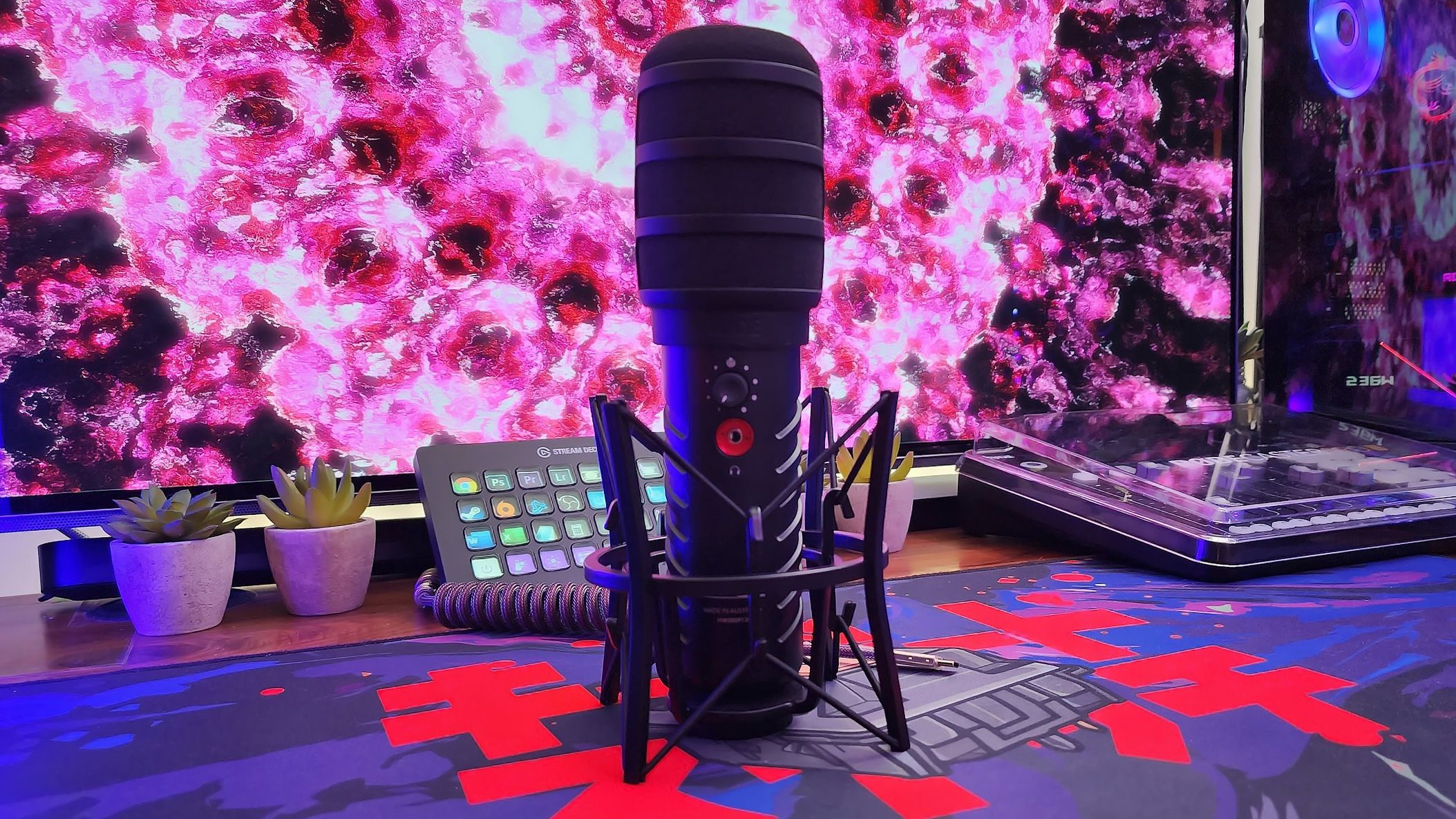 Compare this microphone to the Podcaster and you'll find a pretty stark price contrast. The Podcaster retails for around $160 for just the microphone. The XDM-100 is nearly another hundred dollars. A more fitting comparison, however, is against the Podcaster when bundled with the matching shock mount and RODE WS2 pop filter. Then, the price jumps to $218. Add in the reworked and upgraded internals and improved performance of the RODE X, and that additional $30 premium begins to make sense.
That, and its compatibility and license for UNIFY.
RODE X UNIFY – RODECaster as an App
I was a big fan of the RODECaster Pro 2 when I reviewed it early this year. It's a wonderful device that offers you hardware-level controls over multiple audio streams, tons of power and processing effects, and all-around wonderful content creation potential. UNIFY isn't a replacement for all of the features the RODECaster offers, but if all you need it for is streaming, it comes close and will save you hundreds of dollars and a noticeable amount of desk space.
Ask any creator and they'll tell you the same: video is important, but viewers will sit through a lower video quality if the content is good enough. Poor audio quality will drive them away immediately. Just upgrading to one of the RODE X mics will immediately boost your audio quality, but once you get serious about streaming, you'll quickly find that you need more than a good mic.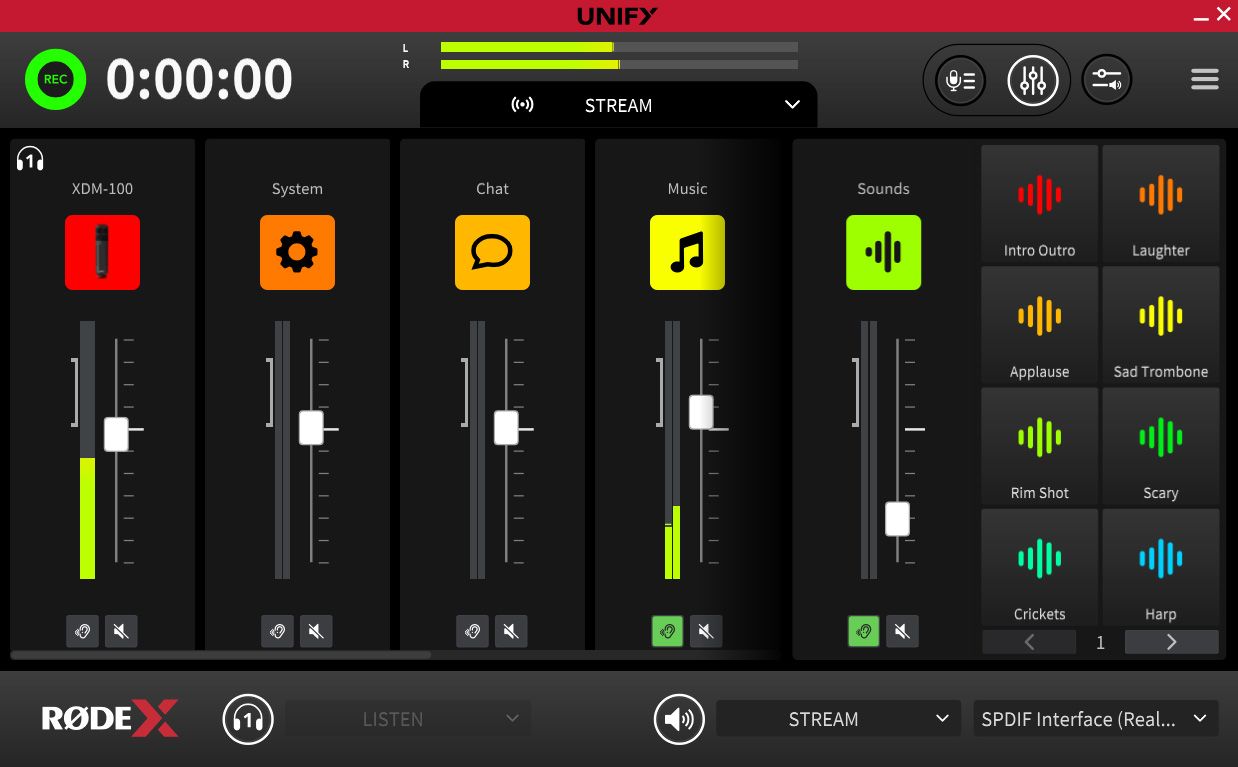 A professionally produced stream requires mixing. You have to be able to balance out the volumes of multiple audio sources while still being able to be heard yourself. The built-in tools within Windows are too basic to do a very good job with this, so streamers have turned to third-party solutions like the RODECaster or GoXLR. These devices create virtual audio devices dedicated to things like game audio, browser audio, chat, and music and give you independent volume sliders for each one, "mixing" those feeds into a mix that sounds good underneath your own microphone.
UNIFY does the same, but all within an app that mimics the interface and functionality of the RODECaster. It does for USB microphones what hardware mixers do for XLR mics. And if you're using an XLR microphone with an interface, you can use it to by adding the interface to one of its virtual audio channels.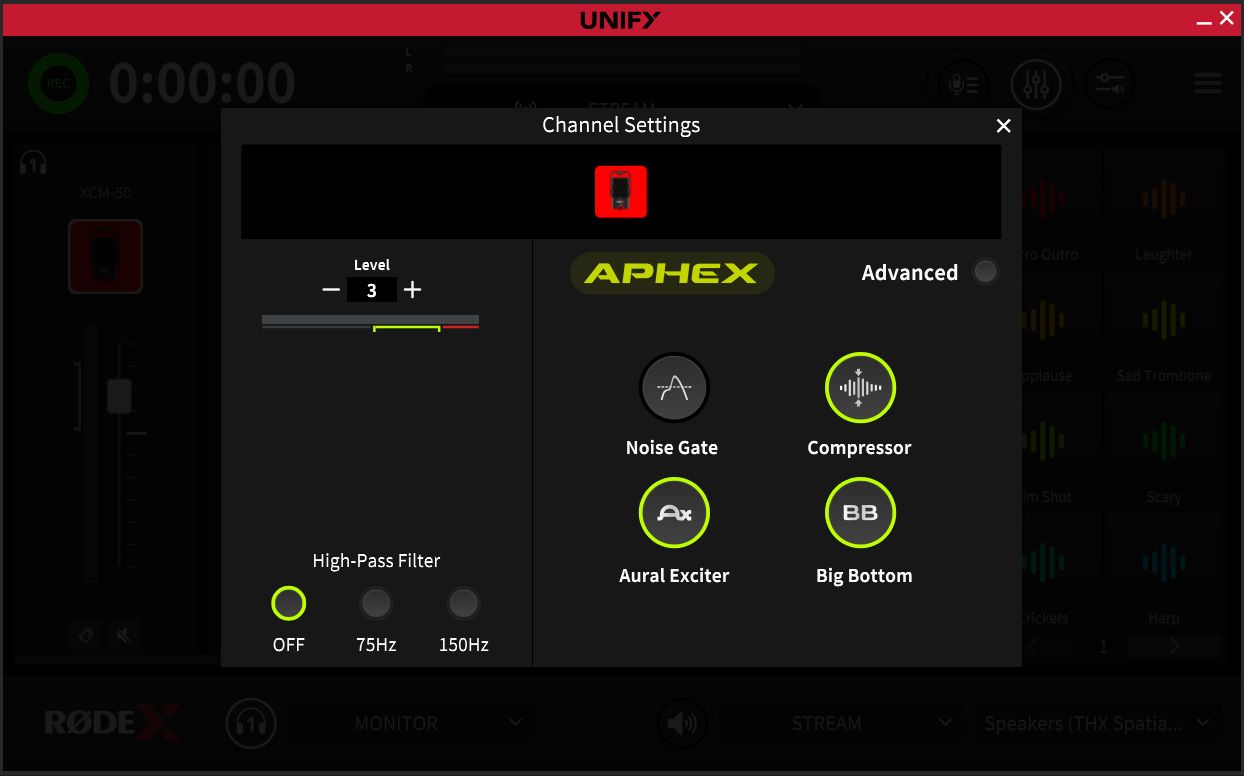 Combined with one of RODE X's new microphones, it becomes an all-in-one solution that replaces the need for that expensive additional hardware on your desk. It will even work with other companies' USB mics, though you'll need to pay a subscription fee to use it: $7.99 AUD when paid monthly (about $5 USD) or $69.99 AUD for a year-long plan (about $45 USD).
It's all-inclusive, yes, but a bit complicated to learn. If you've ever used another stream mixer, you'll find that it's not that different at all, but if it's your first, be prepared to spend an hour or so learning how it works and setting it up. A software solution also isn't as easy to adjust on the fly as a dedicated volume slider. But… the RODECaster is $699. The Beacn Mix Create is $199. The GoXLR Mini is $139 and doesn't support USB. At that kind of savings, it feels like a pretty fair trade-off.
RODE X XCM-50 and XDM-100 – Sound Samples
Final Thoughts
The launch of a dedicated streaming brand from RODE is exciting. The company is one of the masters in the audio business and I'm eager to see what they do with a dedicated brand serving this space. It's certainly starting things off on the right foot.
The two microphones and UNIFY software are each excellent products in their own right. Either the XCM-50 or XDM-100 will offer noticeable upgrades from even very expensive gaming headsets, so your streams and videos will have an instant boost in audio quality. UNIFY processing alongside them allows you to enhance the audio in a way that's not possible with other microphones to improve things even more, while also acting as a live audio mixer, complete with sub-mixes.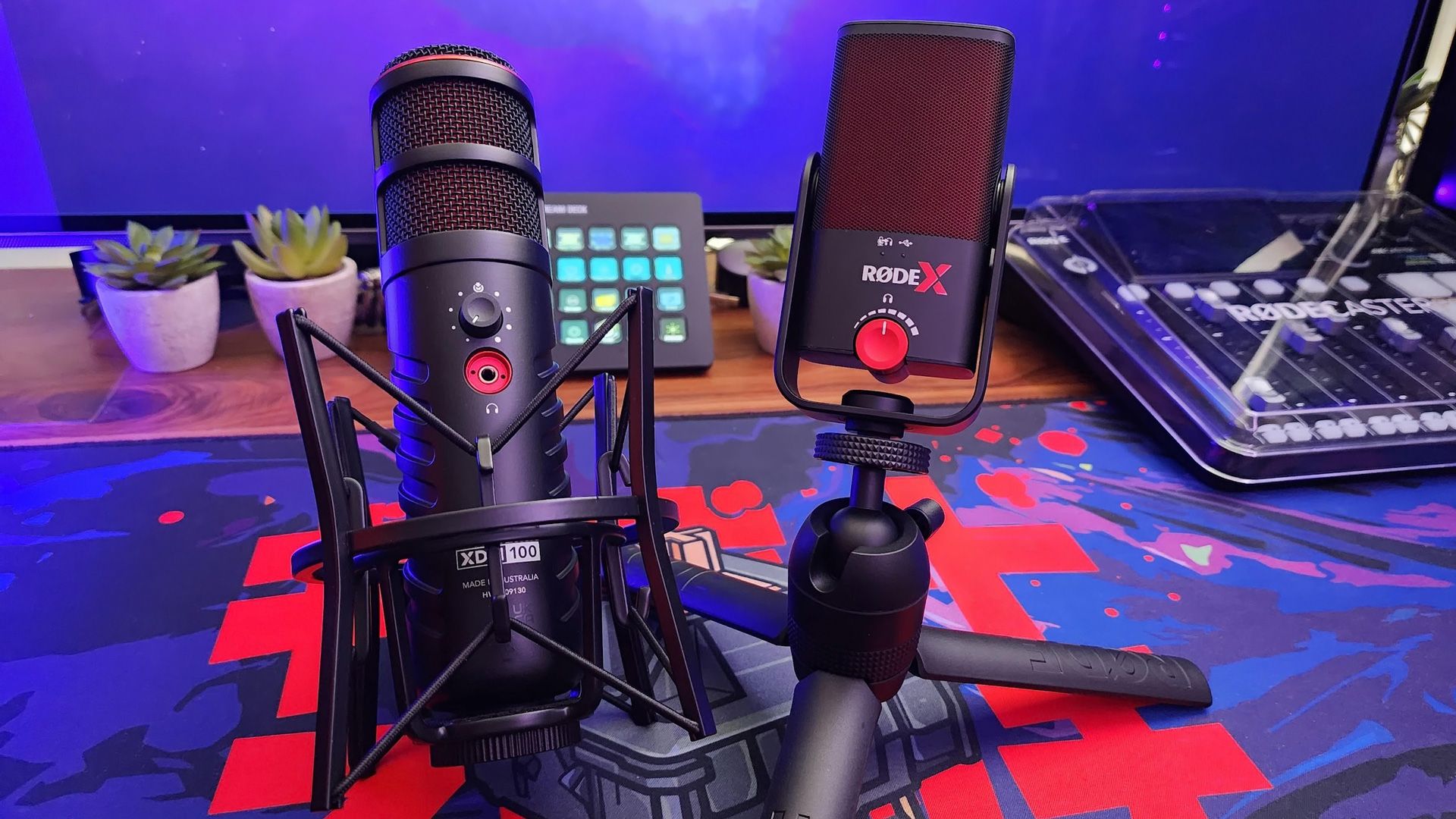 An exciting launch indeed, and absolutely a set of products you should consider if you don't want to invest hundreds into a complicated audio setup.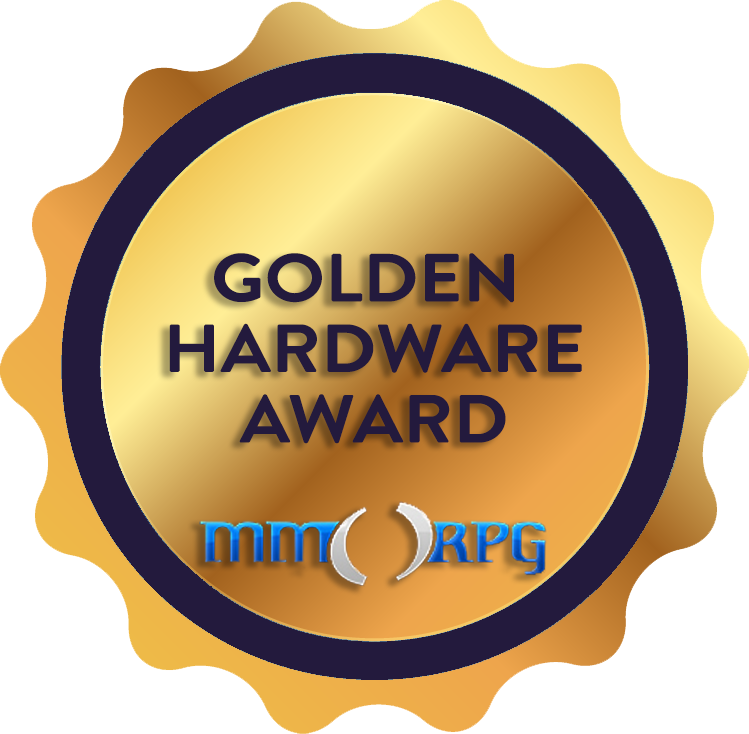 The product described in this article was provided by the manufacturer for evaluation purposes.