Read Time:
8 Minute, 48 Second
Founded in 2010, SOUNDPEATS has been one of the up-and-coming "brands to watch" in the audio space for some time. Its products emphasize value per dollar, understanding that not everyone can afford flagship true wireless earbuds like the AirPods Pro 2. Despite being lower in price, the brand also puts a value on delivering modern features, like active noise cancellation, and high quality audio.
That's where the Capsule 3 Pro comes in. Coming in at only $69.99, they offer a surprising array of features: hybrid active noise cancellation, high res audio with support for LDAC, a low latency gaming mode, solid battery life, and app support for sound personalization. They deliver an impressive feature set and good sound quality for the money, making these a solid pick for listeners on a budget.
Specifications
Current Price: $69.99 (

Amazon

)

Key Features

Hi-Res Audio & LDAC Codec Tech

12mm Driver(Frequency Response: 20Hz~40kHz)

8 Hrs Single Playtime & 52 Hrs Full Playtime

Hybrid ANC Tech (as Deep as 43dB)

Clear Call with 6 mics (FF+FB+CALL Mic)

Game Mode & Standardized Touch Control

Core Specs

Bluetooth: V5.3

Profiles: A2DP/AVRCP/HFP/HSP

Chipset: WQ7033AR

Supported Bluetooth Codec: LDAC,SBC,AAC

Battery

Battery Capacity: 35*2 mAH (Earbuds), 500mAH (Case)

Charging Time: ≤1 hour (Earbuds& Case)

Charging Port: Type-C

Total Playtime: 52 hours

What's in the Box

SOUNDPEATS Capsule3 Pro In-Ear True Wireless Earbuds

Type-C Charging Cable

Charging Case

User Manual

Eartips*3 : S M L

Package

Single Earbud Weight: 5g

Charging Case with Earbuds: 48g

Control Type: Touch

Waterproof Rating: IPX4
SOUNDPEATS Capsule3 Pro – First Impressions and Key Features
SOUNDPEATS is hardly a newcomer to the world of true wireless earbuds, and in fact has largely made its name on delivering value for the dollar. A quick glance at its product page shows that is has run the gamut from dedicated in-ear monitor-styled earbuds, to necklace buds, all the way to the bud and stem, AirPods-inspired style we see today.
As its latest release, the Capsule3 sits at the apex of all of these developments, incorporating premium features with exceptional sound quality. They feature active noise cancellation powered by a six microphone array, LDAC support for high-res wireless audio, enough battery life to last a full work day (with some sacrifices), powerful audio driven by a large dynamic driver, and even a low latency gaming mode that's fast enough for first-person shooters at your PC.
At only $69.99, they promise an awful lot, so let's see how they compare.
Starting with build quality, SOUNDPEATS has done a decent job here. They fall right in line with most other true wireless earbuds, even at much higher prices. They're lightweight and made of plastic, but they don't feel any more likely to break despite their more affordable price, even when the stems are squeezed quite hard. They're also IPX4 rated, so are safe to work out in, but are bested by the Earfun Air Pro 3 with their IPX5 rating. I also like the rose accents on the stem and subtle SOUNDPEATS branding on the face for some extra visual appeal.


The buds are controlled with capacitive touch, and after an initial firmware update, responds well. I'm not a fan of the control scheme SOUNDPEATS has used, however, as it mixes touch and hold controls with taps and still doesn't manage to provide full functionality. While there's a health mix of both input styles, there's no way to repeat or cycle backwards in tracks. The buds also have the odd quirk of not controlling volume unless media is actually playing.
What's not at all quirky is the fit and comfort the Capsule3 Pro provides. These buds nestled into my ears and, with the appropriate tips, did an excellent job of sealing and blocking out the noise of the world around me. I was able to wear them for hours without any discomfort too, so they're a genuine all-day wear that won't leave you sore at the end of the day.
The battery life is generally up to snuff too. SOUNDPEATS quotes 8 hours of total playback time with another four and a half recharges provided by the case. Total playtime is quoted at 52 hours but as is always the case, actual play hours will vary depending on how the buds are used. With ANC enabled, that drops to 5.5 hours, which was close to where I landed at 50% volume. With LDAC also enabled, it's closer to four hours per recharge.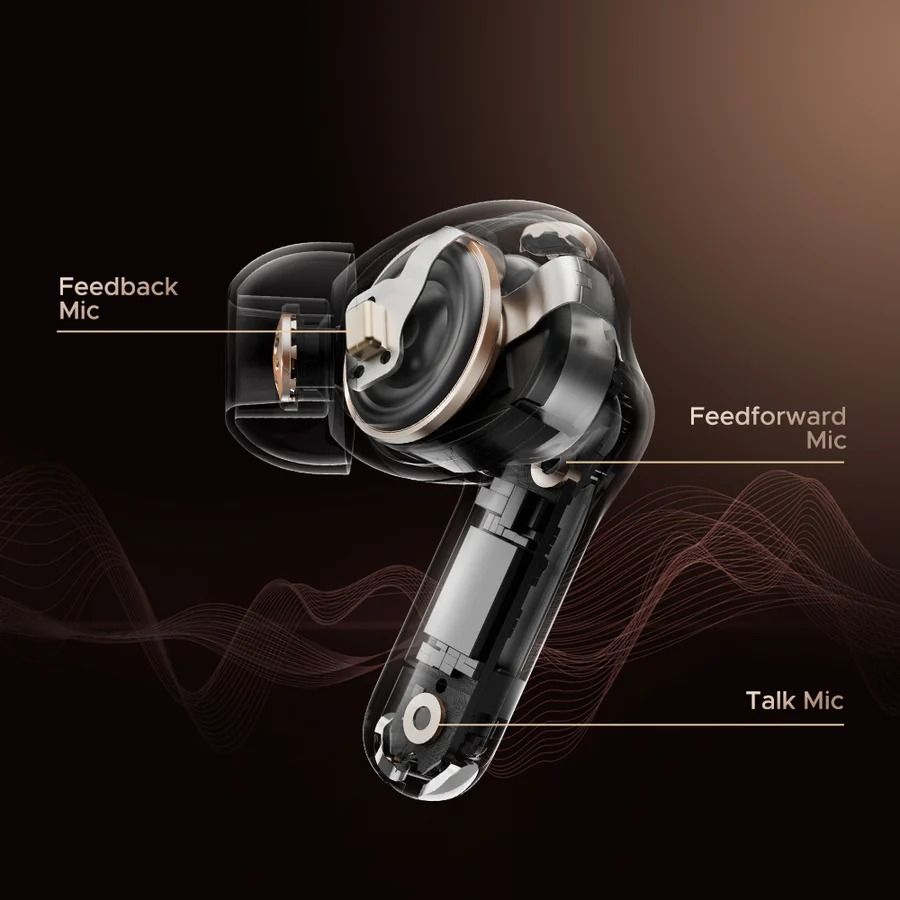 Surrounding the shells are six microphones, three per side, that monitor noise inside the ear, outside the ear, and another at the bottom of the stem to monitor your voice. These microphones work for active noise cancellation as well as to block out external noise during calls (Environmental Noise Cancellation/ENC), allowing you to come through clearly on the other side. Call quality, in my testing, was good with minor compression as ENC kicked in.
The active noise cancellation is decent but not the best in its class. It works very well for droning noises and extended into the middle frequencies quiet down office settings and voices as well. At this price point, it is positioned directly opposite the Earfun Air Pro 3 and doesn't work quite as well as Earfun's solution. Still, it works well given the affordable pricing of these earbuds and makes a noticeable difference on commutes and against noisy HVAC units.
Soundpeats Capsule3 Pro – Listening Impressions, App Support, Gaming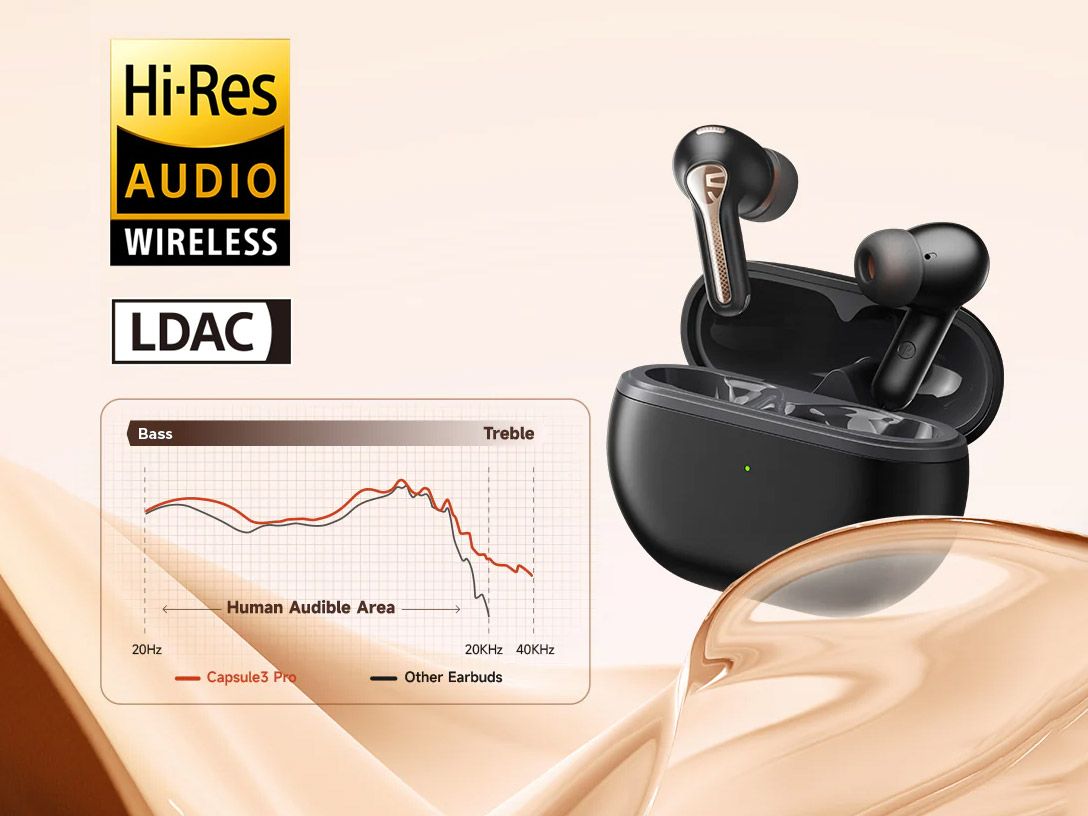 The Capsule3 makes big claims about its sound quality and its support for LDAC. LDAC is a proprietary Bluetooth codec from Sony that increases the bandwidth of wireless audio signals dramatically from a standard AAC or SBC connection (the other two codecs it supports; sorry, no aptX here). LDAC on its own does not make for good sound quality, and that's important to note because the two are often equated like one leads to the other. That is not the case.
Thankfully, the Capsule3 does deliver good sound quality, especially if you're a fan of bass. The first thing that stood out to me was the boldness of their sound. There's rumbling low end and punchy mid-bass that makes for impactful listening sessions. That's an absolutely boon for gaming and movies, but if you're a fan of pop, hip-hop, or even double-kick drum metal. The bass does bleed into the mids, which makes these sound warm and a bit over-lush with vocals, but it's not unpleasant to my ear.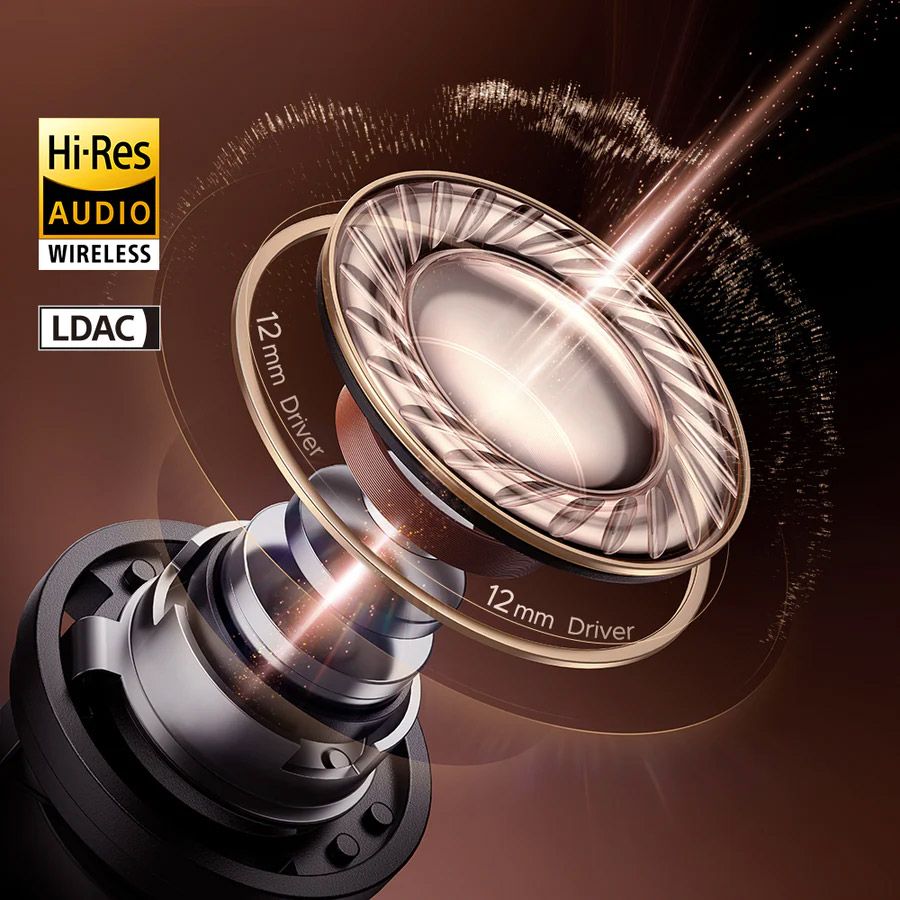 Even though the bass is prominent, SOUNDPEATS has elevated the treble to add clarity to the mix. The treble elevation and extension makes things like cymbals and acoustic guitars come forward, adding a bit of sparkle to the listening. I'm a fan of this kind of elevation, and it settles these into a traditionally V-shaped pair of earbuds. At the same time, there's no sharpness at all to the listening experience, so fatigue won't be a concern.
The detail they're able to retrieve is about average for this price. Bass texture more subtle than you'll find on the best wired IEMs at this price. Details in the middle and upper registers are a bit smoother; the powerful bass leads to bit less detail in the mids. Treble detail is better, however, thanks to its added volume.
Inside the app, you can apply a custom tuning that can temper the amount of bass and restore the performance in the mids. I dialed mine back and was able to achieve a much more balanced sound. It's safe to say that you'll be able to customize the sound profile of these to match your tastes.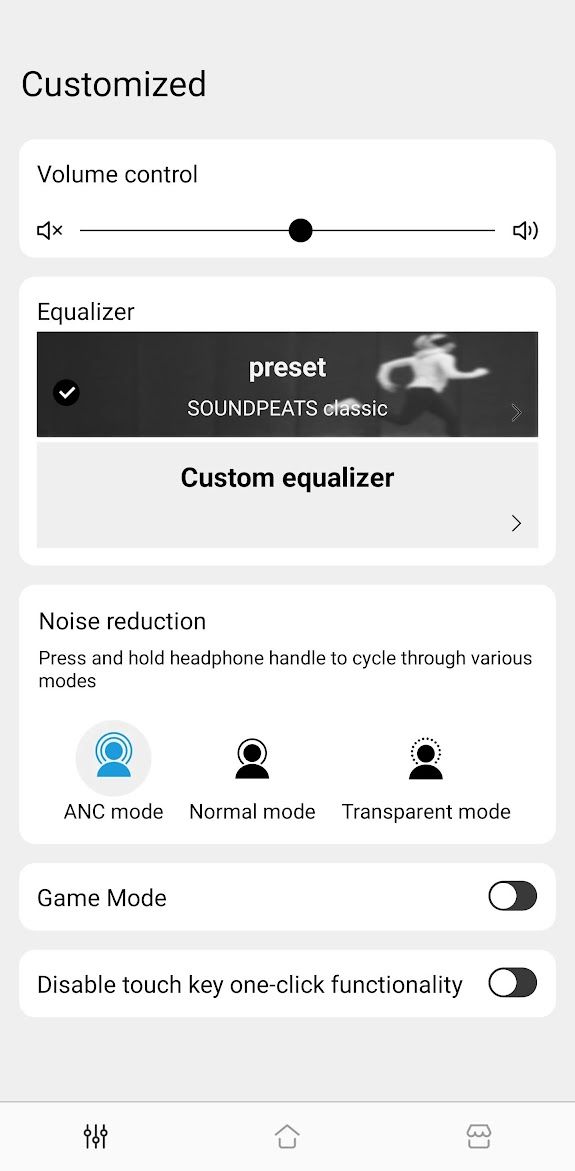 The app is nice to have for equalization but isn't necessary otherwise. It allows you to change some basic settings, like the ANC setting or turning on gaming mode, but doesn't allow for other customizations like button control. Since everything but the EQ can be controlled on the buds themselves, it's safe to "set it and forget it."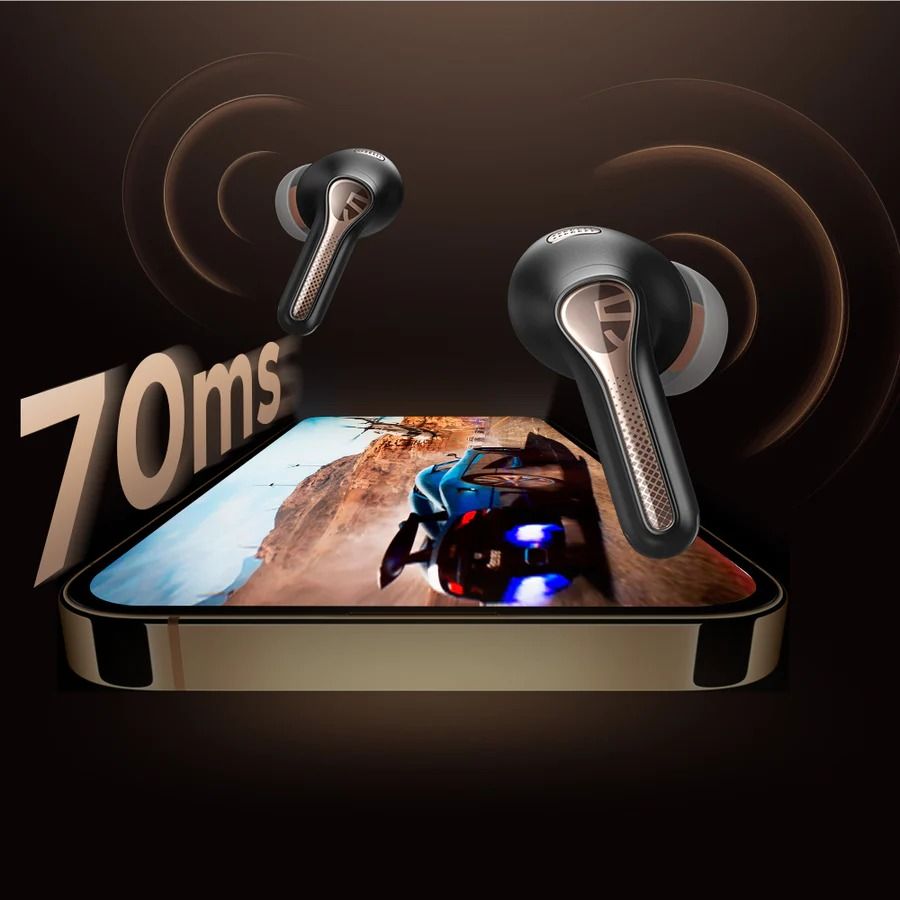 One of the high points of these earbuds is their built-in gaming mode. By triple-tapping the left earbud, you can enter a low latency mode that drops audio delay down to 70ms. This virtually eliminates lag for gaming on your phone or PC. I was able to play several rounds of Battlefield 2042 without any sync issues, which is impressive. For slower-paced games like World of Warcraft, audio delay becomes a complete non-issue. This is perfect if you game on a laptop between classes and don't want to cart around a gaming headset. These buds can be a one-stop shop for portable audio in a way that many more expensive buds still cannot.
Overall Impressions and Final Thoughts
The SOUNDPEATS Capsule3 Pro are very solid earbuds. They have a mainstream-friendly sound signature with plenty of bass and explosion-worthy impact. I used them for music, games, and movies and enjoyed each and every one. They're not going to blow you away with their audiophile-level detail retrieval, but I think that's fine for most people, especially at their budget-friendly price.
The biggest challenge these buds face is stiff competition from other TWS brands occupying this space. The Earfun Air Pro 3 are $10 more but offer full touch control and better ANC, as well as feature parity with app support and game mode. The Capsule3 Pro are good but would be an even better buy for $10 less than their current asking price.
Still, SOUNDPEATS does an awful lot right here and I can't help but be impressed. The true wireless space has evolved by leaps and bounds over the last several years and the Capsule3 are a perfect example of what's possible when you cut the cord but still want to maintain your budget.
The product described in this article was provided by the manufacturer for evaluation purposes. Articles may include affiliate links from which we may earn a small commission to help support the site. Authors do not earn affiliate revenue or commissions.