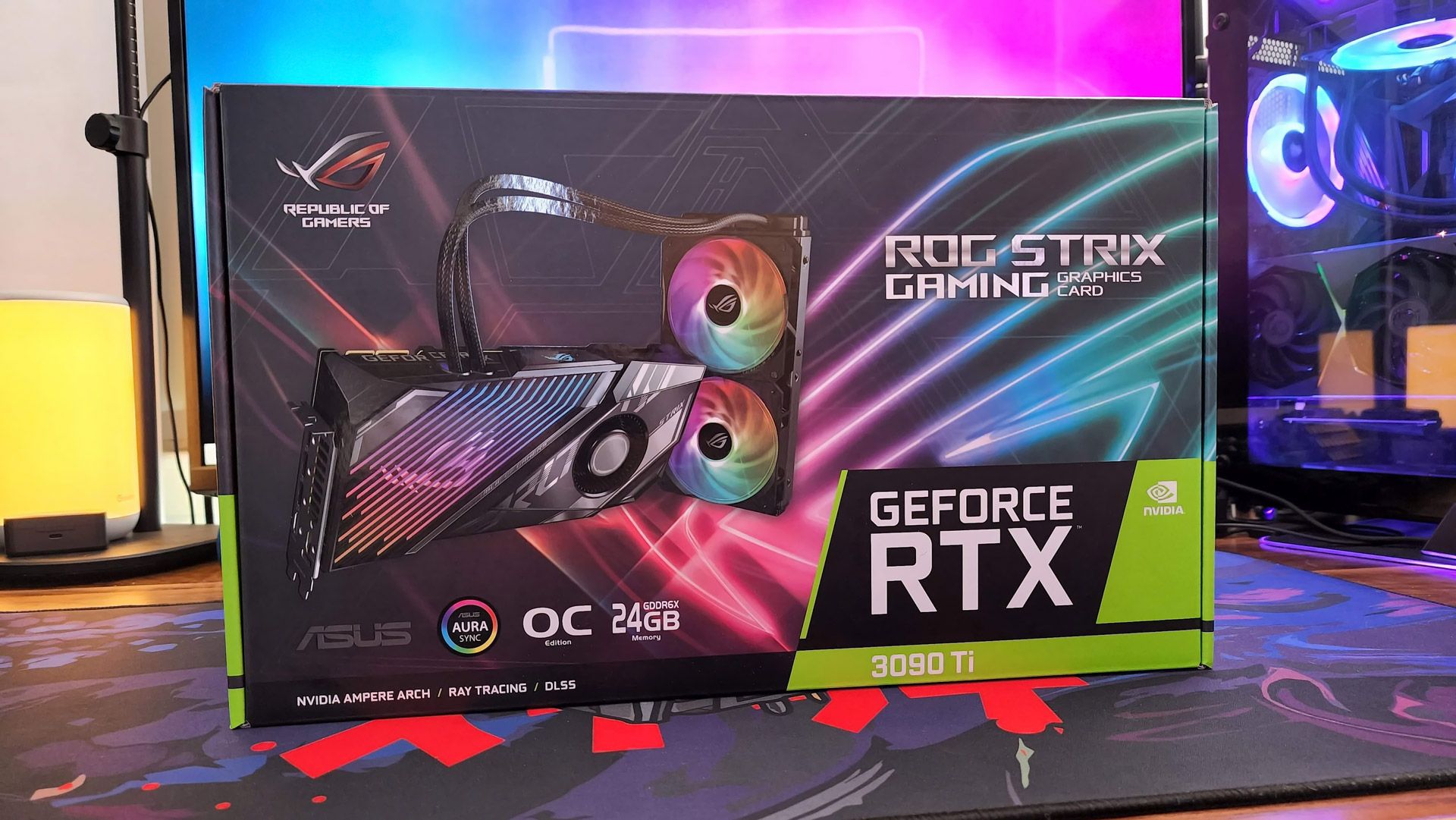 Read Time:
15 Minute, 0 Second
While many of us prefer to keep our budgets in check and balance price to performance, what if you just want the best of the best for your gaming machine? That's where the RTX 3090 Ti comes in. Featuring 10752 CUDA cores and 24GB of GDDR6X memory, it's currently the top dog in terms of gaming performance. In this review, we put it head to head with the RTX 3090 and see how it stacks up.
Specifications
Current Price: $2199.99 (

ASUS

)

Graphic Engine: NVIDIA GeForce RTX™ 3090 Ti

Bus Standard: PCI Express 4.0

OpenGL: OpenGL 4.6

Video Memory: 24GB GDDR6X

Engine Clock:

OC mode: 1980 MHz

Gaming mode: 1950 MHz

CUDA Core: 10752

Memory Speed: 21 Gbps

Memory Interface: 384-bit

Resolution: Digital Max Resolution 7680 x 4320

Interface

Yes x 2 (Native HDMI 2.1)

Yes x 3 (Native DisplayPort 1.4a)

HDCP Support Yes (2.3)

Maximum Display Support: 4

NVlink/ Crossfire Support: Yes

Accessories

1 x ROG Velcro Hook & Loop

1 x Collection card

1 x Speedsetup Manual

1 x 16-pin to 8-pin Adapter Cable

Software: ASUS GPU Tweak II & GeForce Game Ready Driver & Studio Driver

Dimensions

Card: 293 x 133 x 52 mm

Radiator: 272 x 121 x 54 mm

Slot: 2.6 Slot

Recommended PSU: 1000W

Power Connectors: 1 x 16-pin
What's New With the RTX 3090 Ti?
The ASUS ROG STRIX LC RTX 3090 Ti OC Edition is an interesting card, but before we dive into specifics, let's examine the GPU itself, shall we? With the RTX 4000 series rumored to debut this year, RTX 3090 Ti is likely to be the highest performance card of the generation, a coup de grâce of the RTX 3000 series. It features an unlocked GA102 GPU with 10752 CUDA cores, 84 ray tracing cores, and 336 tensor cores. The RTX 3090, by contrast, has 10,496 CUDA cores, 82 ray tracing cores, and 328 tensor cores. In percentages, that's 2.4% more shaders, RT cores, and tensor cores.
Like the RTX 3090, the Ti GPU comes with 24GB of GDDR6X memory and again runs on a 384-bit memory bus. The RTX 3090 Ti clocks its memory slightly faster, 21 Gbps vs 19.5 Gbps, which allows it to hit an incredible 1 TB/s of total bandwidth.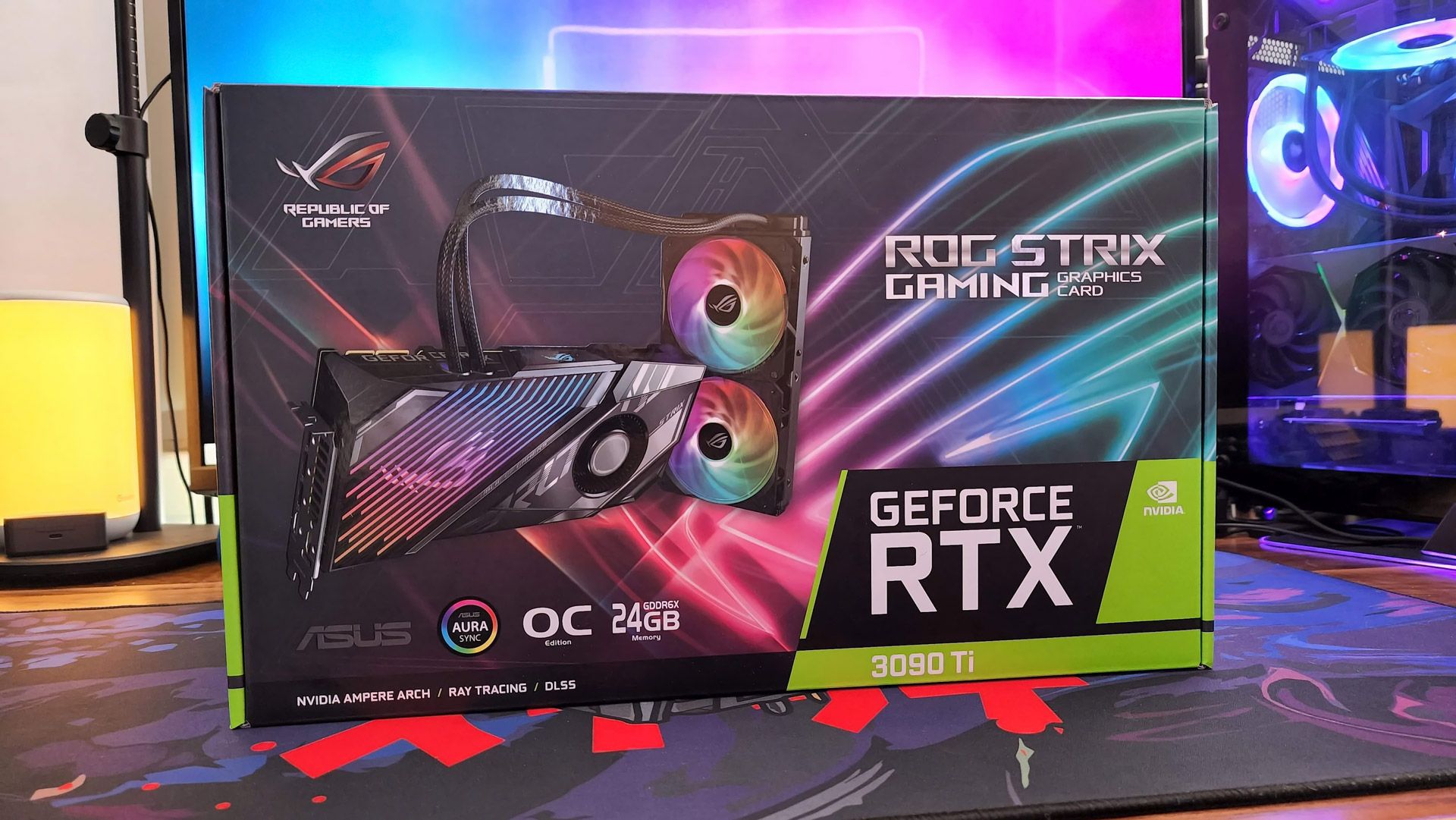 Base and boost clocks have also been improved. Where the RTX 3090 had a base clock of 1.4GHz and a boost clock of 1.7GHz, the RTX 3090 Ti ups that to 1.67GHz and 1.86GHz respectively.
Even without crunching the percentages, it's clear by the proximity of the numbers that boosts here are modest. The RTX 3090 was already an incredibly powerful card and the RTX 3090 Ti breaks that glass ceiling to let the GPU stretch its wings. It's a card clearly intended for 4K and content creation, and that's the biggest place you're going to see performance gains. We'll draw this out more in the performance section, but measured in TFLOPs, here's how it breaks down:
40 shader TFLOPS (up from 36), 78 RT-TFLOPS (up from 69), and 320 Tensor TFLOPS (up from 285)

+11% shader, +13% RT, +12% tensor.
For a Ti-level jump this generation, those percentages are a bit slight but generally in line. By contrast, the RTX 3080 Ti advanced the RTX 3080 with 13% more shader TFLOPS, 15% more RT TFLOPS, and 18% more tensor TFLOPS.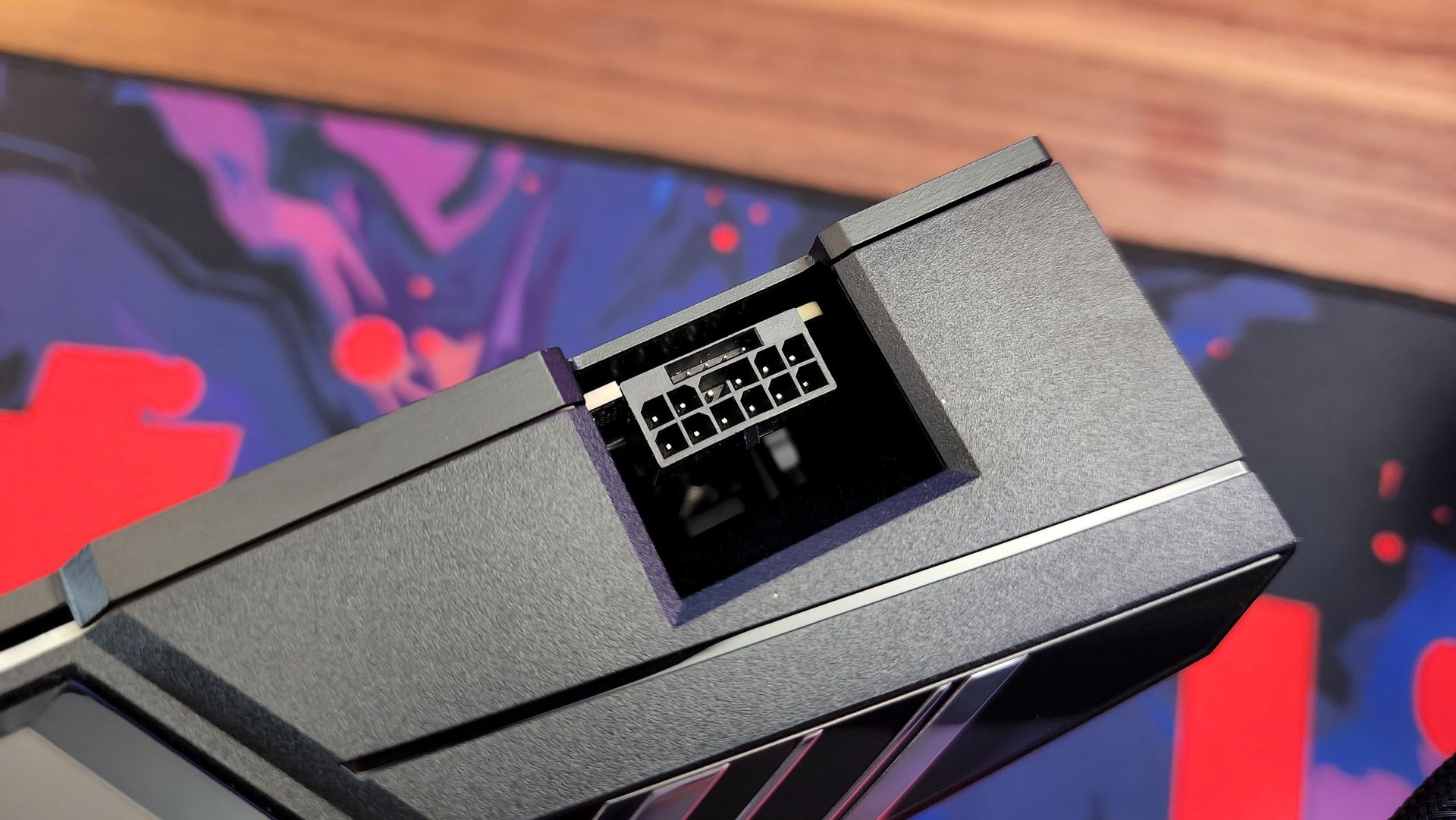 Those gains come at a hefty increase in power draw. The RTX 3090 Founders Edition already drew a large amount of power — 350 watts — and the RTX 3090 Ti ups that a full 100-watts to 450W. Nvidia's Founders Edition of the card recommends an 850-watt power supply, but many of the AIB cards are increasing that to 1000 watts of recommended power. To accommodate that level of delivery, the RTX 3090 Ti ships with a new 12-pin adapter to convert three 8-pin GPU cables. It also supports the PCIe 5.0 16-pin connector, which is capable of delivering up to 600 watts of power.
Let's divert back to memory for a moment. There are no games out there that currently utilize 24GB of high-spec video memory — and yet, make no mistake, that is a sizable factor in the cost of this card. It is, in fact, one of the biggest indicators that this card isn't just intended for gaming and would clear overkill (and a natural disappointment) for such a use case. Don't buy the RTX 3090 Ti for gaming expecting to utilize all of that memory.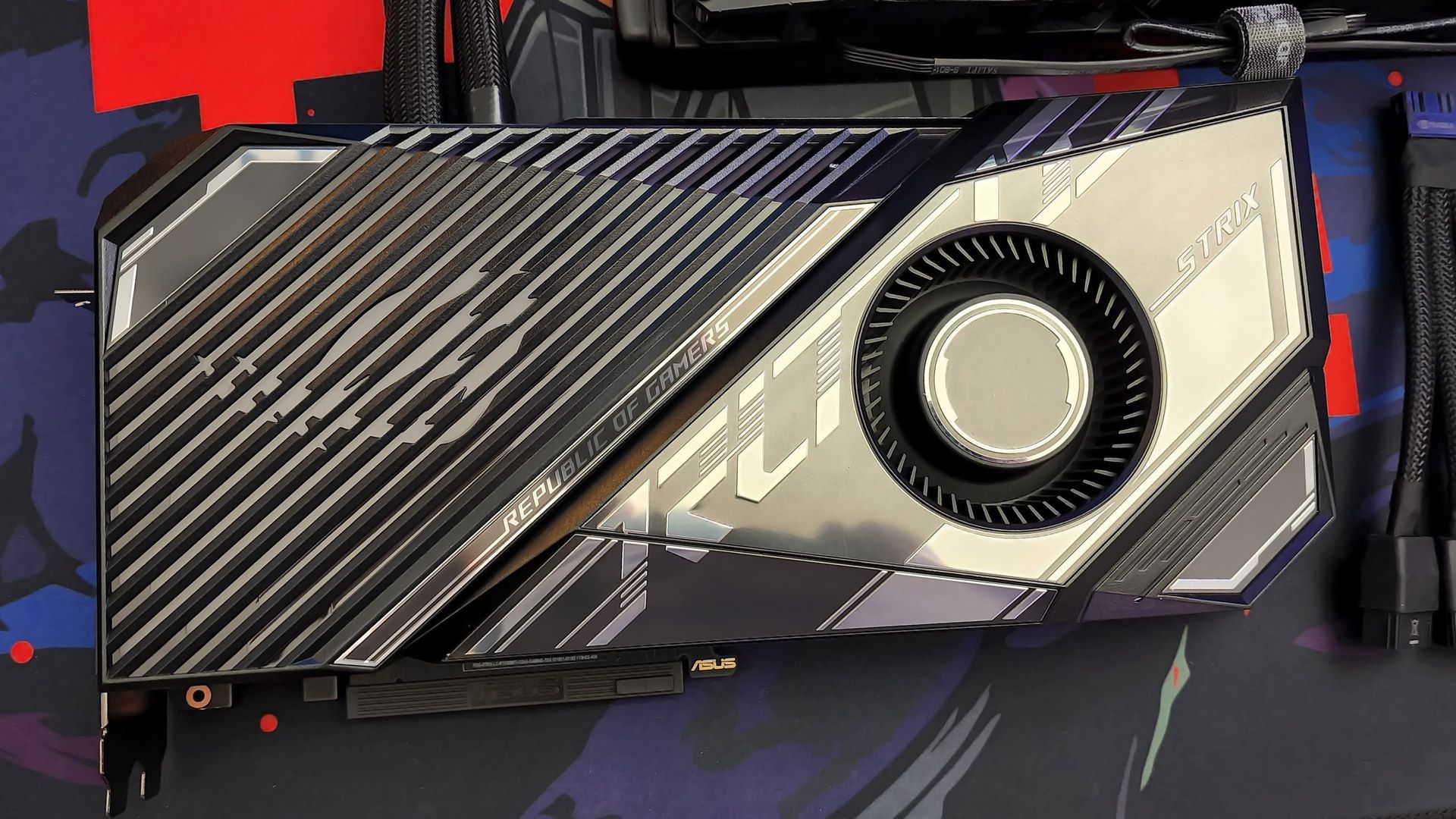 Instead, such a large frame buffer will most benefit creative professionals. Rendering in OTOY OctaneRenderer, for example, forces you to use system memory when rendering complex scenes with an RTX 3080 or lower. Render that same complex scene with an RTX 3090 or 3090 Ti and it can fit entirely within video memory, dramatically improving rendering times. Creating 3D models in Blender, the entire 3D pipeline is able to fit into the 3090 Ti's memory, which means you can view real-time changes in the viewport, even while rendering in the background. Nvidia has also heavily promoted the RTX 3090 and 3090 Ti for 8K gaming, but it's even more apt at 8K video editing in DaVinci Resolve. Working without proxies, those files become unwieldy for the vast majority of cards, resulting in memory errors. Not so with the RTX 3090 Ti.
Of course, we could argue, then, that real creators will simply opt for professional-level cards. Yet, this isn't always as easy as it seems, particularly for users who may be working independently. Remember, professional-caliber cards with extended memory buses can cost many thousands of dollars. For those users in the "middle ground," an RTX 3090 Ti could actually be a good value.
Without a benchmark being run, most of us could assume that a souped-up RTX 3090 would easily take the throne as the new "king of gaming." Spoiler alert: that's absolutely true, but whether or not it makes sense for you is another story. But before buying one for yourself, let's take a closer look at the ASUS ROG STRIX LC RTX 3090 Ti OC Edition and the unique qualities it brings to the table, and then dive into the benchmarks.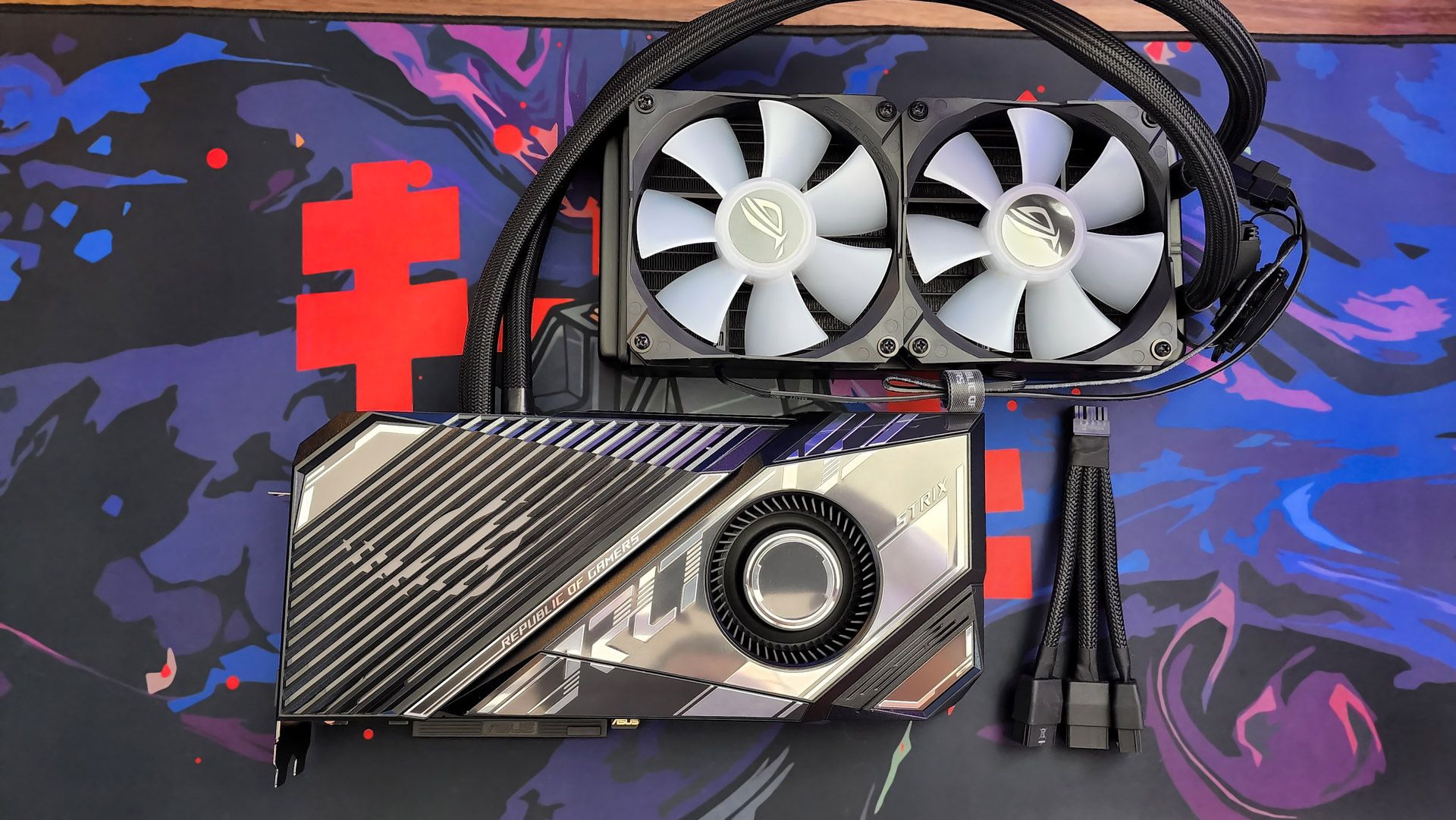 ASUS ROG STRIX LC RTX 3090 Ti OC Edition – Unique Features, Thermals, and Noise
The ROG STRIX LC RTX 3090 Ti is a doozy of a card. It features a built-in liquid cooler with a 240mm radiator. You're paying extra for that design, and should expect it to work well to keep temps low and performance high. It does. This isn't a card that will thermal throttle, though it is one that will take extra space in your case. If you're already running an all-in-one liquid cooler for your CPU, you'll want to make sure you have adequate space to mount a second radiator — and avoid a bottom mount implementation to prevent air bubbles from making their way into the pump head.
As the name and design would imply, this card features a factory overclock. ASUS doesn't quote a base clock speed (which is fine, because the card shouldn't ever hit it). Instead, we have Boost Clocks for Gaming Mode and OC Mode. The Game Mode clock comes in at 1950MHz, while OC Mode pushes it even slightly higher to 1980MHz. In reality, the card runs even faster than this, peaking at 2080 MHz in our tests.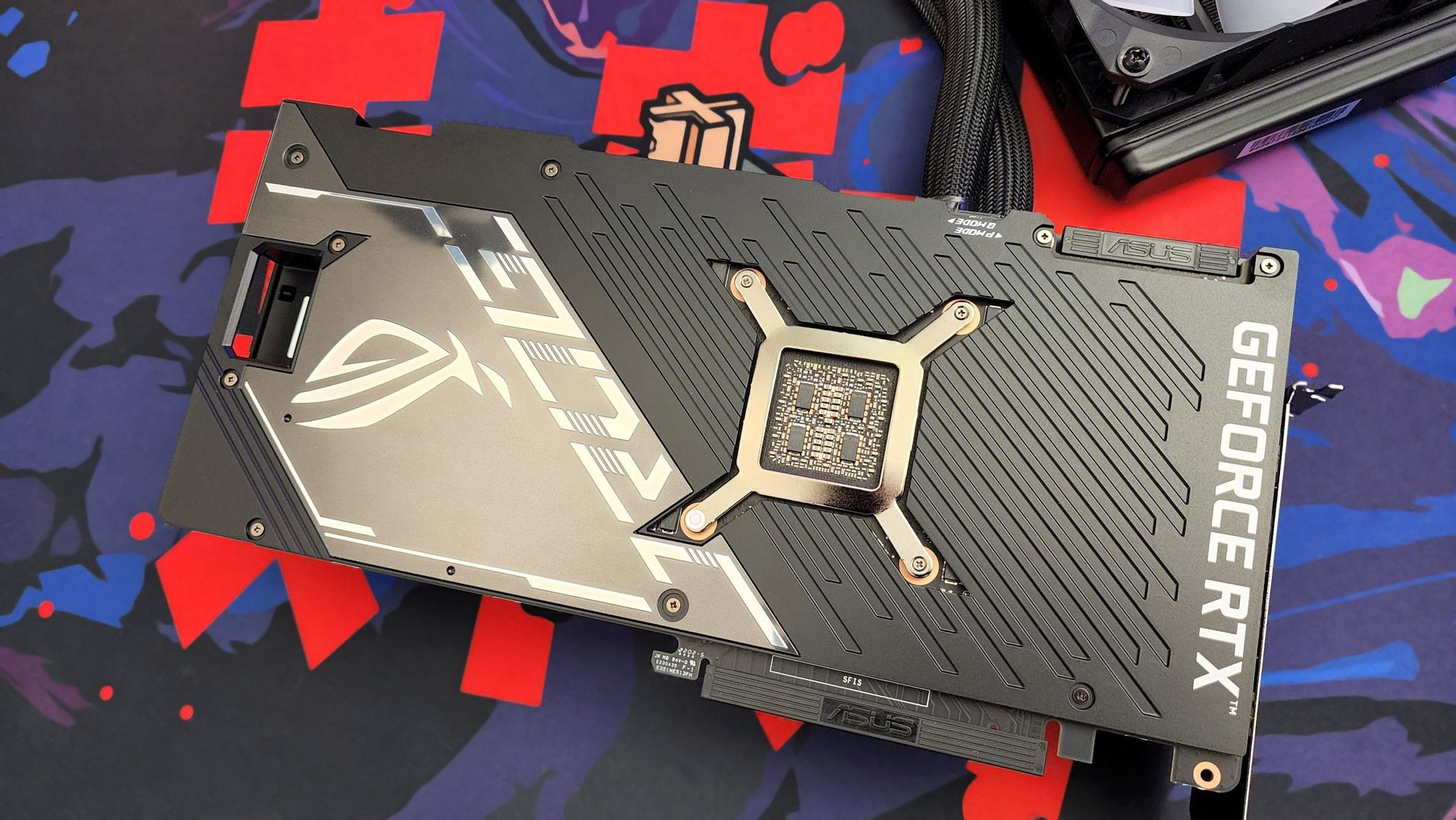 The cooler also does an outstanding job of keeping things cool. There's a BIOS switch to utilize either Performance or Quiet modes, the latter of which limits fan speeds to lower the noise floor under load. The card achieved a peak temperature of 60C in its Performance mode. It does get rather loud at 44.8dB under heavy load, however, so if you're comfortable letting those temps inch slightly higher (literally 2C in our tests), you can push that down to 37dB. We're still not quite at RTX 3090 FE levels of quiet, but that's not far off.
If we were to pry that cooler off, we'd find that the GPU is fairly overbuilt. ASUS has employed a large copper heat plate that covers both the GPU die and the VRAM. It uses a 24-phase VRM arrangement for stable power delivery. A blower fan is also built into the design to actively cool these components. Around the back of the card, you'll find two fan headers.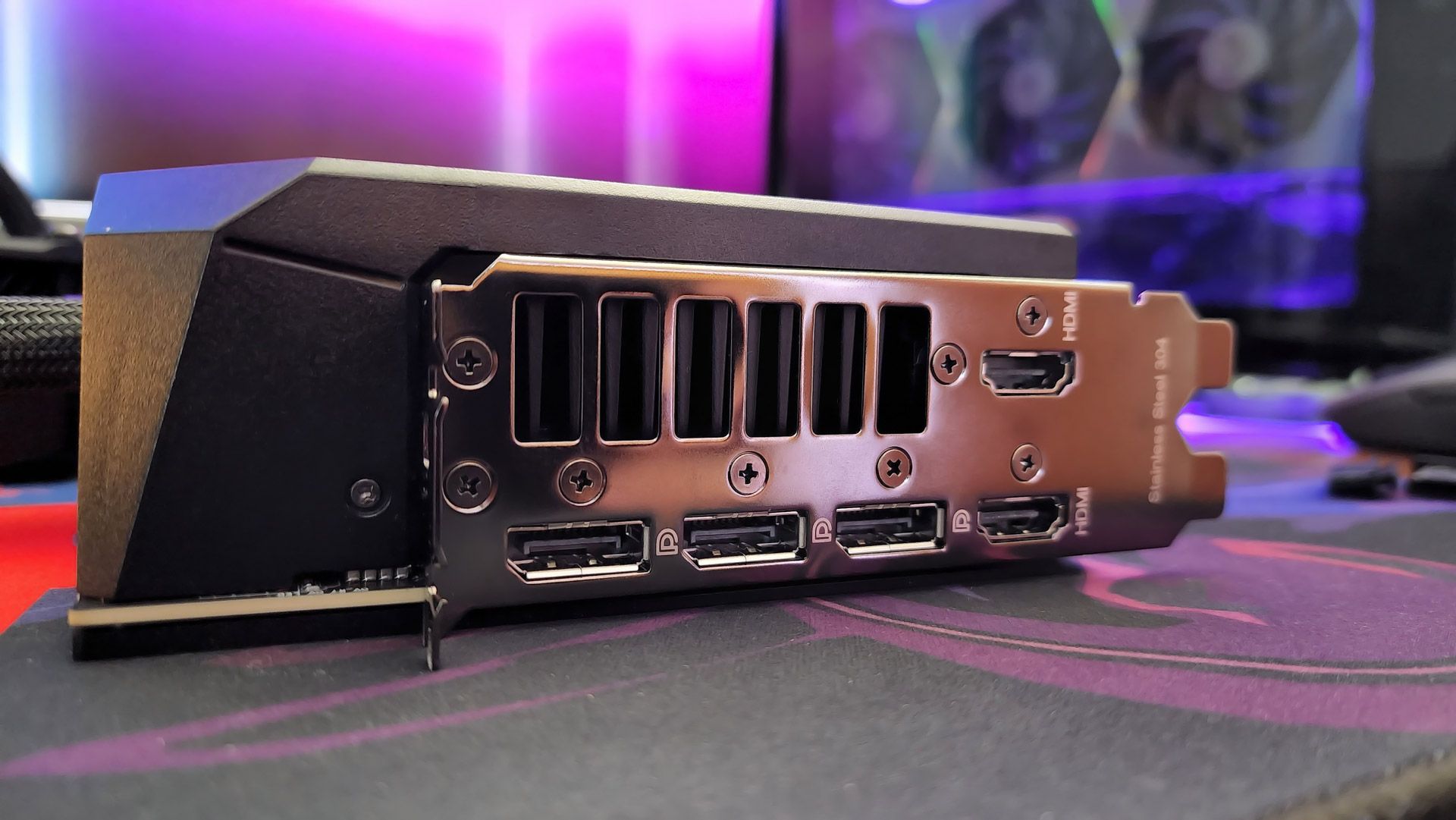 For I/O, ASUS has outfitted the card with two HDMI 2.1 ports and three DisplayPort 1.4 outputs. A total of four displays are supported, with a maximum resolution of 7680 x 4320 (8K).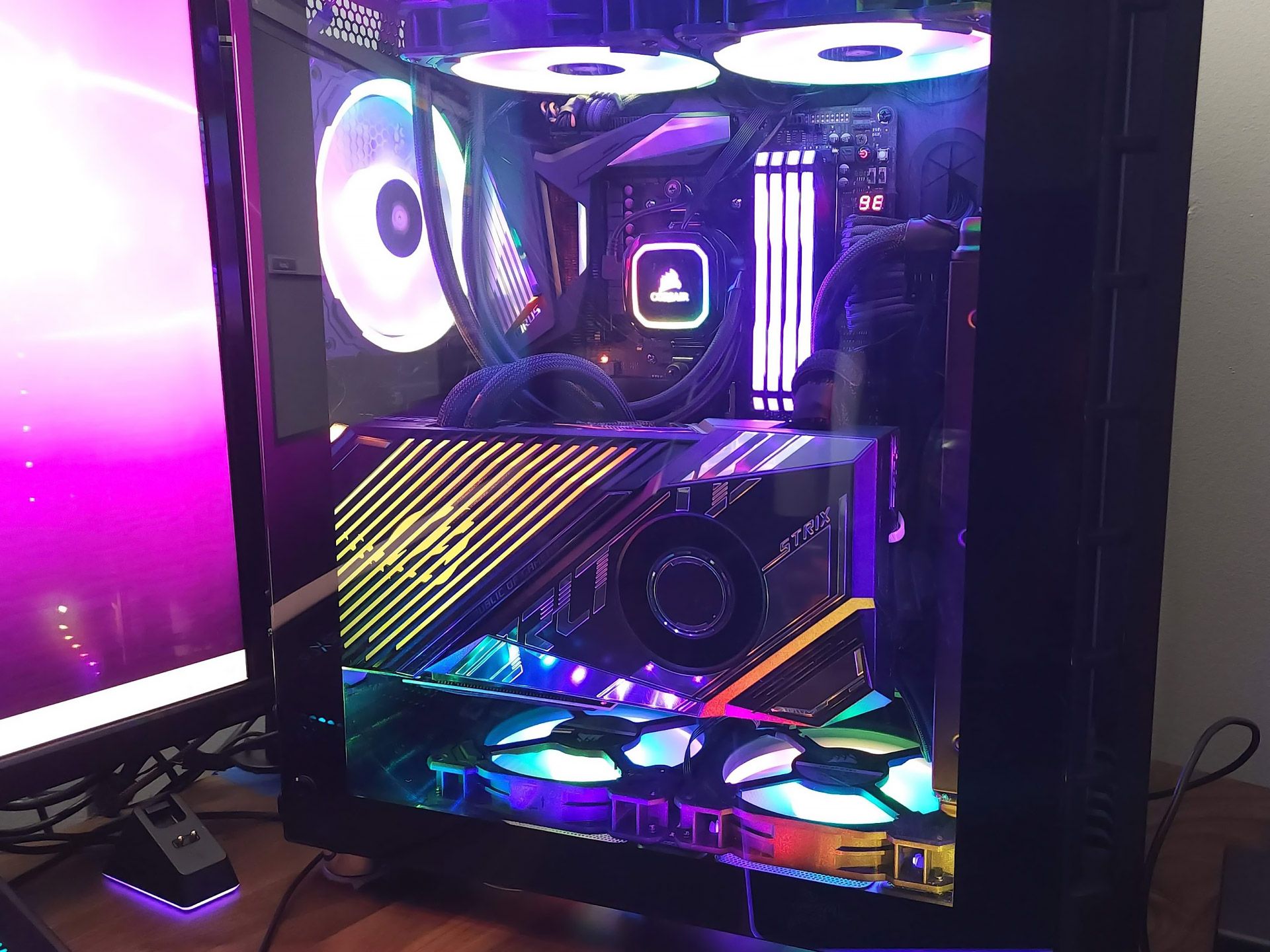 Finally, I have to say that this is a very nice-looking card and it comes in a reasonable size compared to other RTX 3090 and 3090 Ti models. We're still looking at a large card, but at 11.5 x 5.2 inchs and 2.6 slots, it should fit in most cases.
The front and rear feature a mix of matte and glossy material that reflects light in a very eye-catching way. The left half of the face is RGB-enabled. and customizable. There's also a ROG Eye logo on the top that's illuminated. I was also surprised to find that the card was able to be controlled by Corsair iCUE to easily sync with the rest of my case fans.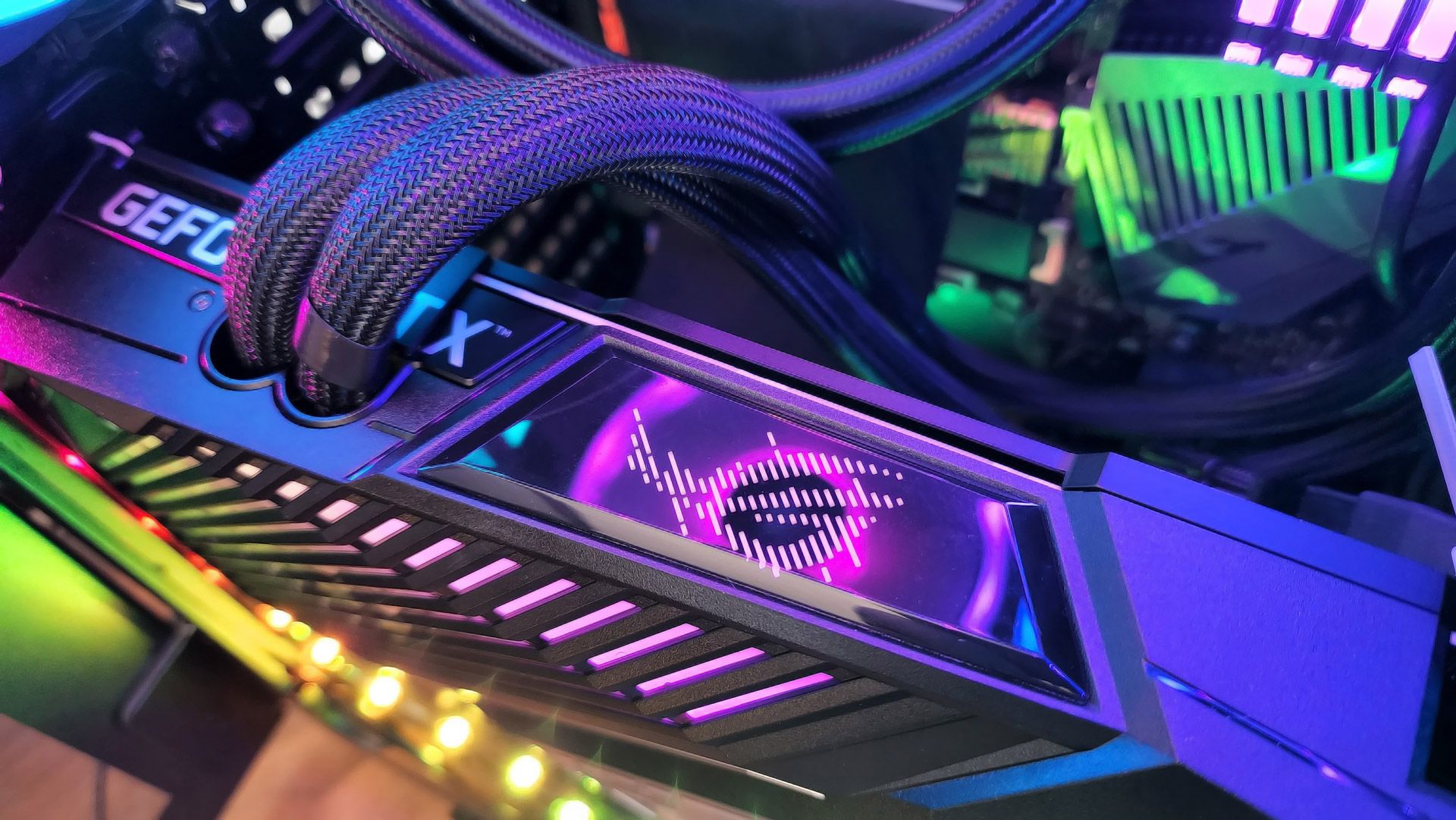 ASUS ROG STRIX LC RTX 3090 Ti OC Edition – Overclocking
Given the build of the card, one would expect it to be an overclocker's dream. Because the AIO cooler is great for keeping temperatures low, I was only able to push boost speeds to 2200MHz and remain stable. Memory overclocking was a bit more challenging, but I did achieve a stable 1420MHz maximum memory overclock.
In real-world terms, it just doesn't seem worth it to overclock a GPU of this caliber. Assuming you're gaming at 4K — which you probably are with this card — I never exceeded more than 10 FPS boost while overclocked. In exchange for that, the card pulled just over 500-watts. Samples vary and you may be able to push higher, but you'll need a high-wattage PSU. Like the card itself, overclocking is for those who want the best possible performance. For everyone else, it's safe to leave this card completely stock and enjoy.
ASUS ROG STRIX LC RTX 3090 Ti OC Edition – Benchmarks
Test System: MSI Z690 MPG Carbon WiFi, Corsair iCUE Elite LCD 360mm, ADATA XPG Lancer DDR5-5200MHz (32GB), Samsung 970 Pro NVMe 1TB, Corsair HX-1050 1050 Watt Power Supply, Windows 11 (fully updated).
Before getting into the benchmark results, a word on testing. All tests were conducted at their highest preset setting. Given the caliber of the card, we limited our testing to 4K only. Testing was done at stock settings, without an overclock being applied. Wherever possible, ray tracing is set to its highest setting, and DLSS is turned off.
The biggest comparison here is between the RTX 3090 and the RTX 3090 Ti. I did not have our entire stable of GPUs available for this test but did include a couple of others for comparison. Ideally, we would have had the RTX 3080 Ti and RX 6900 XT in our stable for testing, but since that was not possible, the additional cards here are expectedly lower but provided for context. Since the LC we're testing today is a factory overclocked card, it only felt fair to compare it against other cards with factory overclocks, but bear in mind that these can tip results a few FPS either way in gaming tests compared to Founders Edition cards.
Beginning with the synthetics…
In synthetic tests, the RTX 3090 Ti has a sizable lead over prior generations of card here. We begin with 3DMark's test suite. In Fire Strike Ultra, we found a 12% lead over the RTX 3090, a 31% lead over the RTX 3080, and a 16% lead over the RX 6800 XT.
In Time Spy Extreme, that lead shrinks somewhat — at least against Nvidia's cards. There, we see an 8% lead over the RTX 3090, a 23% lead over the RTX 3080, and a 18% lead over the RX 6800 XT.
Moving over to Port Royal, we can see the advantage the RTX 3090 Ti has in ray tracing, but the lead over the 3090 remains fairly stable. In this test, it leads the pack by 7% against the RTX 3090, 28% over the RTX 3080, and a whopping 58% over the RX 6800 XT. RT cores in action.
Finally, in Unigine Heaven, we find our biggest gaps. The RTX 3090 Ti leads the way earning 11% higher FPS than the RTX 3090, 32% higher than the RTX 3080, and 36% higher than the RX 6800 XT.
Overall, in these synthetic benchmarks, the RTX 3090 Ti averaged 10% faster than the RTX 3090.
But how about gaming benchmarks?
We benchmarked the RTX 3090 Ti across a total of eight games. The charts make it clear that the RTX 3090 Ti is an upgrade over the RTX 3090 — as you would expect it to be. Given that the MSRP of this card is $2199 and the RTX 3090 Ti starts at $1999, and you can pick up a standard RTX 3090 for $1679 as of this writing, the question is really how much better is it than a standard RTX 3090.
The frame rate gap between the two cards ranged from 7 to 12, lending it a 13% improvement overall. With the exception of Cyberpunk 2077, all of the games ran higher than 60 FPS without the need for DLSS. That's impressive stuff — but also true of the RTX 3090.
So, what's the big takeaway here? The RTX 3090 Ti is indeed faster than the RTX 3090 and the ASUS ROG STRIX LC RTX 3900 Ti OC is a very fine example of an excellent take on this GPU. If you're running a high refresh rate 4K display, the improvements here may actually be perceptible in some games. Which brings us to our next section…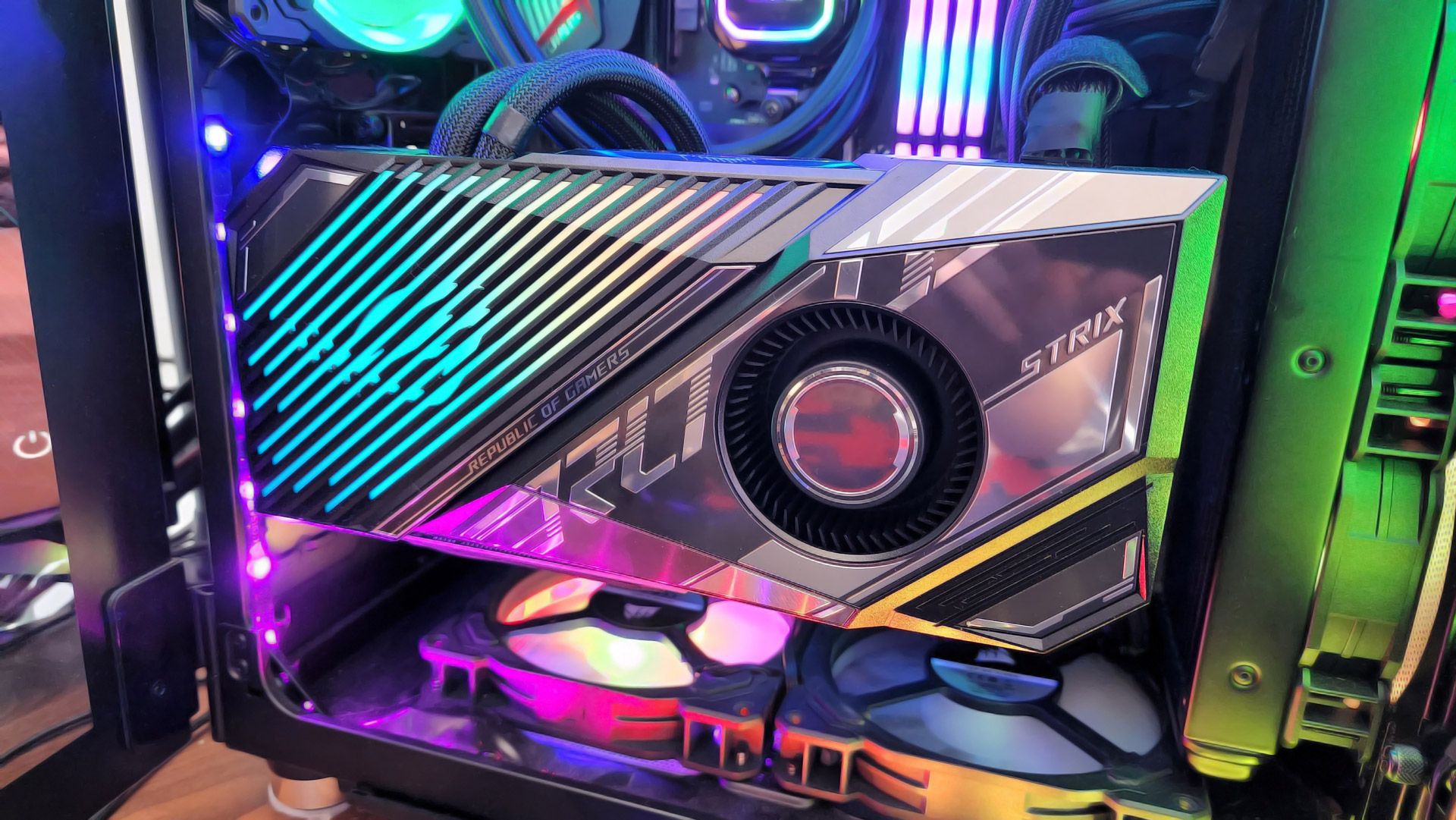 ASUS ROG STRIX LC RTX 3090 Ti OC Edition – Should You Buy It?
As I alluded to earlier in this review, if you're a gamer, the RTX 3090 Ti probably doesn't make sense for you. It's obviously an incredibly powerful card, but it's also extremely expensive and uses a lot of power. For pure gaming, the 24GB of GDDR6X are largely going to be wasted. Instead, this is a card to choose for creators and prosumers. Yes, it is the "ultimate gaming GPU" but it doesn't become a great value unless you'll actually be making use of that large frame buffer.
It's also in that segment that you'll actually see the benefits for the increased CUDA cores and faster memory this card offers. For gaming, you'll see a benefit, but you'll need to ask whether those added 7-12 frames a second will be worth the extra investment. Given that in the best case scenario we see here, 12 FPS improvement from the RTX 3090, at a $320 cost differential from the cheapest RTX 3090 to the cheapest RTX 3090 Ti, that breaks down to $27 per frame. Yikes.
But as another reviewer recently put it to me in conversation, if you're already spending $1700 on a GPU, is another two or three hundred really that much? If you're the kind of gamer that demands the best, this is it. You've found it. If you're a content creator, this, as well as the RTX 3090, are probably going to feel like a bargain compared to Nvidia's A-series professional cards. For everyone else that won't make use of that big memory pool, the RTX 3080 Ti is currently available around $1250 and is only a few percent off the basic RTX 3090 and will also perform well at 4K. Read more about that in my review over at IGN.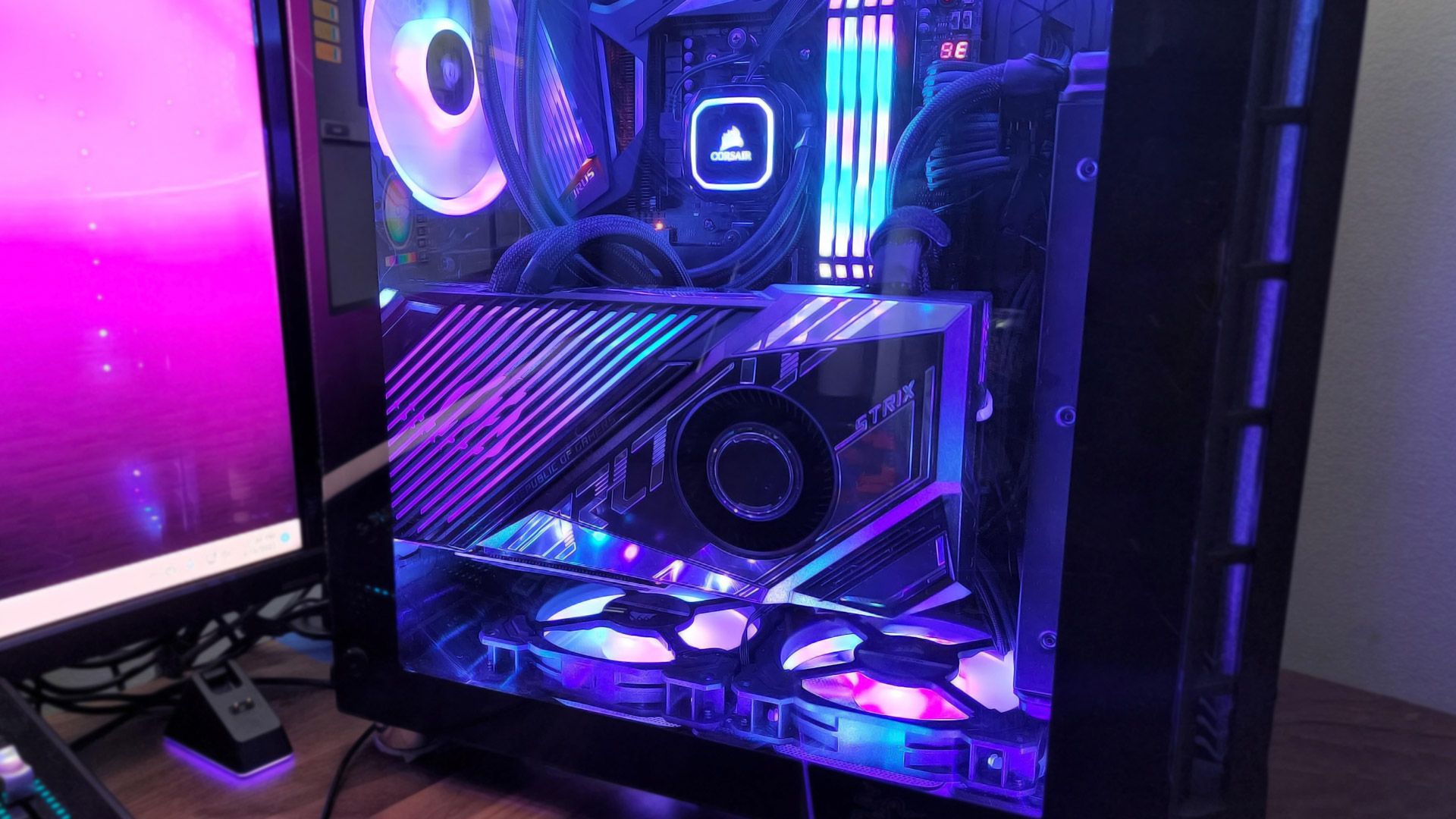 Final Thoughts
The RTX 3090 Ti isn't a great choice for most gamers. But, if you want the best possible performance at 4K, this is where you're going to find it. The ASUS ROG STRIX LC RTX 3090 Ti OC Edition is a great example of what's possible with modern GPU design. You'll need the space to support the radiator, but you'll never need to worry about your GPU thermal throttling, even over extended gaming sessions. It costs a bit extra over ASUS's air cooled RTX 3090 Tis, but you're also getting a bit extra, and this markup doesn't feel exorbitant.
If this were a review of the RTX 3090 Ti, for gaming, it would perhaps be a 7. It's great if you fit the intended audience, but the average gamer won't find it to be a good value. Since this is a review of a specific model and the performance and features it offers, ASUS deserves credit for delivering an overbuilt, high-performing GPU, that will maximize the silicon it's built around. It's a bit harder to manage with that radiator, and needs manual tweaking or the Quiet BIOS to keep acoustics in check, but is a genuinely great option if you've decided an RTX 3090 Ti is right for you.
The product described in this article was provided by the manufacturer for evaluation purposes.