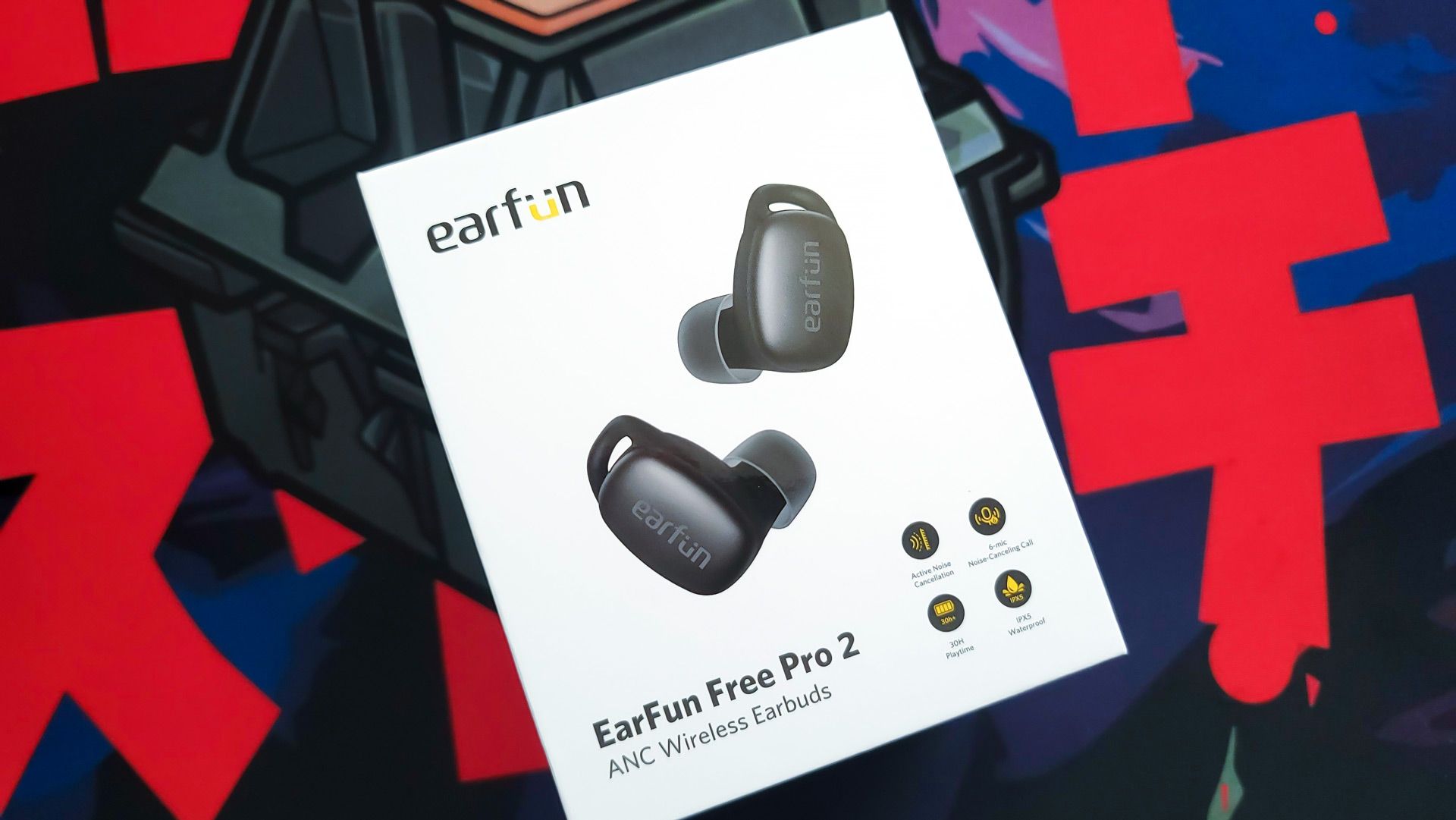 Read Time:
11 Minute, 16 Second
Earfun has been one of our favorite budget earbud brands for a while here at MMORPG, so when the company asked if we would like to review its Earfun Free Pro 2s, we answered in the affirmative almost immediately. The original Earfun Free Pros (reviewed here) turned out to be surprisingly great (especially for sleeping) but since then the company has made big strides with its active noise cancellation tech, making these buds especially interesting. It's not all steps forward, however. Read on to find out just where these buds improve and where they take steps back for that improved ANC.
Specifications
Current Price: $79.99 (currently $20 off at

Amazon

)

Key Features:

QuietSmart™ 2.0 Hybrid Active Noise Cancellation up to 40dB

Transparent Mode Allows Ambient Sound for Safety

Built-in 6 professional mic for stunning call experience

6mm Composite Dynamic Drivers deliver an authentic and balanced sound

Featherweight Fit & Pocket-sized On-the-Go, each earbud weighs a mere 4.1g

80ms Low Latency Mode for Better Video and Gaming Experience

30-hour Playtime: 6 Hours + 24 Hours with Charging Case

Fast Charging, 10 Min Charging = 2 Hours Playtime

IPX5 Sweat & Water Resistant

Intuitive Touch Control + Volume Control

Activate Voice Assistant

Driver Type: Dynamic

Driver Size: 6mm

Bluetooth Version: 5.2

Bluetooth Codec: AAC, SBC

Playtime:

ANC OFF — Up to 6 hours, Totally 30 hours with the charging case; (varies by volume level and audio content)

ANC ON — Up to 5 hours, Totally 25 hours with the charging case; (varies by volume level and audio content)

Battery Capacity:

35mAh x 2 (earbuds)

420mAh (charging case)

Charging Time:

Fast Charging: 10 minutes = 2 hours playtime

1 hour (for earbuds);

2 hours (for charging case via USB-C);

3.5 hours (for charging case via wireless charger)

Maximum Working Range: 15m (without obstacle)

Dimensions: 66.6mm x 25mm x 28.5mm

Weight: 4.1g (each bud), 38g (total)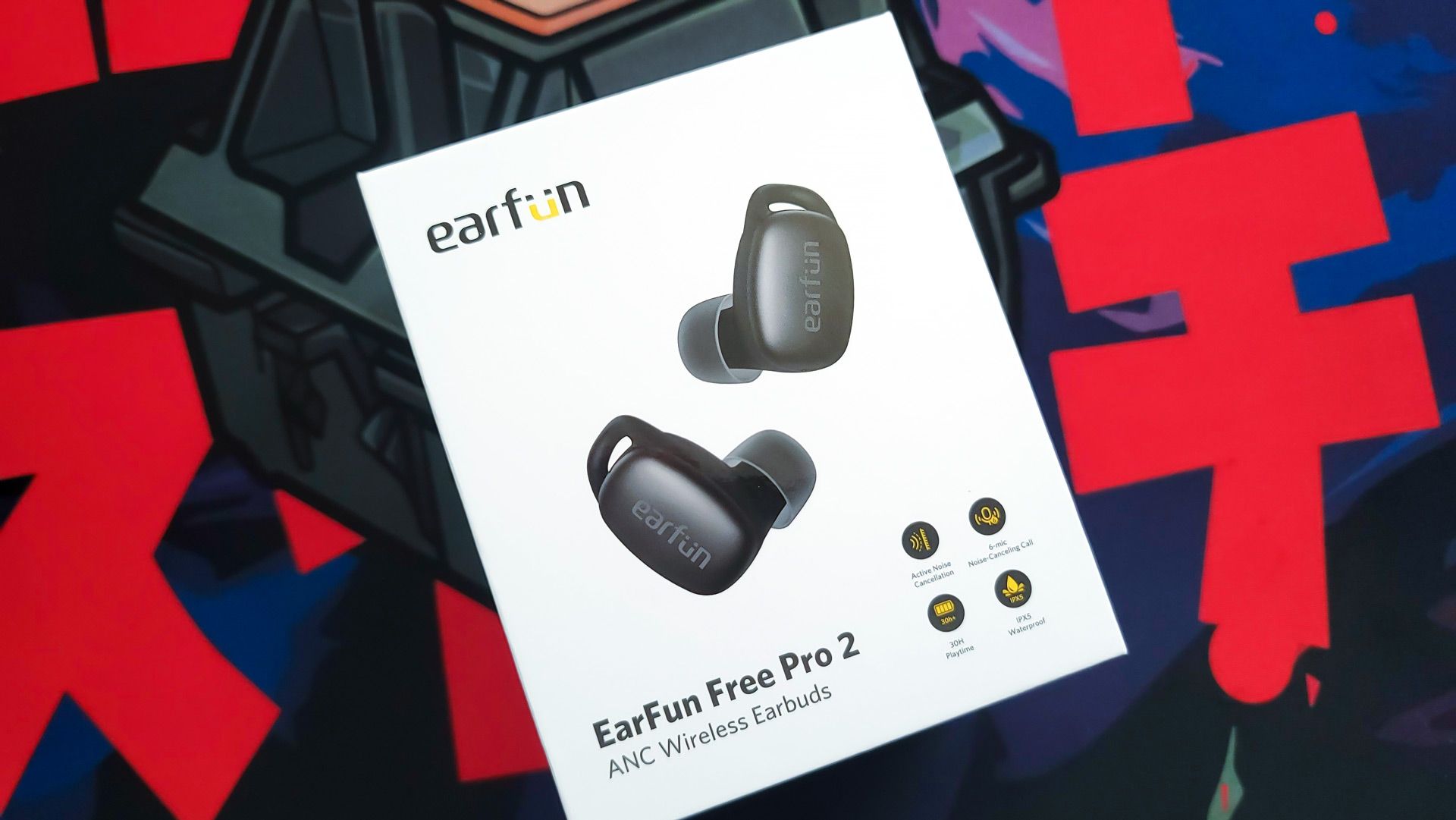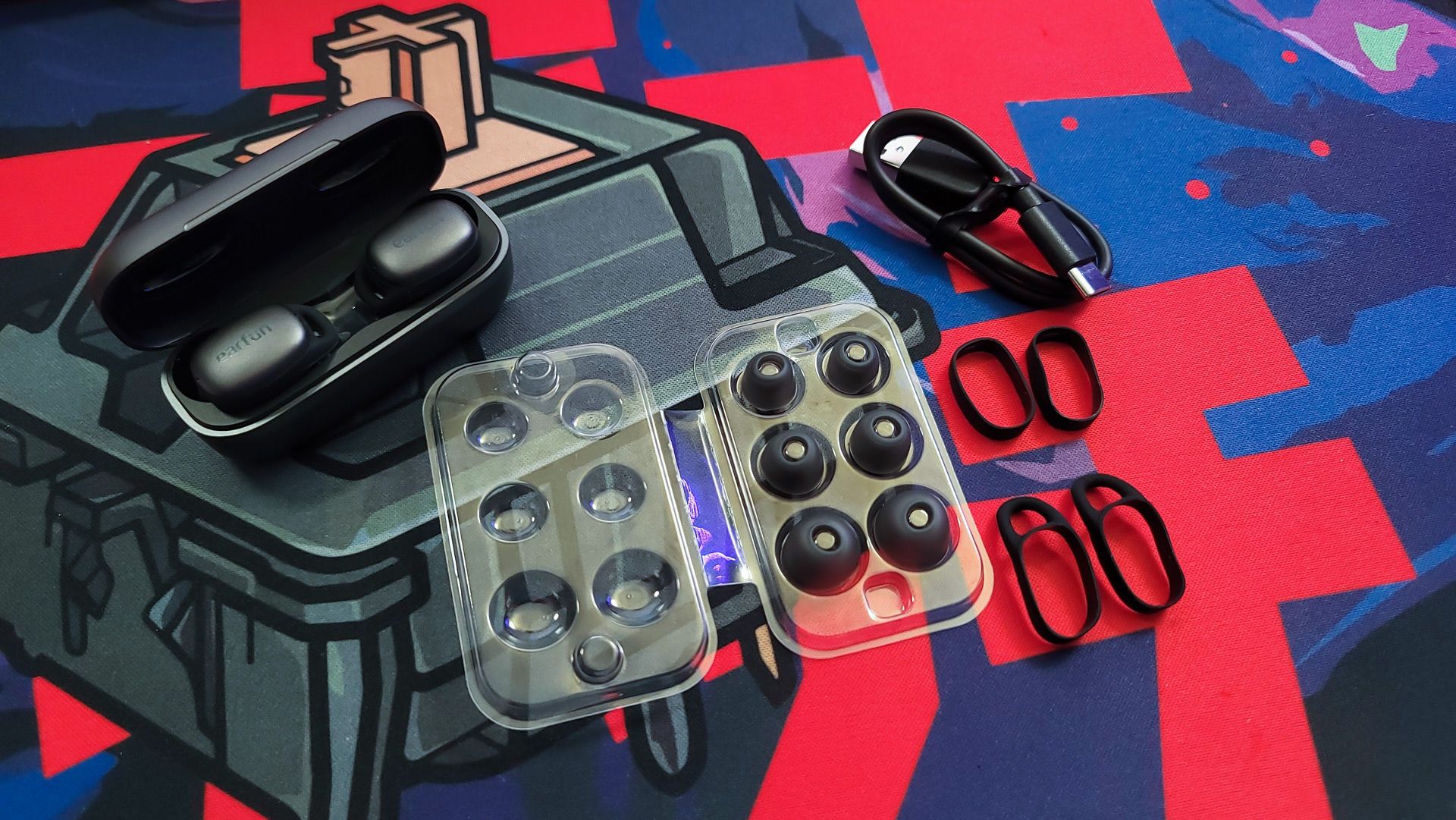 Earfun Free Pro 2 – Overview
The Earfun Free Pro 2 earbuds come in closer to the budget side of the true wireless spectrum, retailing for only $79.99 (or $59.99 if you catch them on the current holiday sale). The market has been expanding on the budget end, so it's no longer uncommon to see once-premium features like active noise cancellation in this price bracket. The Free Pro 2s check a lot of boxes for modern true wireless earbuds, so you're not sacrificing much in the way of features by saving a few extra dollars compared to the bigger-branded competition.
In the world of Earfun, the "Pro" moniker places these at the top of their product line. These buds exist right alongside the Earfun Air Pro 2, but where those buds opt for the Apple Airpod design with stems that hang out of your ears, the Free Pro 2s are straight in-ear earbuds. These buds feature a different driver design and tuning too, so the differences are more than skin deep. The short version is that these buds are much more about powerful bass. Scroll down to Listening and Gaming Impressions for the long version.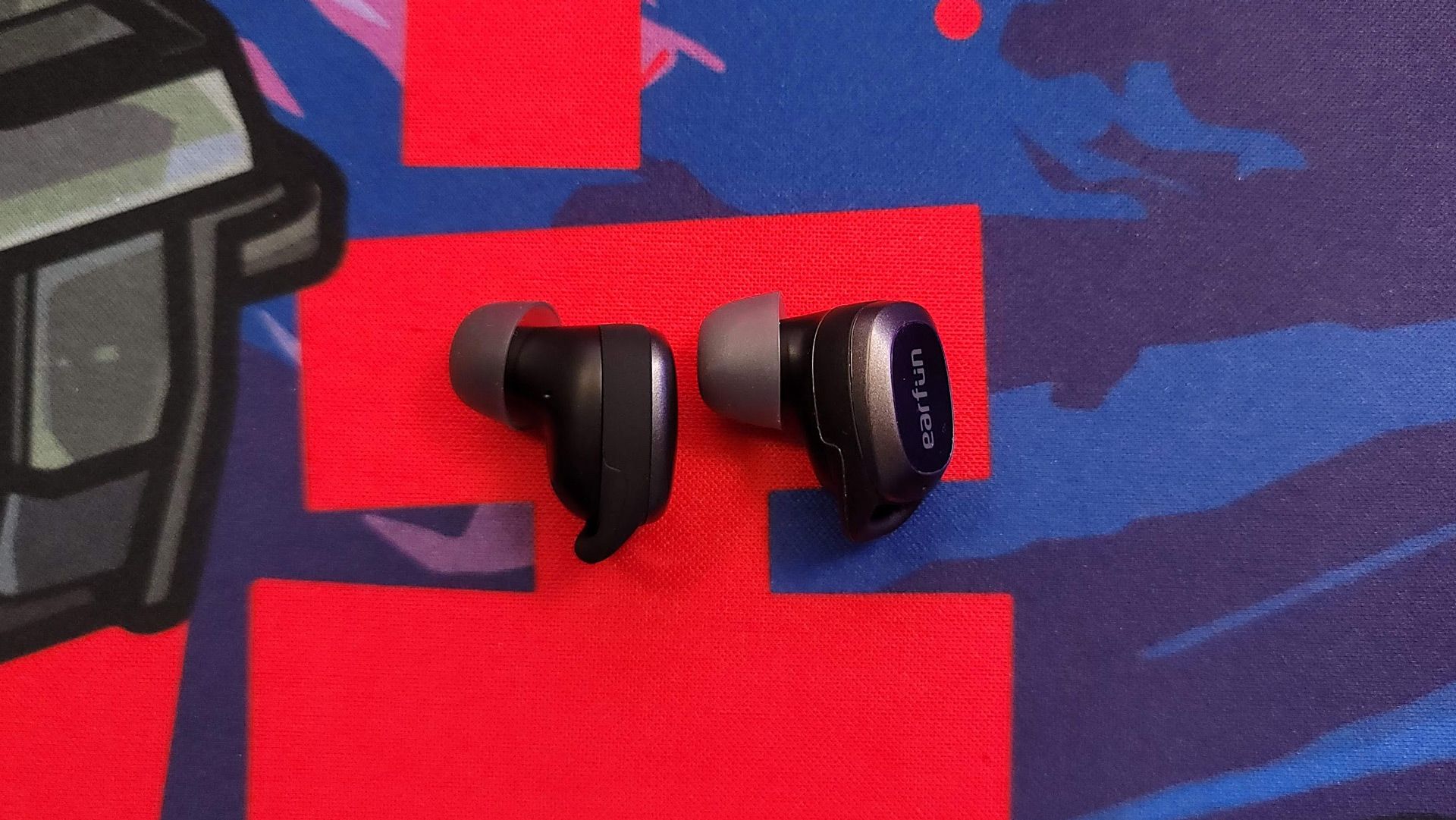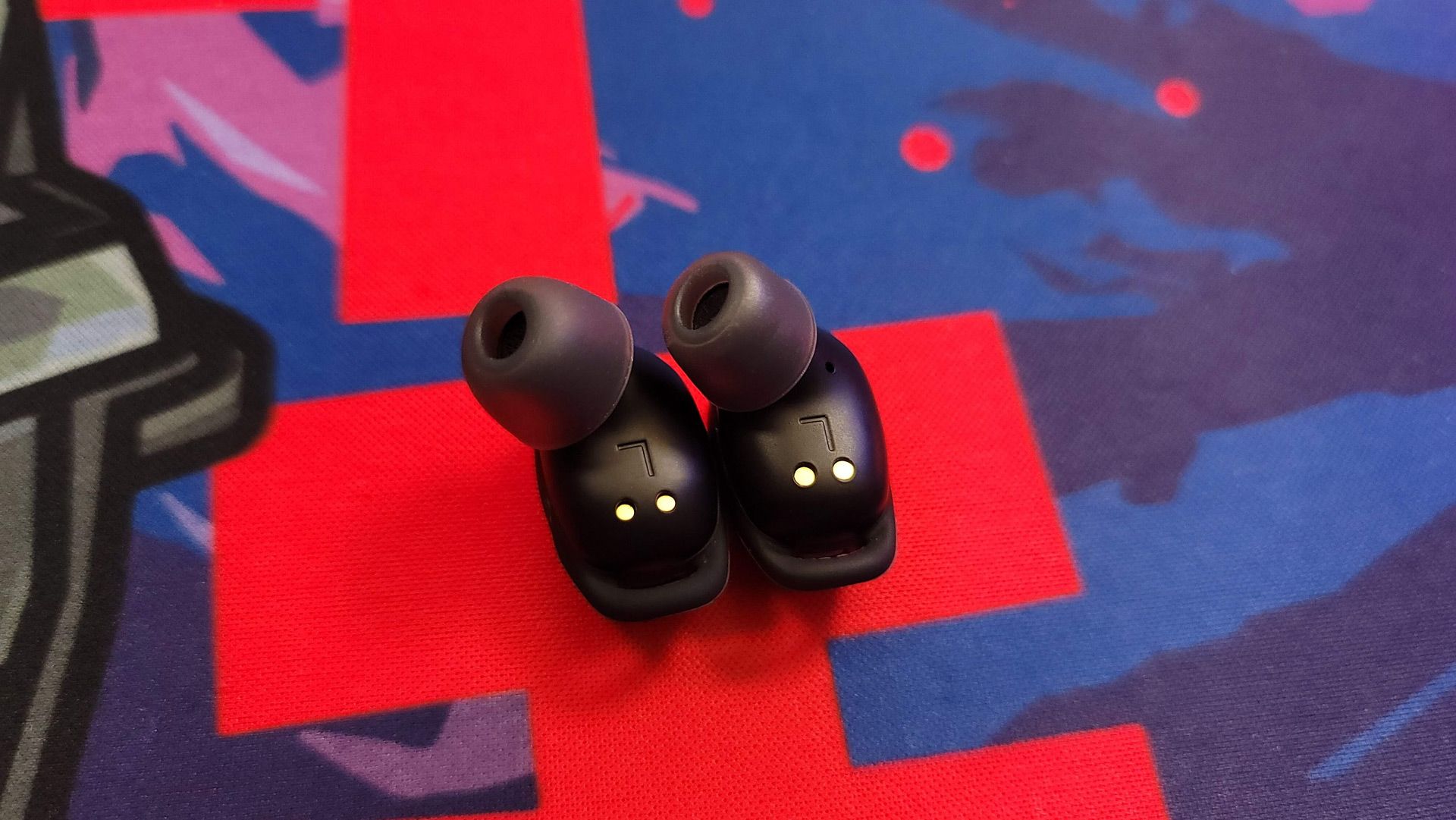 Size comparison between the original Earfun Free Pro (right) and the new Earfun Free Pro 2 (left)
The buds are slightly bigger than the original Earfun Free Pros. This is generally in thickness, so I find that they stick out of my ears slightly more and aren't as good of a fit for a makeshift sleeping earbud. Given the improved technology and bass response, it's not surprising, but I'm still a bit disappointed to see Earfun wasn't able to shrink them down or at least keep them the same size. The case, on the other hand, is shrunk down and even easier to carry.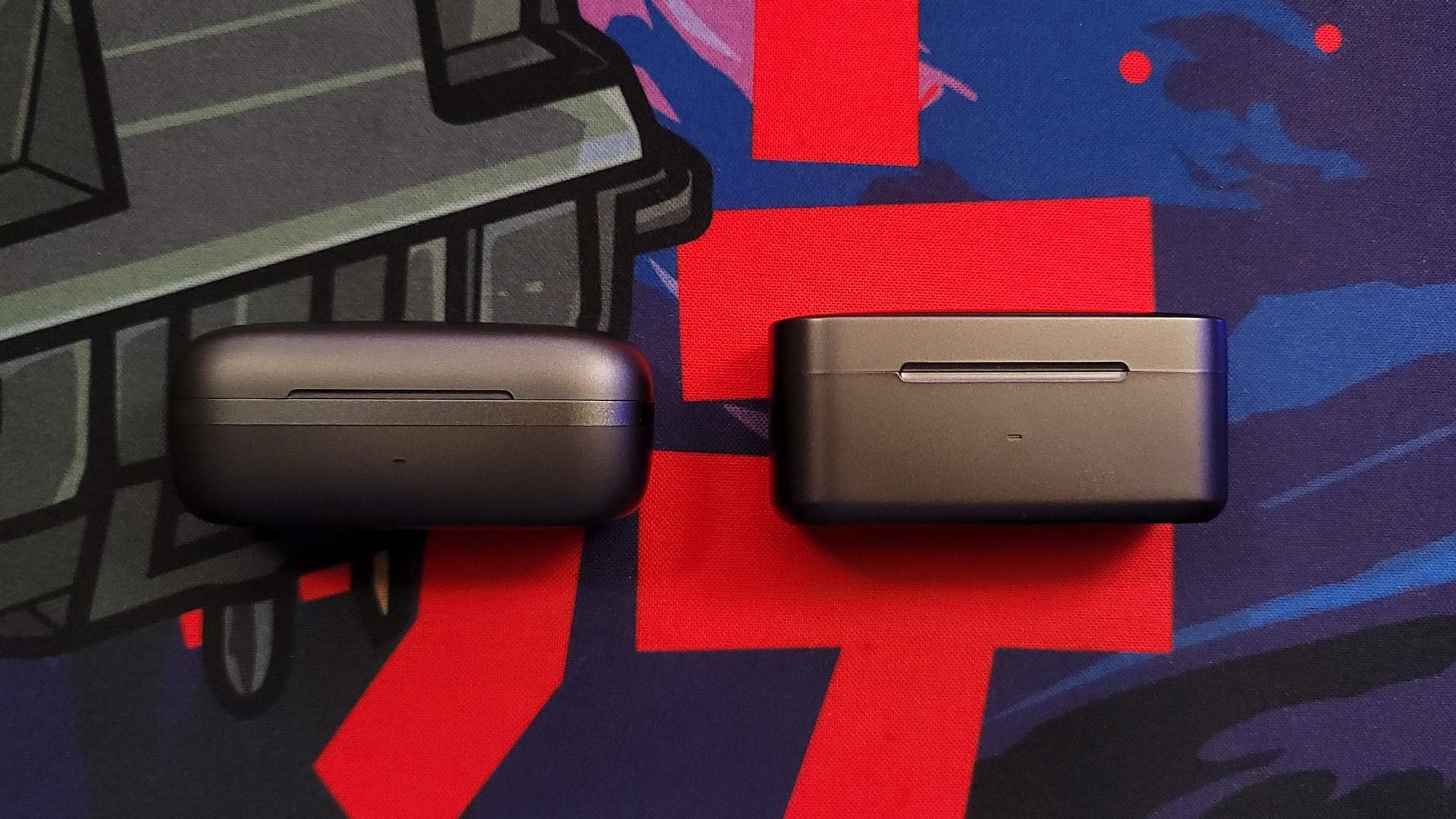 Inside their tiny bodies, the buds sport some impressive tech at this price. They use a total of six microphones to fuel the active noise canceling experience and they offer a big improvement over the four in the original Earfun Free Pros. While the first-generation buds just monitored outside noise (feed-forward monitoring), the Free Pro 2s now point a second mic inside the ear for feed-back monitoring. This is an important change as it allows the buds to cancel out any noise that makes its way past the shells, adding a whole new element to its noise canceling capabilities and putting it right in line with the new Jabra Elite 7 Pros and other high-end flagship earphones.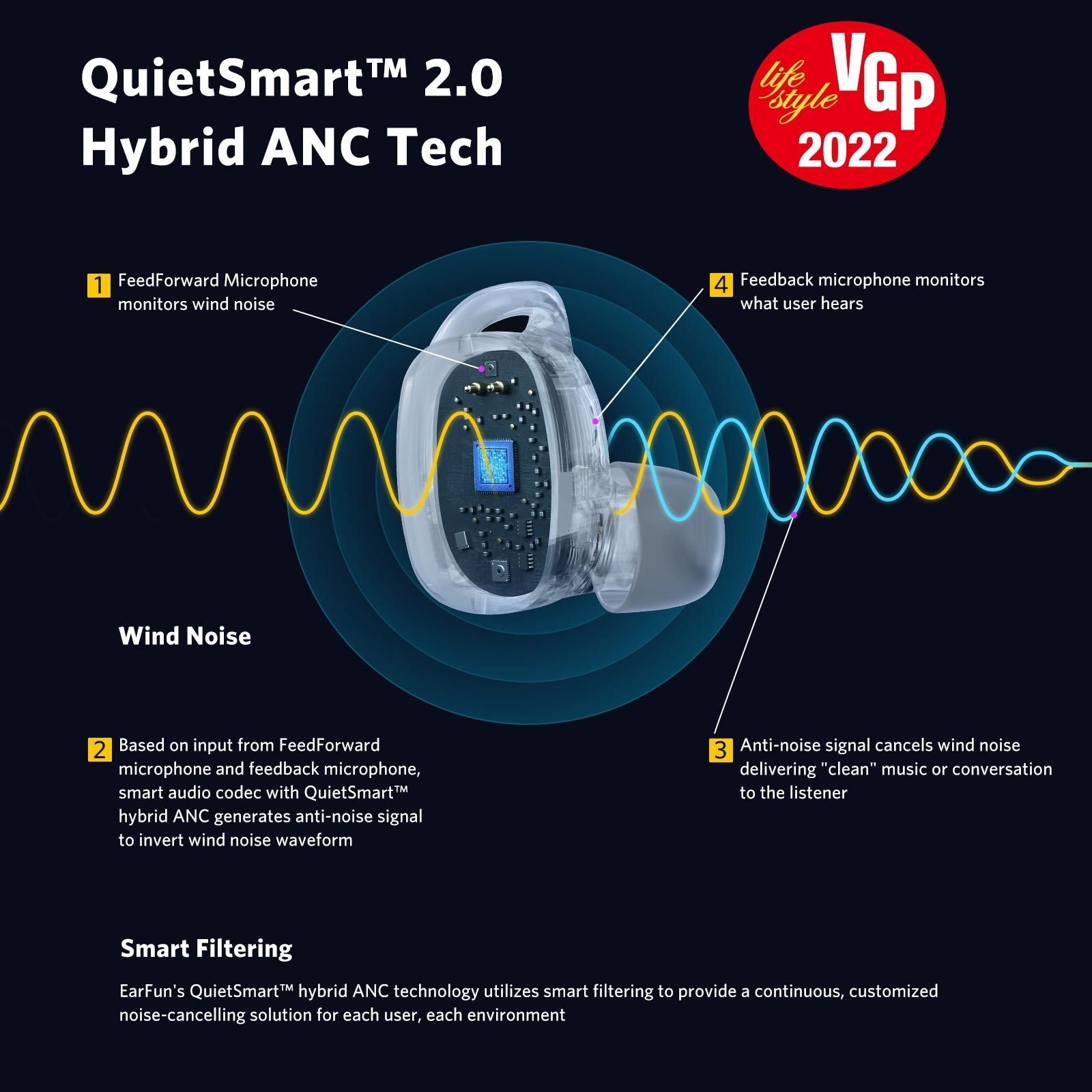 Earfun says these new buds block out up to 40dB of noise compared to the original's 24dB. I don't have a proper measurement unit yet (let me know if you would like to see that or sound graphs in these reviews!) but it's impressive. I actually prefer the noise canceling tech on these to the Jabra Elite 7 Pros for use in a home office environment. They do well for traditional engine noise and other low-frequency drones, but I'd still give the edge to Jabra there.
The mics aren't just good for noise canceling. With a hold on the left earbud, you can reverse them to hear your environment. Transparent Mode, as Earfun calls it, sounds natural and makes it easy to ear an oncoming car or a calling colleague. Call quality is also good. People were always able to hear me, even when driving in the car and dealing with the hum of road noise.
Despite their larger size and improved tech, the battery life has experienced a slight downgrade. The batteries in each bud are now 35mAh (down from 50mAh). The case, however, has bumped to 420mAh from 400mAh. In real-world terms, that means they'll run for about an hour less than the originals with ANC enabled, topping out at 5 hours with ANC on (6 without ANC). If you do happen to run them dry, they support fast charging and 10 minutes in the case will restore 1-2 hours of battery life. On the plus side, the buds can be independently used, so if you like to keep one bud in at a time for podcasts, you can essentially listen to them indefinitely. With the charging case, you can count on about 30 hours of total listening time.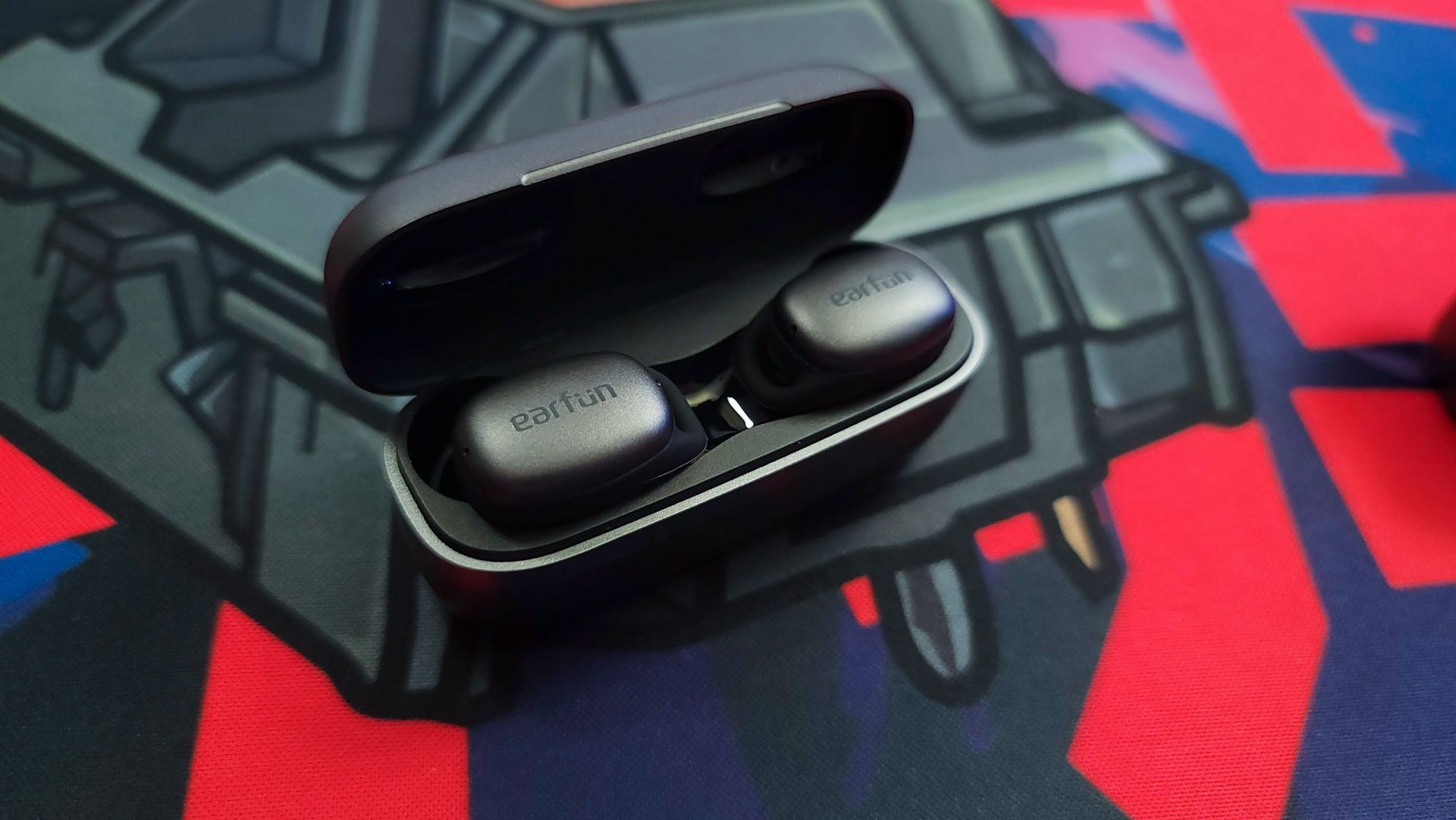 After testing the Air Pro 2s, I was relieved to see Earfun bring Gaming Mode back to these buds. Gaming Mode drops the latency to around 80ms. I tested them with Battlefield 2042 on my PC and was able to play without feeling that odd, out-of-sync sensation most wireless earbuds provide. There is still a slight delay compared to wired headphones, but it's playable and that's what matters. Enabling this mode does drop their range, however. I wasn't able to walk more than a few feet away from the buds before the signal started cutting in and out, so this is clearly a mode to use when you're going to be sitting in one place.
There are no physical buttons on the earbuds or an app for remote control, so all of its functions are handled through capacitive touch. Earfun packs quite a bit in here, so it takes a bit to memorize what each does. Single tapping either bud turns the volume up or down, while double-tapping handles play and pause. Triple tapping the right bud skips tracks, but a triple tap on the left accesses game mode. Holding the right summons your virtual assistant and holding the left cycles your current sound mode.
It's a bit confusing, but not terrible to wrap your head around. I wish there were a way to customize the functions. Only being able to skip tracks forward is a pain when listening to a shuffled playlist and have play/pause doubled on both sides feels redundant when there's a missing control like that. Hopefully, Earfun will develop its own app that will allow us to interface with the buds more in the future.
There are quirks, but taken as a whole, it's hard not to be impressed with what Earfun is delivering here. The buds sound great, have surprisingly good ANC, and still manage to pack in plenty of controls between the two buds. They're also quite comfortable, which brings me to our next section.
Earfun Free Pro 2 – Comfort and Fit
To accommodate the additional sound processing tech, the Earfun Free Pro 2s are ever so slightly larger than the original Free Pros. This surfaces in the thickness of the buds which causes them to stick just a touch further outside the ear, but doesn't have a negative impact on their overall comfort. I was able to keep at least one bud in my ear for upwards of three hours at a time without any soreness. I consider that a win because even my Sony WF-1000XM4s eventually cause a little irritation in this time span, so Earfun is doing well with their design here.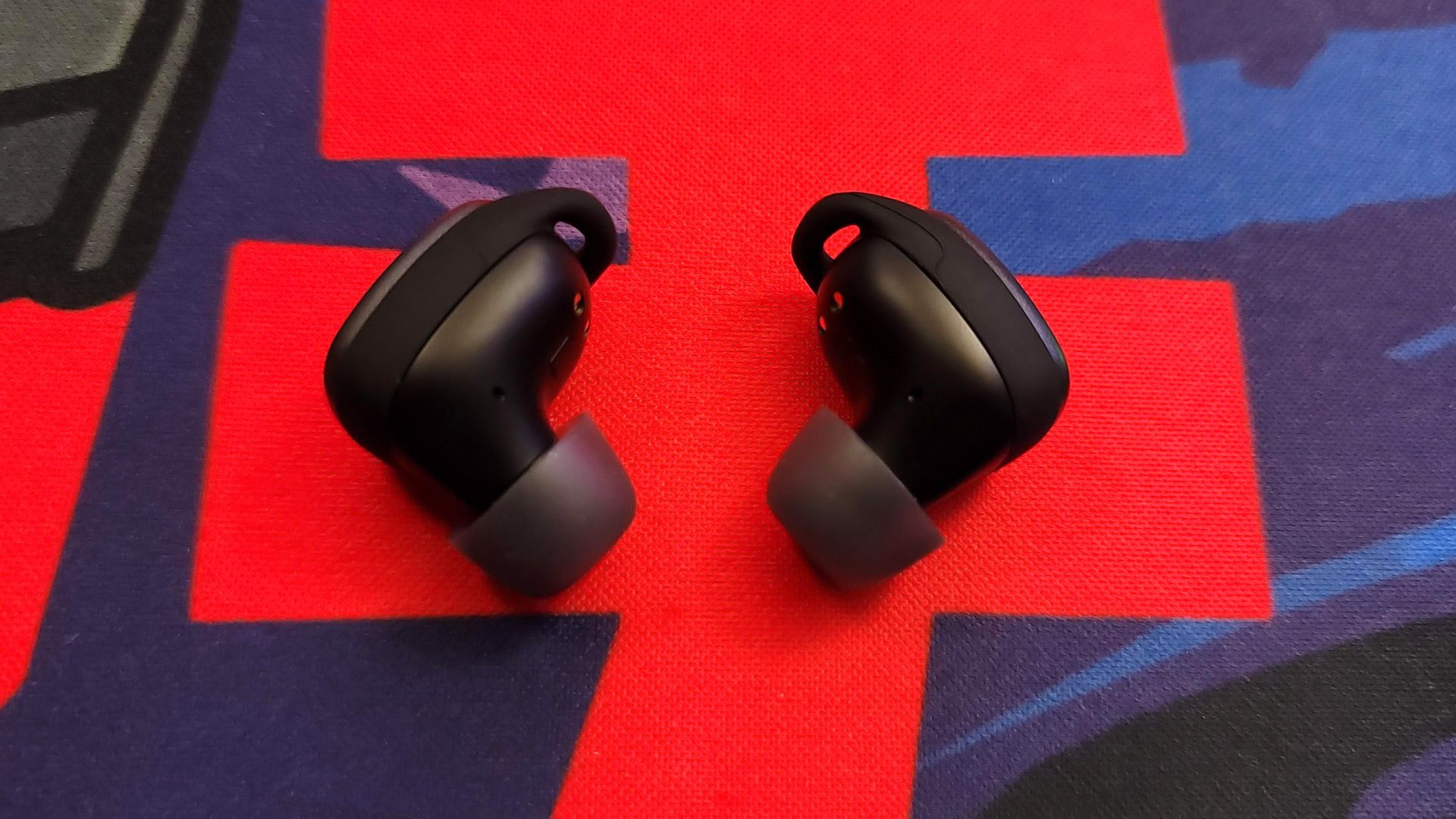 The buds also felt very secure in my ear thanks to the provided retention wings. As always, it's important to begin with the appropriate tips for your ears as it impacts both fit and sound. My left ear still felt unsecure because of the buds' added thickness, so I had to switch to the larger-sized wings. Once I had this dialed in, they were very solid and stayed in place well, even when roughhousing with my kids.
Earfun Free Pro 2 – Listening and Gaming Impressions
The Earfun Free Pro 2s are bass monsters — said in a loving way. The buds really leverage the dynamic drivers to deliver a full-bodied sound with plenty of thump. If the ear hooks didn't give it way, these buds are made with working out in mind and have an energetic sound to match. When you're looking for something to drive you on with plenty of punch, these buds deliver.
The immediate comparison these brought to my mind were the Jabra Elite 75ts. Those buds' out-of-the-box sound was very bass heavy too, but lacked the definition the Free Pro 2s deliver. They could be reigned in by applying a custom EQ, but simply put, these $80 buds have more definition to that bass. I didn't feel the need to turn it down on my phone's system-wide EQ. Quantity is the same, but the Earfun's quality is easily better.
At the same time, I didn't find that the bass overwhelmed the midrange. There is still plenty of clarity and detail in the upper-mids and highs. Guitars, synths, and vocals all come through clearly and have enough detail to sound vivid and alive. They definitely have presence. It's a fun tuning I think mainstream listeners will enjoy, especially because you don't have to break the bank to get it.
Still, there is some bass bleed. It doesn't overwhelm the midrange but you can hear how lower voices and instruments recess a bit underneath it. It's not terrible, but this is a case where you're losing something, even if it's not the worst I've heard.
I'm also disappointed that Earfun still hasn't added support for high-res codecs like aptX. On a "Pro" headphone that emphasizes sound quality, I would have expected to see it added at this point. This is one of those things that's likely a result of the more affordable price — and will most users even notice the difference between normal listening and aptX? I would suspect not. But if you are the kind of listener who wants to load up Tidal or Amazon HD, you should know that these buds are really more about mainstream music lovers than audiophiles.
For gaming, the buds are better than most. Gaming Mode really opens the door to connecting these to your laptop and getting in some quick gaming between classes. High intensity shooters reveal the touch of wireless lag that remains but it's a big improvement over buds that lack this feature, and Earfun deserves kudos for a solid implementation here.
The tuning is also a great fit for gaming and movies too. The added bass is perfect for action games where there are plenty of gunshots and explosions. It's also great for cinematic scores, so movie watching is fun with these buds.
Soundstage is only average, however. Definitely enable Dolby Atmos or Windows Sonic for a better sense of atmosphere.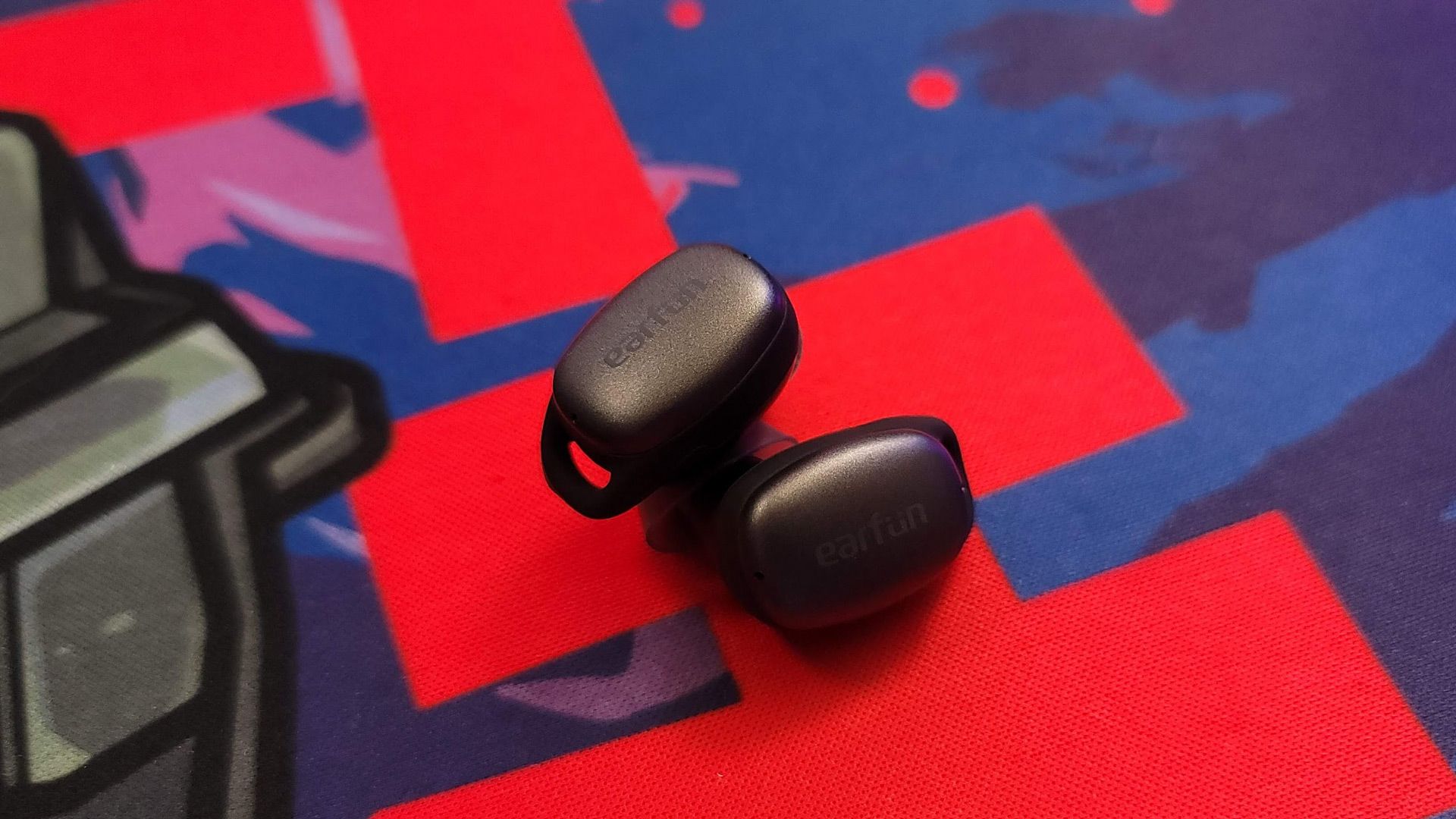 Final Thoughts
Though I've drawn out some areas Earfun could still improve these buds, the Free Pro 2s really have impressed me. If you're a fan of bass like I am, these are a fun listen for rock, metal, hip-hop, gaming, and sitting back for a Netflix binge. I'd love aptX support, but the buds still sound good without it and I don't see most users missing its absence. And the ANC — that's the most impressive part. You truly do not have to spend the $200-300 the big brands tell you for great ANC. Those days are done and the Earfun Free Pro 2s prove it. For $79.99 (or less if it's on sale) these are a very solid choice.
The product described in this article was provided by the manufacturer for evaluation purposes.