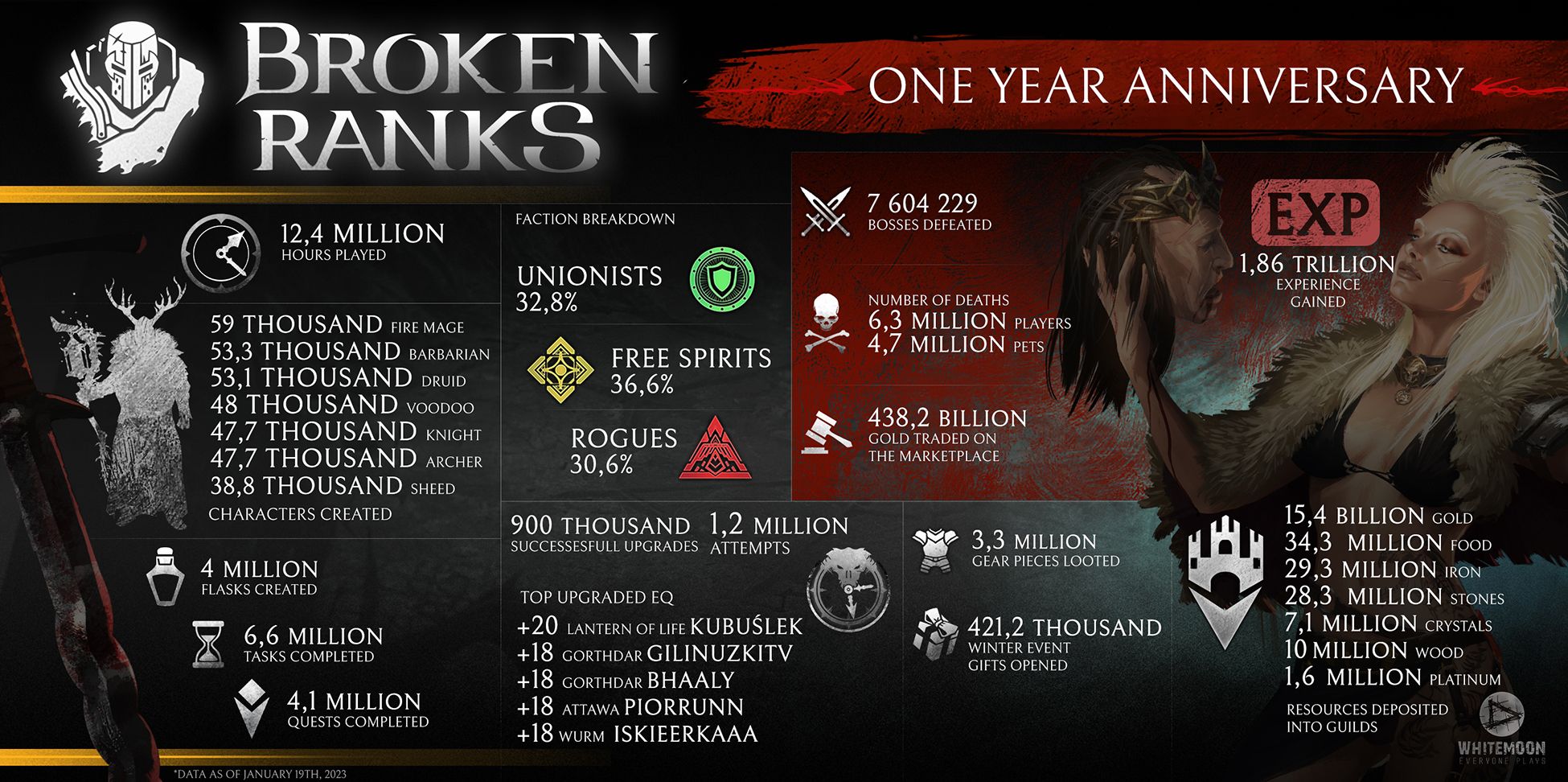 Read Time:
4 Minute, 48 Second
Each week, we scour the internet for all things indie MMO-related, so you don't have to. This week, while several of Microsoft's major game studios suffered layoffs, our indie devs plug away on shoestring budgets, with multiple games celebrating birthdays this week. We also continue to get updated roadmaps and news about upcoming test sessions. We are also looking for new indie projects to add to the Indie MMO Spotlight, so if you have a new game that you'd like to see covered, please let us know in the comments below.
I am starting to believe the devs have run out of ideas for the BitCraft weekly Twitter vignette. This week the vignette is titled Exploration. Uh, duh. My attention is waning. It's time to show us something big.
A portal into the unknown. pic.twitter.com/gCthM5R4t6

— BitCraft (@BitCraftOnline) January 17, 2023
Broken Ranks will be celebrating its one-year anniversary on January 25th. A new blog post this week kicked off with an infographic highlighting some of the milestones from 2022, followed by a more in-depth look at the work done over the last year. The post finished off with a list of anniversary activities players can look forward to in the coming days: 7 days of premium status for anyone who has logged in during the last 30 days, an art contest, and much more.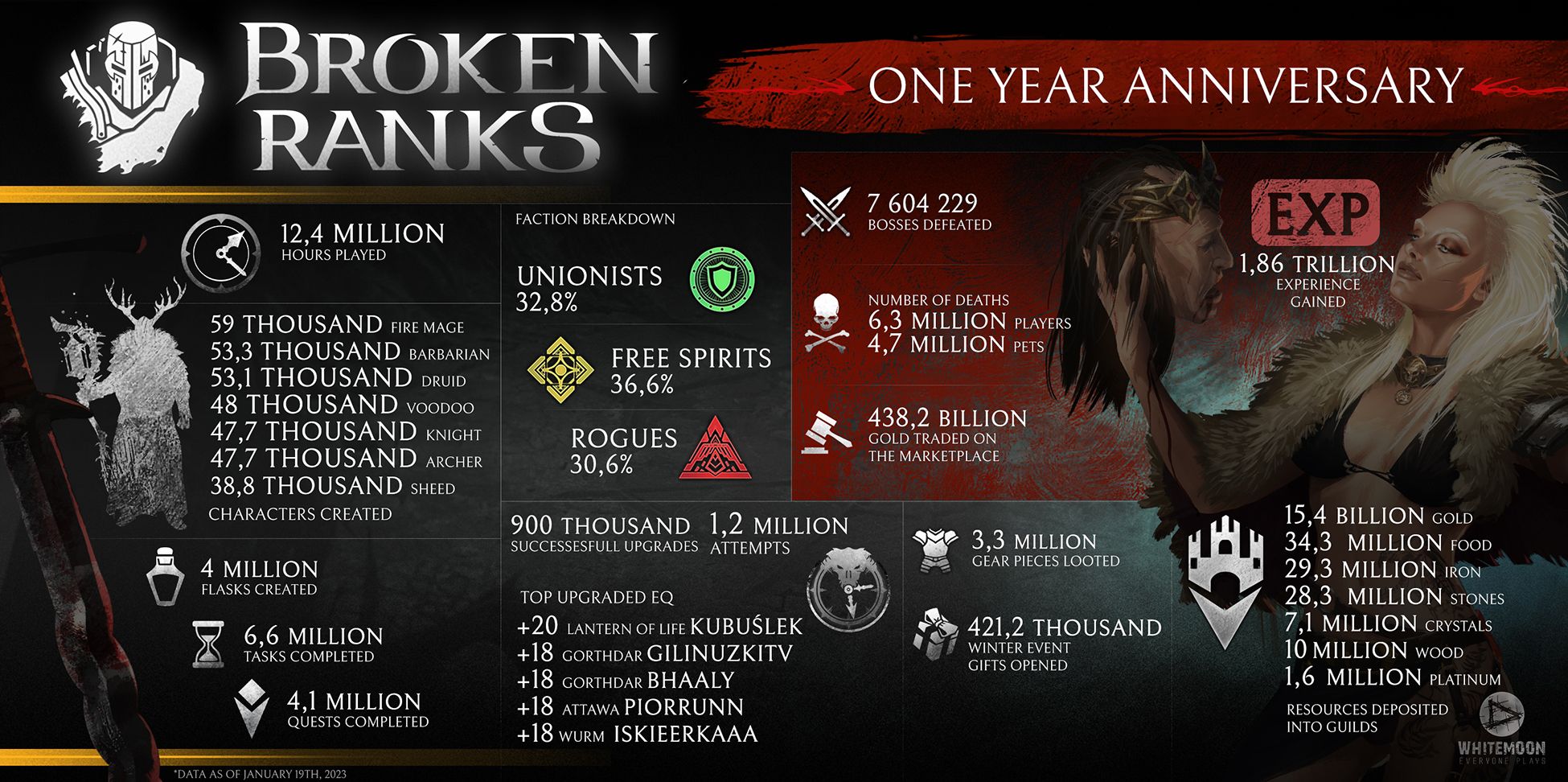 The Cycle: Frontier will be celebrating the Lunar New Year with a week-long event. Instead of the typical log-in rewards many MMOs use, Yager is making prospectors work for their goodies. Each day during the event, a player will receive a bonus on their first successful evac.
The first patch of the year, patch 2.7.0, was released this week. There weren't any major changes, but the patch has some minor tweaks to healing items and fall damage, along with the usual bug fixes.
Dragon and Home is kicking off the Year of the Rabbit with a celebration at Mountville Town at Breeze Plain. Players will be able to earn tickets in mini-games and daily quests, which can be turned in for some cool rewards.
A lot happened in the DU universe this week. First up, NQ-Deckard posted to the DU forums to share a laundry list of updates coming to the space MMO in the coming months. That was followed up on Friday by a Stroll Across Helios livestream on Twitch and Ask Aphelia S2E1 part 2 on YouTube. Finally, Dual Universe will be participating in the Steam Base Builder Fest that runs from January 23rd to January 30th. During the festival, DU will be 20% off for first-time purchasers.
The first-ever PBBG Podcast livestream aired on Tuesday. FoohonPie and Zaalah packed in a lot of Elethor talk and a Q&A session during the hour-long podcast.
Get ready for a free weekend of Embers Adrift. You can try out the old-school inspired MMORPG without purchasing a sub from January 27-29th.
Get a behind the scenes look at Ethyrial: Echoes of Yore with this week's developer livestream. During the stream, Discord user Thunder's boss concept was brought to life. If you missed it, you can watch an edited version of the stream on YouTube.
Friday's update added three new micro dungeons and a new quest to Genfanad. The update also had some minor changes and bug fixes.
In Weekly Update 348, the new Glory System rework gets its debut. Also, players will now earn additional Contribution Points for donating their Nation Points to a guild, there are new rewards for Sieges and VoD tournaments, and much more.
A new update to Haven & Hearth add bundles and pockets for your inventory convenience.
Akshay Kolte, Executive Producer for Into the Echo, posted a new blog entry outlining what to expect from ETLOK Studios in 2023. According to the post, pre-alpha tests should resume this year. The team will also be releasing a new interactive lore site full of information on Raava and its history.
A new GM Note post covers changes in the amplifications stones since CBT and the new Orb system.
Meet the Flamespitter in a new Nightingale YouTube Short. There's also a new Puck's Post with a riddle about an important location in Nightingale's history.
OrbusVR celebrated its 5-year anniversary this week, making it the longest-running VRMMORPG. Along with some other bonuses, the Anniversary questline will return on January 23rd with some new quests and rewards.
The Profane Roadmap was updated this week, and there are more green bars than ever before. A new tester application was also posted this week. Fill it out for your chance to join in on the tests planned for this year.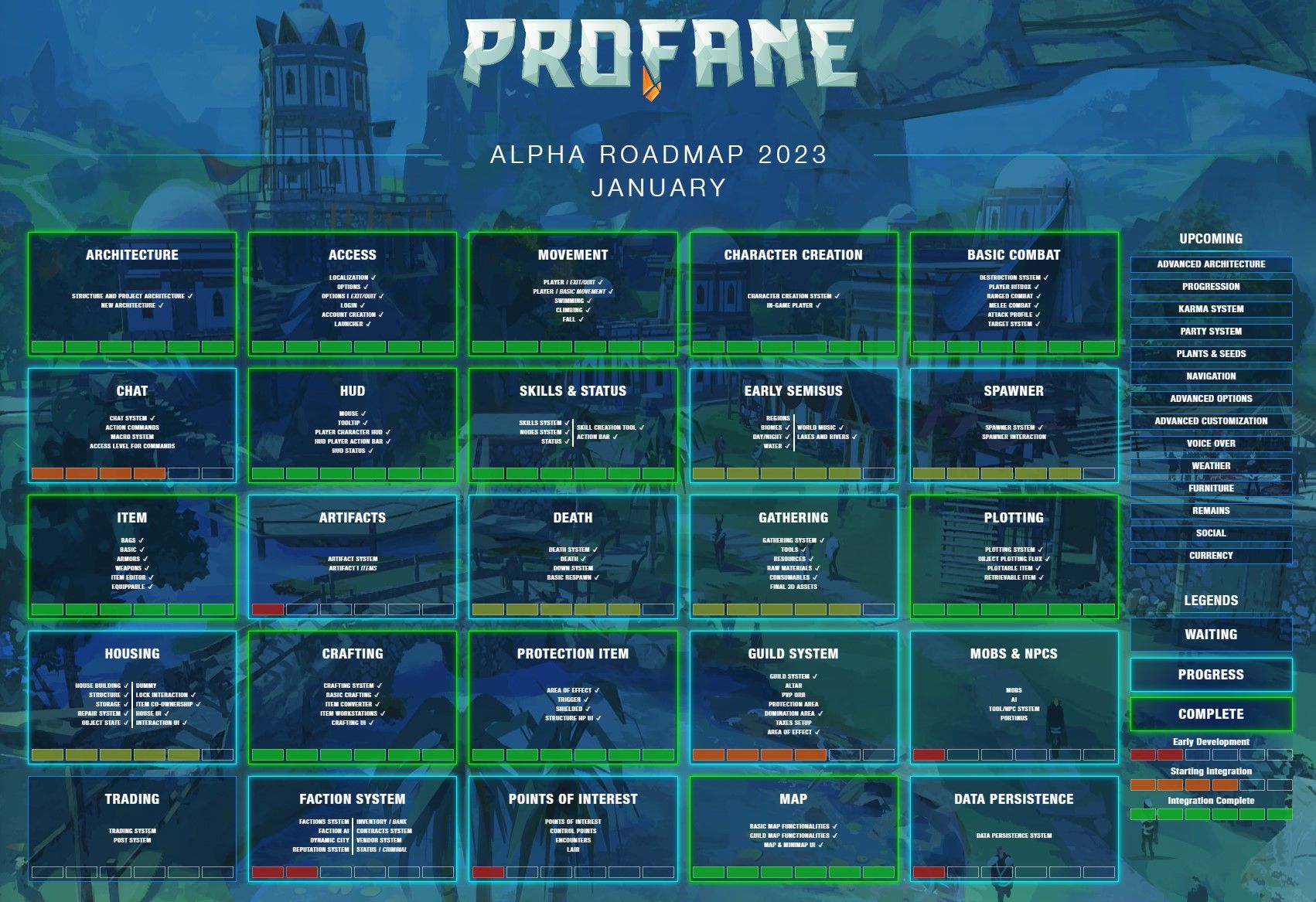 In Development Log #369, Michi gives a sneak peek at the UI refresh (subject to change), and Nick reveals the team is working on a new game trailer.
RotMG has been updated with patch 3.3.2.0. The update adds the "Turbine Trouble Campaign" and the "Full Steam Ahead event."
The debut episode of the new Ask Beast Burst video series was posted this week. As the name implies, the video series will take on a Q&A format.
Ship of Heroes developer HGC finally posted its 2022 in Review blog.
Get your weekly dose of Tatsumeeko news in this week's blog post.