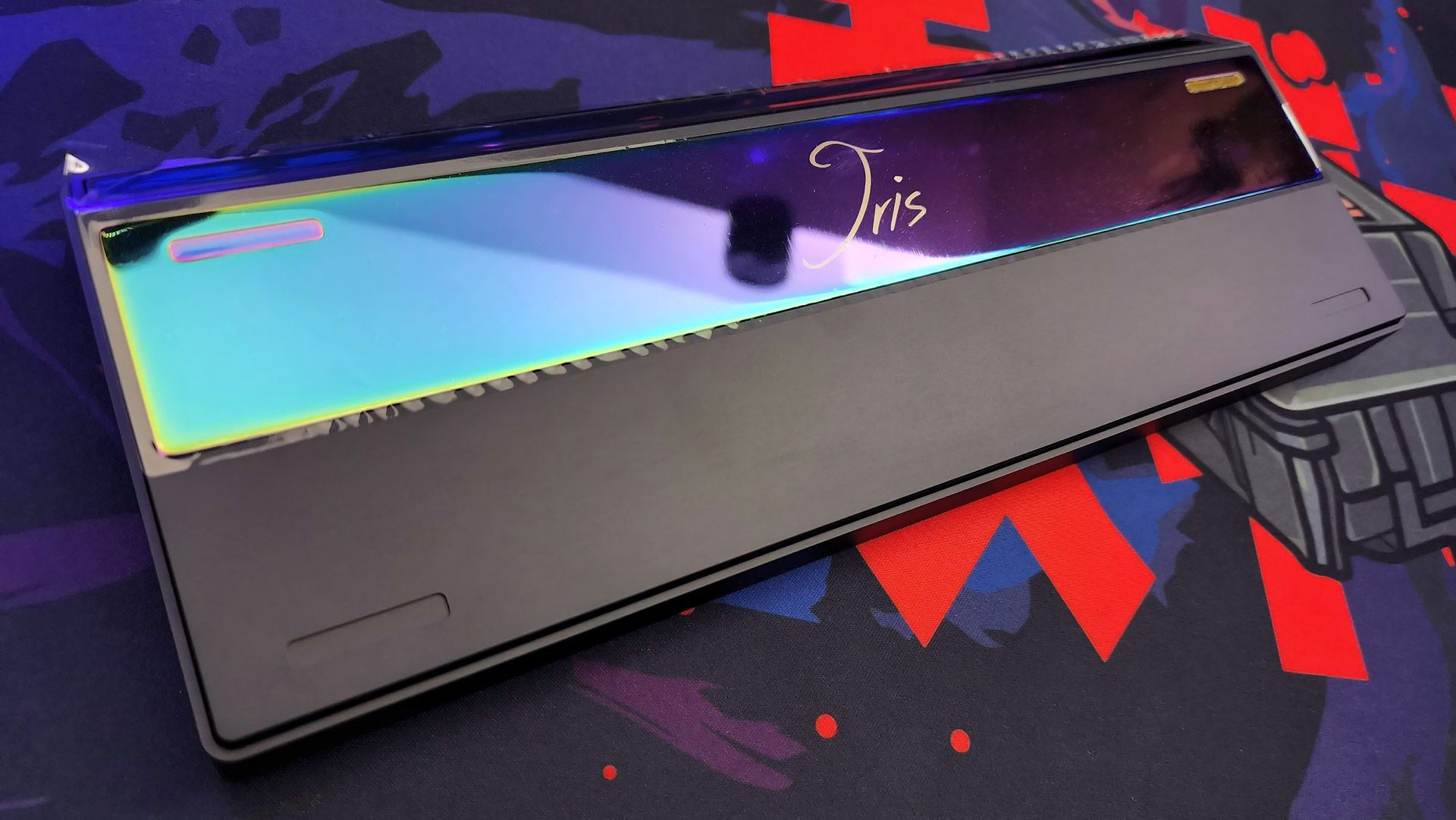 Read Time:
10 Minute, 50 Second
The budget custom keyboard world is hotter than ever, and today we're looking at one of the most unexpected and exciting releases so far this year: the JRIS65 from IRISLab. Starting at $150, this keyboard is shaping up to be a sleeper hit. Competing directly with the likes of the QwertyKeys QK65 and the Keychron Q2, it has an entry-level price and enthusiast-grade features, including a sleek design, mirrored PVD weights, a full foam loadout to tune your own sound, VIA compatibility, and more. The JRIS65 is shockingly good for the money.
We would like to thank MyKeyClub for sending this prototype unit for review,
Specifications
Typing angle: 6°

Front height:19.3mm

Gasket mount structure

PCB with USB-C daughterboard

PCB and plate flex cuts

PCB gasket jackets or socks

QMK/VIA Supported (excluding BT PCB)

PCB stabilizers support (not included)

Available Case Colors: E-White, Yellow, Black, Milky-White, E-White + Black, Maroon + Black, Navy + Black, Titanium Grey+Black, Yellow + Black, Pink

Weight Options:

Anodized Aluminum Weight: Black, Silver, and Gold

PVD Mirror Stainless steel Weight: Gold, Silver, Black, and Chroma

PCB Options: 1.2mm Black core Hotswap PCB, 1.2mm Black core Solder PCB, 1.2mm 5.2 Bluetooth hotswap PCB (battery included)

Plate Options: PC, POM, FR4, Aluminum, Brass (Add-on Only), Black Core FR4

What's Included:

Full CNC Aluminum Case

Weight( Anodized Alu/ PVD Mirror)

PCB (Hotswap/ Soldered/ Bluetooth)

Plate (PC/ FR4/ Alu/POM)

Type-C Daughterboard

IXPE Foam

Poron Plate Foam

Poron Case Foam

Masking paper for PCB

JST Cable

10 * gasket jackets

20 * gasket socks

1 Set of PCB Shims

1 Set of Footpad

1 Set of screws

Battery (Only for the Bluetooth version?

USB-Type C keyboard cable

Carrying Case
IRISLab JRIS65 – What Is It?
The IRISLAB JRIS65 (formerly the IRIS65) is the latest in a growing catalog of affordable custom keyboards that aim to open the hobby up to a wider audience. It joins the likes of the CannonKeys Bakeneko65, Meletrix Zoom65, and QwertyKeys QK65, offering a full aluminum case and a suite of enthusiast features to allow you to tailor the typing experience exactly to your taste.
Priced at only $150 to start and topping out at $240, it offers a surprising amount for the money. The case is designed to be at once minimalist and eye-catching. There are no visible screws, and when viewed from the top or side, it appears fairly simple (though has some nice angle-work to create a more interesting side profile than the competition).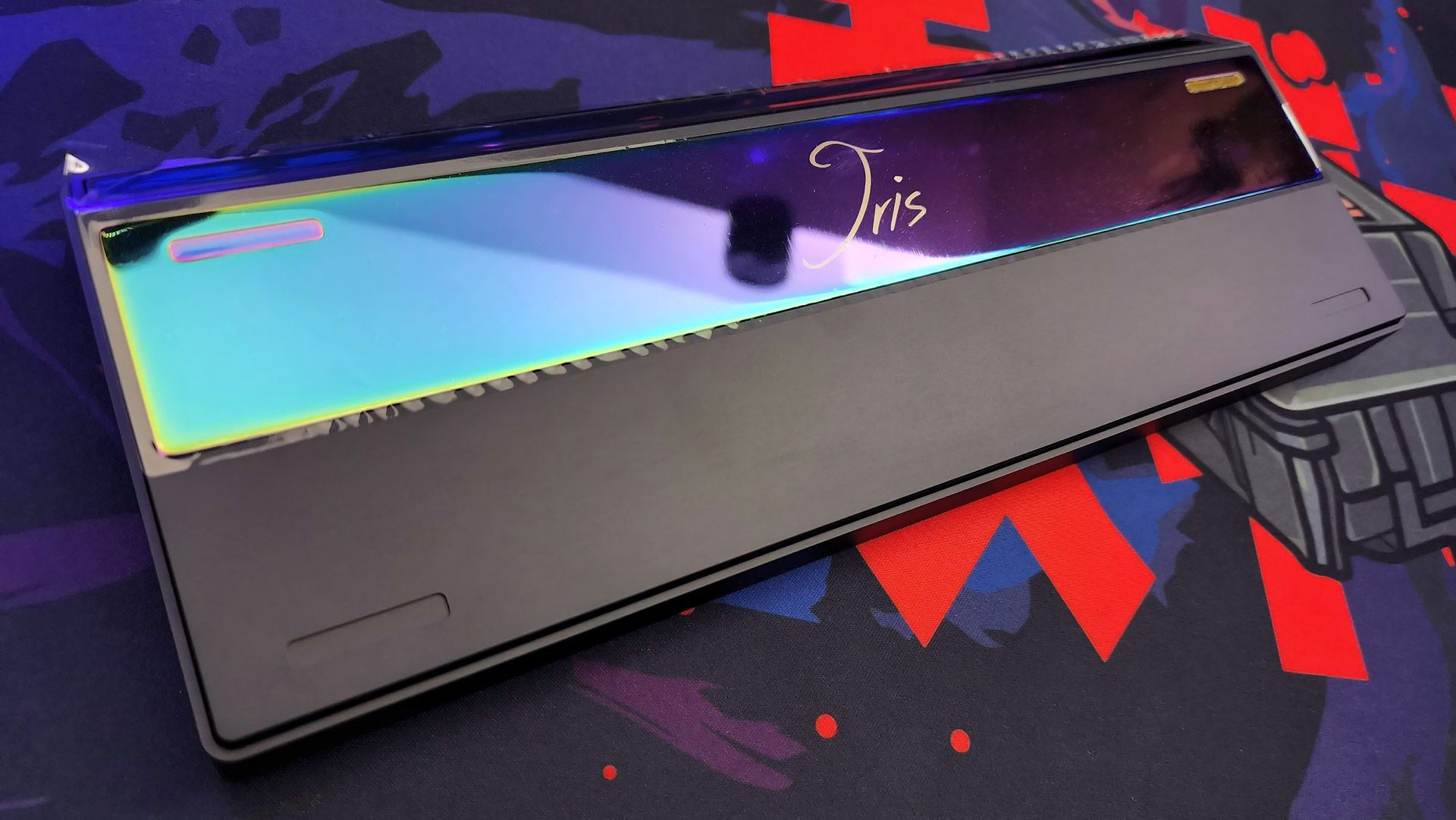 Flip it over or view it from the back and you'll find a pair of weights that really make things interesting. One is placed on the bottom of the board, but the second installs along the back edge. Business in the front, party in the back, indeed! When you order the keyboard, you're given a choice for how you would like these weights to look (as well as the color of the case). The simplest and most affordable are anodized aluminum in silver or gold. For another $40, you can upgrade to PVD-coated, mirror finished stainless steel. You can pick up this version for under $200, which is kind of amazing.
The model I was sent is the black variant with chroma PVD weights. There are many other color options available which you can view in the specifications above. The chroma finish means the weights are rainbow colored and finished with a mirror's shine. They look absolutely gorgeous and are worth the extra $40 if you like a bit of aesthetic flair with your keyboard beyond the case (and who doesn't?). IRISLab even goes so far as to include custom cut TPU film protectors for the weights so you can avoid scratching them. This is a small but very welcome addition as mirrored weights tend to scratch from a stern glance.
The case also follows a screwless design, hiding its fasteners under the keycaps. This is another feature that's usually reserved for more expensive keyboards. That smooth, unbroken finish is popular among enthusiasts, though it does make assembly and disassembly slightly more complicated.
It features a compact 65% layout, which means it does away with the function row and numpad, but keeps the arrow keys and a selection of dedicated navigation and editing buttons in a column along the right side. It's a great middle ground for gaming and productivity, while also not taking up too much extra space on your desk.
The PCB is especially interesting. For starters, just look at it. It's one of the nicest looking PCBs I've ever seen. The red tracers are in keeping with a red and black theme that carries through to the back of the PCB. It's filled with flex cuts between the rows, but the typing sounds don't sound lifeless because of it (more on that later). IRISLab is making it available with hotswap, solder, and Bluetooth options, but note that the BT version will not support VIA or QMK.
The PCB is very compatible with different layout options too. The hotswap PCB supports stepped Caps Lock, split Left Shift and Backspace, and ISO enter keys. The solder version adds the option for a 7u spacebar in a Tsangan layout on top of that. There is no option for a split spacebar, at least with the current prototype, but the level of compatibility here is truly impressive for the price.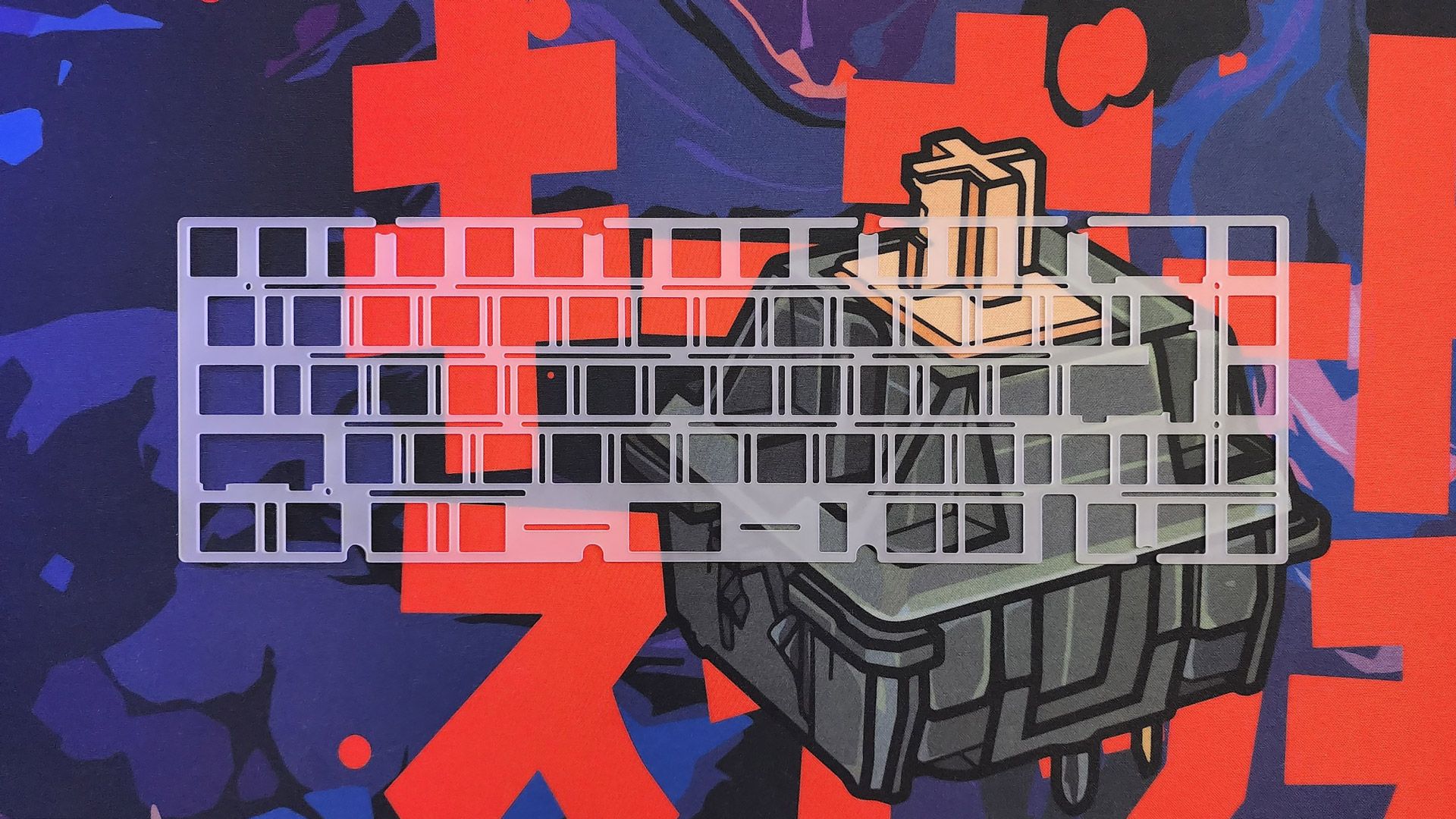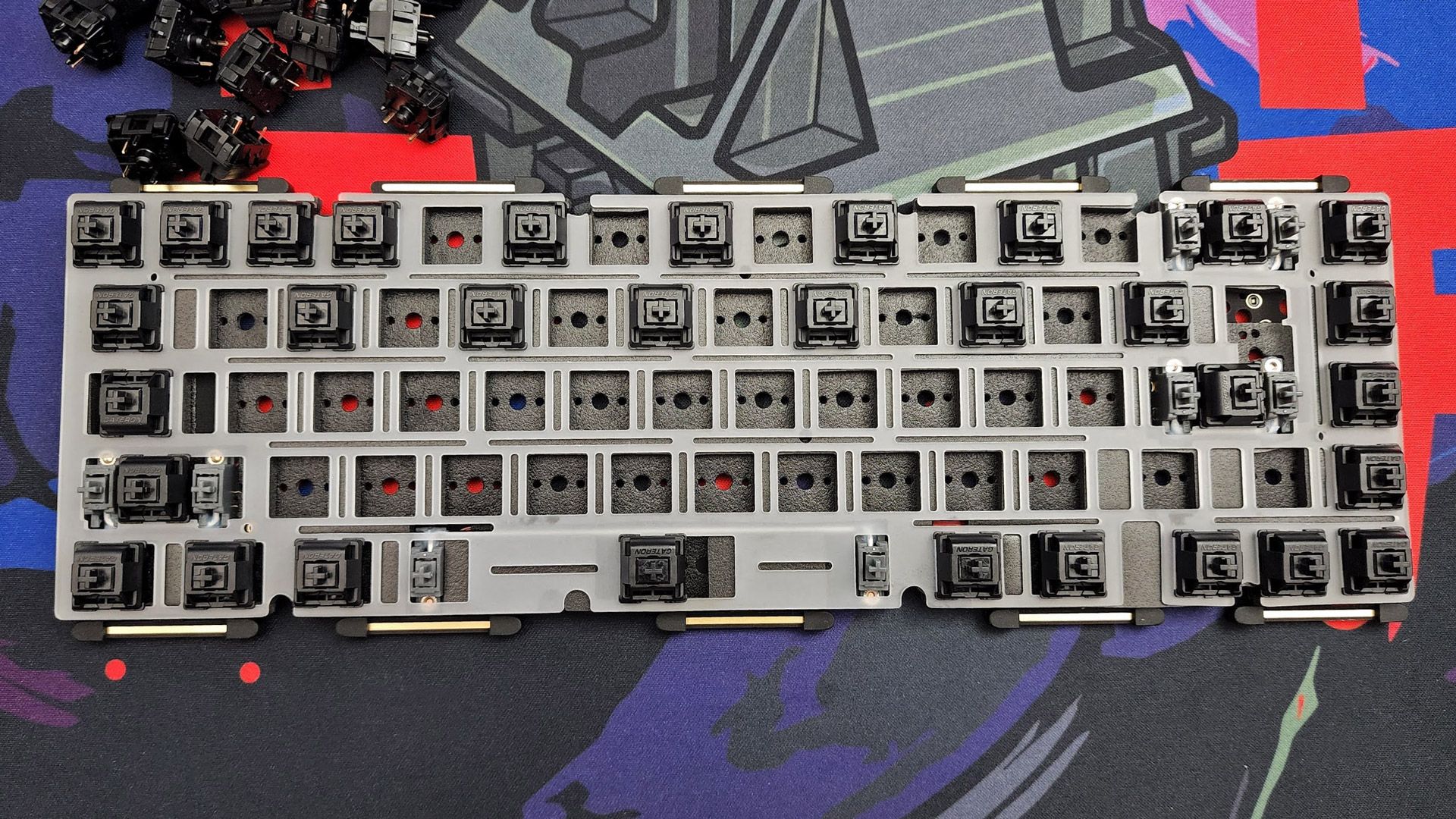 There are also plenty of options for plates too. You have default options of PC, POM, FR4, and aluminum, but can also order a brass plate at an additional cost. I was sent a PC for this review. Depending on how you choose to build the keyboard, it can be either soft and flexy to pretty firm, which brings us to the foams and gasket structure.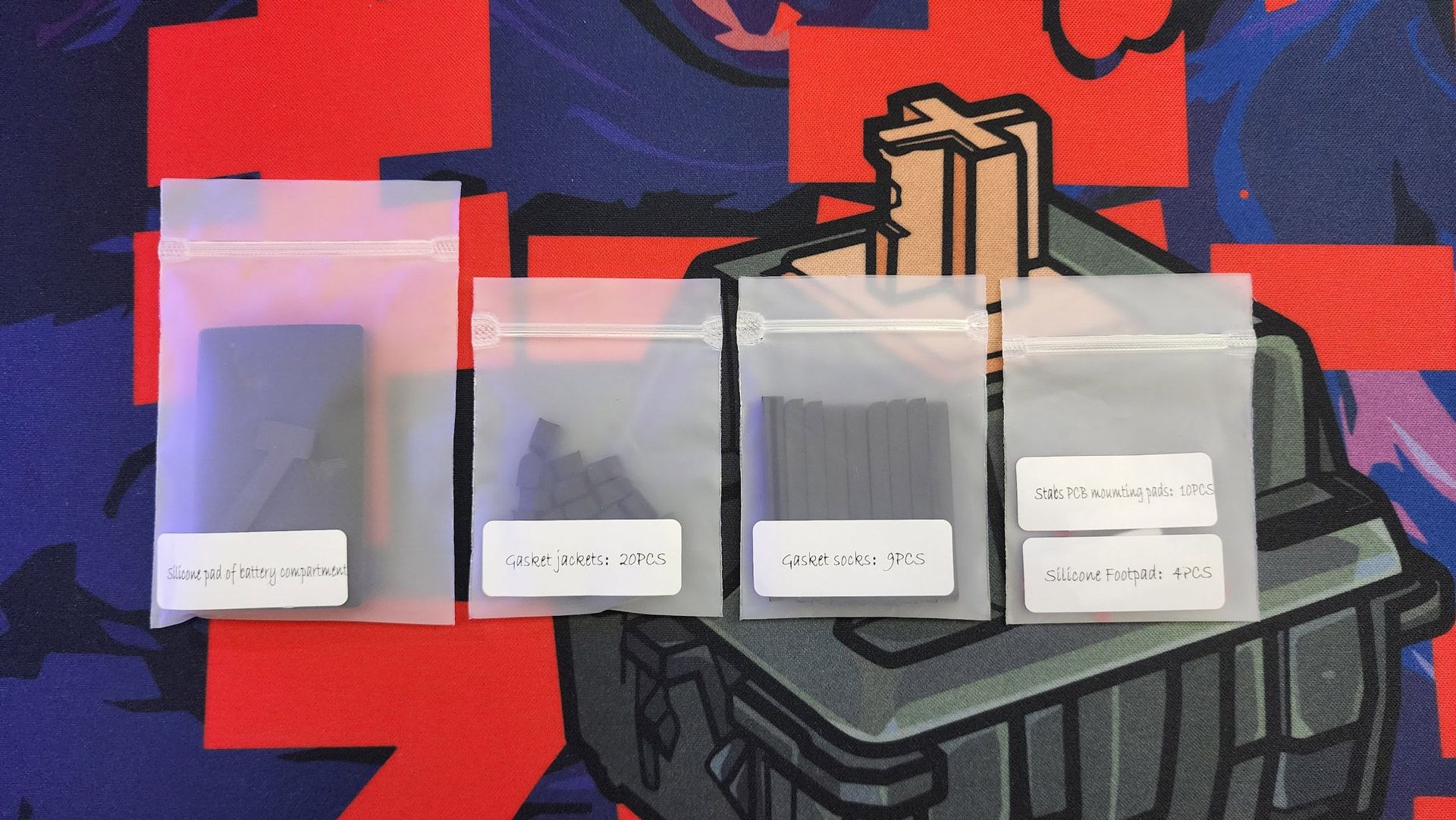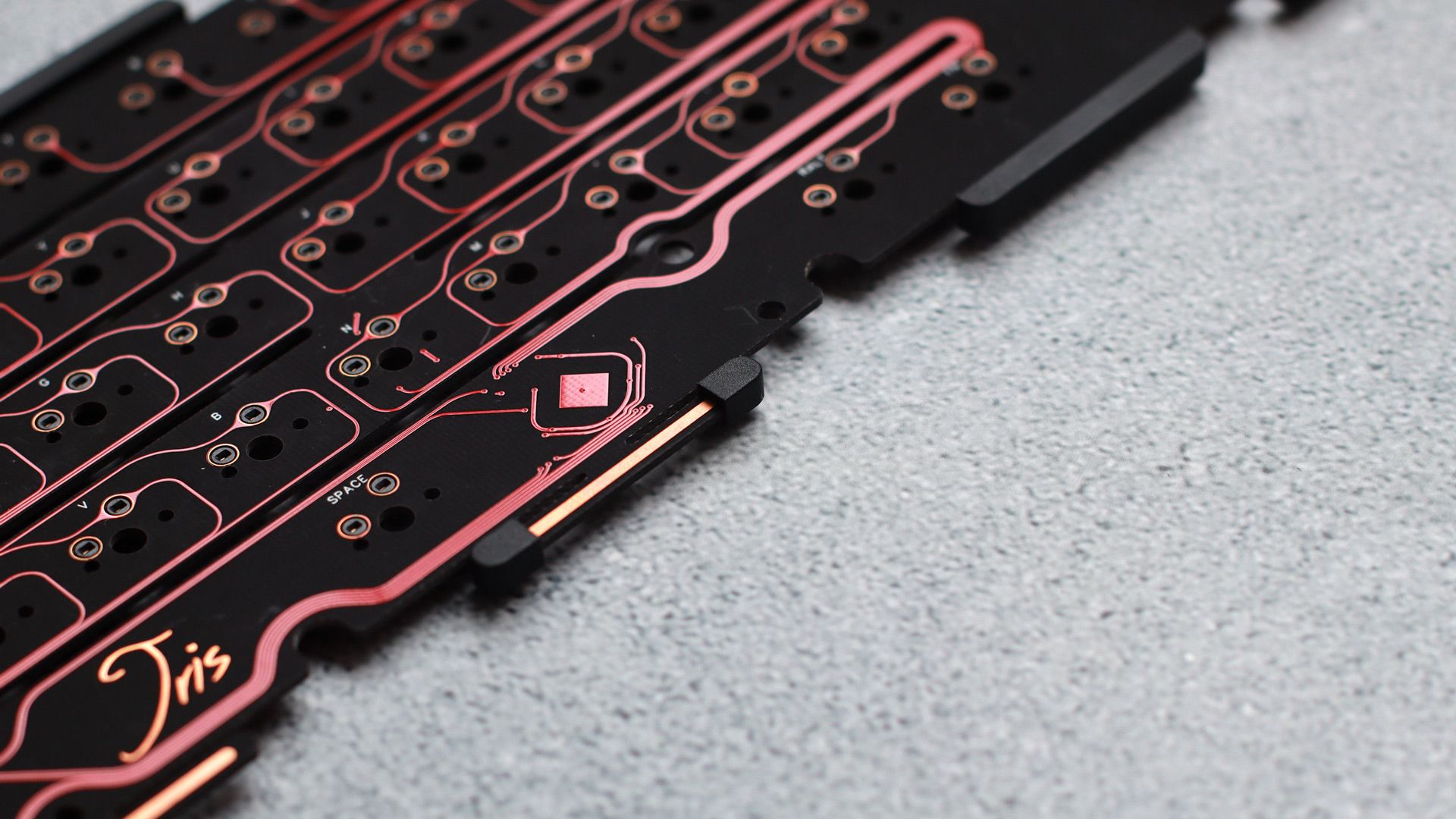 Like most other custom keyboards at the moment, the JRIS65 uses a gasket mount structure. Instead of screwing the PCB assembly directly to the case, soft silicone gaskets are attached to tabs on the PCB that are then sandwiched between both halves of the case when screwed together. This reduces vibrations, quiets the keyboard, and allows the sound of the switches to come out more (versus the reverberation inside the case). IRISLab includes a set of long gaskets that cover the whole tab (jackets) or smaller "socks" that just cover the end. These are quick and easy to slip on and are much easier than the usual PORON adhesive strips.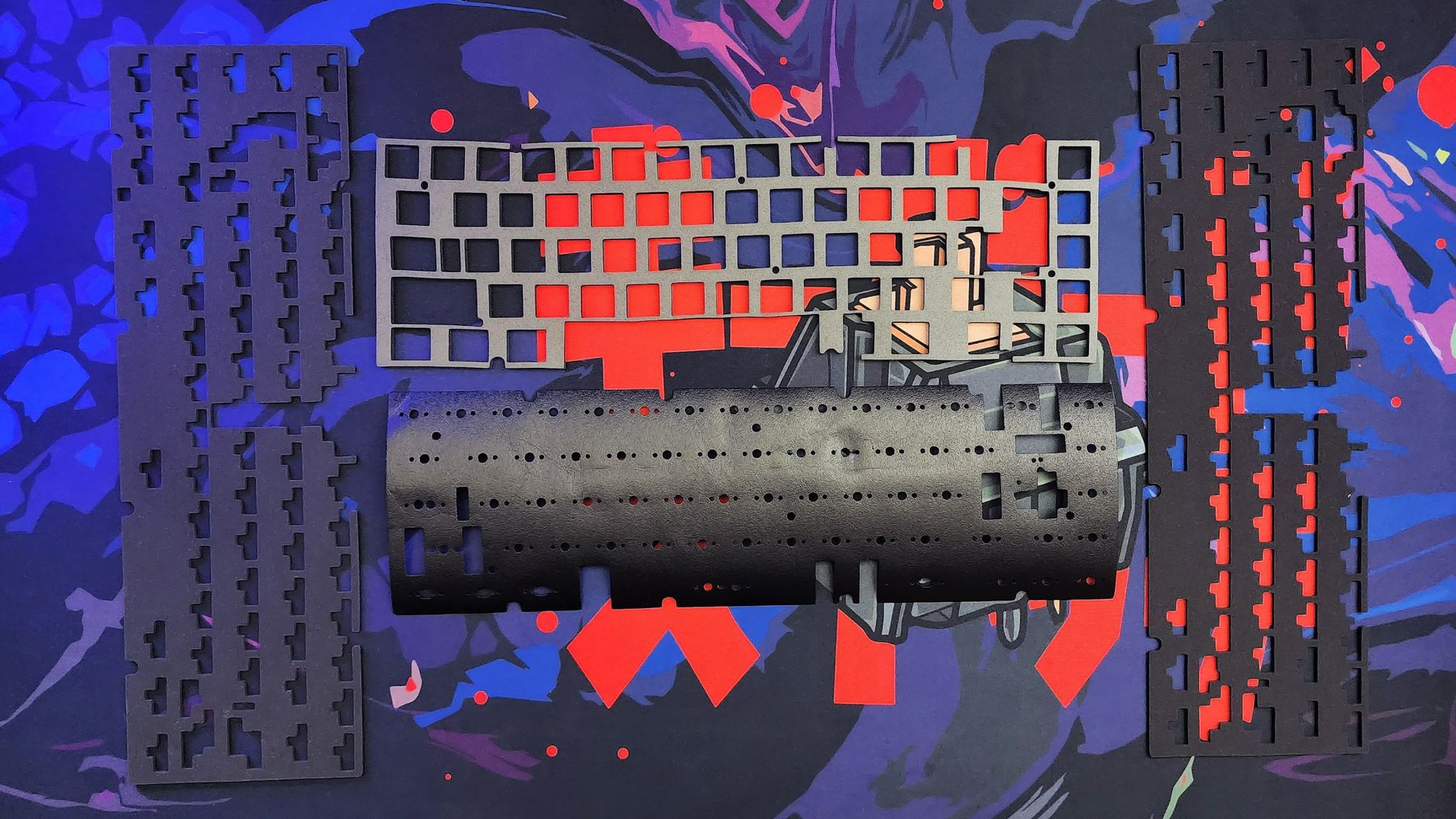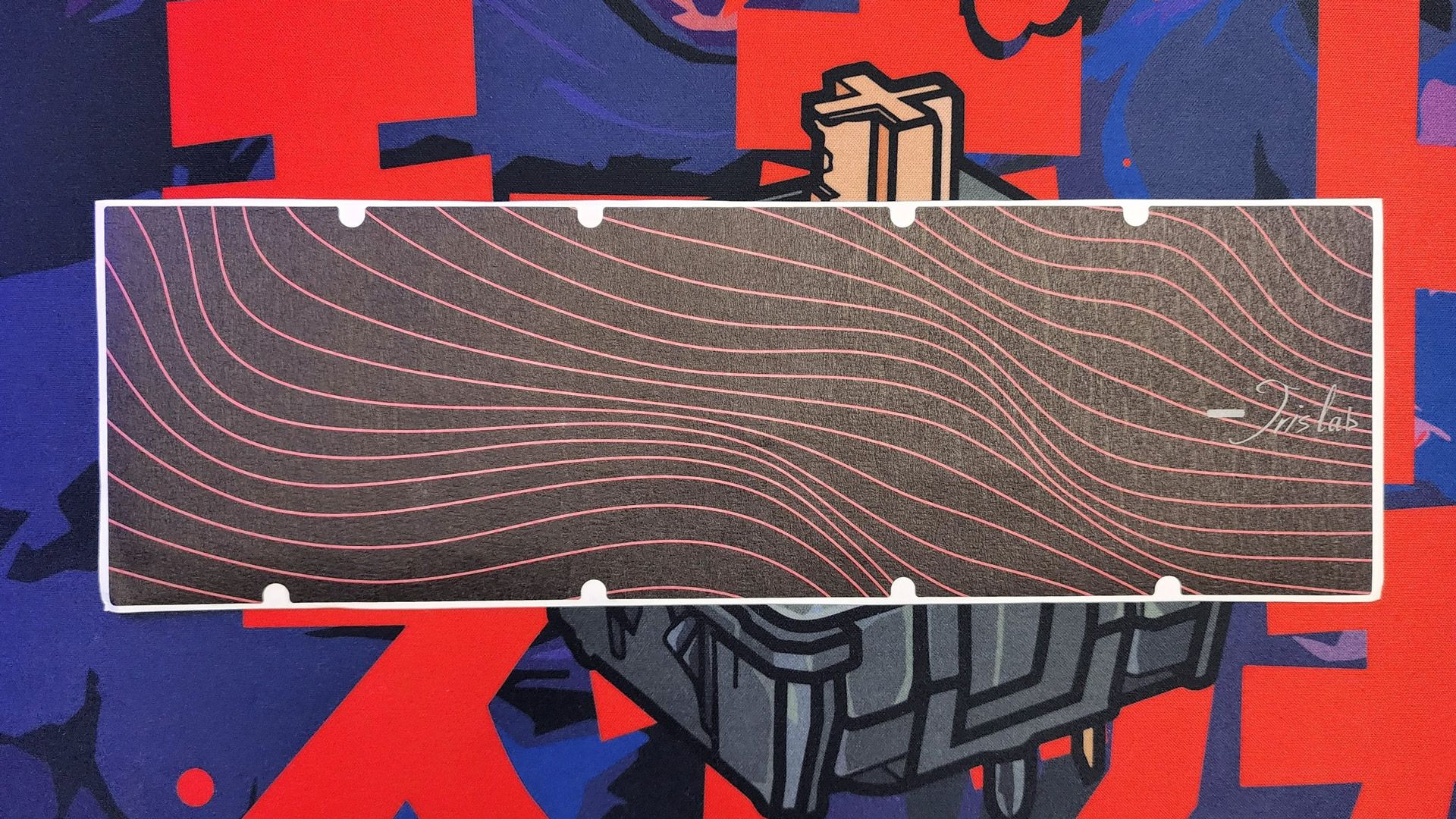 The JRIS65 also includes a full stack of foams, as well as a custom-cut tape for the back of the PCB. There are four layers in total: a sheet of PORON plate foam, IXPE switch foam, and two case foams. I'll discuss more in my performance section, but you'll want to use at least one case foam for the best experience here. The tape and IXPE foam are optional but definitely enhance the overall pop of the keyboard.
Like most custom keyboard kits, there are no switches, keycaps, or stabilizers included in this kit. I would have liked to have seen a set of stabilizers included at least (the Bakeneko, Zoom65, and QK65 all include stabs), but this isn't at all unusual for a DIY kit. It supports five-pin switches and they're south-facing for wider compatibility with Cherry profile keycaps. There is no RGB on this keyboard either, so you won't need to worry about finding translucent switches or anything of the sort. Screw-in stabilizers are supported, of course.
Finally, IRISLab includes a couple of other extras with this kit. It comes in a nice, hardback travel case, similar to those we've seen on other keyboards of this type, as well as a coiled cable.
With that background out of the way, have a listen to how it sounds and then I'll share my thoughts on assembly and the typing experience it offers.
IRISLab JRIS65 – Typing Demo
IRISLab JRIS65 – Sound, Feel, and Performance
In the sound sample above, you're hearing the keyboard outfitted with everything it comes with except a single case foam which doesn't impact sound much at all. I built the keyboard using Gateron Oil King switches lubed with Krytox 205g0 and C3 Equalz V3 stabilizers, also lubed with Krytox and holee modded using the included Soulmate strips. This configuration includes the PE foam and the included tape.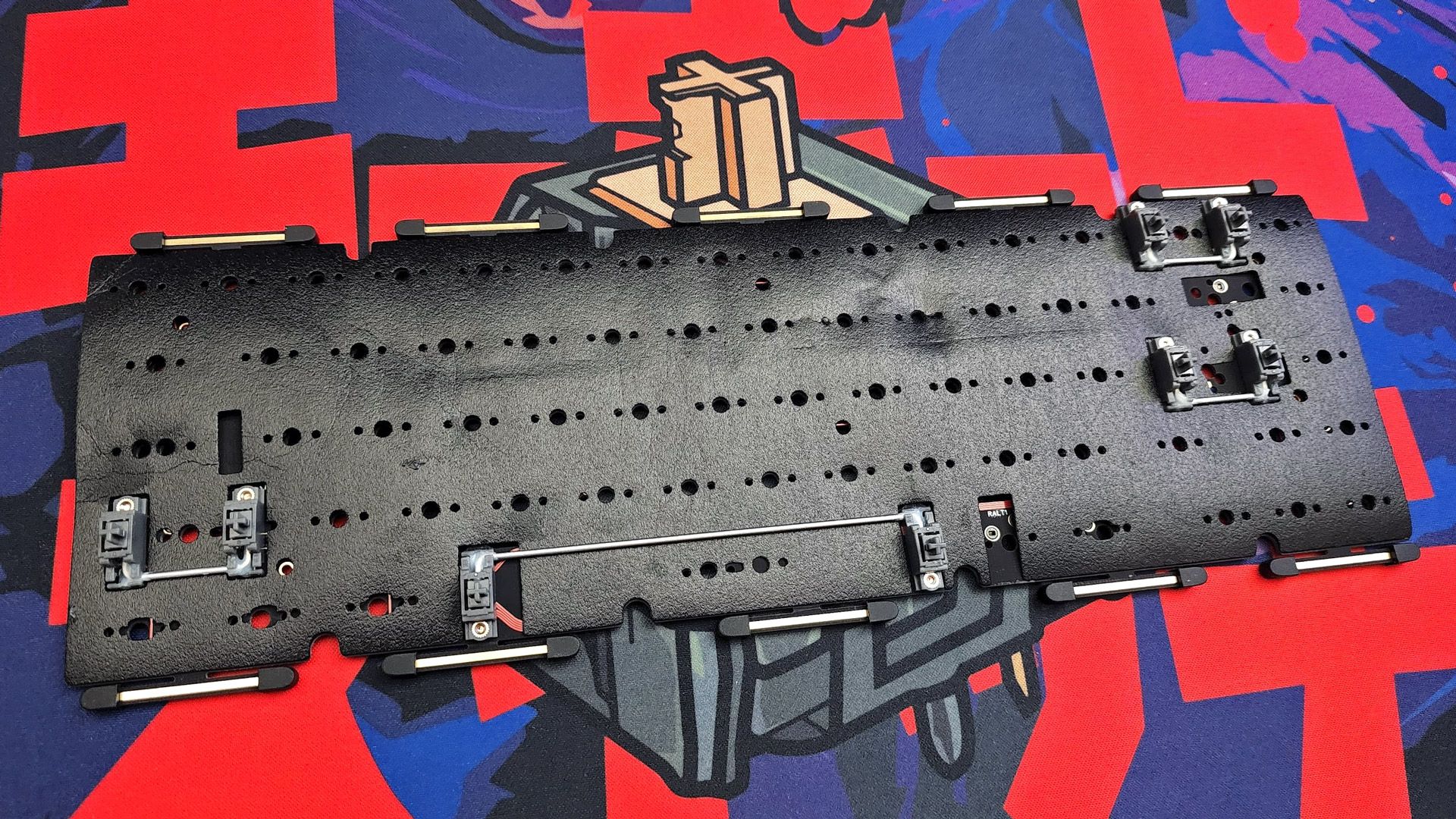 My overall impression is very, very positive. What we have here is a keyboard that comes right alongside the QK65 and provides a slightly clackier alternative with some improved features. Using the tape and PE foam, typing sounds are expectedly poppy. The rear tape is pretty thin, however, and isn't doing very much for the sound overall (I mainly kept it on for looks… that no one will see… but makes me happy knowing it's there).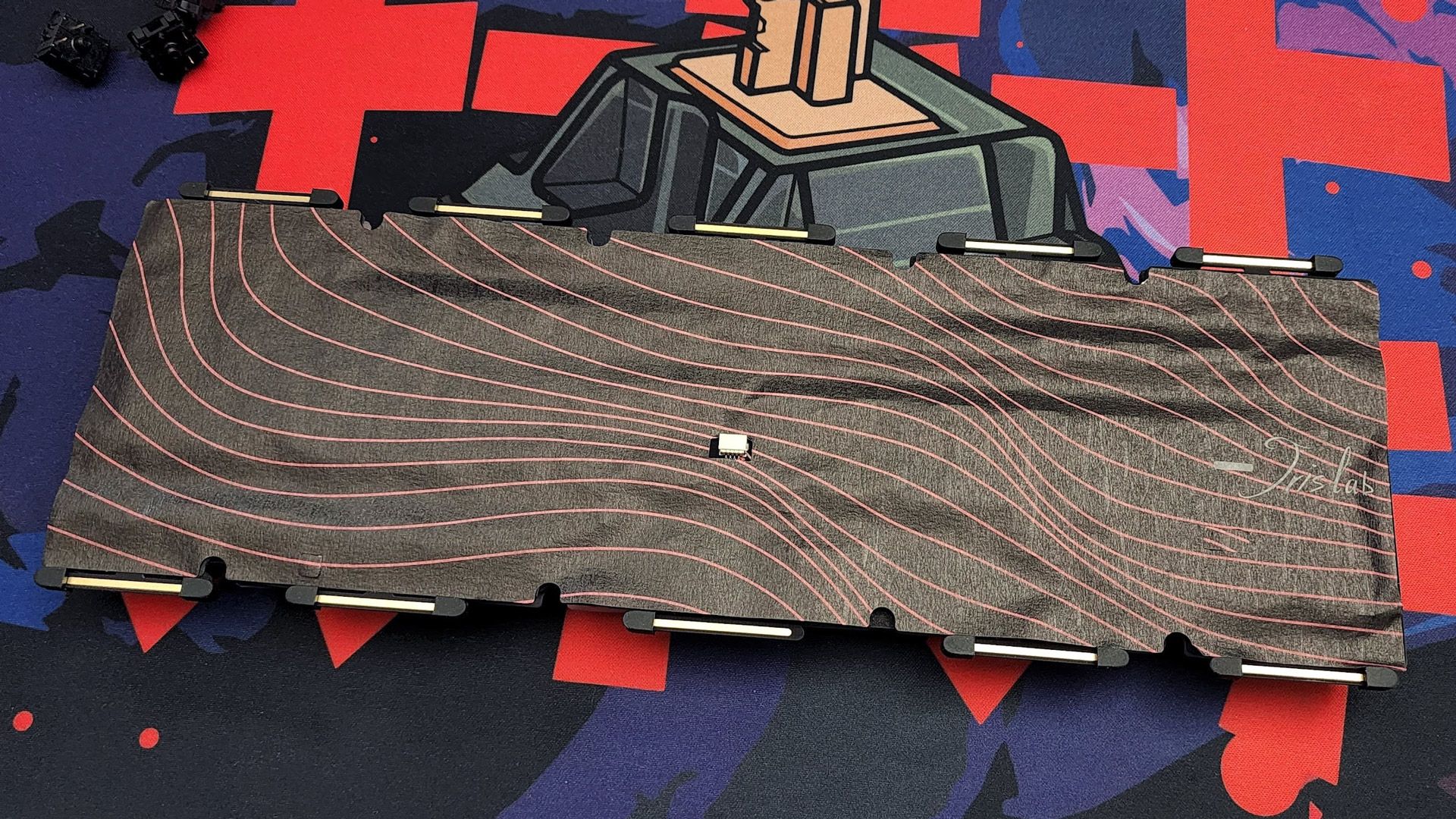 The foam configuration has a direct impact on the sound and feel of the keyboard. I built the keyboard using all three options for case foam (none, one foam, and two foams). Using both foams really cuts down on the flex and provides a more muted typing experience. No case foams, however, makes the keyboard sound a bit hollow and lose some of its charm. I went with a single foam configuration to land in the middle, but Poly-fill may be another good option to have even more flex.
With this configuration, typing is soft and has a slight amount of give under the fingers for normal keystrokes. You can push on the keys and see a moderate amount of movement, but the build here is less about bounce and more about dampening and sound tuning.
The key thing here is that IRISLab is giving you options. If you want a poppy, clackier sound, use the PE foam and tape. If you want a deeper sound, don't. If you want more give, remove a case foam. If you like typing to feel more firm, use both foams and the gasket jackets. These are exactly the kind of options newcomers to the hobby will appreciate. This is a keyboard that lets you play around and really hone in on a sound and feel that's right for you.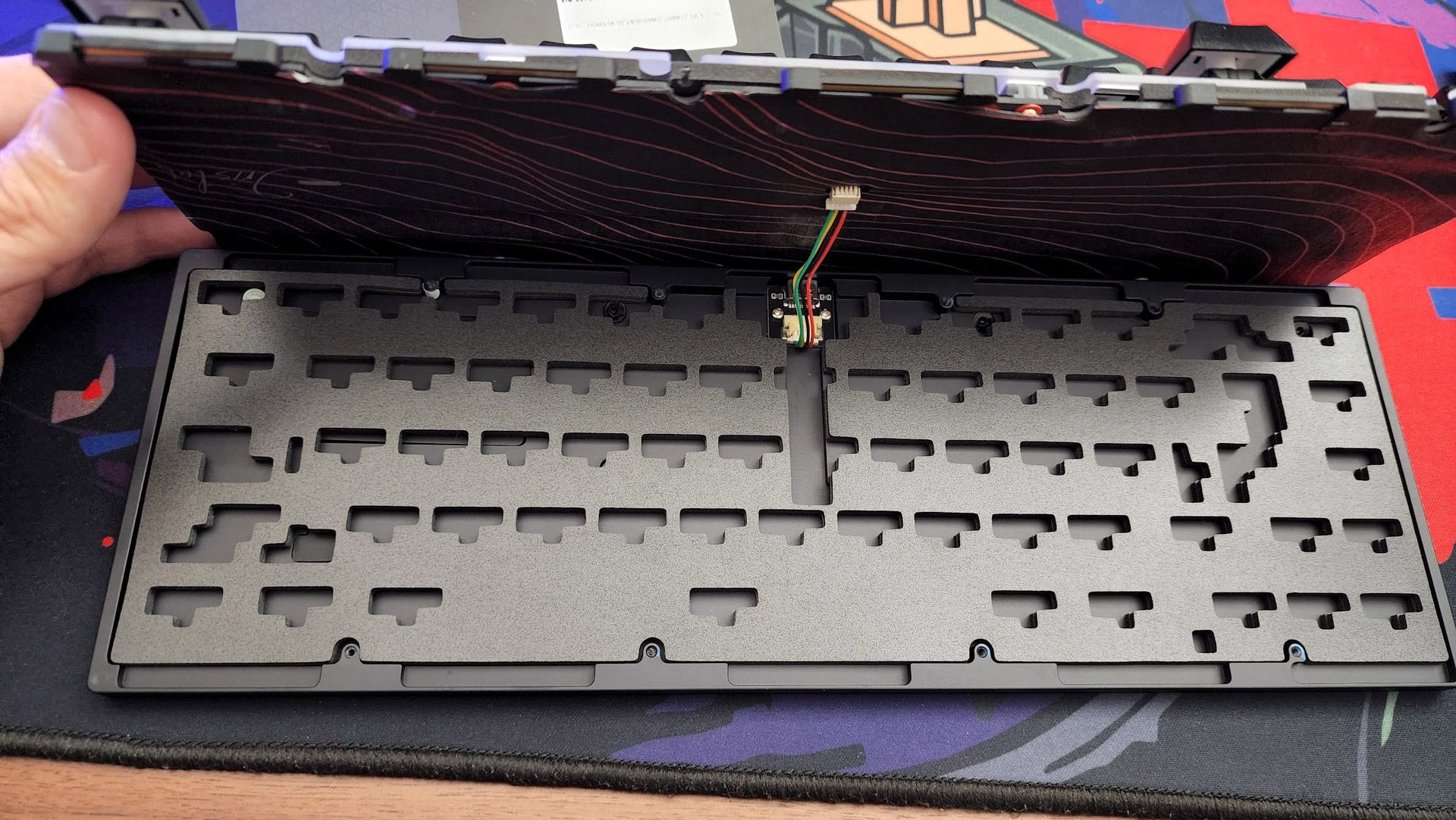 At the same time, there are a couple of quirks here. Like all cases that hide the screws under the keycaps, assembly and disassembly is slightly more difficult. The JST cable is also frustratingly short. Between these two qualities, I found that I really didn't want to open the case again once it was built.
Neither, however, is a big deal. In the grand scheme of things, these are minor nitpicks against a keyboard that's providing real value for the money. It's an early release from IRISLab, but they're coming out swinging with a keyboard that jumps to the top three entry custom keyboard kits you can buy right now, standing right alongside the QK65.
But does it beat it? That's a tricky question and an unfair one. These two keyboards are very similar, so much so that most differences are really going to be a matter of taste. The QK65 has a slightly deeper sound when built without the silicone base and has a touch more flex when typing. The JRISLab has a more interesting look overall and has more options for its weights. It also includes a USB daughterboard.
As an owner of both boards, you really can't go wrong with either. They're hitting on many of the same notes, cost a similar price, have a similar look and feel… at the end of the day, it's really going to come down to whether you want the slightly deeper sound of the QK65 or prefer the look and color options of one versus the other.
These two keyboards stand side by side — but make no mistake: until the JRIS65, the QK65 was the high water mark for keyboards at this price. The JRIS comes right alongside it, stepping over the other competition, and has made itself a compelling alternative, standing shoulder to shoulder.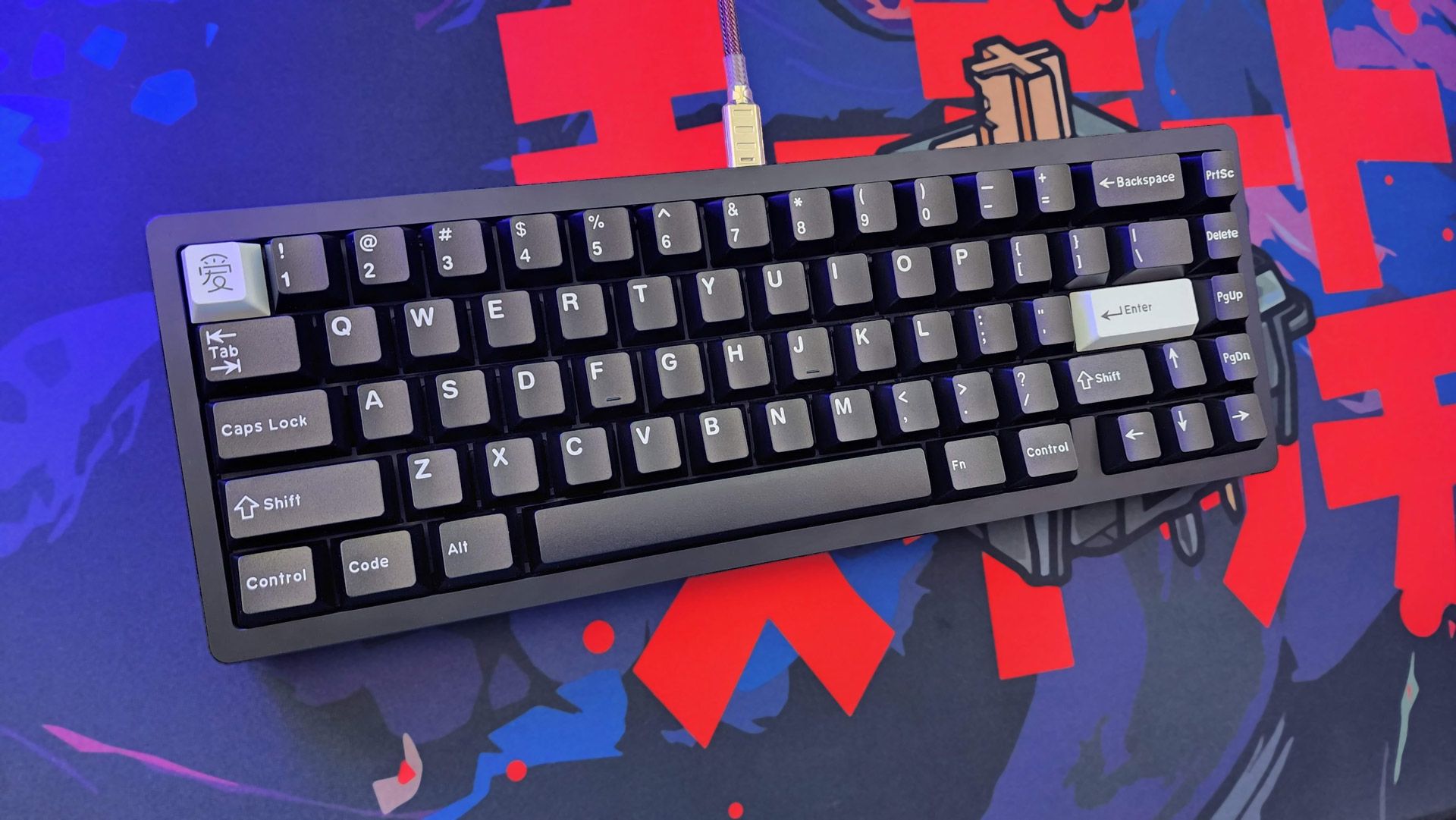 Final Thoughts
If you've been watching the custom keyboard community and are ready to take the dive and build your own keyboard kit, the JRIS65 is a truly excellent option that seems bound to impress. Bring your own switches, keycaps, and stabilizers, and this kit will give you a typing experience that competes with more expensive kits and wins in value. As an early project from IRISLab, this is downright exciting and cements the studio as one to watch in the future.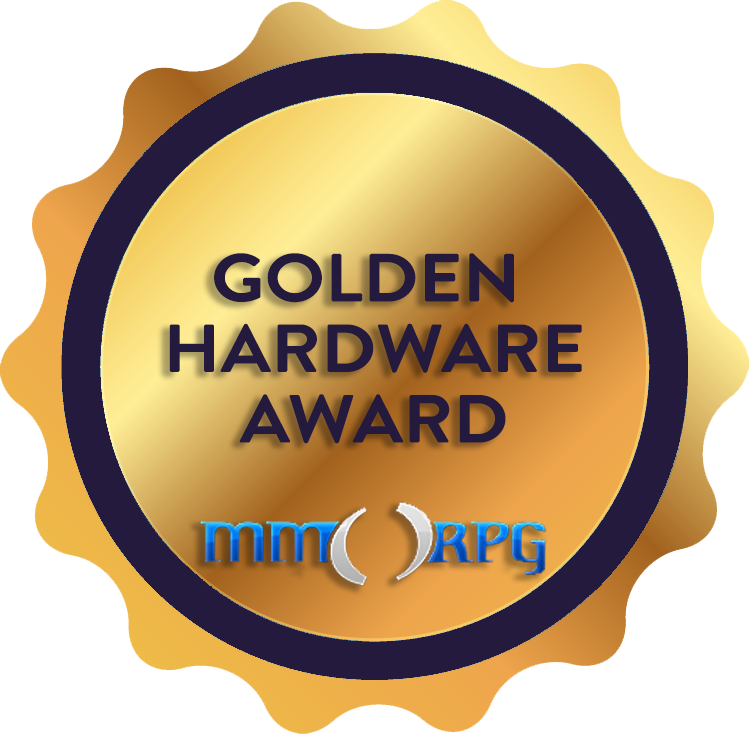 The product described in this article was provided by the manufacturer for evaluation purposes.