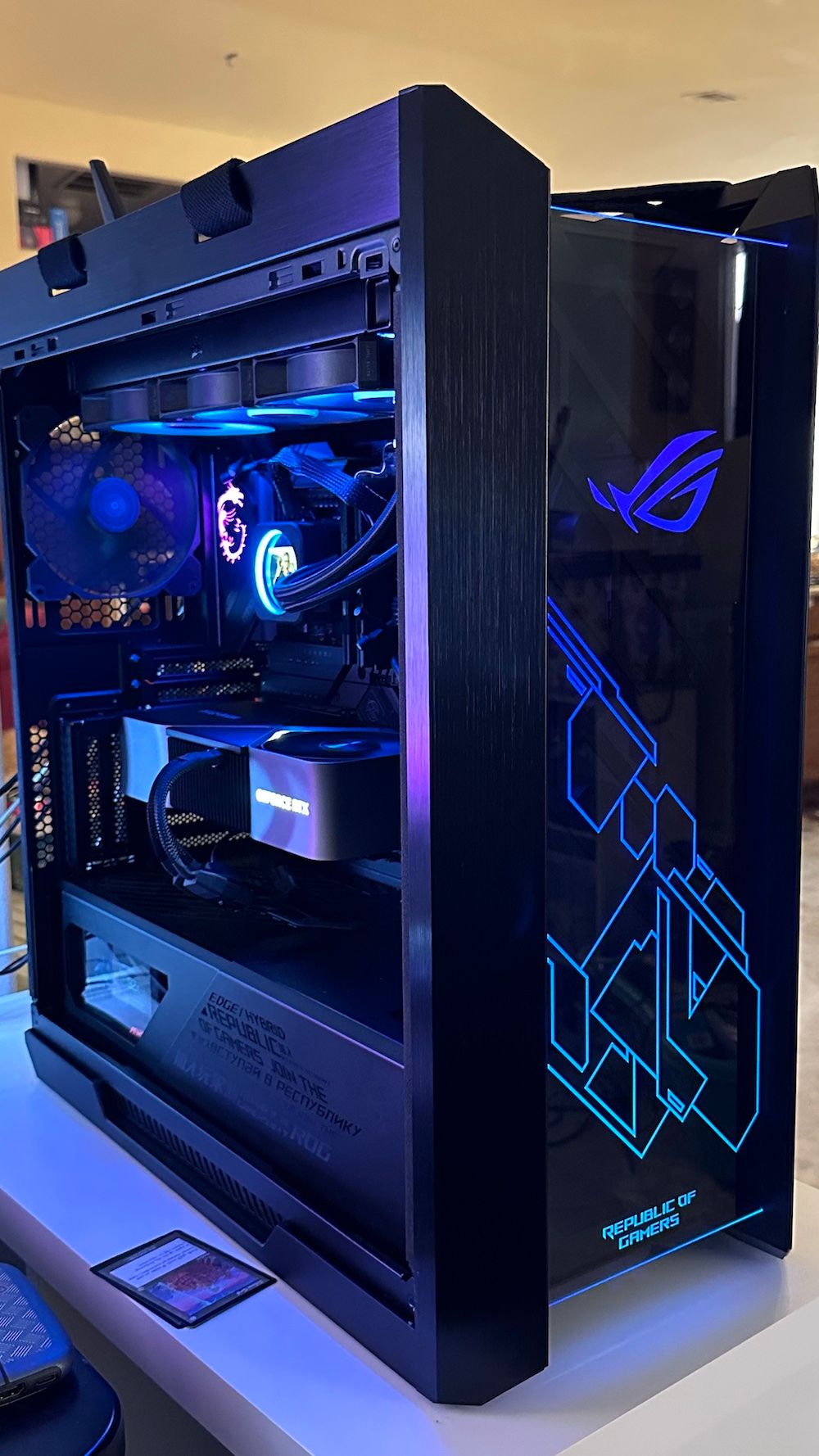 Read Time:
9 Minute, 10 Second
As Nvidia and AMD both released their latest generation of their graphics hardware, we decided that it might be time to upgrade our existing test bench here at MMORPG.com. In order to ensure our test results are as accurate as they can be, it's time to retire our old 10700K-powered bench in favor of a new generation of hardware.
Our goal with our new test bench was to create a system that, when reviewing graphics cards specifically, would eliminate possible bottlenecks in our testing to allow the product we're testing to truly shine through. While GPUs will be the main piece of hardware this system is built for, by getting some of the most current platforms to build around, it makes it so testing of all kinds is as accurate as it can be.
Many of the parts in the system were provided by the manufacturer as either review units in the past, or simply as a sponsor on our test bench build. We'd like to thank MSI for providing the motherboard and CPU, Gigabyte for the power supply, Corsair for the AIO CPU cooling, and ADATA XPG for our RAM kits. As a full disclosure, we purchased the hard drives and the case for the build.
Components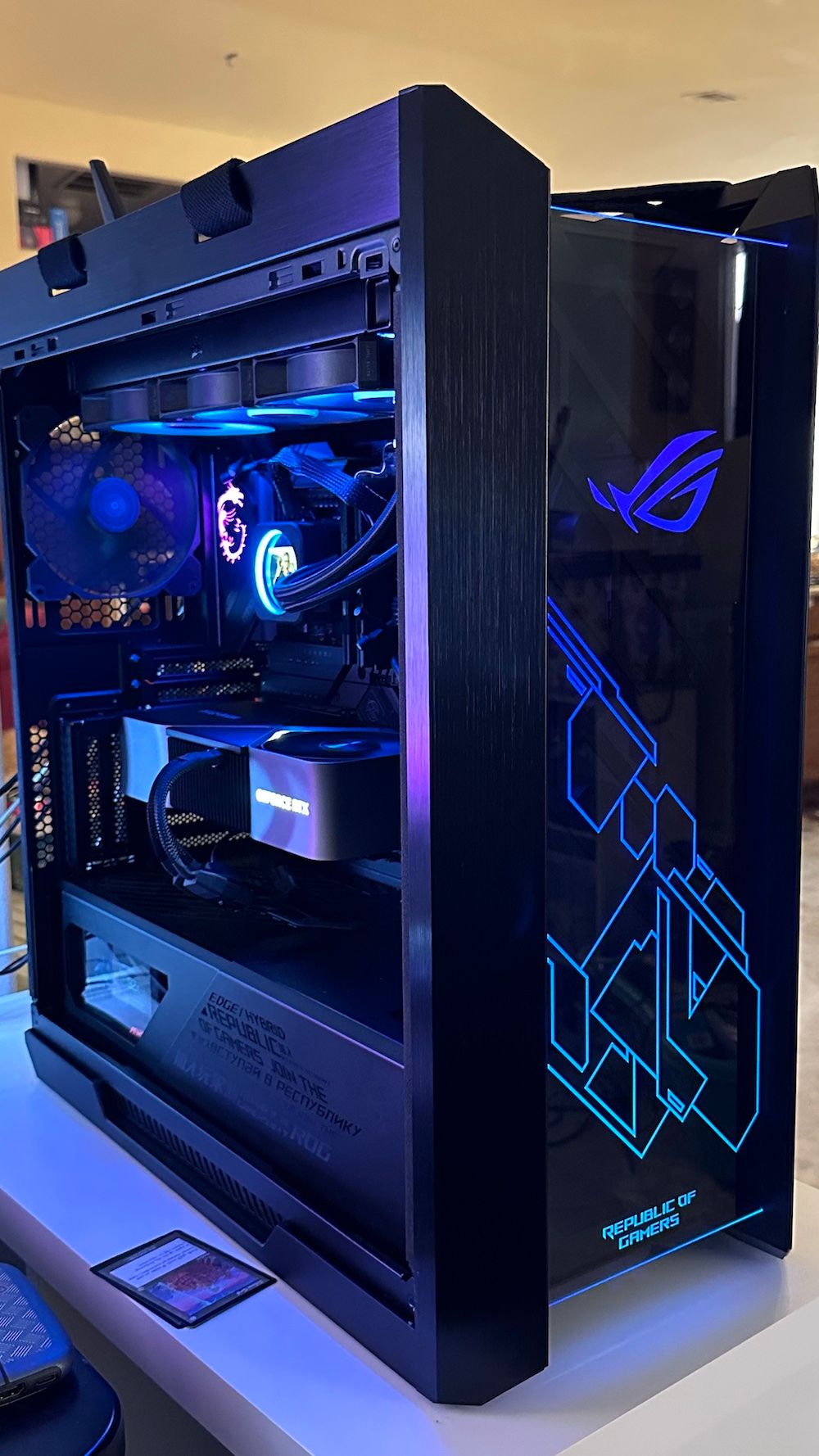 Case: ASUS ROG STRIX Helios ATX Tower Case
When I first reviewed the Nvidia RTX 4090, the case I was using at the time was woefully unprepared for the size of the card. As a result, my old Lian Li O11 Dynamic Razer Edition sat open with the side panel fully off the PC in order to accommodate the size. So when planning this new test bench build we knew we needed to go with a case large enough to properly house the GPUs we'll be testing.
Enter ASUS ROG's Helios case. This towering, erm, tower, has so much room inside of the case that it made it a dream to build in, especially when it comes to its pathing for cable management. Knowing as well that I would need room to store extra PCIe cables for those times I have a GPU in the case that doesn't require four connectors, being able to easily hide those when not in use was a plus.
What really caught my eye, though, were the complete tempered glass side panels, as well as the RGB emblazoned front panel glass. It's an impressive case to look at, easy to take apart in building (which is key when swapping GPUs multiple times in a day), and it also anticipates large GPUs by having built-in anti-sag GPU supports in the case. It's the perfect home for the hardware we're testing.
Motherboard: MSI MPG Z790 Carbon Wi-Fi
The MSI MPG Z790 Carbon Wi-Fi motherboard drives the whole system, providing the platform for the 13th generation of Intel CPUs. The premium entry in the MSI MPG line-up, this motherboard is feature-rich, overclocking ready, and provides support for high-end NVMe drives as well as DDR5 RAM.
The MPG Z790 Carbon Wi-Fi also supports high-quality audio, as well as 2.5GB LAN and WiFi 6E. This is a powerful motherboard and is easily able to drive the type of testing we will be doing on the bench for years to come. Check out our full review of the motherboard for more details.
Processor: Intel Core i9-13900K
The Intel i9-13900K is one of the best gaming CPUs on the market to date, capable of driving everything from gaming, to productivity and more with ease. It's a beast of a processor with 24 cores (8 Performance cores and 16 Efficiency cores) to drive the most CPU-bound of gaming applications without buckling, render video in our editing suites, or just play a cat video on YouTube when needed. It's a great processor that will hopefully take the CPU out of the equation when benchmarking GPUs especially.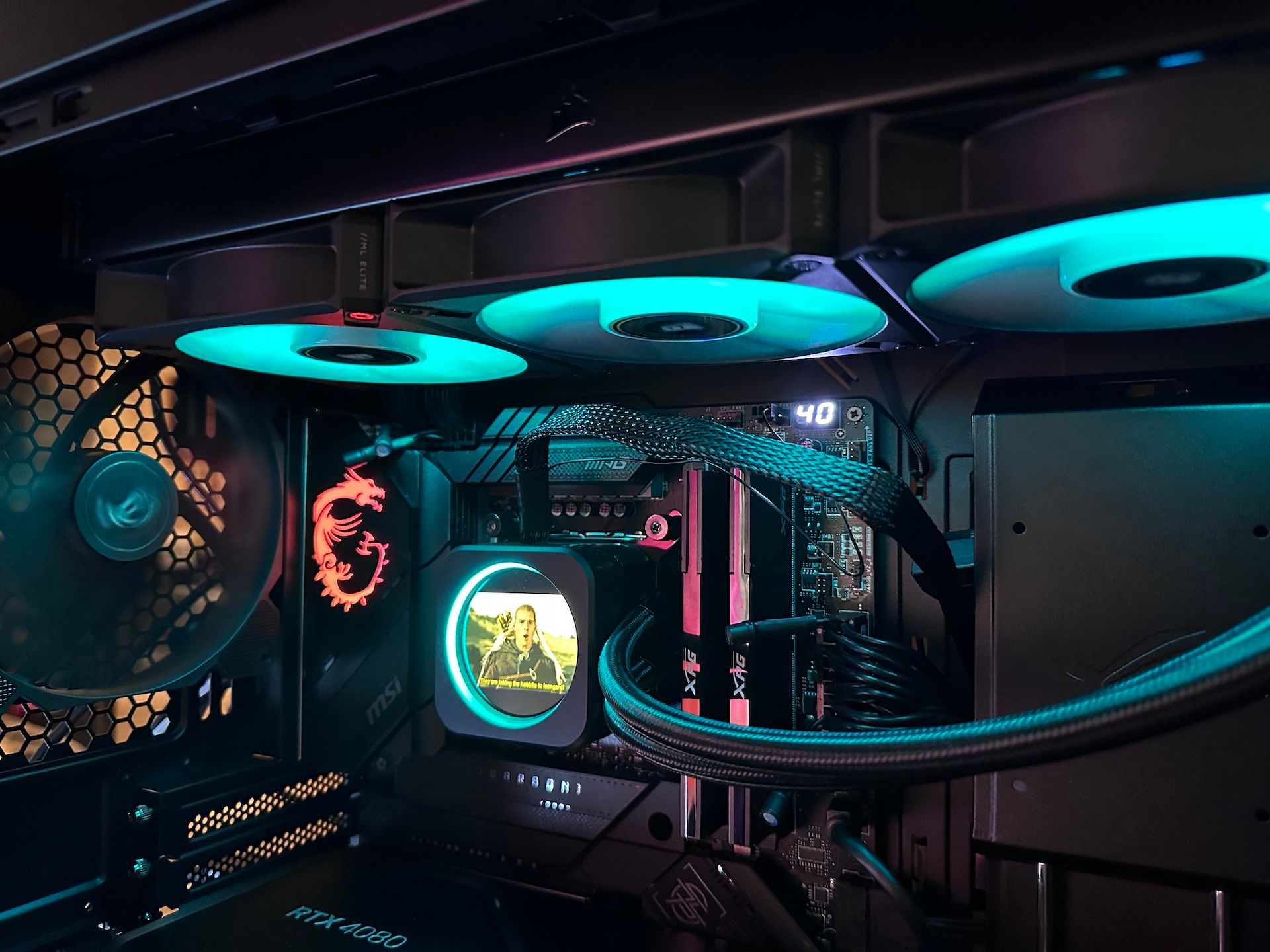 Cooling: Corsair H150i Elite LCD AIO 360mm Liquid Cooler
Corsair provided us with a beast of a cooler in order to keep the temperatures of our Intel i9-13900K in check. This massive 360mm radiator helps to keep temps down with its three, 120mm fans spinning whenever the CPU is in need of a cooldown. The LCD screen on the radiator pump lets us easily monitor our temperatures, fan speeds, and more…or in my case, it serves as a reminder that those Hobbits were taken to Isengard.
Memory: ADATA XPG Lancer DDR5-5200 (2x16GB; 32GB total)
For our RAM, we went with ADATA's XPG Lancer series of memory, bringing the DDR5 speeds to the build. The kit is fast, with speeds up to 5200 MHz when XMP is enabled. The RAM doesn't have the RGB fittings our RGB build does, but what it lacks in glorified rainbow lights it makes up for by being fast enough to help speed games along with more consistent framerates.
SSD Storage Drives: Samsung EVO 980 Pro Gen 4×4 NVMe M.2 1 TB SSD and Intel 760p 2TB NVMe M.2 drive
For our boot drive, we wanted to take advantage of the MSI mobo's Gen 4 speeds, so we opted for the Samsung EVO 980 Pro NVMe M.2 drive. With 1TB of storage, this drive is more than enough to house Windows to get us where we need to go quickly.
For games, we've used the Intel 760p 2TB NVMe M.2 drive for a while in our system, and there didn't seem to be a reason to stop. This speedy drive has enough storage to house the different games we test regularly, while also loading with the speeds to make each test a breeze.
Power Supply: Gigabyte AORUS P1200W 80+ Platinum Modular Power Supply
With GPUs and other PC parts simply needing more power to drive the performance we're after, a beefy power supply was a must. Gigabyte provided us with their AORUS 1200W 80+ platinum PSU to do just that. Able to provide consistent power thanks to its 80 Plus Platinum certification, as well as keep itself cool under pressure thanks to a 140mm double-ball bearing fan inside the PSU housing.
Like our liquid cooler, the AORUS power supply has an LCD screen of its own, giving you statistics such as total power usage, uptime for your PC, and much more (and thanks to the case's PSU window, we're able to see it in all its LCD glory).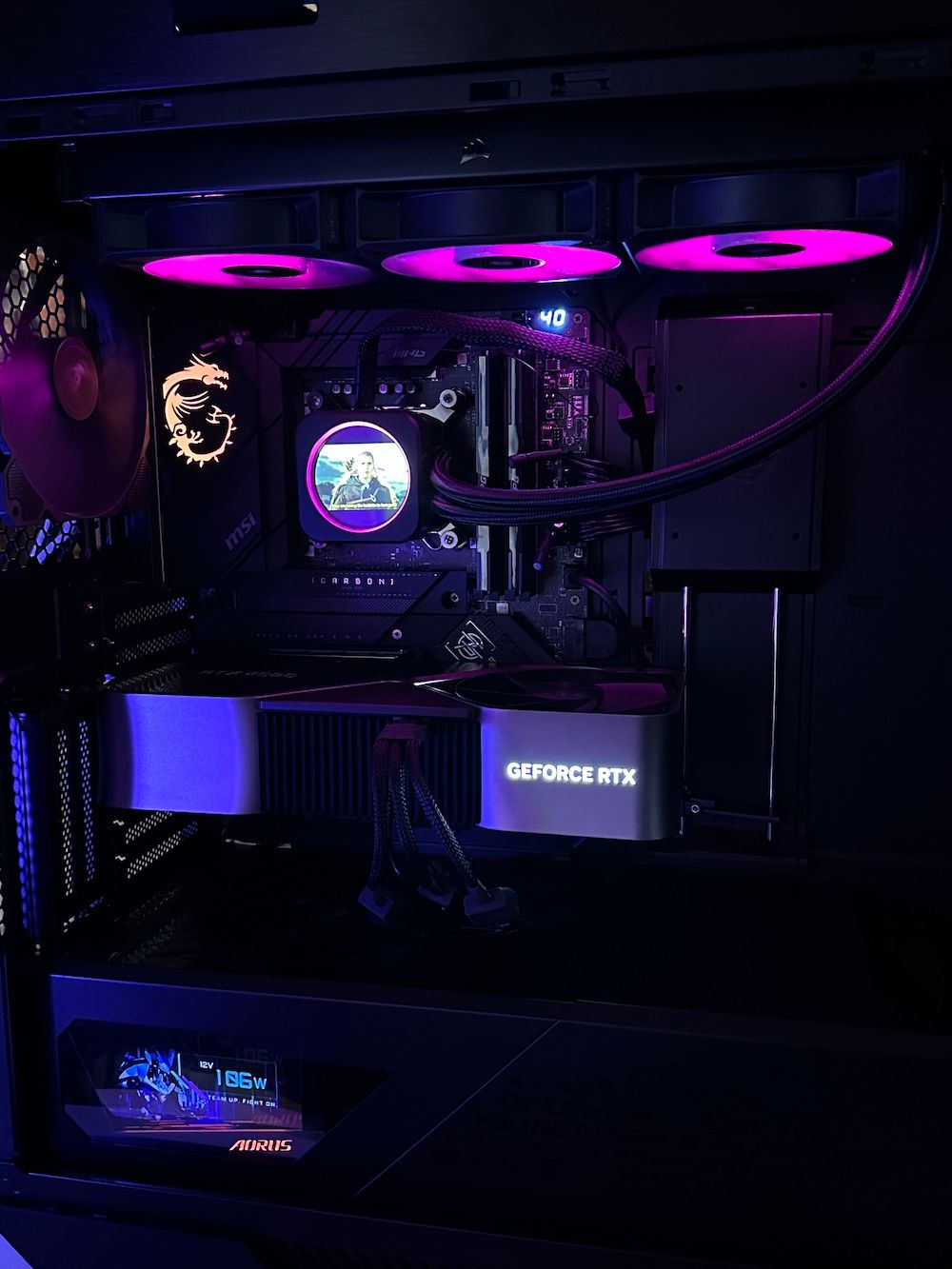 The Final System – How Does it Perform?
For some this build is sorely lacking in RGB, which I won't necessarily disagree (seriously, I was actually surprised the Helios case didn't come with RGB fans if I'm honest), but the purpose of this build wasn't necessarily to be a show stopper when people walked into the office. Rather it's to drive home the best performance during our GPU testing.
And, so far, it has done so. In our testing since this build was completed, we're seeing results that truly showcase the GPUs we're putting through the paces, with as little impact from the rest of the hardware. Our recent ASUS TUF RTX 4070 Ti OC review reflects this, as it's the first published review with the new hardware. As we move through the next few months we'll be fully benching all of our graphics cards in our new test bench to ensure that the numbers we provide in reviews are as accurate as possible.
We ran the suite of PCMark 10 full system benchmarks, which test the PC in a number of various tasks. Testing the bench with the RTX 4080 Founder's Edition installed, the PC performed quite well, with PCMark 10 noting that the result is better than 99% of all other results (which I mean, is impressive).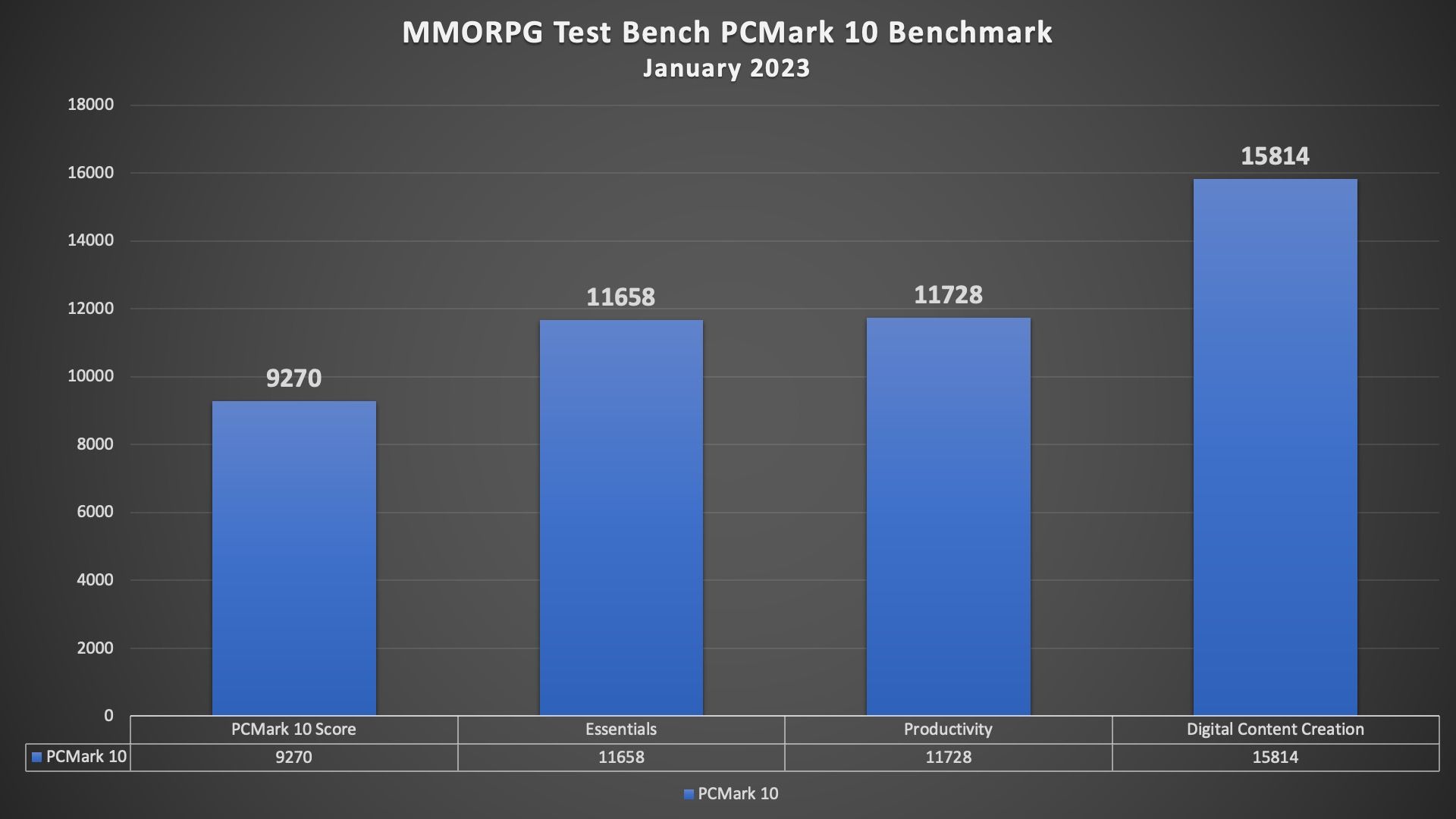 Actually playing games on the PC, which is the meat and potatoes of what this is meant to do during our GPU and other hardware tests, is incredible. Paired with my Acer Predator CG437K HDR GSync monitor, games shine on this rig. Playing through the end of the main story of Shadowbringers was a breeze, and fast-paced games such as Warhammer 40,000: Darktide while utilizing DLSS 3 felt like gliding through butter.
CPU-intensive games, such as Victoria 3, meanwhile, never saw that late-game slog many CPUs buckle under as the simulation gets more and more complex. It has really made gaming a joy, as everything I've thrown at it, from Cyberpunk: 2077, The Witcher 3: Wild Hunt Complete Edition, Victoria 3 and Crusader Kings 3, Final Fantasy XIV: Endwalker, and many, many more, have all just played as they should: incredibly.
I found myself during these gameplay sessions not worrying about tweaking graphics or settings to lock in the best performance. It just did perform the best using max settings by default. To me, that translates directly to how it will perform in testing. As a result, I'm confident it'll truly showcase the parts we're putting through its paces, not simply the part, plus the pitfalls of the other components that might be holding back results.
Final Thoughts
The whole process to build the PC took a rather short time, considering it had been a while since I'd done a total build like this. Thankfully, the size of the ASUS ROG Strix Helios case made building in it a dream, and while my PCs are normally not the most cable-managed affairs, this case as I mentioned above made it relatively painless to create a seamless, clean result.
The Corsair cooler was also relatively painless to install, with my only real concern at the time being that I made sure the LCD screen was facing the right side up. Thankfully, that is really the only way you can install it, so it was a moot point in the end.
Our Gigabyte AORUS PSU was also a cinch to install, though wiring the four PCIe cables I would need for the RTX 4090 up through the bottom of the case into the main chamber was a bit of a pain. However, the overall build turned out clean thanks to the fact that I only needed to use the cables that would actually be used in the build (thanks to whoever thought to make most standard PSUs modular now!), and the screen looks fantastic through the PSU window in the case itself.
At the end of the day, we're looking to continue providing the best hardware reviews possible, and by ensuring our bench is up to spec, we can better achieve that goal.
What do you think of the new test bench? Are there are any parts you might swap out for something different? Let us know in the comments below.