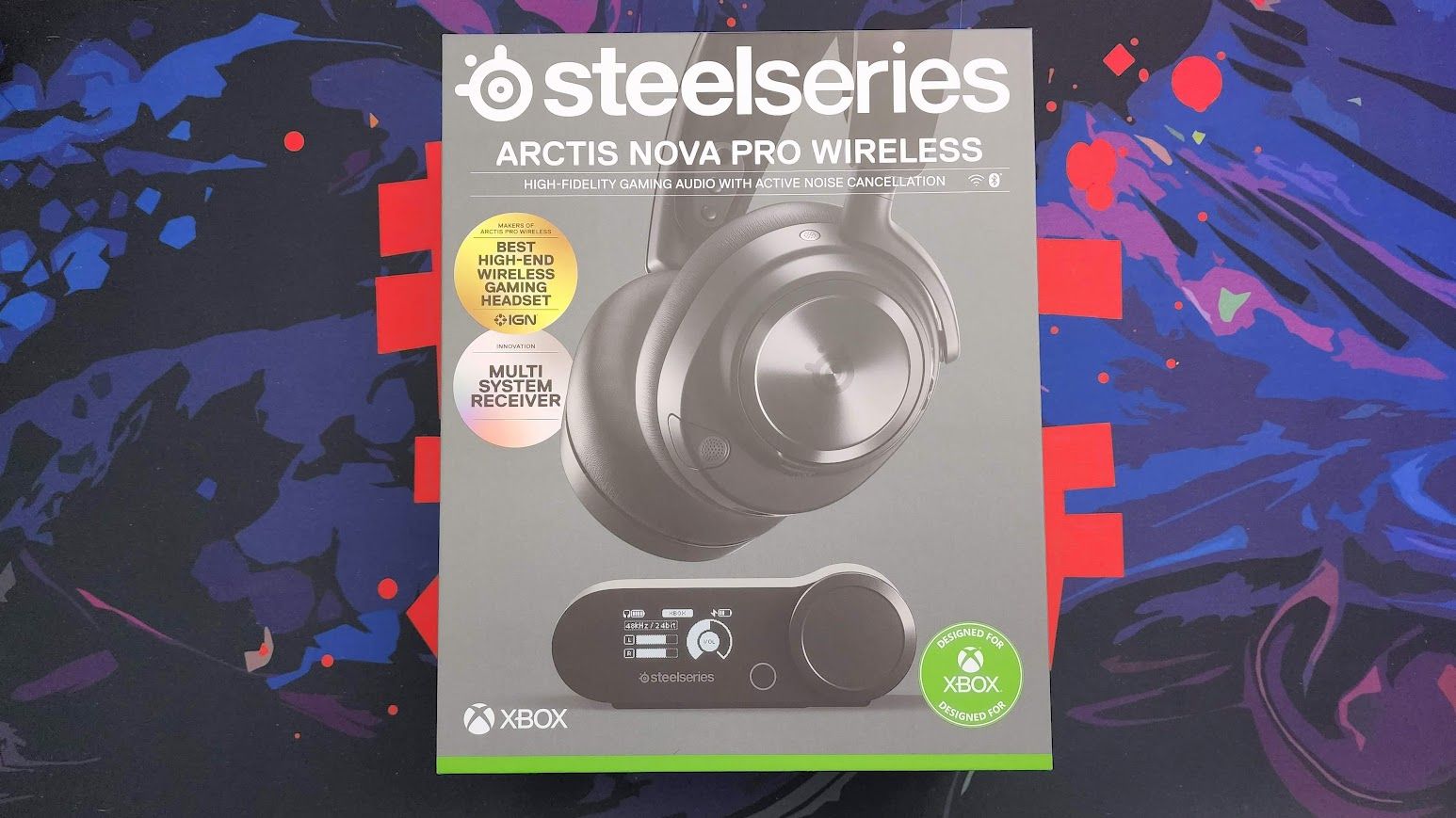 Read Time:
9 Minute, 3 Second
Steelseries is back with its brand new flagship gaming headset, the Arctis Nova Pro Wireless. It's the company's most high-tech, feature-packed gaming headset yet, featuring active noise cancelation, hot-swappable batteries, customizable high-res audio and more. Starting at $249 for the wired version without ANC and $349 for wireless, this gaming headset will let you block out the noise and disappear into your games, but is it worth the high cost of entry?
Specifications
Current Price: $349 (Amazon)
Key Features:

Reach almighty audio levels with the Nova Pro Acoustic System and Premium High Fidelity Drivers with immersive 360° Spatial Audio*, enhanced with Sonar Software *Fully compatible with Microsoft Spatial Sound / Tempest 3D audio for PS5
Active noise cancellation fully immerses you in the gaming world by removing outside distractions with Transparency Mode as an optional toggle
Hot-swap between two batteries to keep playing as long as desired, never running out of power
Simultaneous 2.4GHz and Bluetooth allow mixing game and mobile audio for phone calls and multimedia playback at the same time
AI-powered ClearCast Gen 2 noise cancelling microphone silences background noise and keyboard sounds for pristine audio communication and a fully retractable design
Multi-System Connect with dual USB ports works with Xbox, PC, Mac, PlayStation, Switch and more

Speaker Drivers

Neodymium Drivers: 40 mm
Headphone Frequency Response (Wired): 10–40,000 Hz
Headphone Frequency Response (Wireless): 10–22,000 Hz
Headphone Sensitivity: 93 dBSPL
Headphone Impedance: 38 Ohm
Headphone Total Harmonic Distortion: < 1%
Active Noise Cancellation: 4-mic hybrid design with Transparency Mode
High-Res Audio Capable: Yes (Headphone Speakers)

Microphone

Microphone Type: ClearCast Gen 2 – Fully Retractable Boom
Microphone Polar Pattern: Bidirectional Noise-Canceling
Microphone Frequency Response: 100-6500 Hz
Microphone Sensitivity: -38 dBV/Pa
Microphone Impedance: 2200 Ohm

Infinity Power System

Number of Batteries: 2
At Home: Non-stop battery with hot-swap (within 8 seconds)
On-the-go: 44 Hours – 2.4GHz Quantum 2.0 Gaming Wireless / 36 Hours – 2.4GHz Quantum 2.0 Gaming Wireless + BT (18-22 hours per battery)
Fast Charge: 15 mins for 3 hours play

Dual Wireless

Bluetooth Wireless: v5.0
Gaming Wireless: Low Latency 2.4 GHz
Dual Connection: Simultaneous 2.4 Ghz & BT
Wireless Range: 40 ft / 12m (2.4 GHz)

Box Contents

Arctis Nova Pro Wireless X Headset
Wireless Base Station: 2x USB-C System Connections (1 dedicated Xbox port), 1x Line-in, 1x Line-out
2x Lithium Ion Batteries
2x USB-C to USB-A Cable (5 ft / 1.5m)
5mm to 3.5mm Audio Cable – 5 pole to 4 pole (4 ft / 1.2m)
2x Removable Magnetic Ear Plates
Microphone Pop Filter
Product Information Guide

Steelseries Arctis Nova Pro Wireless – What Is It?
The Steelseries Arctis Nova Pro Wireless is designed to be the wireless headset that aims to replace multiple other headphones you may be using. It's one of the first gaming headsets we've encountered that truly seems to make no sacrifices in the features it offers. The Nova Pro has it all: simultaneous Bluetooth and game audio, multiple other audio sources (2.4 GHz, USB, and analog, in addition to the first USB source and Bluetooth), active noise cancellation, excellent battery life and comfort, and even a dual battery system that can be hot-swapped for up more than 40 hours of total battery life – but the GameDAC recharges the other battery while you're using the first, so you effectively have unlimited battery life. This is the Arctis re-created for 2022 and it may just be the best gaming headset money can buy right now.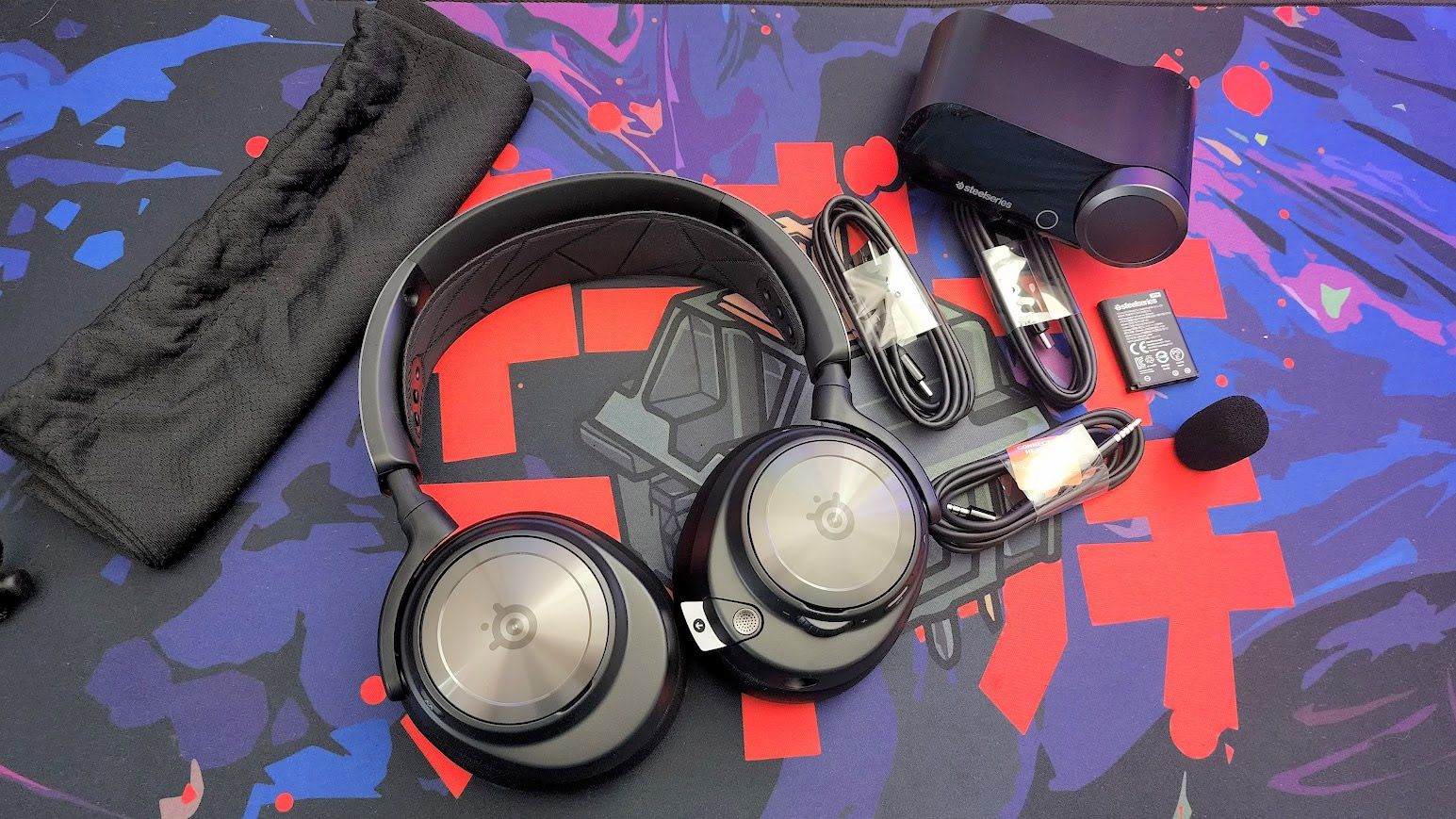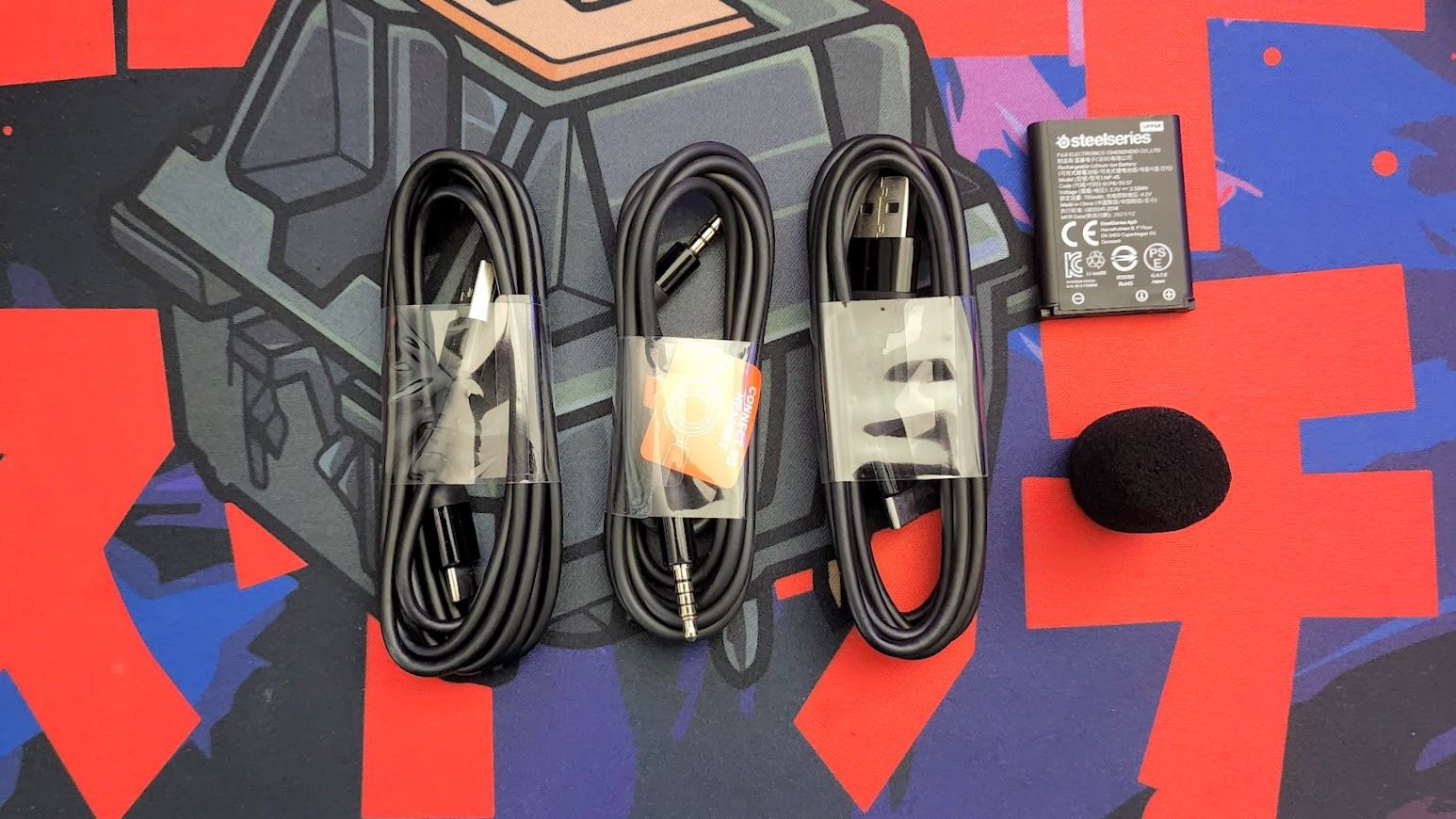 The design has undergone some changes since the last Arctis release, but Steelseries has sacrificed nothing in comfort. The earcups are no longer pure ovals and are instead oblong with cushions that better match your ears. The ski band system has also been reworked. The band now buttons on below the metal headband. There are three buttons to adjust the headset up or down a centimeter. The ear cups are also height adjustable to help make finding a comfortable fit easy, and the pads have been swapped from AirWeave fabric to leatherette for enhanced sound isolation.
Aesthetically, the Nova Pro Wireless is sleeker and altogether much closer to something we might wear out of the house. There are no bright colors (though they're available in booster packs for some added customization) to garner unwanted attention. The microphone is retractable and sits flush inside the left earcup. The only accents are the faceplates of each earcup, which are brushed aluminum and add a small, attractive gleam to the headset. If you know the Steelseries logo, you'll be able to pick these out by the subtle embossed logo on each earcup, but otherwise, you would think these are normal Bluetooth headphones.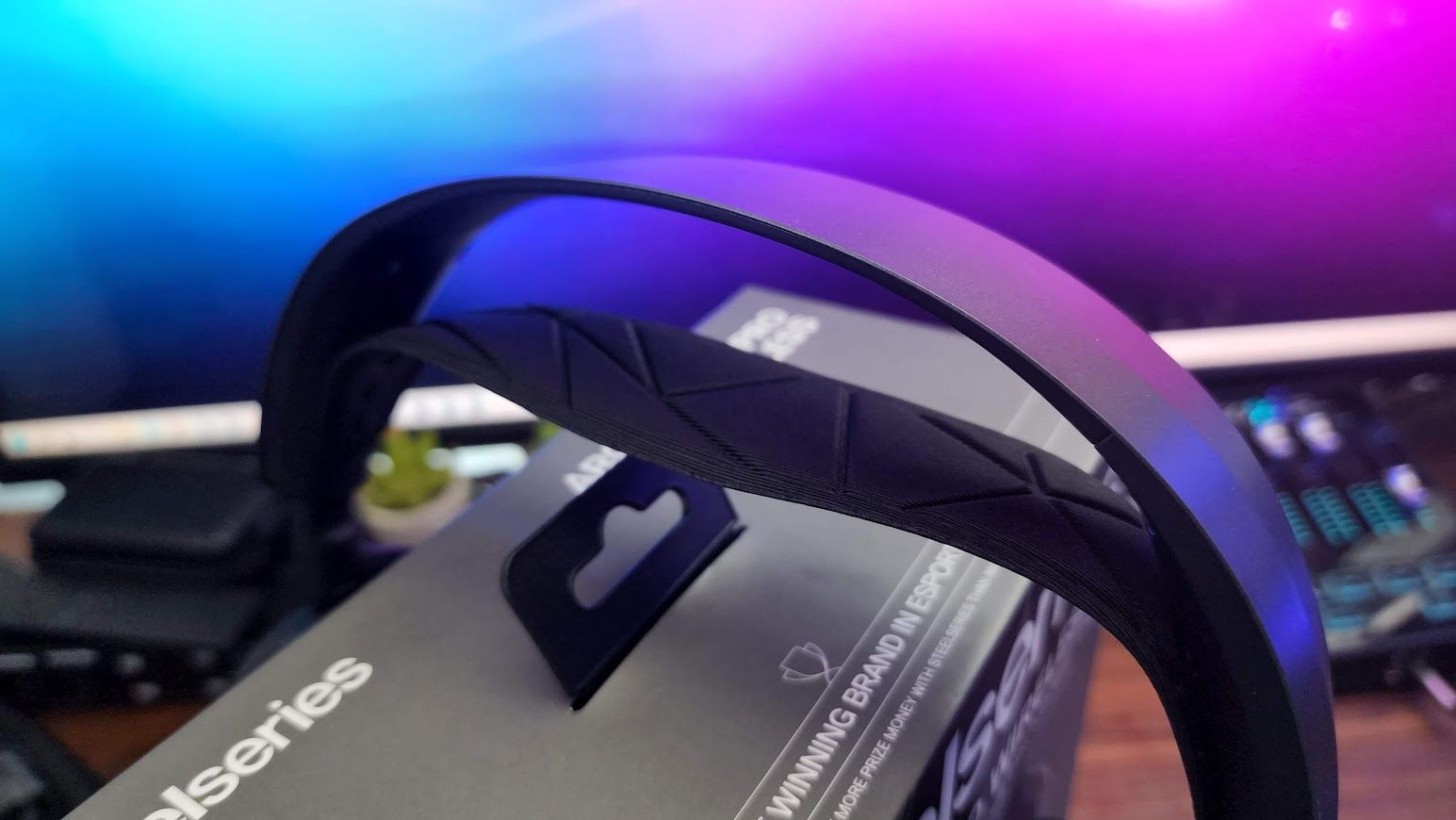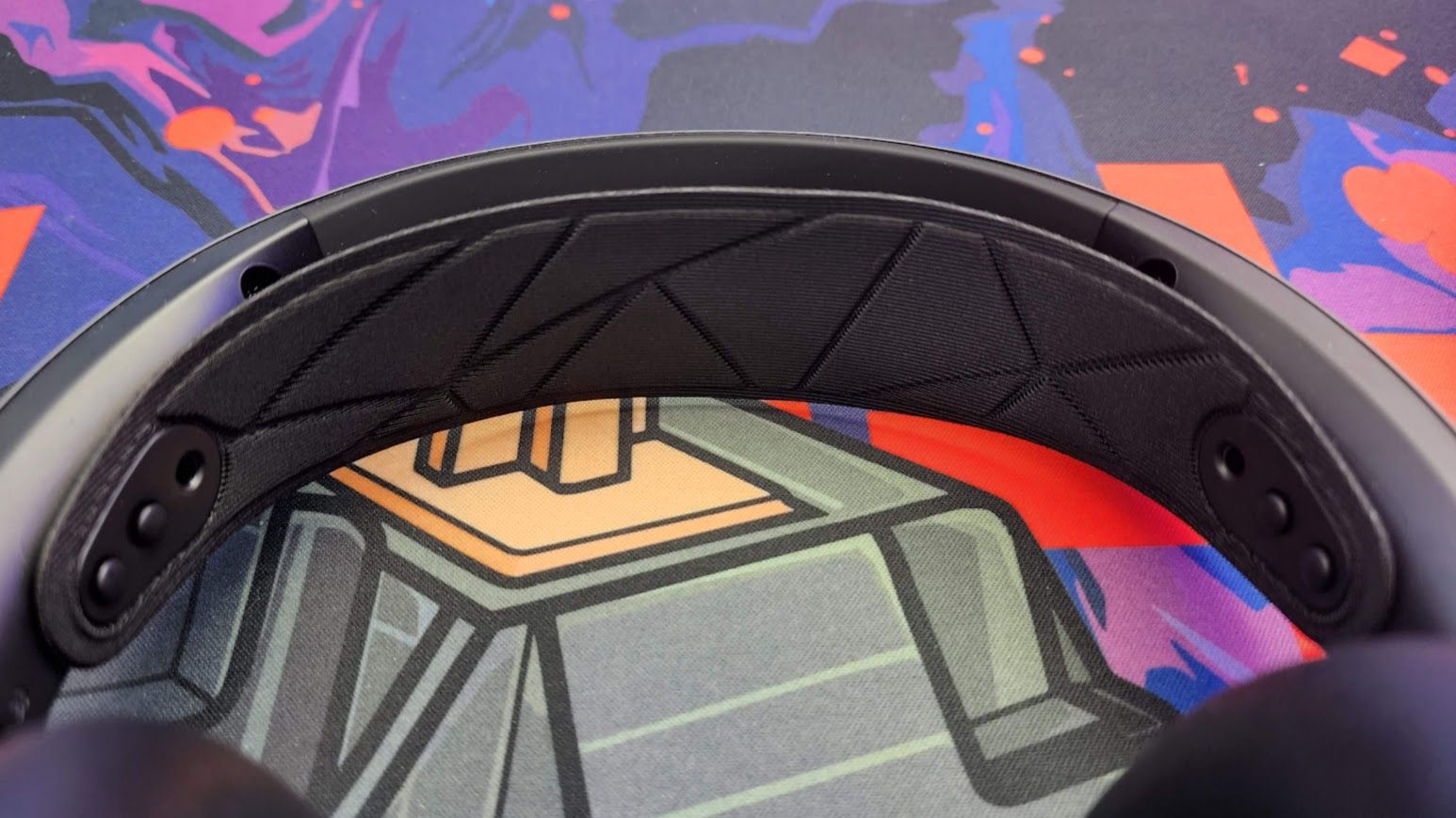 The Nova Pro Wireless feels durable and well-made. The headband is metal and won't snap over time, and though the yokes and earcups are plastic, they feel robust. There's no creaking or annoying rattling when taking the headset on and off, or even shaking it in your hand.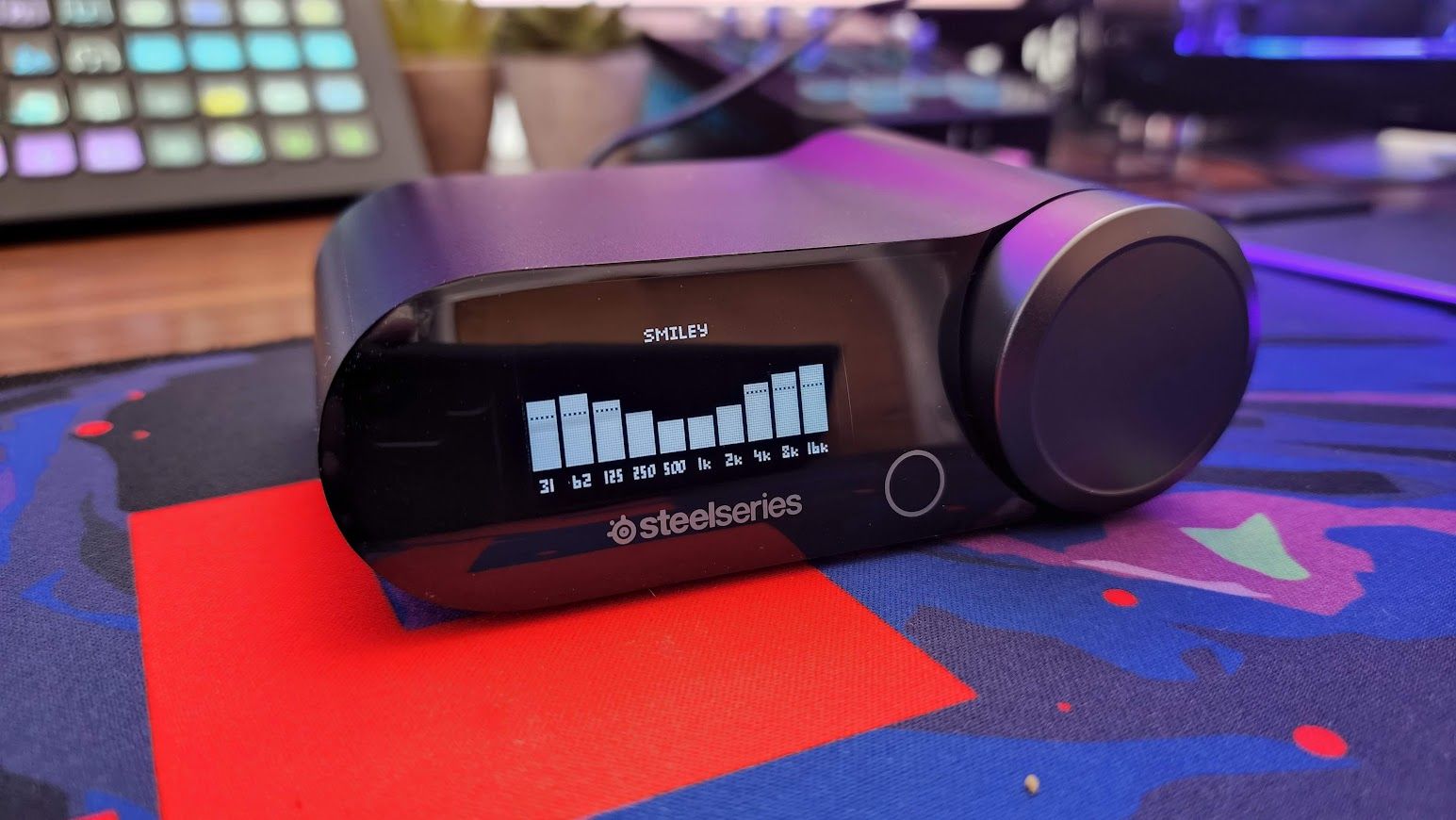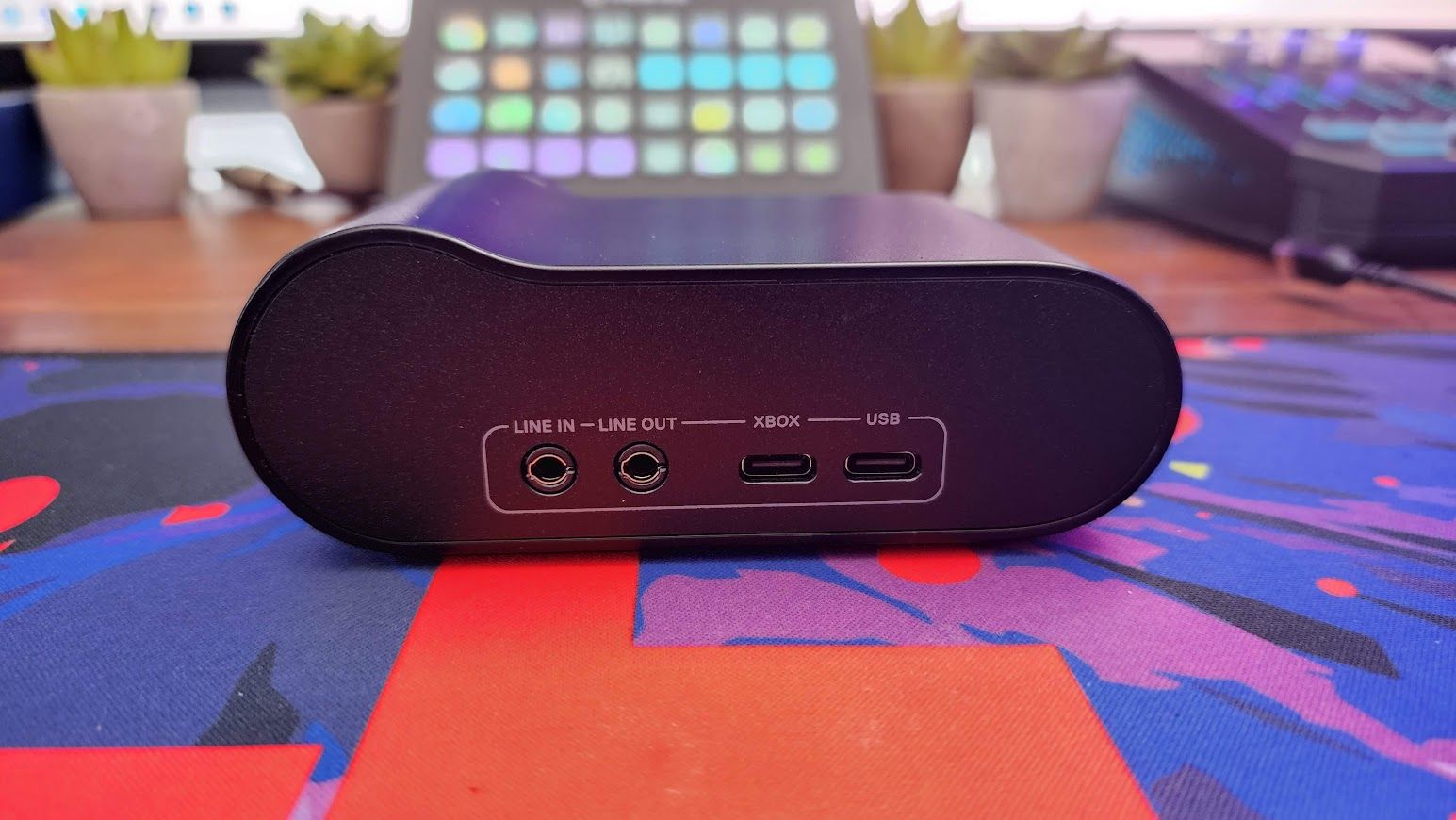 The same applies to the GameDAC, the wireless base station the headset connects to. It is mostly plastic with a small glossy, OLED screen, and large, metal-rimmed volume wheel. Nothing about it feels cheap, which makes the sizable investment this headset demands easier to swallow. You're getting a premium product and that's immediately apparent from the get-go.
The Arctis headsets have always placed a priority on comfort, and the Nova Pro Wireless is no exception. At just under 340 grams, it could potentially feel heavy, but the comfort suspension band does a great job of distributing that weight and prevented hot spots from forming on the top of my head. The new cushions aren't as breathable but didn't cause my ears to sweat. I did find that my ears touched the mesh covering the driver, so users with larger ears may find this to be an issue.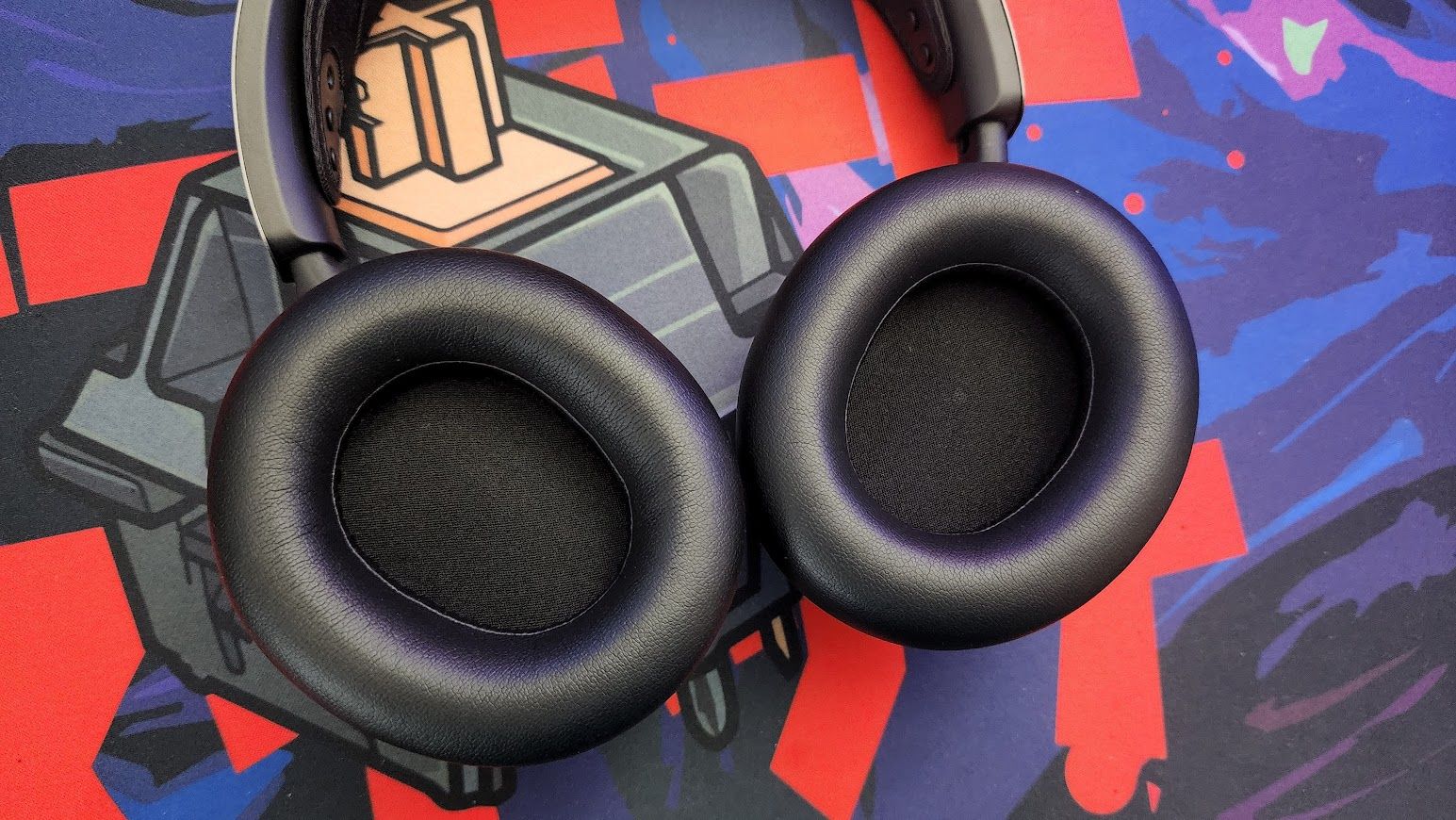 Steelseries Arctis Nova Pro Wireless – Features and Performance
What really makes this headset is its mix of features and exceptional sound quality. Like the Arctis Pro Wireless released in 2018, the Nova Pro Wireless includes a dedicated GameDAC that handles audio processing and acts as the gateway to some of the Nova Pro's most compelling features. And this headset is nothing if not feature-rich.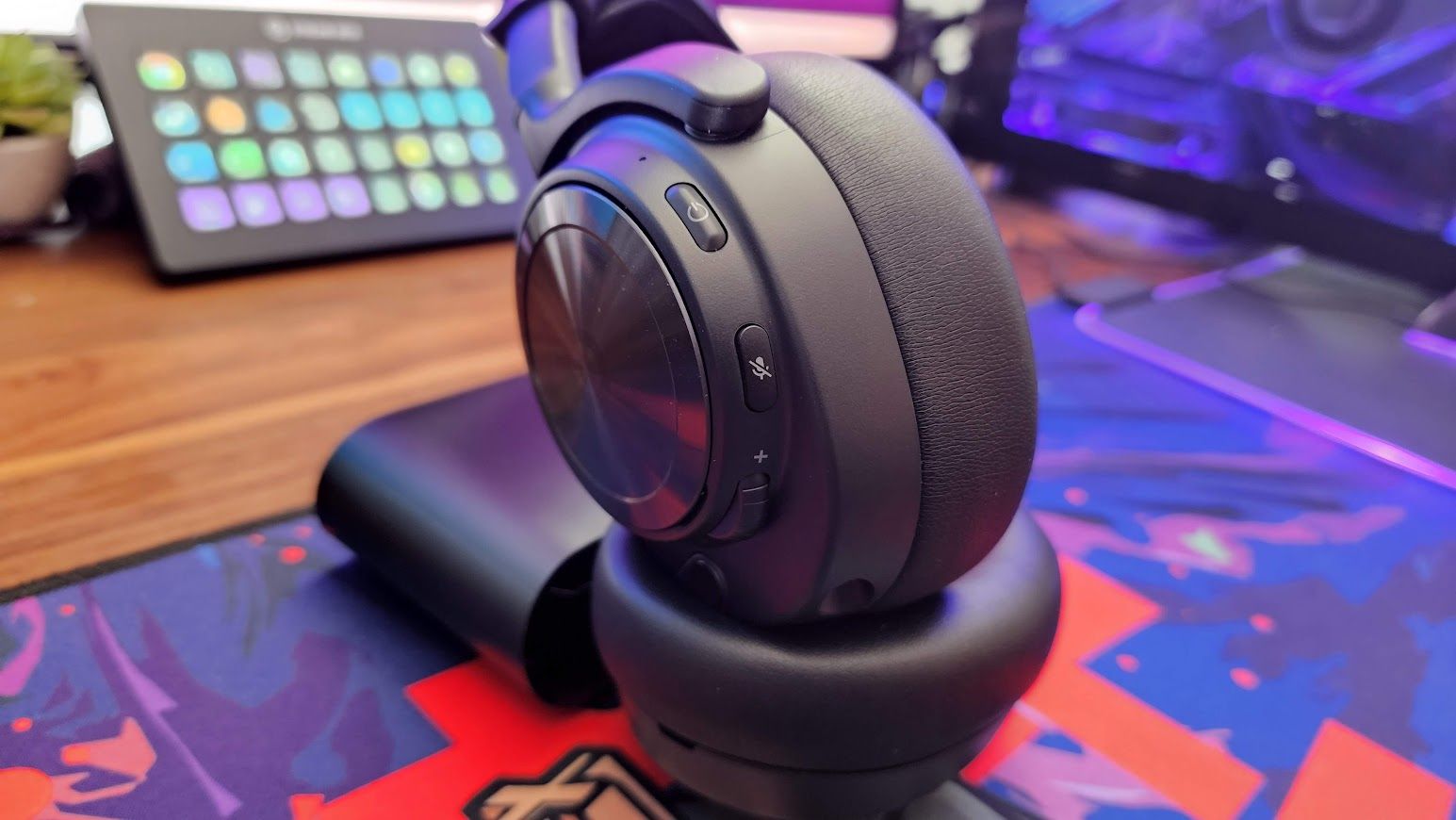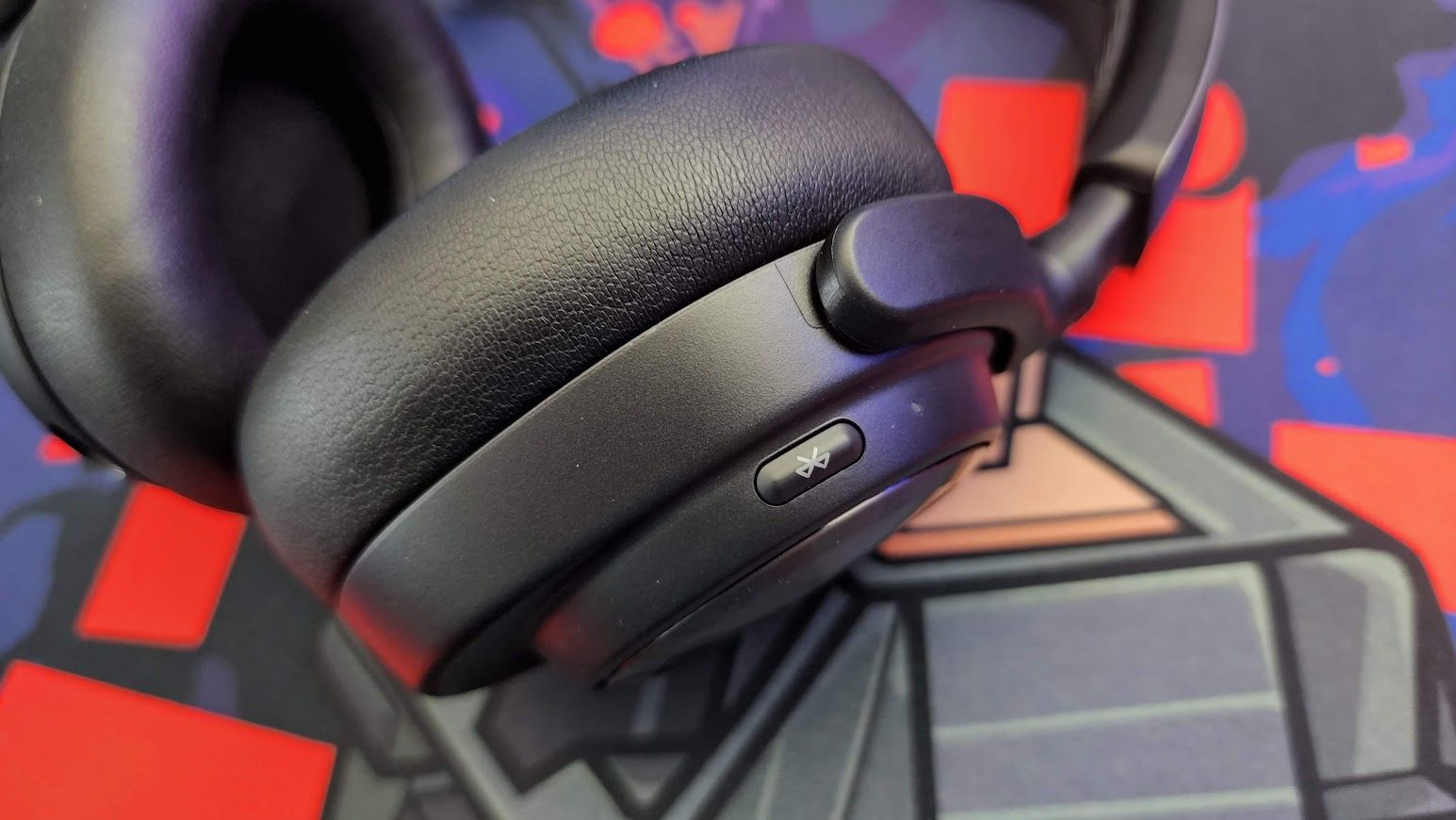 Beginning with connectivity, the headset can connect to two USB audio sources, as well as line-in analog audio, and 2.4GHz wireless. There are two versions of the headset available, one dedicated to PS5 and PC and the other to Xbox. The only difference between the two is that the Xbox version can connect to all three platforms while the PS5 version lacks the security chip to connect to Xbox – so get the Xbox version if you have both consoles. The headset can also connect directly to Bluetooth audio or to a controller with an auxiliary cable. It's smart enough to shift audio sources, but you'll need to navigate with the GameDAC when first getting things set up.
The GameDAC also includes a ton of other features. By holding the volume wheel, you enter a main menu and can adjust everything from custom EQ curves to adjusting the game-chat balance. You can adjust your mic volume here, as well as the sidetone you hear in your ears, enter pairing mode for Bluetooth and 2.4GHz audio, adjust your line-out between speakers or going out to a live stream.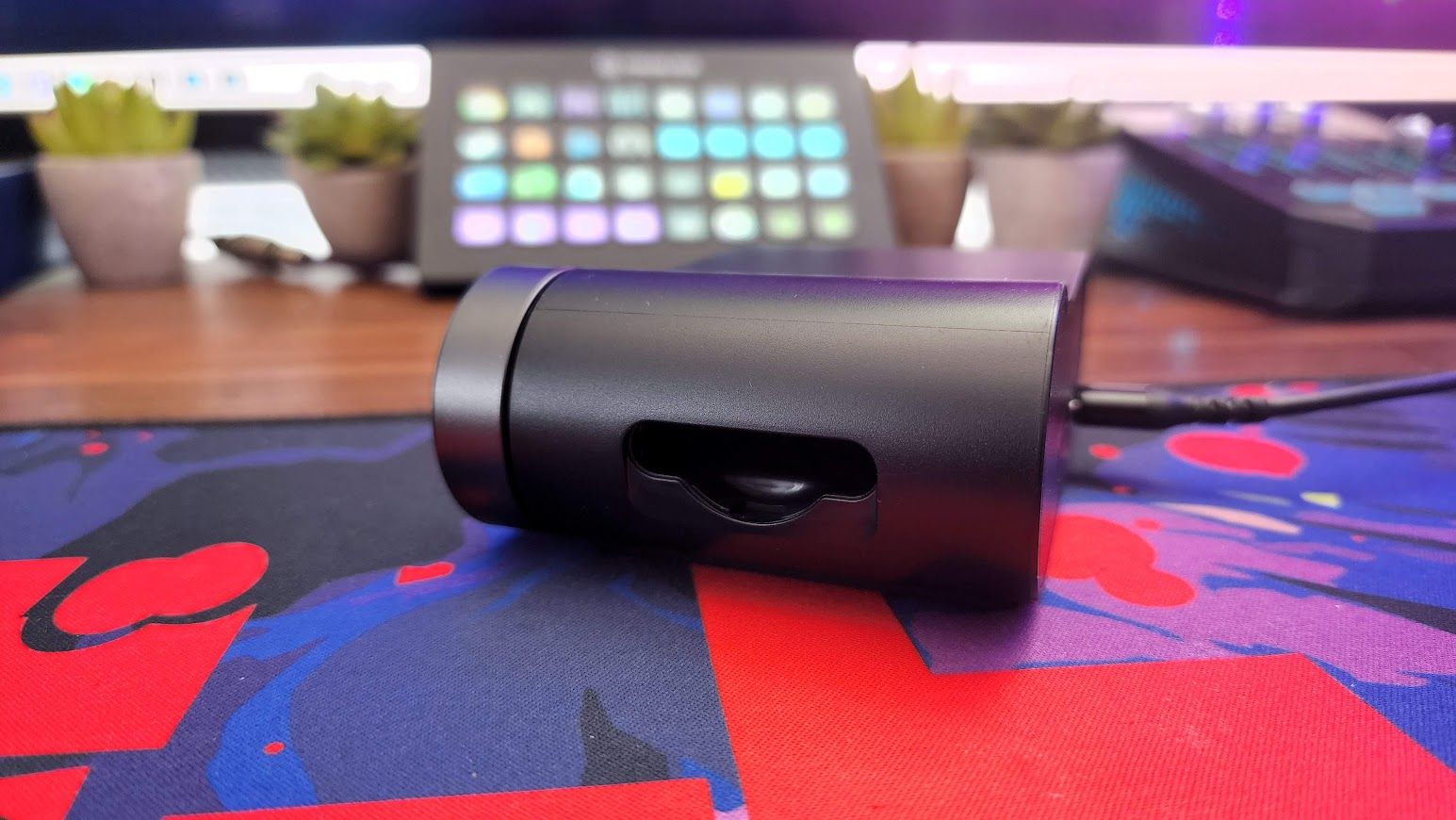 The GameDAC is also how the Nova Pro Wireless pulls off one of its best tricks: the dual battery charging system. The headset comes with two small batteries, each capable of delivering 22 hours of audio with a single audio source connected and ANC on. One battery installs in a compartment beneath one of the ear plates on the headset. The other slots into the side of the GameDAC, so it's fully charged when your first starts to run short. The capacitors in the headset are even able to store enough power to keep the headset turned on for eight seconds while swapping batteries, so you won't need to power cycle it when you swap out. It's an outstanding system that essentially means you'll never have to plug the headset in to actually charge it; you'll always have a full battery ready to go.
The other unique feature is the active noise cancellation. Tapping the power button cycles ANC on or off, allowing the microphones to monitor and cancel out noise in your environment. It's not class leading (don't throw away your Bose QuietComforts yet) but is still good at filtering out low droning noises, like your PC's case fans. Even though it's not the best at filtering out voices, once you start playing a game, the Nova Pro does a good job of blocking out the world so you can focus on the game. If you do need to be heard, holding the power button reverses those microphones and enables transparency mode, piping in the noise around you.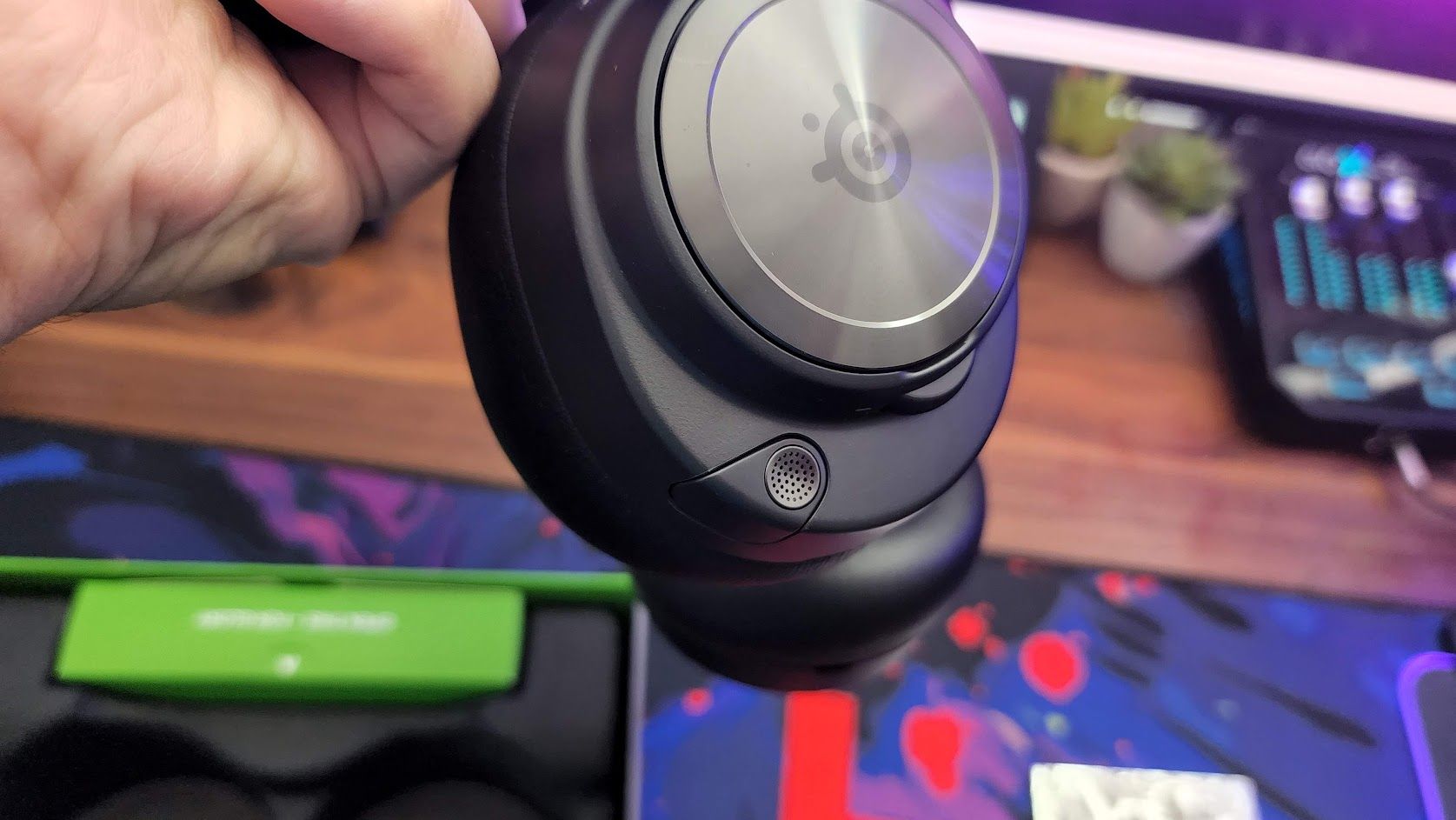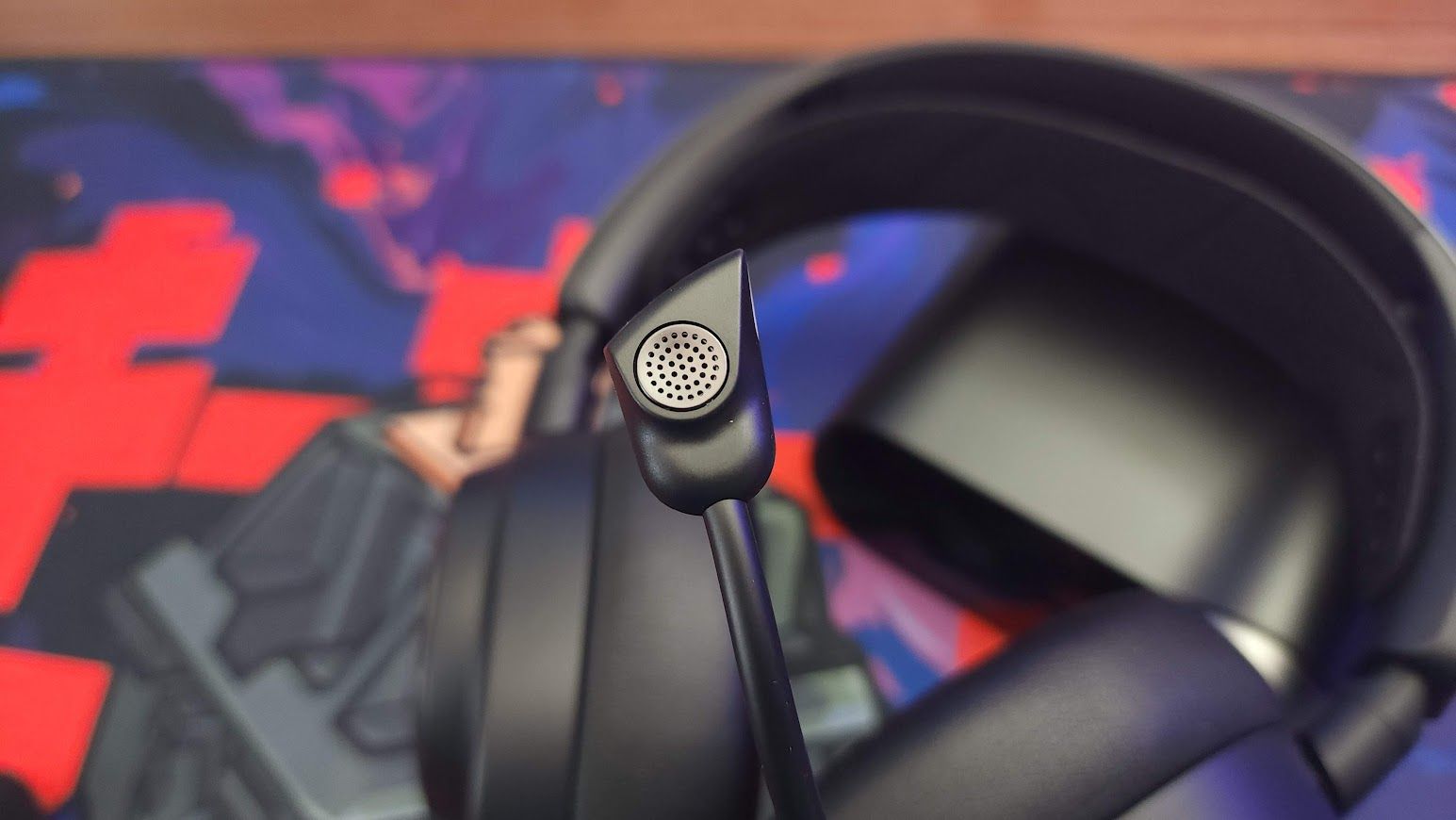 Steelseries also touts the quality of the mic, though I found it to be more of a mixed bag. The microphone does a great job of blocking out surrounding noise so your teammates can hear you clearly, but I found that my voice sounded pretty compressed. It's nothing you'll want to stream with, but will work fine for taking calls and chatting with friends.
But how does it sound? That's where the Nova Pro Wireless is a real winner. This is, hands down, the best sounding gaming headset I've ever heard. The stock sound profile is rich and detailed, but enabling the preset EQs allows you to add more bass or draw out important in-game details like footsteps. What really struck me though was how well tuned it was. This is a headset you could slip away into your favorite song with and have a great time. The drivers offer plenty of punch and slam for explosions and kick drums alike, and the layering and sound separation is outstanding.
Every other gaming headset manufacturer releasing "audiophile-grade" headsets needs to stand up and take notice. This is how it's done.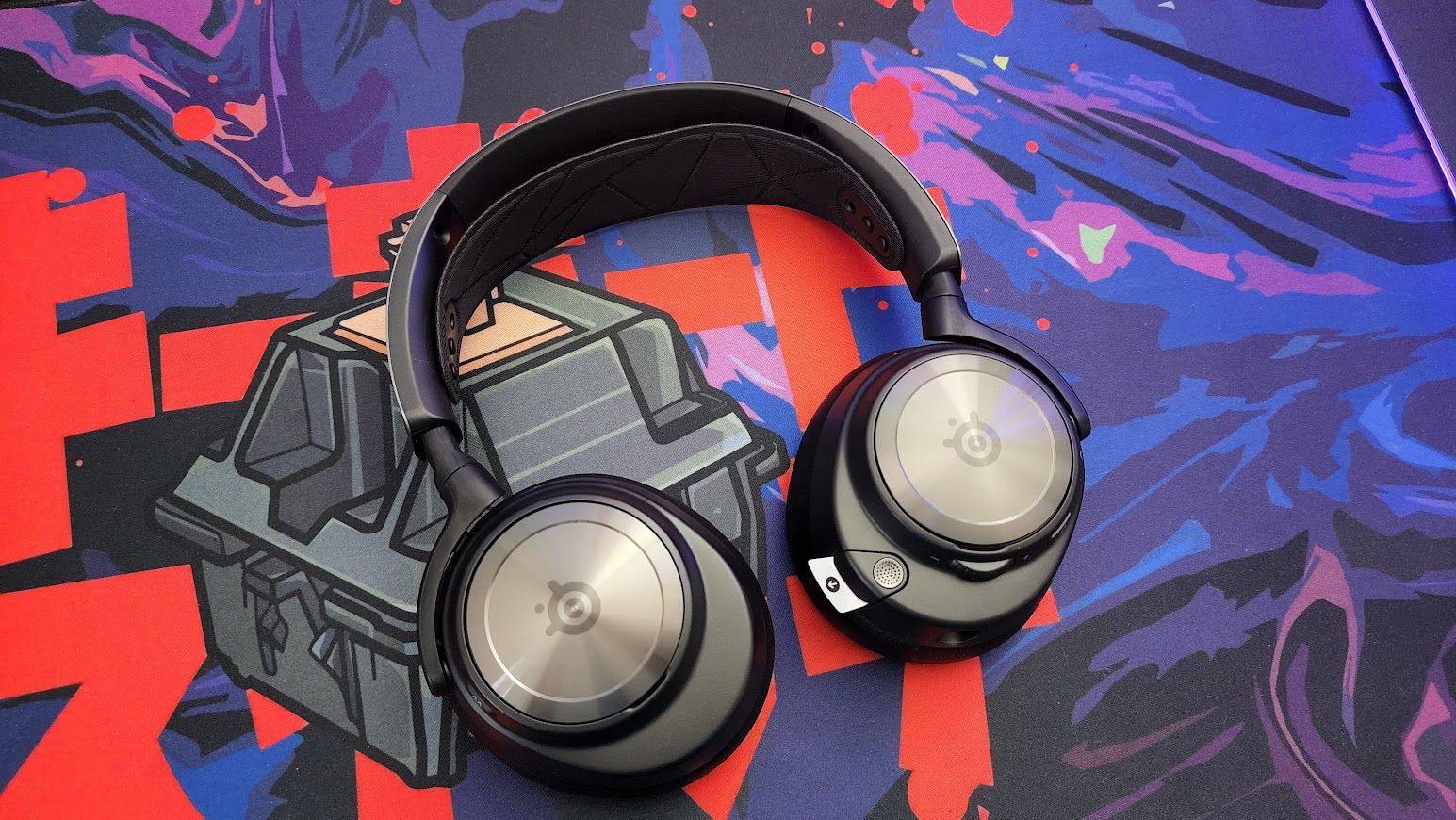 Final Thoughts
The Steelseries Nova Pro Wireless doesn't come cheap, but it's one of the best gaming headsets money can buy. The connectivity and sound quality are second to none. More than any other headset in recent memory, the Nova Pros really could be the one headset you use for everything. They're not perfect, but they really are that good.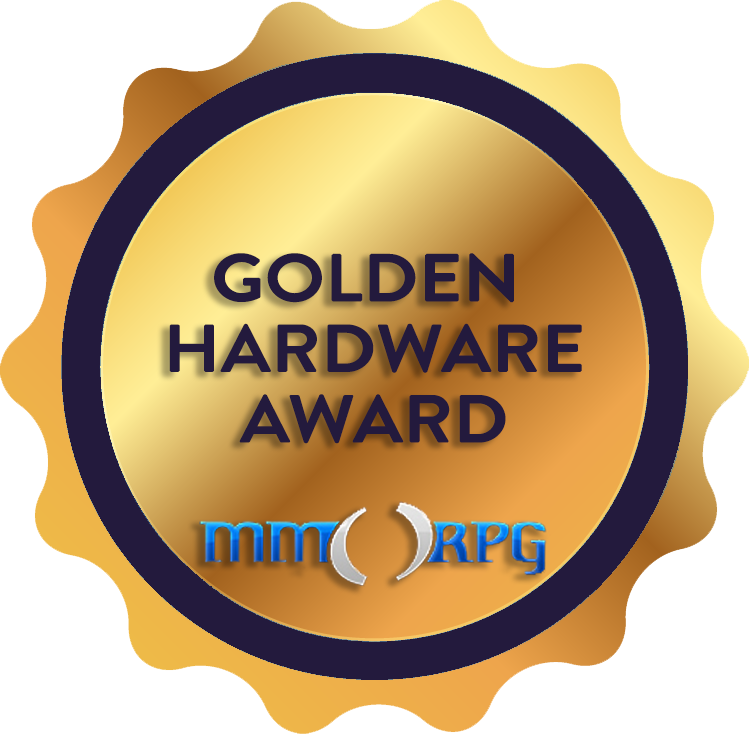 The product described in this article was provided by the manufacturer for evaluation purposes.