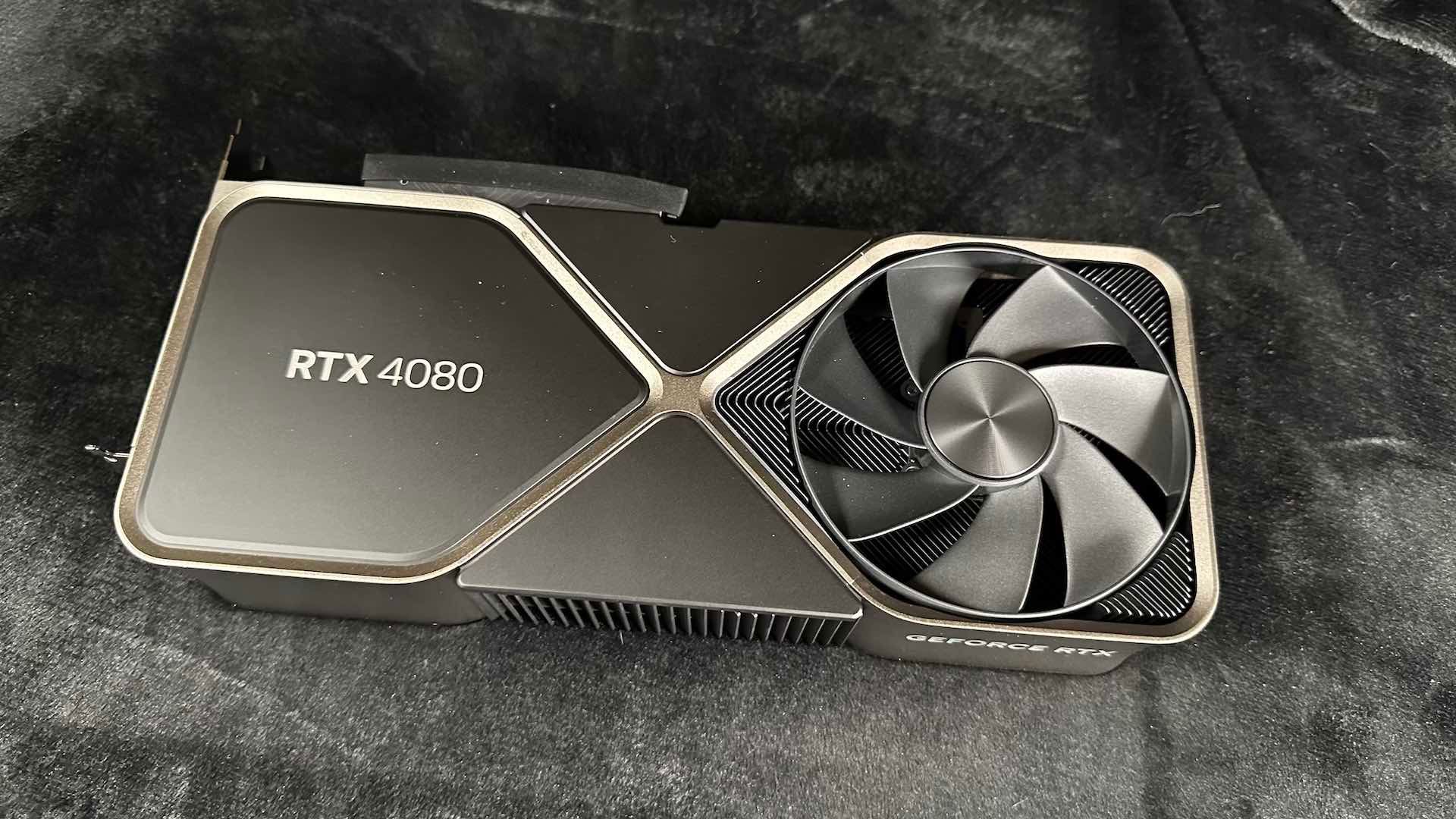 Read Time:
17 Minute, 30 Second
Nvidia's RTX 4080 Founder's Edition aims to give gamers another 4K option without spending nearly the premium of its faster brother, the RTX 4090 Founder's Edition. Touted as being twice as fast as Nvidia's RTX 3080 Ti Founder's Edition, delivering a stronger punch while sitting at the same MSRP as its Ampere predecessor. But how does it stack up, and is the $1199 MSRP worth the price?
Specifications
Graphics Processing Clusters: 7

Texture Processing Clusters: 38

Streaming Multiprocessors: 76

CUDA Cores: 9728

Tensor Cores (4

th

Gen): 304

RT Cores (3

rd

Gen): 76

Texture Units: 304

ROPs: 112

Boost Clock: 2505 MHz

Memory Clock: 11200 MHz

Memory Data Rate: 22.4 Gbps

L2 Cache Size: 65536 KB

Total Video Memory: 16 GB GDDR6X

Memory Interface: 256-Bit

Total Memory Bandwidth: 716.8 GB/s

Texture Rate: 761.5 Gigatexels/sec

Fabrication Process: TSMC 4N Nvidia Custom Process

Transistor Count: 45.9 billion

I/O: 3 x DisplayPort 1.4a; 1 x HDMI 2.1a

Max Resolution: 4K @ 240Hz or 8K @ 60 Hz with DSC

Power Connectors: 1 x 16-pin (Dongle to 3x 8-pins)

Minimum Recommended Power Supply: 750 Watts

Total Graphics Power: 320 Watts

Max GPU Temperature: 90 Celcius

PCIe Interface: Gen 4
Design
The Nvidia RTX 4080 Founder's Edition looks exactly like the RTX 4090 Founder's Edition. Indeed, the two cards look identical from every angle with the exception of the 4080 badge emblazoned on the front. It seems as though Nvidia is taking the same cooler from the 4090 and popping it onto the 4080, which isn't necessarily a bad thing if you're worried about keeping your card cool. If space in your case is a factor though, it might be a problem.
I appreciate the curves and the soft edges of the RTX 4080 FE, as well as the muted RGB design on the card. Instead of throwing full-on RGB, the card simply lights up the GeForce RTX logo in the front, keeping it subtle, yet striking. I'll admit, I normally love the sharp, angular gamer aesthetic on my graphics cards. It reminds me of when I was buying my first chips back in the early aughts. And for some reason, I felt like the more over-the-top the design, the faster the card was. Ultimately, as we all know, it isn't true. But it's something that has stuck with me.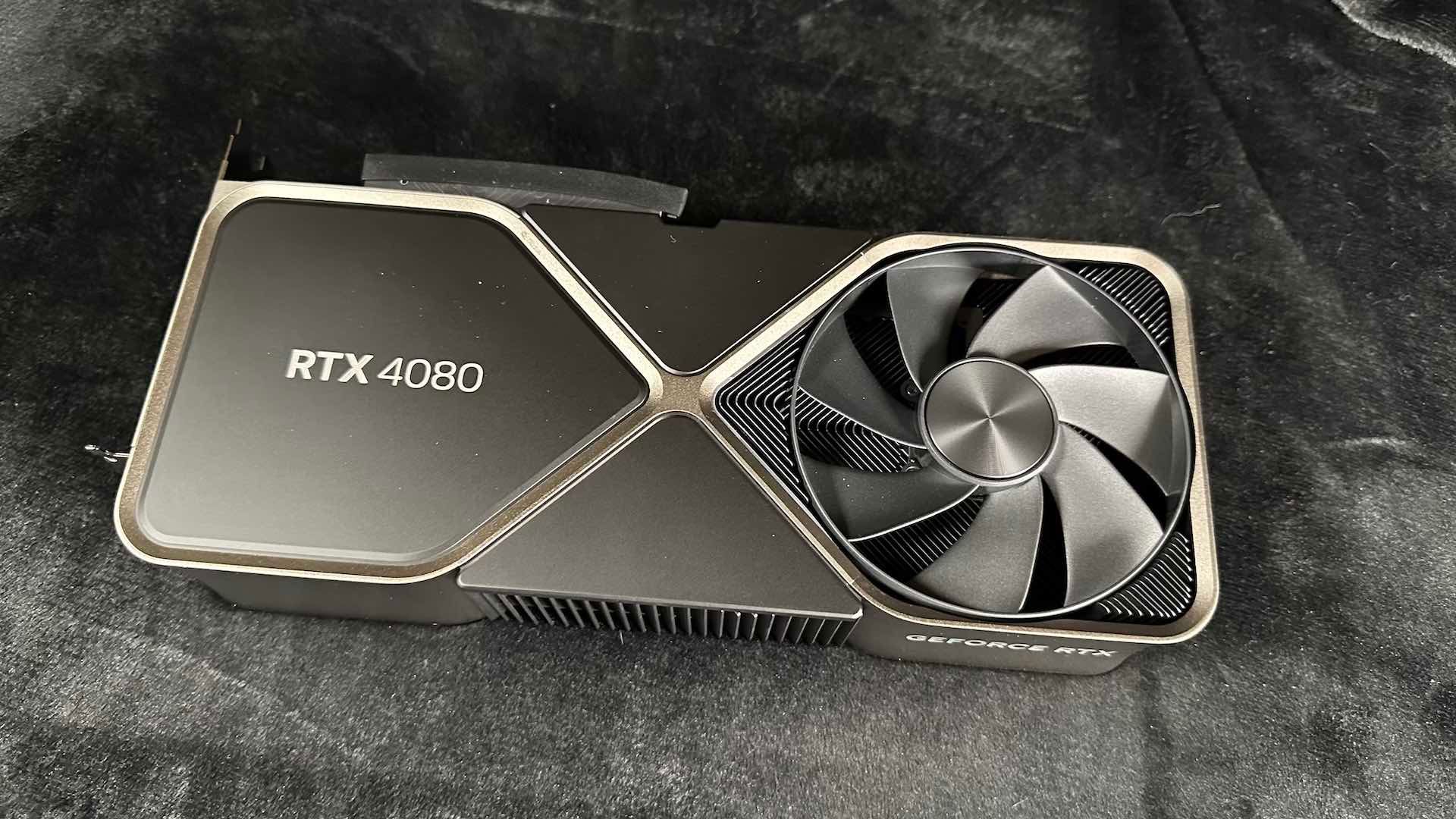 The look of the RTX 4080 and its brethren has grown on me, though, as I said in our review of the RTX 4090. The bronze-hued möbius strip wraps itself around the heavy-duty fans and heatsink designed to keep the card cool under pressure. The minimalism is striking, and it's definitely beautiful to behold despite being huge.
The RTX 4080 Founder's Edition also includes the same 16-pin power adapter as the RTX 4090, though it only requires three 8-pin PCIe power cables to the 4090s four. Concerns have arisen in the weeks since the 4090 launch of these adapters being faulty, with reports of cables melting when bent improperly. Nvidia has stated it's continuing to investigate these reports, but buyers should beware when looking at the 4080 Founder's Edition if this is a concern of yours. In our testing across both the RTX 4080 and 4090, we've not had a single issue, but your mileage might vary, of course.
We dive a bit deeper into the ADA Lovelace feature set in our RTX 4090 Founder's Edition review, and if you're interested you can check that out here. Suffice it to say, the RTX 4080 Founder's Edition takes advantage of all the advancements that Ada Lovelace has to offer, from leveraging DLSS 3's Frame Generation to increase framerates in graphically intense games at high resolutions, to the various encoder benefits such as using the AV1 encoder for streaming.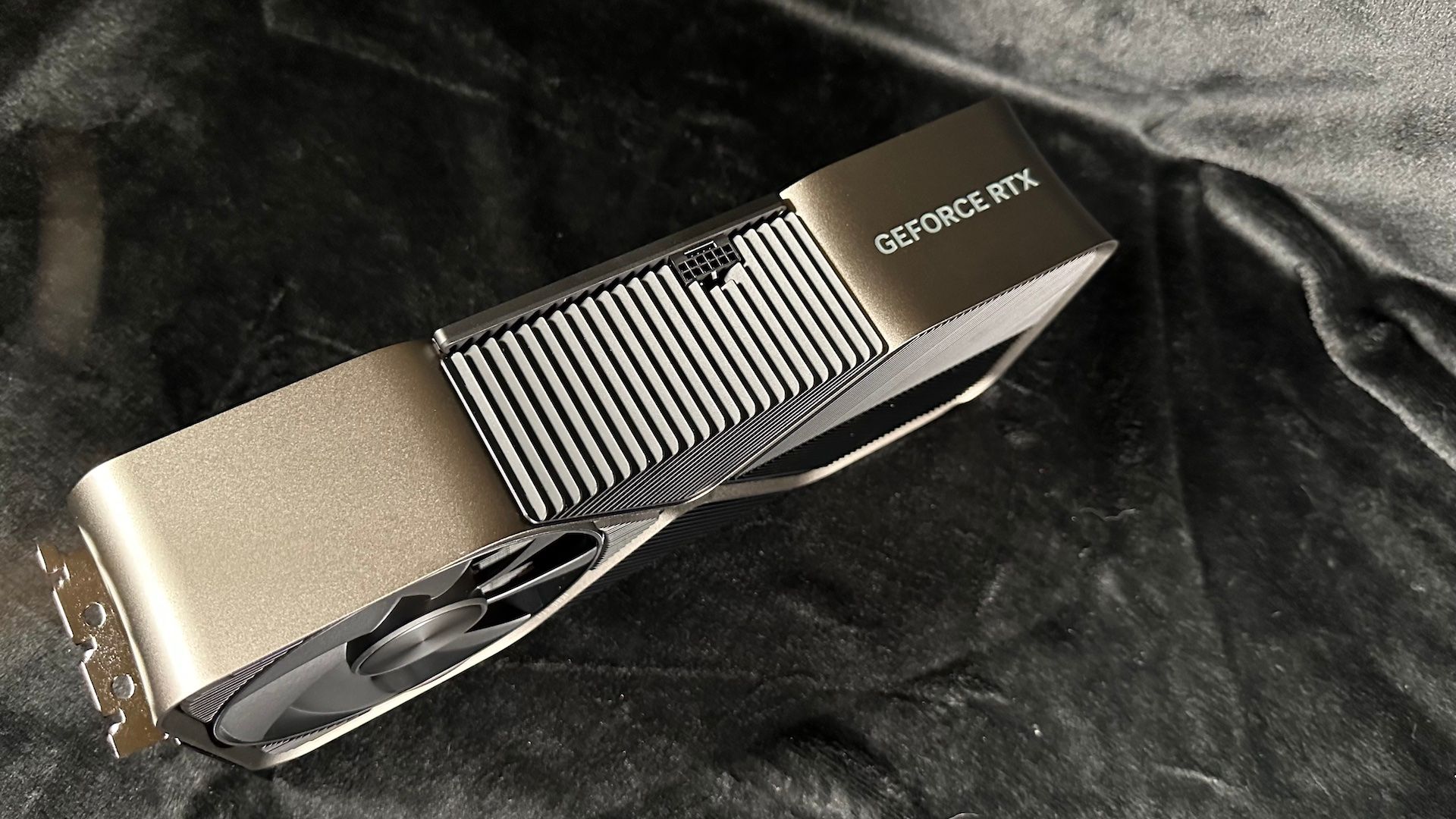 When comparing directly to the RTX 3080 Ti, the specs are rather interesting, with the last generation card having more CUDA cores (10240 to the 4080's 9728), a larger memory interface (384-bit to the 4080's 256-bit), more memory bandwidth (912 GB/s compared to 716.8 GB/s), and more RT cores (80 to 76). Yet it should be noted that the RTX 4080 is leveraging TSMC's 4nm process, packing more transistors and more efficiency under the hood than its Ampere cousin. The RT Cores are also different, with the Ada Lovelace GPU equipped with 3rd Generation cores versus the Ampere's 2nd Generation cores, and 4th Generation Tensor Cores to help drive AI tasks such as DLSS in gaming. Perhaps most importantly, the 40-series is built on an entirely different architecture (Ada Lovelace vs Ampere) which makes one-to-one spec comparisons inadvisable.
Nvidia RTX 4080 Founder's Edition Synthetics, Benchmarks, and Thermal Performance
The RTX 4080 Founder's Edition aims to perform better than the 3080 Ti, quite the feat considering how much of a beast that card was when it launched (and still is). We also wanted to see how the RTX 4080 compared with the other 80-class card in the Ampere lineup, the RTX 3080, since this is effectively the gen-on-gen improvement for that class of GPU.
As such, we put the RTX 4080 FE through its paces in a series of gaming and synthetic benchmarks, comparing it to an array of 30-series GPUs as well as AMD's 6000-series cards. The RTX 4080 is being marketed as a 4K gaming card, so we're especially interested in how well it performs at that resolution target, but we also included 1440p tests as it's still a very popular resolution for many gamers out there.
Test Bench:
CPU: Intel i7-10700K @ 3.8GHz (Boost Clock up to 4.8 GHz)

Cooling: Corsair H100i 240mm Liquid Cooler

Motherboard: Gigabyte Aorus Z490 Ultra

RAM: Corsair Vengeance 32GB @ 3200MHz

Storage: Intel 760p 2TB M.2 NVMe, ADATA Falcon 1TB M.2 NVMe

PSU: Gigabyte P1200 80+ 1200 W Platinum PSU

Case: Lian Li 011 Dynamic
Nvidia cards included:
AMD cards included:
We ran through a number of titles from various games showing different engines at work in a mixture of DX11 and DX12 tests. We also ran 3DMark's Synthetic benchmarks at their 4K defaults to show relative performance across DX11, DX12, and Ray Tracing applications.
Where we could, we used in-game benchmarks in order to ensure our passes were as identical as possible. In games that didn't include benchmarks, such as Control, A Plague Tale: Requiem, and Microsoft Flight Simulator 2020, we ran (or flew) a predefined path, replicating this each time to the best of our ability. It should also be noted that, when applicable, Nvidia's Deep Learning Super Sampling (DLSS) and AMD's FidelityFX Super Resolution (FSR) were enabled using the Performance Preset (quarter internal render resolution). Finally, we've noted when using DLSS 3 or DLSS 2 on the graphs.
Finally, a quick note on DLSS 2. With the introduction of DLSS 3 comes the "rebranding" of DLSS 2 as Super Resolution. In short, DLSS 2 will simply be a subset of DLSS 3 and will be called Super Resolution. All DLSS 3 games will support DLSS 2 (Super Resolution) if you don't have a 40-series card.
RTX 4080 Founder's Edition Synthetic Benchmarks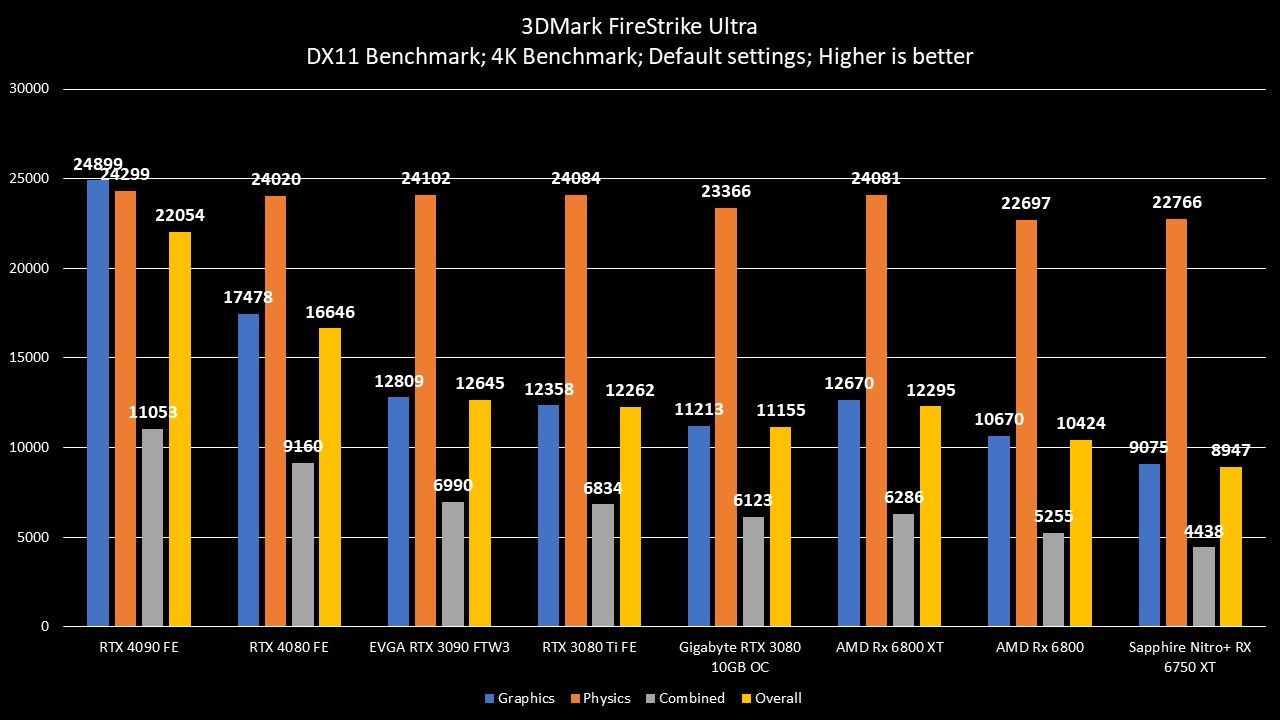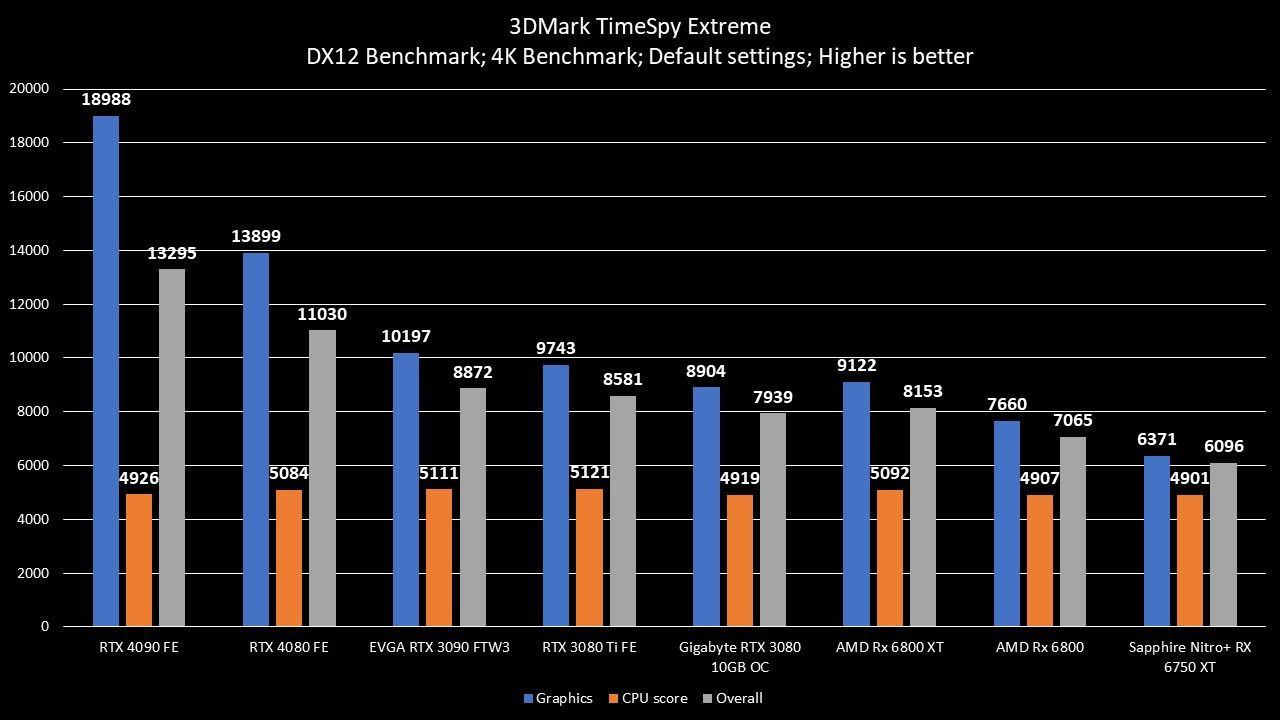 The RTX 4080 Founder's Edition sits comfortably between the RTX 3090 and the RTX 4090, easily beating out the Ampere cards by a wide margin. In FireStrike, we see the RTX 4080 win over the RTX 3080 Ti with an overall score of 16646 to 12262, a 35% increase for the Ada card. When compared to the RTX 3080, that gulf is even wider.
In Time Spy, the DX12 benchmark, we see similar results, with the RTX 4080 well ahead of the Ampere and RDNA 2 cards on offer. The RTX 4080 is still behind the RTX 4090, but it's definitely beating out its gen-on-gen brethren.
But synthetics only tell part of the story, how does the card stack up in gaming applications?
RTX 4080 Founder's Edition Rasterized Gaming Benchmarks
When looking at the RTX 4080 FE's raster numbers, it's easy to get enamored by the high framerates, especially at 4K. Indeed, the RTX 4080 solidifies itself as a true 4K gaming GPU, with almost every title we tested averaging above 60fps solidly with maximum settings. Games like Cyberpunk 2077 see a 23% increase in performance compared to the RTX 3080 Ti, while Guerilla Games' Horizon: Zero Dawn sits at a more modest (though still impressive) 13% increase at 4K.
Compared to the Gigabyte RTX 3080 Gaming OC 10GB GPU, the results are more impressive, with the RTX 4080 seeing a 46% increase in Assassin's Creed Valhalla, while Control sees a 40% increase in performance compared to the RTX 3080.
When looking at AMD's cards, the Rx 6800 XT sits closer to the RTX 3080 than the RTX 4080, with the Lovelace card beating out the RDNA 2 GPU pretty much every time. Titles like Watch Dogs Legion see closer numbers at 1440p. But when you look at the same game at 4K, the RTX 4080 outstrips it to the tune of 80 fps to 54 fps in favor of the Nvidia GPU, a difference of 48%. Titles like Cyberpunk 2077 are similar, with the RDNA 2 card struggling to keep up at 37 fps at 4K versus the RTX 4080's 57 fps, a noticeable 54% difference.
Interestingly, much like the RTX 4090 before it, the RTX 4080 seems to be hitting a CPU bottleneck when playing at 1440p in several titles, with the RTX 3080 Ti hanging in there and slightly edging out the Lovelace card. Horizon: Zero Dawn sees the RTX 3080 Ti take a slight lead over the 4080, though well within the margin of error, though it's the only case in raster performance where we see this.
RTX 4080 Founder's Edition Ray Tracing Benchmarks
The RTX 4080 Founder's Edition takes advantage of its 3rd generation RT cores, as well as its use of Shader Execution Reordering to make ray tracing computations more efficient than the last gen cards. In the Port Royal synthetic test by 3D Mark, we see a 38% increase over the RTX 3080 Ti, with a wider gap between it at the RTX 3080 to the tune of a 50% increase.
As with our RTX 4090 FE review, we're still noticing the same CPU bottleneck in our testing here, and as a result at 1440p, using DLSS, we see almost identical results across the board for the RTX 4080, 3080 Ti and 3080. The lone difference is a higher score on the 3080 Ti, eking out a narrow victory, but here there really is a CPU limitation. At 4K, these results are identical at a nice 69fps for the three cards.
Where it gets interesting is in our Control benchmark test we see the RTX 4080 FE show its power when DLSS is turned off, seeing an average framerate of 41fps at 4K compared to the RTX 3080 Ti's 33fps (a 24% increase). This stays pretty consistent when you turn DLSS on, seeing the 4080 maintain a 21% edge in performance over the 3080 Ti.
Cyberpunk 2077, the most graphically demanding title on the market right now, sees the RTX 4080 FE inch closer to that 30fps minimum without any sort of reconstruction, though it's much better than the 3080 Ti's unplayable 19fps. When you turn DLSS 2 on, this is where the RTX 4080 Founder's Edition really shines, seeing even without frame generation enabled it beating out the 3080 Ti quite handily (69fps versus 52fps).
RTX 4080 Founder's Edition DLSS 2 vs DLSS 3 Tests
Nvidia's marketing has made a huge deal about the 2x performance increase compared to the RTX 3080 Ti, and much of the heavy lifting in that claim is done by its advancement in its Deep Learning Super Sampling technology. Thanks to DLSS 3 leveraging frame generation, this pushes out the margins of performance for the 40-series cards, which are the only Nvidia GPUs utilizing the new tech currently.
We see that same 32% increase in Cyberpunk 2077 at 4K pushed even wider, with DLSS 3 improving the RTX 4080's average framerate from 69 to 103fps. Compared to the RTX 3080 Ti, this is a 98% increase in performance. In F1 2022, we see a 114% increase at 1440p, though the 4K results compared to the RTX 3080 Ti Is more modest, just a 45% increase when using frame generation.
We're also seeing massive gains in A Plague Tale: Requiem, the new stealth adventure game from Asobo. When using the 4080's DLSS 3 compared to DLSS 2 on the 3080 Ti, we see a 75% increase in performance over the last-gen card, going from 76 to 133fps. At 1440p we see a close to a 100% increase, going from 106fps on the 3080 Ti to 211 on the 4080.
Microsoft Flight Simulator also shows almost a doubling of performance, with frame generation shooting the RTX 4080 up to an average of 97fps in the Sydney Landing Challenge run we tested. And the outrageously ambitious Justice MMO path tracing demo (seriously, bring this MMO to the West please), we see the RTX 4080 actually able to run it at a stable framerate when DLSS is enabled (though we couldn't get the demo to run without DLSS on the 4080, unlike the 4090). Going from the RTX 3080 Ti's meager 12fps to the RTX 4080's 57fps is a 375% increase when DLSS 3 is turned on.
We also tested Tower of Fantasy's ray tracing and DLSS 3 demo, and I'm really hoping to see this soon in-game as it really, really shines in our demo pass. We ran the same demo as the RTX reveal video showed a few weeks back, and the reflective surfaces looked amazing while the diffused lighting from signs and the neon lights of the city really popped. It made me feel like I was running through an anime Cyberpunk 2077 to a degree, just without the Edgerunners themselves.
RTX 4080 Thermal and Power Performance
Remember when I said the RTX 4080 Founder's Edition looked pretty much identical to the RTX 4090 Founder's Edition? That giant cooler on the top of the GPU helps tremendously. The RTX 4080 is one of the coolest performing cards I've ever tested.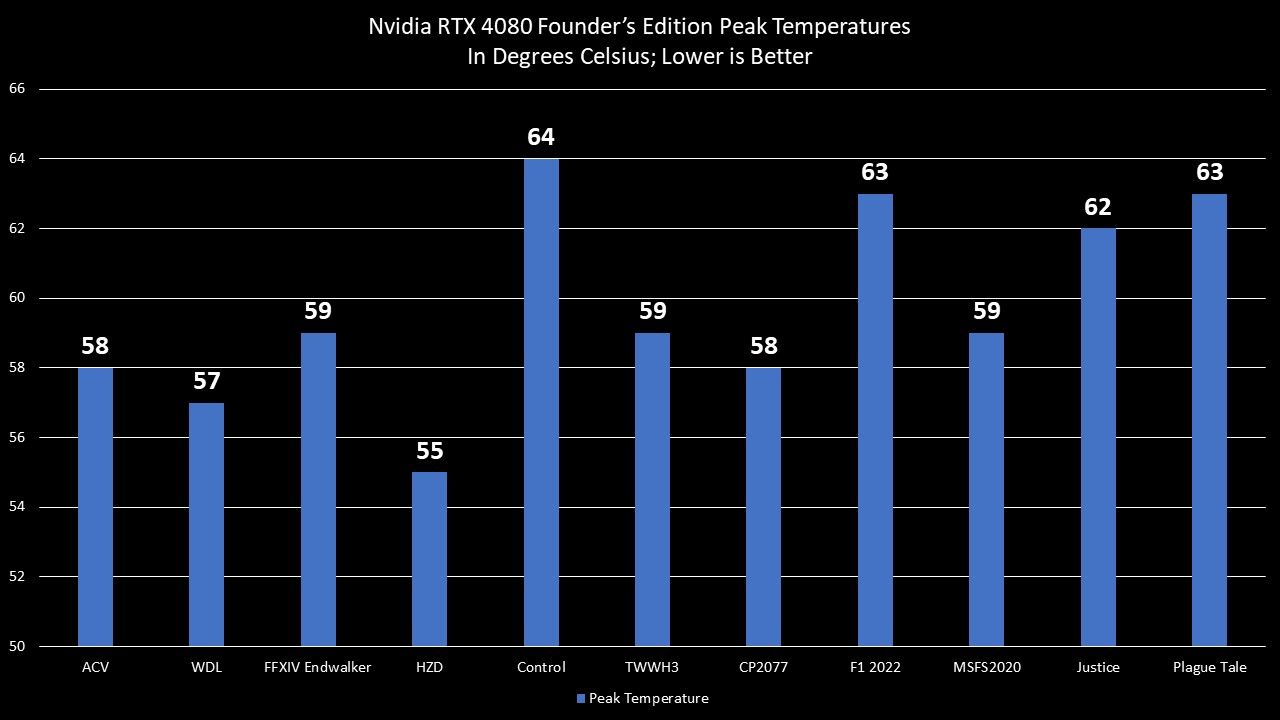 In my testing, the RTX 4080 never came close to even 70 degrees Celsius, its giant fans and cooler doing real work keeping it cool under pressure. This is incredibly surprising considering our 4080 consistently pushed well beyond its rated boost clock of 2.5 Ghz, topping out at 2781 Mhz in our testing.
From a power perspective, much concern was had over the power draw of the 40 series before it launched. While the RTX 4080 is rated for a total draw of 320 Watts, we only saw the GPU come close to that once in our testing, maxing out at a draw of 309 Watts. On average, the power draw was much more reasonable sitting closer to the 260-270 watts range.
RTX 4080 Founder's Edition Final Thoughts
So what does this all mean? Does the RTX 4080 Founder's Edition deliver on its promise of performing 2x faster than the 3080 Ti, all for the same MSRP? Yes and no. Technically, yes, in our testing we saw a doubling of performance when using DLSS 3's frame generation to eke out those extra frames. And they do make a difference, especially in fast paced games like F1 2022 or driving through Night City in Cyberpunk. The RTX 4080 is, on average, a faster card than the RTX 3080 Ti., especially with DLSS 3 enabled.
But across the length and breadth of our testing, the results were closer than the claim. Yes, in DLSS 3 applications you can achieve that level of performance over the 3080 Ti, but not every game supports the feature yet. And while more titles are coming out with seemingly every driver update, it'll be a while before that claim is more spread out across the gamut of games we can test.
However, this doesn't mean that the RTX 4080 Founder's Edition is a bad card when compared to the RTX 3080 Ti – far from it. On average we saw a 22% increase at 4K compared to its last-gen cousin. And when we look at the RTX 3080, that gulf is even wider at a 33% increase gen-on-gen. It's impressive when you also consider that driver support and more iterations by developers learning the new architecture will only drive that gulf further over time.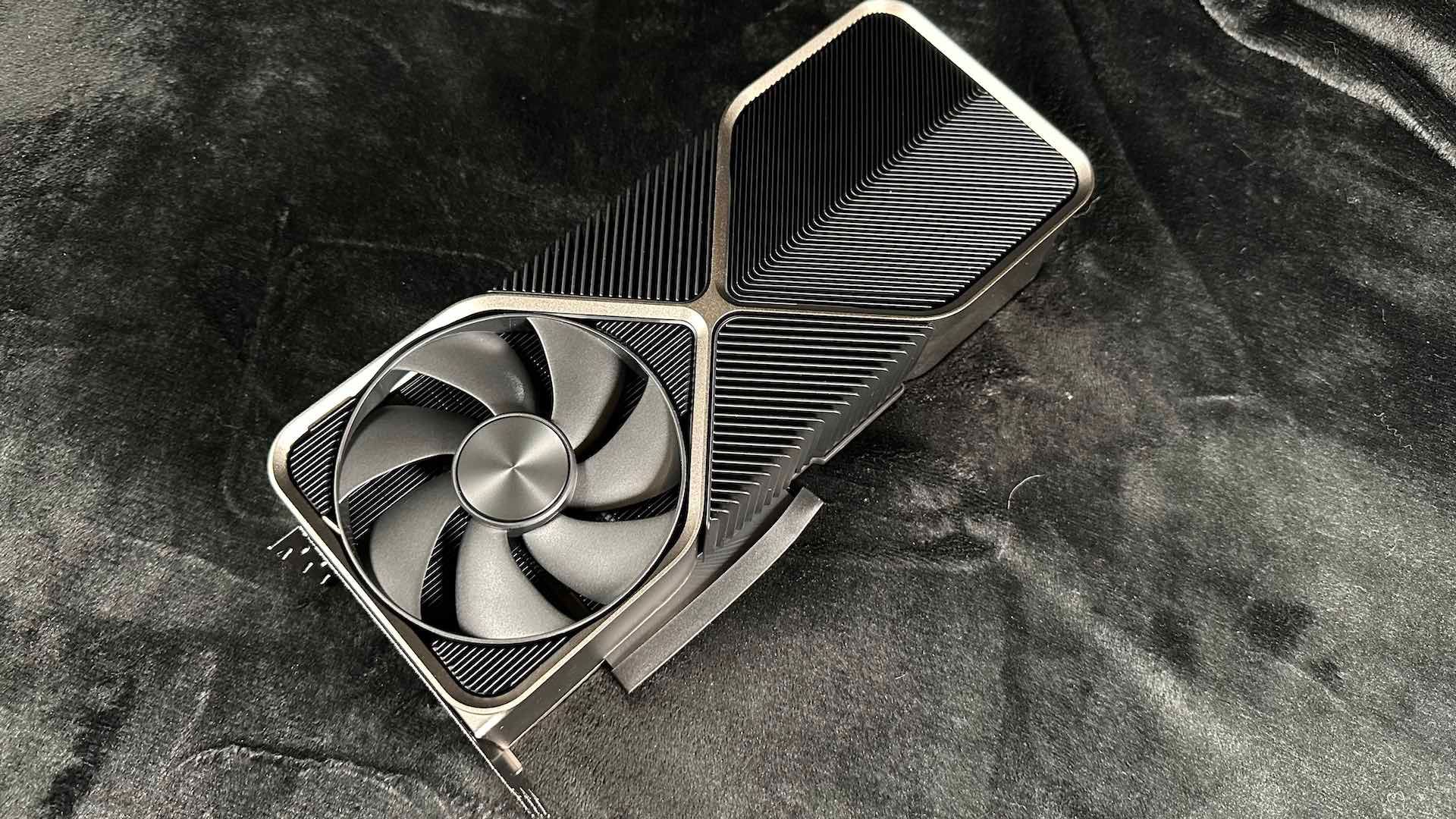 During regular gameplay in titles like Battlefield 1 and PlayerUnknown's Battlegrounds, the RTX 4080 Founder's Edition happily hummed along at anything I threw its way. Slogging through the trenches in BF1 on my Acer Predator 43" 120hz monitor at full 4K, rendering the game at 120% of its internal rendering resolution, and not seeing framerate plummet below 120fps was a dream.
PUBG, a title notorious for running poorly on my machine, no matter how much power I throw at it, saw some incredibly smooth gameplay on the 4080, with me bravely helping my friends towards multiple top 10 finishes (a win for our group).
As GPU prices have started to level out again too, it's harder to find the RTX 3080 Ti on sale like it was just a few months prior (especially when it looked like EVGA was clearing house). At the same MSRP, you're getting a gen-on-gen improvement across the board, improvement with ray tracing, and being able to leverage next-gen features like DLSS 3's frame generation. On top of that, streamers and content creators have the benefit of dual AV1 encoders to make streams and videos crisper and clearer for their audiences, as well as the benefits of Nvidia's Broadcast software. There is a lot on offer.
However, it's made more interesting with the announcement of AMD's RDNA 3 cards that are being targeted squarely at the RTX 4080 Founder's Edition. At a lower MSRP of $999 for its flagship, it will be incredibly interesting to see how things line up once reviewers are able to do a bit of independent testing on AMD's upcoming offering. While raster performance might be competitive, it'll be more interesting to compare Nvidia's 3rd generation ray tracing ability to the RDNA 3's second generation whack at it. It's that battlefield where many will decide whether to spring for the extra cost of the 4080, especially with DLSS 3 and frame generation available out of the box on a few ray tracing titles with more to come, or hunker down with Team Red.
It should also be mentioned that this is a massive jump in MSRP from the previous 80-class card in Nvidia's Ampere line-up, the RTX 3080. That card entered the market with an MSRP of $699, and we're seeing effectively a 71% jump in price without a full equal jump in average performance. Sure, once DLSS 3 is turned on its off to the races, but in regular rasterized titles the gulf isn't as wide. While a 33% increased performance uplift is impressive for sure, it's well short of the jump in asking price.
Nvidia also obscured things a smidge with its decision to pull back on the 12GB variant of the RTX 4080, instead opting to change its name amid criticism that it was simply a rebranded 70-series. How this 4080 stacks up compared to its less expensive cousin, especially when you consider they were supposed to originally launch in the same class of GPU, will be interesting to watch.
As it stands right now, the RTX 4080 Founder's Edition is a great card. If you're looking for a quality 4K gaming card but don't exactly want to reach out and grab the RTX 4090 at $400 more (though, it should be said that $400 buys you a lot of card), the RTX 4080 Founder's Edition might be for you. DLSS 3 is playable today, with the launch of the 4080, making the value add to the purchase that much more compelling. $1199 is a lot of money, but the Nvidia RTX 4080 Founder's Edition feels worth the cost.